Preparing artichokes can be an intimidating task, but it doesn't have to be. Once you know a few simple techniques, you'll be enjoying these green orbs in no time!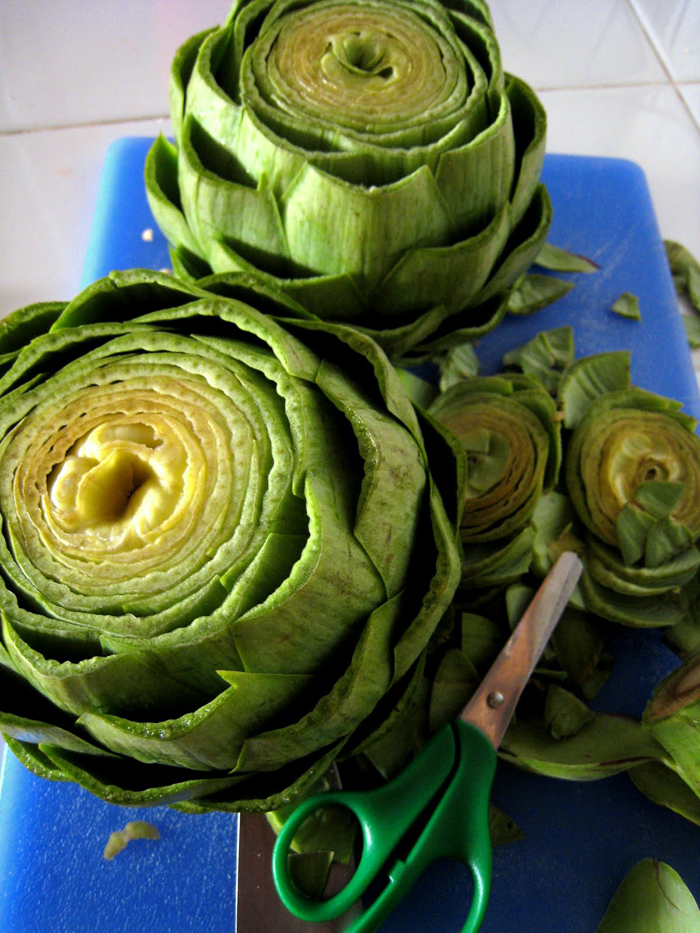 Artichokes are definitely an interesting vegetable. Technically, they are the large bulb of a thistle plant. They tend to intimidate people. They're green and prickly and altogether weird looking.
But, they are a treasure of fun and yumminess! Don't be intimidated about preparing artichokes. You can prepare this delicious vegetable that the whole family will love.
(Just tell your kids that Eeyore would eat them, and they just might try them.)
Globe artichokes, considered to be the "true artichoke" are cultivated mainly in California's Central Coast. We had them growing wild behind our house last year here in San Diego. We watched them carefully, waiting for harvest time, but someone else was watching them, too, and beat us to them!
Artichokes are a seasonal vegetable, peaking from March to May. I consider $1.50 to be a decent price, so I bought twice as many recently when they were $0.88 each here recently.
Artichokes are also available frozen or canned. But, I think eating them fresh is a fun adventure.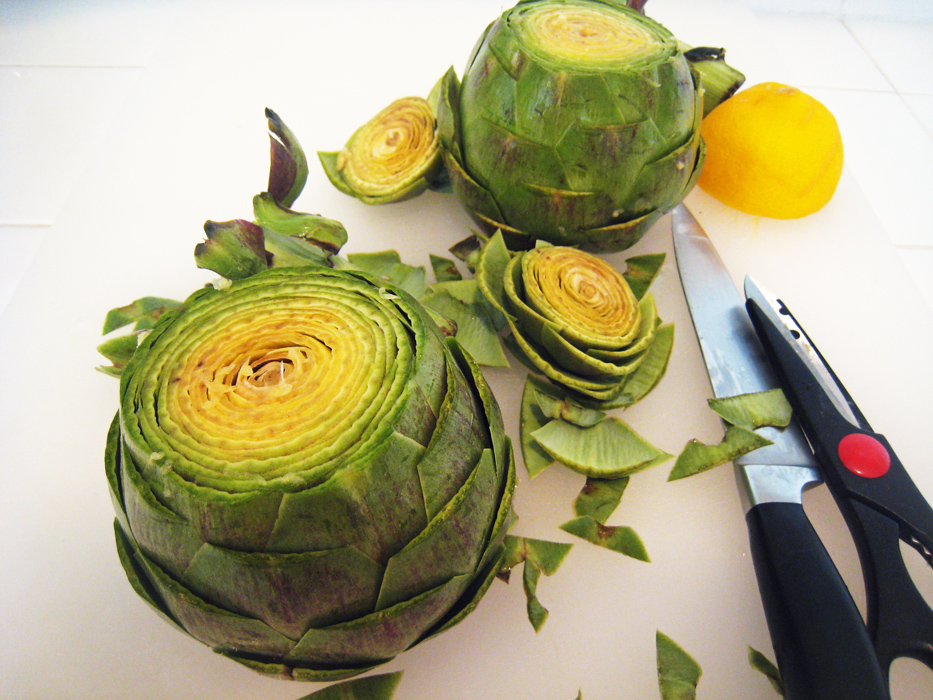 I never ate an artichoke until I was 20 years old, but I've loved them ever since. Hubs can take 'em or leave 'em which is fine with me. More for me! Slowly but surely, my children have acquired a taste for artichokes, so it's fun to have friends in my munching.
Preparing Artichokes
Artichokes are super easy to prepare.
1. Cut off the stem end so that it can rest flat on the plate.
2. If the leaves are prickly, cut off their tips, as shown above.
3. Boil or steam until leaves pull away from the bottom easily.
4. Serve with melted butter or herbed mayonnaise. Check out these artichoke dipping sauces for more flavor.
How to Prepare Artichokes
Instructions
Cut off the stem ends so that each artichoke can stand on its own.

Cut off the very top of the artichoke. If the leaves are poky, cut off their prickly tips. You don't want to get hurt eating an artichoke! After you've trimmed the leaves, the artichoke should resemble a flower.

In a large pot of boiling water or in a pot of hot water with a steamer basket inserted, boil or steam the artichokes until an outer leaf pulls away from the bottom easily. The time this takes will depend on the size of the artichoke. Check it after fifteen minutes and then every five minutes until the artichokes are tender.

Serve the cooked artichokes with melted butter or a dipping sauce
Notes
Promptly store leftovers in an airtight container in the refrigerator, for up to 4 days.
Nutritional values are approximate and based on 1

 artichoke.
Nutrition
Calories:
60
kcal
|
Carbohydrates:
13
g
|
Protein:
4
g
|
Fat:
1
g
|
Saturated Fat:
1
g
|
Sodium:
120
mg
|
Potassium:
474
mg
|
Fiber:
7
g
|
Sugar:
1
g
|
Vitamin A:
17
IU
|
Vitamin C:
15
mg
|
Calcium:
56
mg
|
Iron:
2
mg