Make the most of artichoke season with these 5 minute artichoke dipping sauces, like this lemon butter sauce and herbed mayo dip.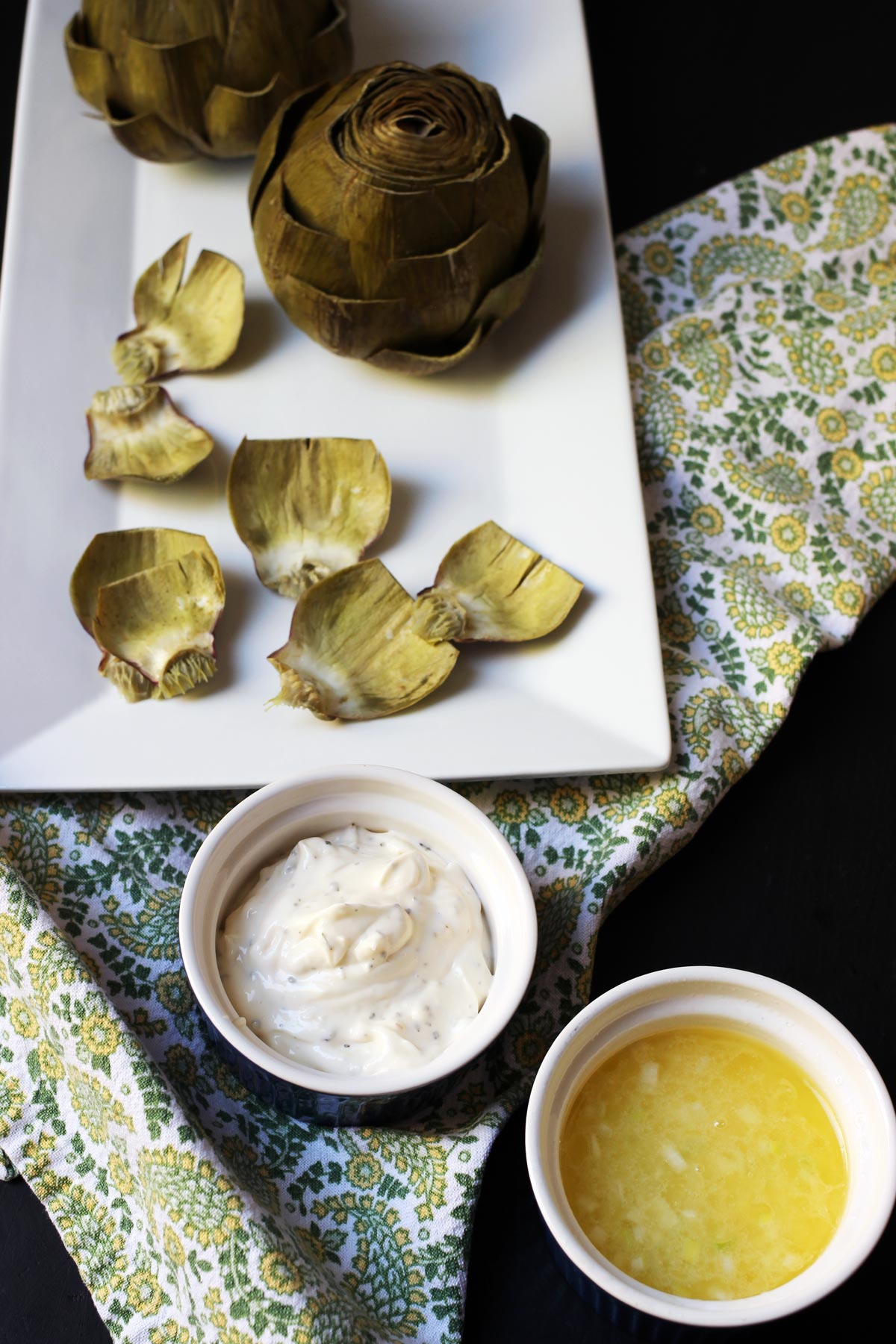 Jump to:
Maybe you grew up enjoying artichokes and you've understood their deliciousness for a long time. I was in college before I got to try one. Friends had invited us to dinner, I had my first tastes of red wine, steamed artichokes, and pasta carbonara all in one night. So yummy! It was a meal to remember!
Since then enjoying artichokes with dipping sauces has been one of those experiences that herald the arrival of spring. It is not to be missed!
If you've never tried artichokes with lemon butter sauce or herbed mayonnaise, you're in for a treat!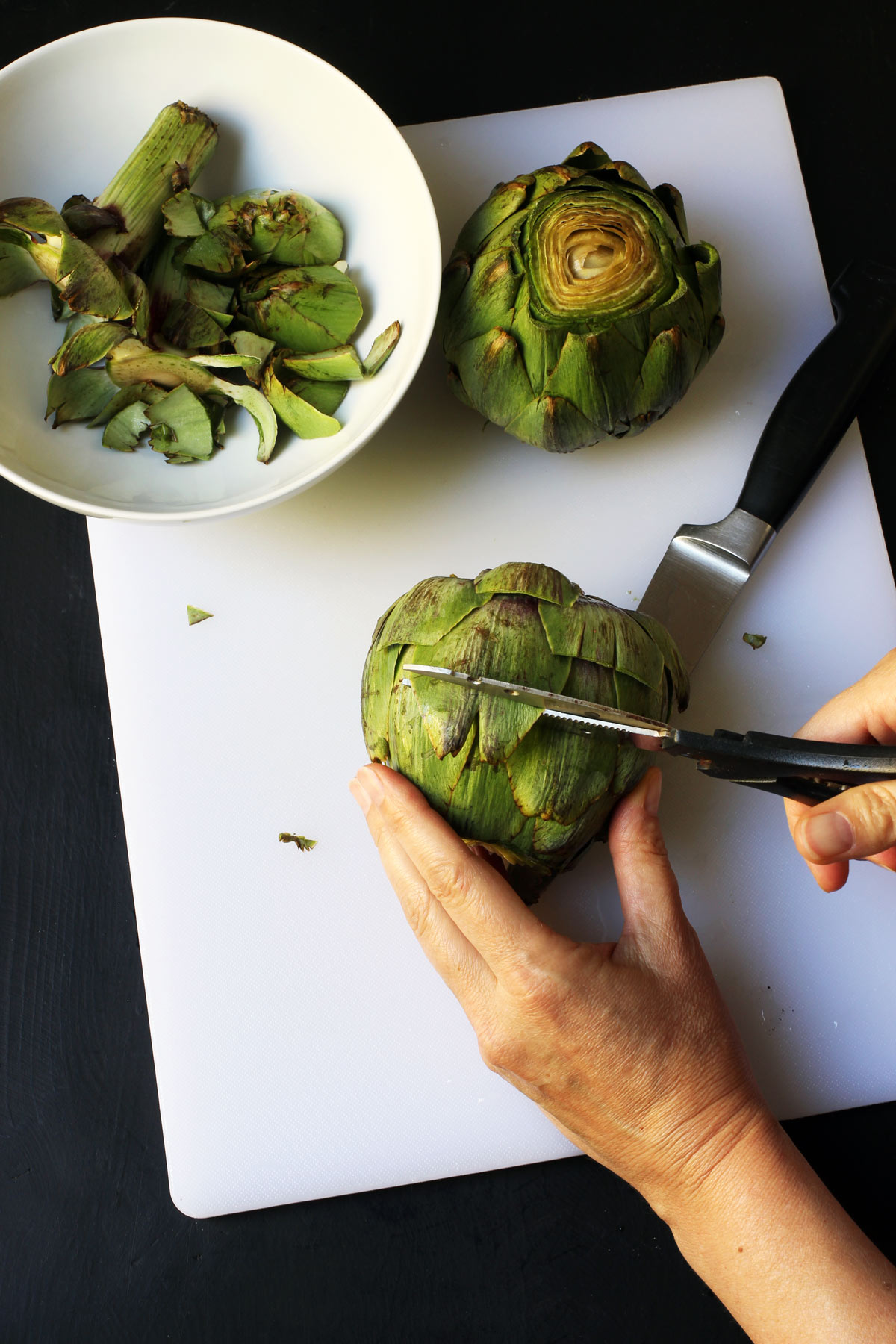 How to prepare artichokes for dipping
First up, you'll need some cooked artichokes. Typically on sale for about $1.50 in the spring peak of March to May, grab a few globes and cook them up!
Not sure about how to fix one? Check out this tutorial for preparing artichokes for wrangling that prickly, mysterious edible thistle. You'll be a pro in no time!
While the artichokes are cooking, make the sauces. They take just minutes.
For the lemon butter sauce:
You'll need the following ingredients:
salted butter (melted) – you can also use Ghee or a good quality olive oil if you prefer.
lemon juice – freshly squeezed is best, from Meyer lemons if you can find them.
chives – Chives are more traditional, but also more expensive unless you grow your own or find a great sale. I use finely chopped green onions as an affordable alternative.
Melt the butter and combine it with the lemon juice. Stir in the finely chopped onions. Keep the sauce warm or reheat it prior to serving.
For the herbed mayonnaise dip:
You'll need the following ingredients:
mayonnaise – you can use your favorite commercial brand or make your own mayo.
crushed garlic – fresh is best for this, but you can sub garlic powder in a pinch.
herbes de Provence – this blend is superb for sauces. Make your own herbes de Provence for best flavor.
Combine the ingredients in a small bowl or dish. Refrigerate until serving.
Enjoy those beautiful green globes now, peeling off their leaves to dip in one of two sauces. There's something to please everyone.
Dipping Sauces for Artichokes
Artichoke season has arrived! Having some choice of sauces for artichokes, like this lemon butter makes the experience so fun and delicious!
Ingredients
For the lemon butter sauce:
1/4

cup

butter

melted

1/4

cup

lemon juice

freshly squeezed

1

tbsp

chives (chopped)
For the herbed mayonnaise dip:
Instructions
For the lemon butter sauce:
In a small bowl, combine the butter, lemon juice, and chives.

Serve warm with cooked artichokes.
For the herbed mayonnaise dip:
In a small mixing bowl, combine all ingredients. Chill until ready to serve. 

Serve the sauce cold alongside the cooked artichokes. 
Notes
To make dairy-free: use a high-quality olive oil for the butter or ghee. 
Promptly store leftovers in an airtight container in the refrigerator, for up to 3 days.
Nutritional values are approximate and based on 1 artichoke plus 1/4 of each of the dips.
Nutrition
Calories:
357
kcal
|
Carbohydrates:
15
g
|
Protein:
5
g
|
Fat:
33
g
|
Saturated Fat:
11
g
|
Trans Fat:
1
g
|
Cholesterol:
42
mg
|
Sodium:
400
mg
|
Potassium:
504
mg
|
Fiber:
7
g
|
Sugar:
2
g
|
Vitamin A:
432
IU
|
Vitamin C:
22
mg
|
Calcium:
69
mg
|
Iron:
2
mg
This post was originally published on April 30, 2012. It has been updated for content and clarity.