Learn how to quickly and easily roast vegetables in the oven. The result is a tender, caramelized, delicious vegetable side dish perfect to serve in salads or alongside your favorite meat.
Roasting vegetables in olive oil and garlic gives them a delicious depth of flavor. And this recipe is amazingly easy to prepare. I used broccoli, cauliflower, and red pepper, but you could add onion, beans, peas, carrots, eggplant, zucchini, squash, or tomatoes. Anything that is growing in your garden is a great candidate for roasting.
Oven roasting does involve heating the oven. But, if you have a toaster oven, you may be able to swing this without turning on the Big Kahuna. Another alternative is to do the roasting in the morning or late at night when the temps are cooler.
Roasted vegetables are delicious cold or at room temperature. They make a great side dish, but are also delicious stirred into pasta salads or topping simply dressed greens.
Over the last six weeks since our trip to Santa Barbara, I've made this dish at least a handful of times. It's simple, tasty, and cheap to make. What's not to love?
Bonus points: you can make it with whatever vegetables you have on hand!
My friend Jessika (with a K) gets the credit for this recipe. We stayed with her and her family back in December. We missed the dinner where she served this; we were visiting with the grandparents. But, we arrived just as her family was finishing up supper. I'm so glad we did!
The aroma was amazing. I wanted to eat a second dinner, it all looked so delicious. I ended up texting her a day or two later so that I could recreate it at home. I've been experimenting with it every since.
I really can't say enough good things about this dish. I cooked it up AFTER lunch one day this weekend so that I could take pictures. I left it on the counter, and my people devoured it. As a snack.
'Nuf said?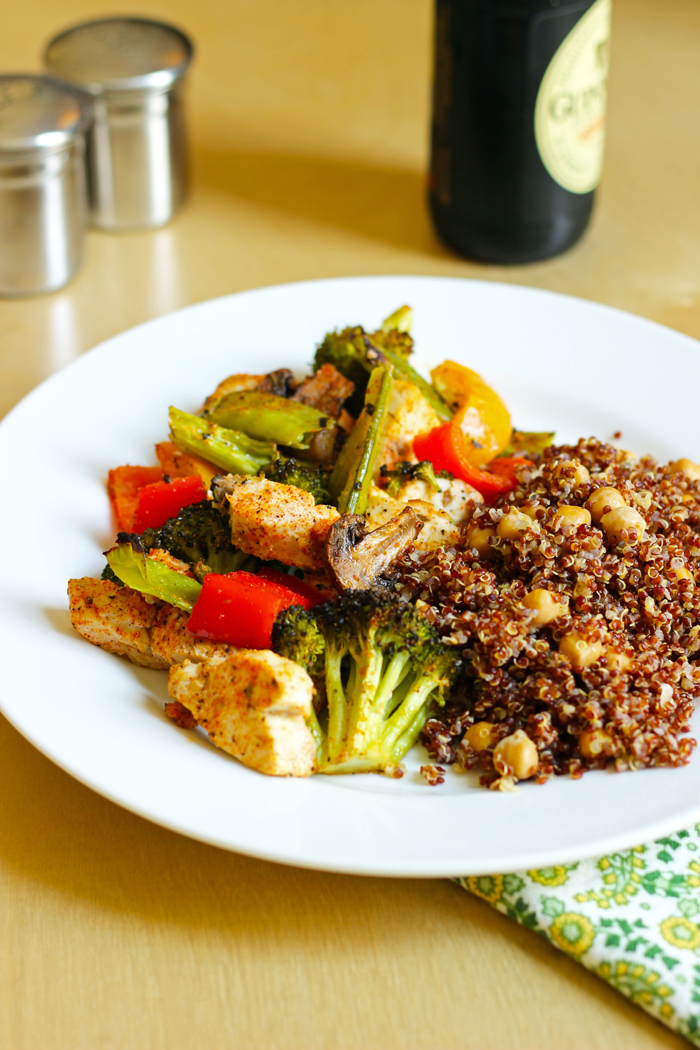 As I mentioned, this recipe is very versatile. It's like a non-recipe. Or an all-purpose recipe. Or a super hero recipe. You decide.
Chop up whatever veg you have on hand: I've done this with broccoli, carrots, cauliflower, garlic, green beans, mushrooms, onions, potatoes, squash, sweet potatoes, and zucchini. Did I forget anyone?
Toss the veg with some olive oil, salt, pepper, and dried herbs. I've listed options below, but really, go with your gut. Or what you have on hand. Or what's cheapest.
You can serve this as the main dish or as a hearty side dish. My kids insist they need a little meat. They particularly remember the time I served it with sausages. Sausages and mushrooms and potatoes, those little hobbits. For the curious, I make double this amount for our family of 8, and there's rarely any left over.
Watch this video to see how EASY it is to roast vegetables in the oven:
Recipe: Roast Vegetables
Ingredients
8 cups chopped, mixed vegetables, such as broccoli, carrots, cauliflower, garlic, green beans, mushrooms, onions, potatoes, squash, sweet potatoes, and zucchini
1/3 cup olive oil
1 to 2 teaspoons sea salt, to taste
1 to 2 teaspoons dried herbs, such as basil, dill, herbes de Provence, Italian herb blend, tarragon, or thyme
1/4 teaspoon freshly ground black pepper
Instructions
Preheat the oven to 400°. Spray a glass, 9×13-inch pan with nonstick cooking spray or line a baking dish with parchment paper.
In a large mixing bowl, combine the vegetables with the olive oil, salt, pepper, and herbs.
Transfer the vegetables to the prepared pan and roast for 30 to 45 minutes, until the vegetables are tender and slightly browned on the edges. (The timing will differ depending on what kinds of vegetables you use. If you just use broccoli, it will be done in a much shorter time.)
Preparation time: 15 minute(s)
Cooking time: 45 minute(s)
Number of servings (yield): 4