Roasting vegetables is a wonderful way to add more flavor to them. I shared how to roast chiles last week. This week, we're oven roasting tomatoes.
In the past I have used a dehydrator to "sundry" tomatoes, especially when we had an excess of the garden variety. It was a great way to make use of the garden's bounty. Linda at Gluten-Free Homemaker has found a great way to replicate this in the oven. Try her sun-dried tomatoes for a different texture than these.
Recently, tomatoes were on sale for $0.88. I told my husband to get "lots." Well, "lots" is a relative term. He brought home two bags of them! Perfect time to experiment. I researched oven roasting tomatoes and came up with varied answers about the length of time these babies should spend in the oven. You go with what works for you.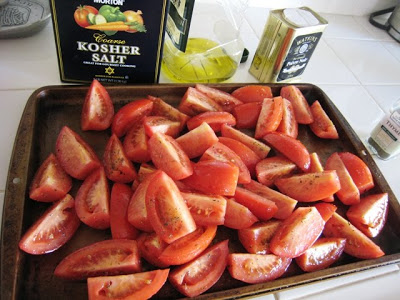 Oven Roasted Tomatoes
4 pounds roma tomatoes, washed, cored, and quartered
1/4 cup olive oil
1 teaspoon kosher salt
few grinds fresh black pepper
1/2 teaspoon dried thyme
Combine all ingredients and lay in a single layer on cookie sheet.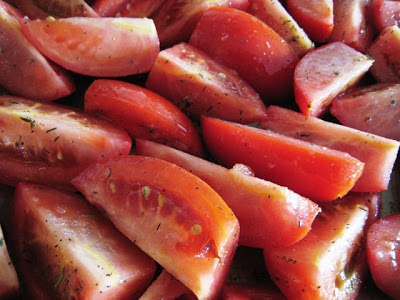 Bake in 225 ° oven for three hours until wrinkled and "dry" looking. They won't be completely dry, but there will be obvious moisture loss.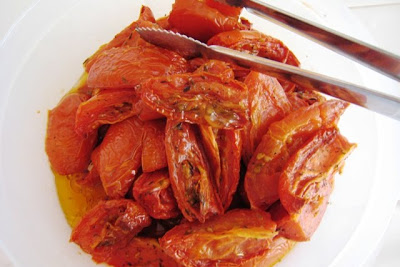 Toss in salads or chop and add to sauces.
To freeze: store the tomatoes in an airtight container in the freezer for up to 2 months.
Want the dish on delicious ways to act your wage? Subscribe to GCE in a reader or via email.