Subscribing to a regular CSA or produce co-op delivery can be a great way to support local farmers as well as get your eight servings a day of fresh fruit and vegetables. Here are some tips to help you use your share and make the most of it.
(These tips work for good produce sales regardless of how you get it.)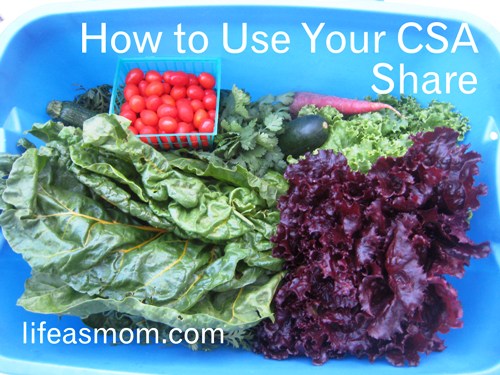 Once upon a time, I dreamed of being the gardener extraordinaire. Years ago we lived on two acres along the central coast of California. It was mostly weeds, but I dreamed of taming that flat, dry, hard land, and creating a smallish homestead.
I come from farming stock. My dad grew up on a farm in southern Minnesota. They grew a lot of what they needed for sustenance. And Dad always had a full garden growing in my childhood backyard.
As an adult I realized that I knew nothing about growing food, despite my illustrious heritage. In the aftermath of my first miscarriage, I poured my heart into reading, learning and growing as much as I could on that two acres. It was good therapy.
Life began in a garden. It makes sense that sustenance, health, and happiness should come from there as well. God has been very good to us.
Once I figured out how to keep us supplied in fresh fruits and vegetables, we moved.
And while, yes, I know that I could grow things in a postage size backyard, it's just not doable for our season of life. Instead I've found other great sources for fresh produce when you don't grow your own.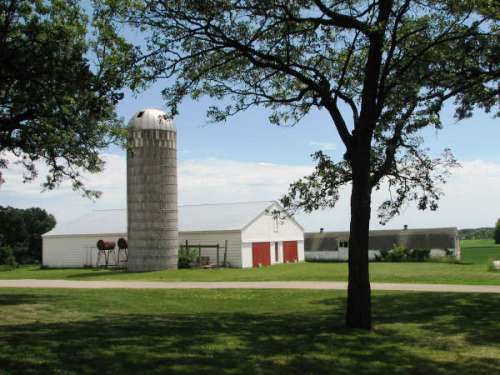 What is a CSA anyway?
For years I was enamored with the idea of joining a CSA, or community-supported agriculture. Subscribers to a CSA are basically partnering with a local farmer. Their subscription fee provides some of the capital that the farmer needs to grow his crops. In exchange, the subscriber receives a weekly allotment of produce.
There are different payment plans and structures available. Some require that you pay upfront in one large sum. Others, like the ones I've seen in Southern California, operate year-round and allow for weekly or monthly payments.
Either way you're investing in a local business, eating seasonally based on your locale, and hopefully enjoying lots of farm fresh produce.
One of the caveats of a CSA is that if it's a poor year for the farmer due to weather, disease, pests, etc, well, then it's a poor year for your produce box.
There are many variations of this subscriber-based produce cooperative. Currently, we subscribe to a larger produce cooperative called Abundant Harvest Organics. Our farmers are all from Southern California and weekly provide a ginormous box of organic produce.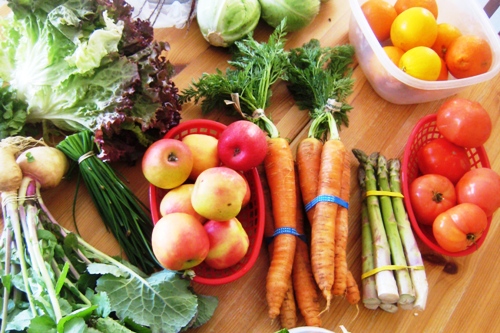 The challenge of a weekly produce box
The benefit of a weekly produce box is huge. A huge collection of aromatic, diverse, farm fresh, seasonal produce, often organic, packed just for me? Sweet!
The challenge? A huge collection of aromatic, diverse, farm fresh, seasonal produce.
Sometimes huge is a problem. What in the world will I do with all this? There's so much of it!
Sometimes diverse is a problem. I've met vegetables I'd never heard of previously! Parsnips, turnips, and rutabagas? Do people still eat those? And what in the world do I do with a pea tendril?
Sometime fresh is a problem. Since it's not canned or frozen already, it needs to be used pretty quickly to maximize that freshness. The last thing you want is to waste all this beautiful fruit and veg.
Sometimes seasonal is a problem. Now that we've been getting a produce box every week for almost a year, I'm learning what the seasons really produce. The foods we buy in the store are not naturally available year round. The tomato season is not as long as the supermarket would have us believe, nor, thank heavens, is butternut squash season.
How to Make the Most of Your Produce Box
Over the last few months, I've developed some techniques to help us make the most of our weekly produce box.
1. Divide and conquer.
Our delivery comes on Wednesday afternoons. Even though I get a sneak peak on the previous Friday, the kids and I are still pretty excited to see what's in the box. Sometimes there are last minute changes. Sometimes we're just blown away by a ginormous squash or an abundance of fresh pluots.
My little girls, 3 and 5, dash to the cupboard for bags, baskets and boxes to sort our produce haul. We use large, clear plastic boxes with lids to store the items that need to be refrigerated. Baskets are for the items that can be stored in the pantry (onions, potatoes) or on the counter (summer fruit and tomatoes). We also reuse grocery store plastic bags for some items like lettuce, carrots, and beets.
(I'd love to find some nice reusable bags, but just haven't found the right product for the right price. I'd love to hear your recommendations.)
We divvy up the box right away so that we can store each item appropriately. Some fruits and vegetables are not good to be stored together. The offgassing can make one ripen more quickly or give it an odd taste or texture.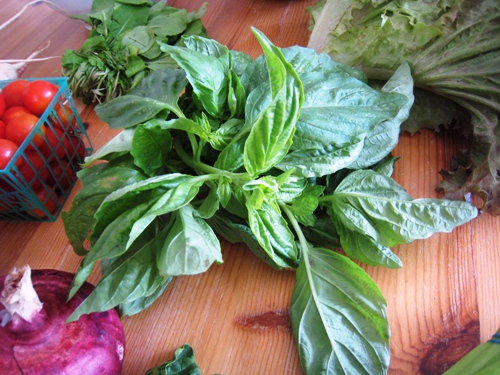 2. Use up the perishables.
In the early months of our produce box I thought we'd just cook everything fresh the night of serving. I found this to be a lot of work and a little anxiety producing. I was nervous that I would lose our cash investment if the food went bad before I could get around to cooking it up. It just wasn't very fun.
Now I know better. On the first day or two after we get our box, I focus on the extreme perishables. Arugula flowers need to be used right away. Sweet corn tastes best soon after it's been picked. Some things need to be consumed as soon as you possibly can.
For instance, basil doesn't keep well. I've tried a variety of methods including storing it on the counter in a glass of water. At my house it seems to wilt very quickly. So, I use it up the night of our delivery, making an Herbed Compound Butter or Rustic Basil Sauce (a poor man's pesto) if I don't have a recipe that night that will use a ton of basil. These two items keep or freeze well and make great use of that fabulous flavor.
Consider which items will perish first in your box. This might depend on how ripe they are when they arrive at your house. Use those first.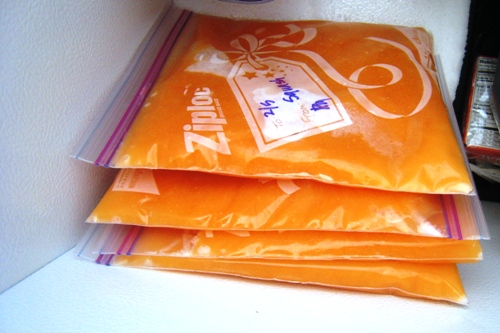 3. Chill out.
If you've got items that can be frozen, then prep them for the freezer. We enjoyed summer corn and green beans all winter since I blanched them and packaged them for the freezer in season. And that avalanche of butternut squash? I roasted, pureed, and froze it for future baking.
There's a wealth of items that you can freeze to enjoy later. You can freeze vegetables for side dishes later and freeze fruits for baking or for smoothies. Zest the lemons and other citrus and store the zest and juice separately in the freezer. So much better than bottled! Chop and freeze fresh herbs for tasty goodness all year long.
To make it easier to store and use berries and chopped fruits, be sure to quick freeze them before storing them in the plastic bags. Storing the fruit with sugar will extend its quality while frozen. But, if you're going to use them with a few weeks, you should be fine.
Be sure to check out how to freeze vegetables and fruit so that they are best preserved.
For even more convenience, do a bulk batch of baking and bake up your surplus fruit, berries and zucchini into these recipes. Cool and wrap well before freezing:

4. Can it.
Just as knitting and frugal living are seeing a new popularity, so is home preserving. The things that our grandmothers did second nature have almost become lost arts.
Years ago back on the wanna-be homestead, I bought a Ball canning book and all the supplies. I taught myself the things I missed out on having Gramma John teach me.
Our produce box has brought the experience all back to me. Over the last year I've made pomegranate jelly, several types of jam (cherry, plum, apricot), and pickles.
I've had some hit and miss success. (Don't even get me started on the mushy pickles.) But, overall, it's been extremely satisfying to "put up" a variety of jams and jellies over the last year.
Be sure to check out Aimee's Canning Week over at Simple Bites for all kinds of tutorials and tips for home canning.

5. Include it in your meal plan.
The first time I tried a CSA box, it stressed me out. A year later I gave it another shot and it stuck. It took some time to learn to work our meals around what was in the box as opposed to what I wanted to make. But, this is more reminiscent of how the Earth's calendar really works.
It's a good mental exercise to think according to the seasons. It tastes better, too.
Over the last year our family has become more and more accustomed to eating seasonal foods. They still don't love butternut squash, but we've discovered some wonderful foods that we might not have ever tried.
I can't wait to get more pea tendrils and leeks next year. The kids now think fondly on brussels sprouts. And even hubby has remarked that he knows when the seasons are changing. He knew his taste buds were ready for apricots when that first batch came in the box.
Check out this post FULL of summer produce recipes if you're stumped for how to include your summer produce into your meal plans.
We've seen much good fruit from a regular produce subscription. In more ways than one. The benefits totally outweigh the challenges of a CSA box.

This post is part of an ongoing series about how to eat well and spend less. Along with some fabulous foodies, organizers, and frugalistas, I've been bringing you suggestions on how to eat like a king without becoming a pauper to do it.
This month we're sharing tips and tricks for enjoying summer produce. From a canning extravaganza to making it easier to eat more veggies to figuring what in the world to do with all that zucchini, we've got you covered.
Be sure to check out what the other ladies are sharing this week or browse their archives:
How do YOU make your CSA work for you?