Making homemade vegetable broth in the slow cooker is a simple and easy process. It's cheap, too, as you can use up veggies that might be seeing the end of their days. Waste not, want not with homemade vegetable stock.
So, what do you do with vegetables that are beyond eating fresh and looking just a little sad? Roasting veggies is a great option for those that are a bit wilted. Turning them into liquid gold is another.
Liquid gold? Say what?
Yep. Vegetable trimmings as well as vegetables that are nearing their lives' end can still serve a delicious purpose in your kitchen! Make vegetable broth to save money and avoid food waste. It's so easy when you use a slow cooker, there's really no reason not to do it.
How to Make Vegetable Broth in the Slow Cooker
What is veggie broth made of?
Vegetable broth is made by simmering water and vegetable trimmings along with salt, peppercorns, and herbs. The resulting liquid can be used as a base for soups or sauces as well as for flavoring in rice dishes.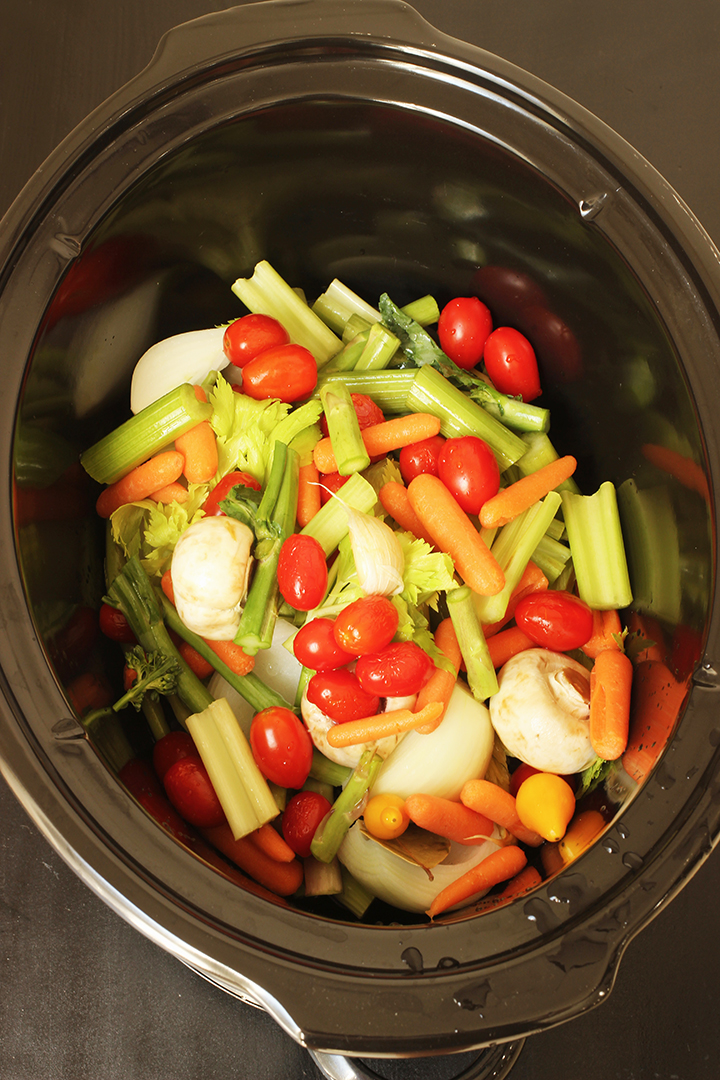 What vegetables can you use in broth?
You can use the vegetables that you already have on hand, and particularly those that are on their last legs. Kitchen staple veggies are great for making into broth, such as
carrots
parsnips
onions
leeks
shallots
garlic
celery
mushrooms
In small amounts you can also use asparagus and tomatoes. You can also add fresh herbs like parsley and thyme, as well as dry bay leaf.
What vegetables should you not use in vegetable broth or vegetable stock?
It's often recommended not to use these vegetables as they may make the broth bitter or over flavored or turn it cloudy:
cabbage
kale
spinach
broccoli
bell pepper
potatoes
Honestly? I don't worry about cloudiness and have used broccoli and peppers in my veggie stock in the past. We liked it just fine. Your mileage may vary.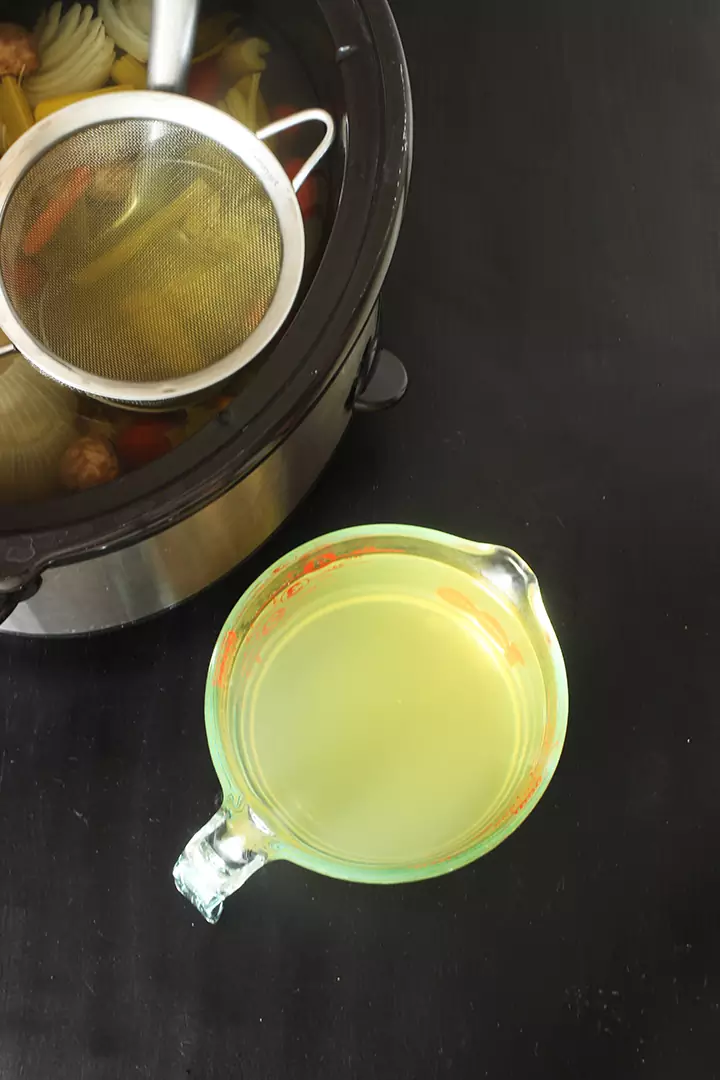 What is the difference between veggie stock and vegetable broth?
Once upon a time, the difference between a stock and a broth was whether or not bones were used in the preparation. So, if you simmered chicken bones with aromatics you had chicken stock while the liquid left from simmering chicken meat would be called chicken broth.
(Bone broth is just a silly name made up by hipsters.)
Since there are no bones involved in making vegetable broth, technically all liquids made from simmering vegetables would be called broths. However, food has gotten complicated in recent years and so another layer of definition has been added: broth for a finished product and stock when using it as an ingredient.
At the end of the day, vegetable stock and vegetable broth are basically the same thing, and can be used interchangeably.
How do you make vegetable broth taste better?
Have you salted the broth? Salt has often gotten a bad rap, but in reality it brings out the flavor in foods. Try salting the broth first to see how it tastes.
Have you added herbs and seasonings? A little goes a long way, especially when you let it simmer. Try your favorite herb, a few cloves of garlic, and some peppercorns.
Have you used vegetables you actually like? If you don't like the flavor of tomatoes, chances are good you won't like broth made with tomatoes. Focus on vegetables you enjoy.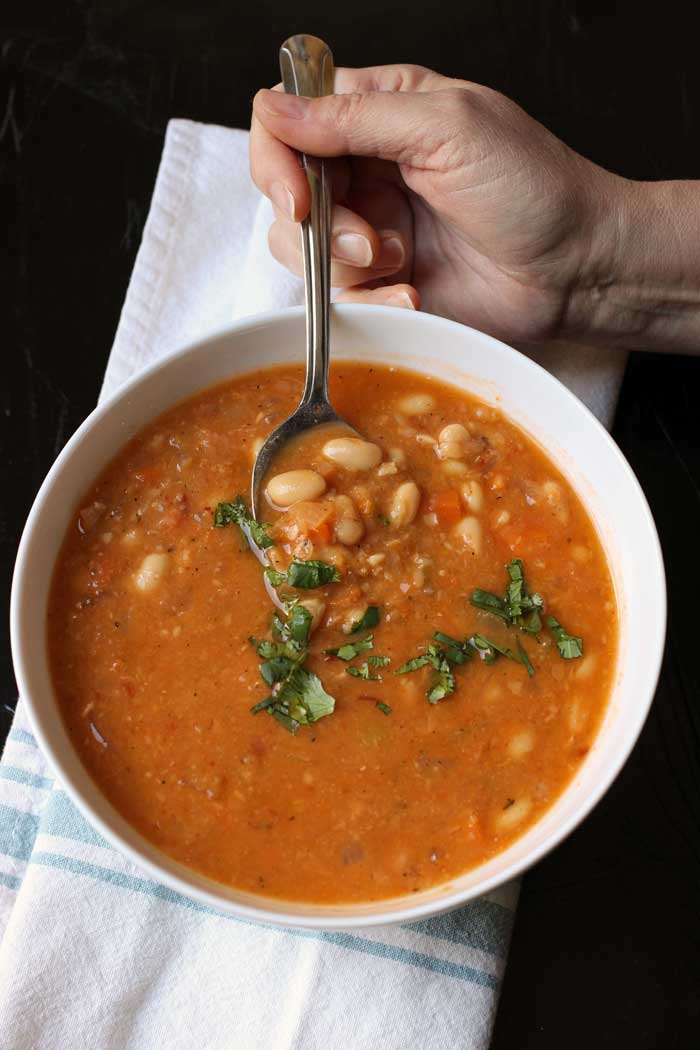 What can you use vegetable broth for?
Vegetable broth can be used in savory recipes wherever water or chicken or beef stock is called for. These plant-based soups are delicious made with homemade vegetable broth:
Can you freeze veggie broth?
Since you're not going to boil up a pot of broth every time you need it, it's in your best interest to freeze it. Chill the broth after straining out the veggies and divide it into 1- and 2-cup portions. Freeze until ready to use.
Is it cheaper to make your own vegetable stock?
When I make vegetable stock it's usually because I've got some veggies near their life's end, veggies that might otherwise head to the compost pile. Simmering them in a pot of water with a handful of herbs and spices costs me about 25 cents.
Since store-bought vegetable broth costs anywhere from $1/cup and up, it's definitely cheaper to make your own, especially if you're using up what might otherwise be food waste.
Do you need special equipment to make vegetable stock in the slow cooker?
Here are the kitchen tools I like to use for making vegetable stock:
What do you do with the leftover veggies from making stock?
After simmering for several hours, the veggies have pretty much given up all their flavor. Feed them to the chickens or the compost bin at this point.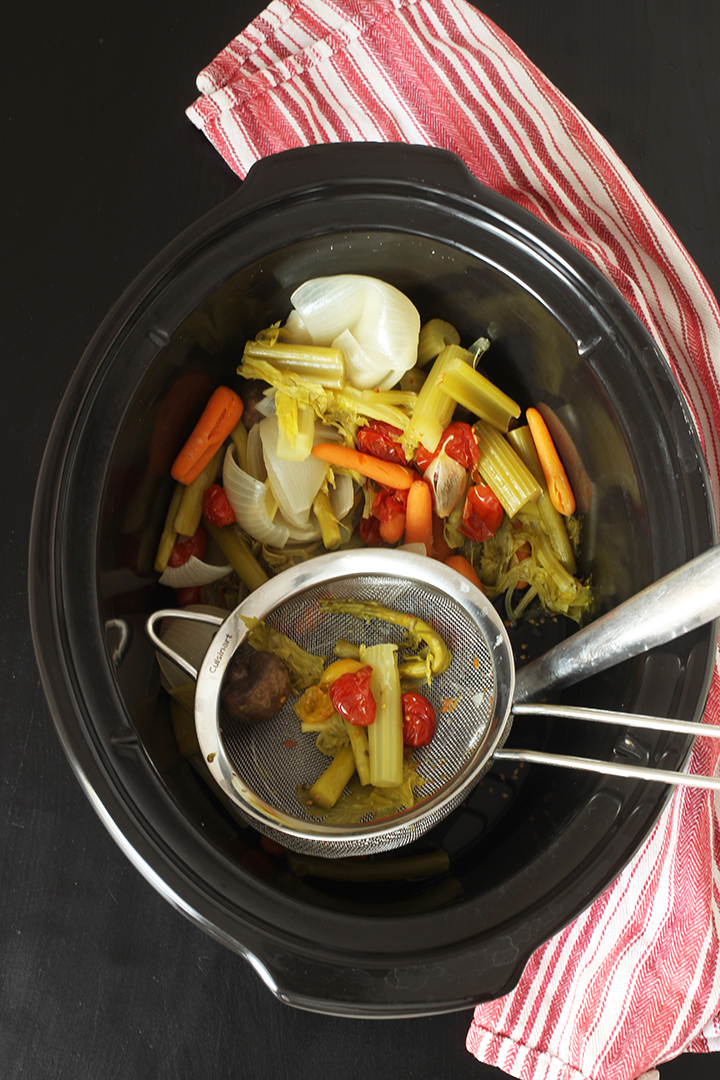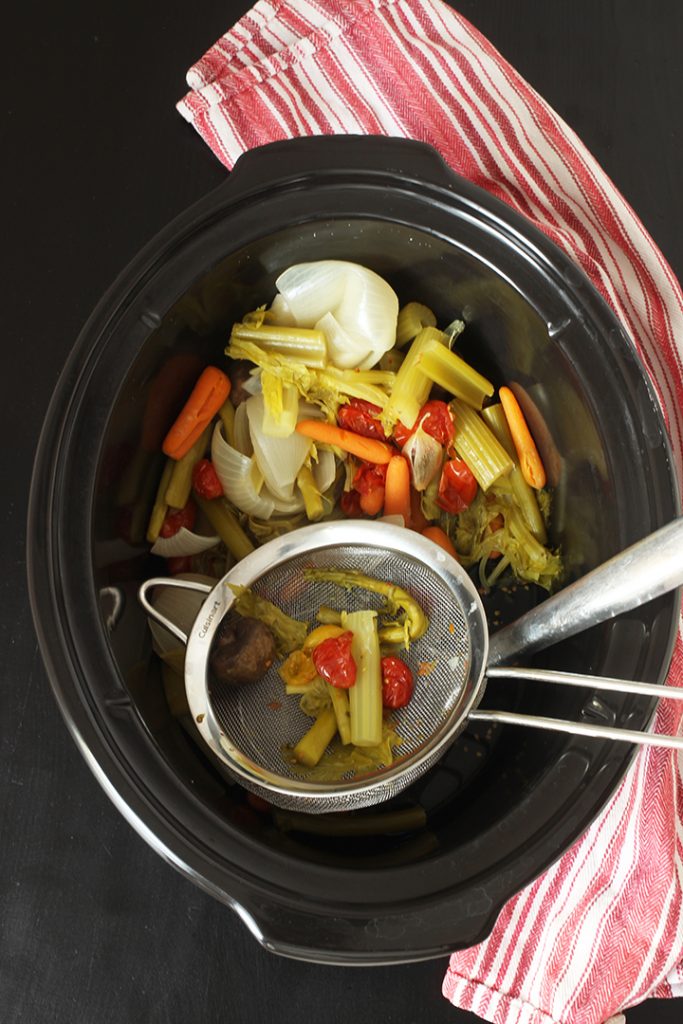 If you prepare this recipe, be sure to share a picture on social media and hashtag it
#GOODCHEAPEATS
. I can't wait to see what you cook up!
Slow Cooker Vegetable Broth
Use the following as a guideline. Feel free to mix and match the vegetables according to what you have on hand and what needs using.
Ingredients
1

onion

peeled and quartered

1

cup

baby carrots

or 2 large carrots, peeled and cut into chunks

3

ribs

celery

3

mushrooms

3

cloves

garlic

other vegetable trimmings, optional

8

cups

water

1

bay leaf

4

peppercorns

1

tablespoon

salt

or more to taste
Instructions
Assemble all the vegetables and trimmings in the crock of a slow cooker. Add the water, bay leaf, peppercorns, and salt.

Cover and cook 4 to 6 hours on HIGH.

Strain broth to use in recipes or freeze for later use.

To freeze: chill broth completely. Divide into 1- and 2-cup containers and freeze. Store in freezer until ready to use.
Notes
Promptly store leftovers in an airtight container in the refrigerator, for up to 3 days.
Nutritional values are approximate and based on 1

 cup broth.
Nutrition
Calories:
17
kcal
|
Carbohydrates:
4
g
|
Protein:
1
g
|
Fat:
1
g
|
Saturated Fat:
1
g
|
Sodium:
909
mg
|
Potassium:
125
mg
|
Fiber:
1
g
|
Sugar:
2
g
|
Vitamin A:
2274
IU
|
Vitamin C:
2
mg
|
Calcium:
23
mg
|
Iron:
1
mg