Get your slow cooker to make dinner for you; this Cumin Pork Loin Roast Recipe is just the thing. With hints of lime and cumin, it's delicious and easy to prep.
Without a doubt the slow cooker can be the busy mom's best friend in the kitchen. Who else will cook for you while you're gone all day and have a piping hot meal ready upon your return from soccer practice, a business meeting, or an afternoon matinee?
As long as you plan ahead, you can make the "crock pot" work for you.
I love using my slow cooker for casseroles, stews, chilis, and simple meat prep. Roasts and chickens do well with the long cooking time and are tender and ready for you to slice and add them to side dishes or shred and mix them into tacos or burritos.
This Cumin Pork Loin Roast recipe is one of those easy, busy day options. It's delicious as a "meat and starch" meal with rice and beans on the side. However, the pork loin turns out so tender, you can also shred it and serve it as a taco filling.
I'll warn you from the outset, I do break some rules here. Not only do I braise a pork loin against the Pork Board's recommendations, but I also don't use the slow cooker for hours on end.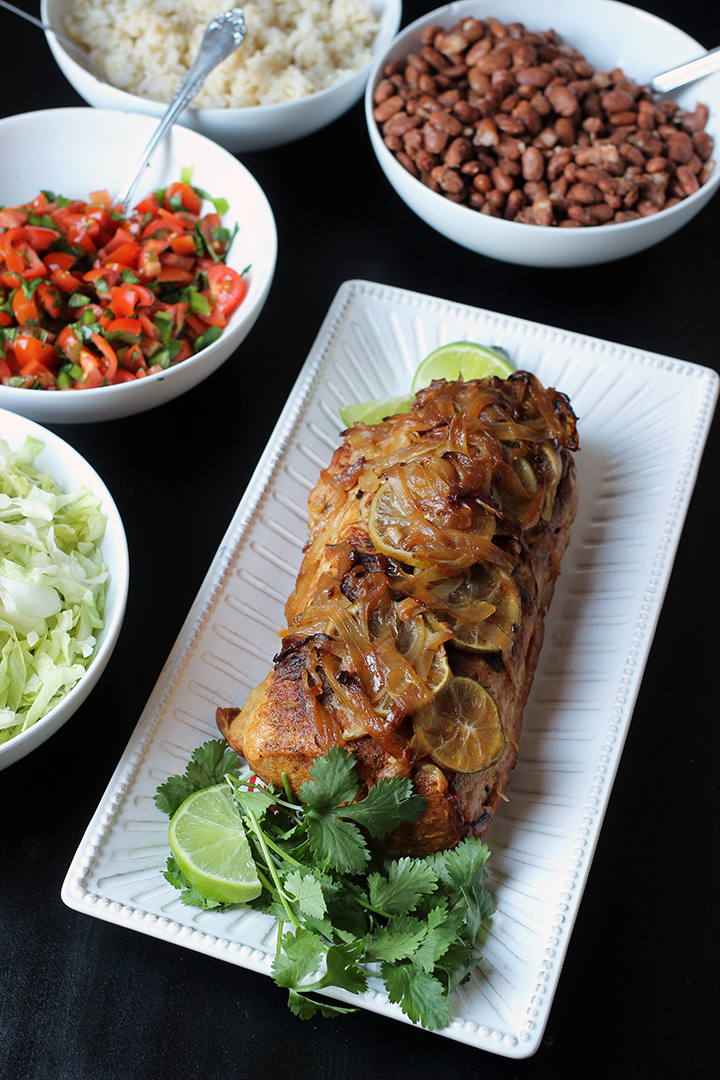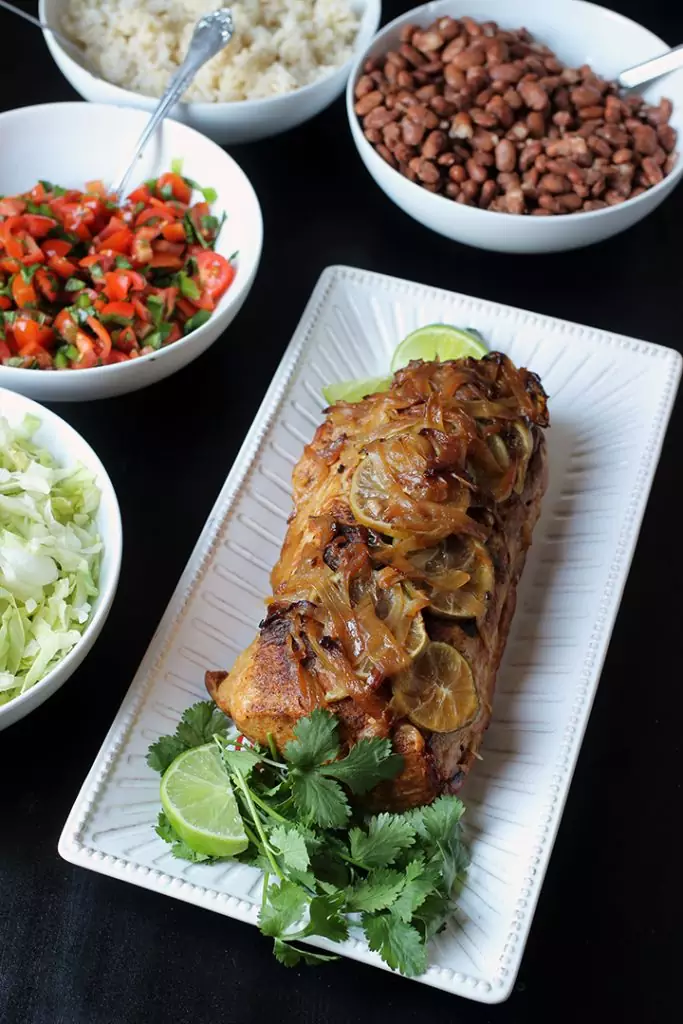 How do you keep pork loin from drying out?
Pork loin is a leaner cut of meat than pork shoulder which requires a long cooking time. So, even though the slow cooker is handy, you don't want to "set and forget" your pork loin roast in the slow cooker too long.
To prevent the pork loin from drying out during cooking, place it fat side up in the cooker so that the juices will baste the meat. Covering it with the lime and onions also helps.
Most importantly, don't overcook it. Check it at the 6 hour mark. If the internal temperature has reached 145 degrees, you're good to go.
Should you sear a pork loin?
Searing your pork loin in some fat in a hot skillet to brown the crust produces the Maillard reaction, a chemical reaction that enhances the flavor of the dish. While it does require another cooking step and a pan to wash, I find that the outcome is worth the effort.
How should you cook a pork loin roast?
I prefer to cook pork loin roast in the slow cooker. While it's not generally recommended to braise a pork loin, I find that if I don't overcook it, the dish works for us.
It's easy and hands-free, something necessary for a busy family.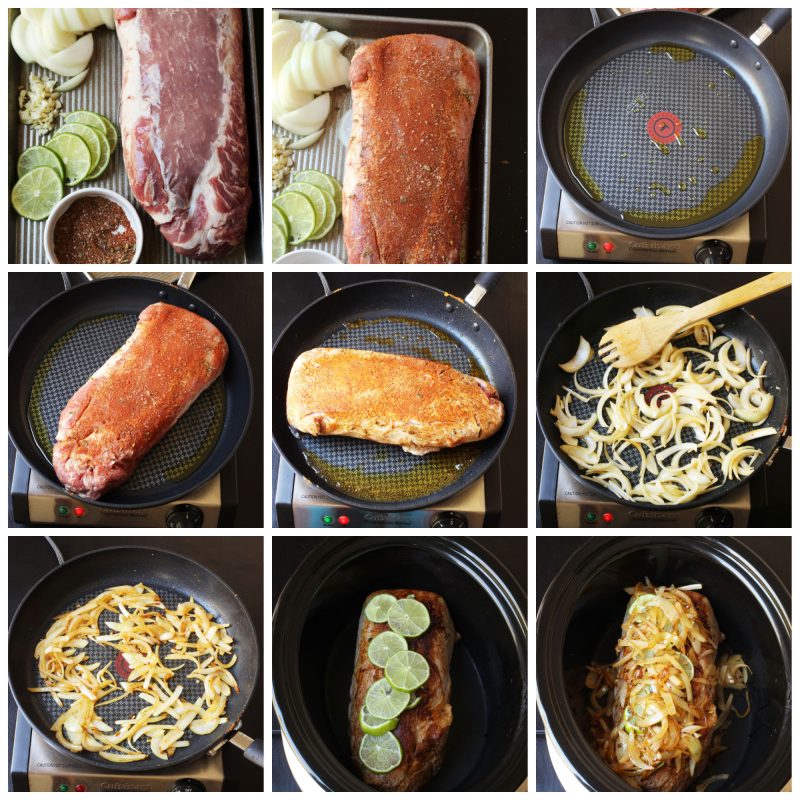 What's it cost to cook pork loin roast at home?
Pork loin is generally an incredibly affordable cut of meat, usually under $2/pound when on sale. It's easy to find, making it a good addition to your meal plan rotation.
Here's how the cost pencils out at a mid-range grocery at non-sale prices:
salt – $0.02 ($2.99/26 oz)
cumin – $0.07 ($3.59/1.68oz)
paprika – $0.03 ($.98/2.5oz)
oregano – $0.02 ($1.25/.67 oz)
pepper – $0.01 ($3.98/6oz)
cayenne – $0.04 ($3.19/1.52 oz)
pork loin roast – $8.97 ($2.99/lb)
olive oil – $0.40 ($6.49/16 oz)
onion – $0.20
garlic – $0.12 ($0.48/head)
lime – $0.20
When not on sale, this dish costs $10.04 for a 3-lb roast, or 83 cents/serving, when serving ¼ lb per person.
Lower your costs even more by using the Good Cheap Eat System.
Do I need special equipment to cook pork loin roast in the slow cooker?
You don't need fancy equipment to make this dish. However, good quality equipment can make the cooking experience easier, faster, and more fun. Here's what I recommend: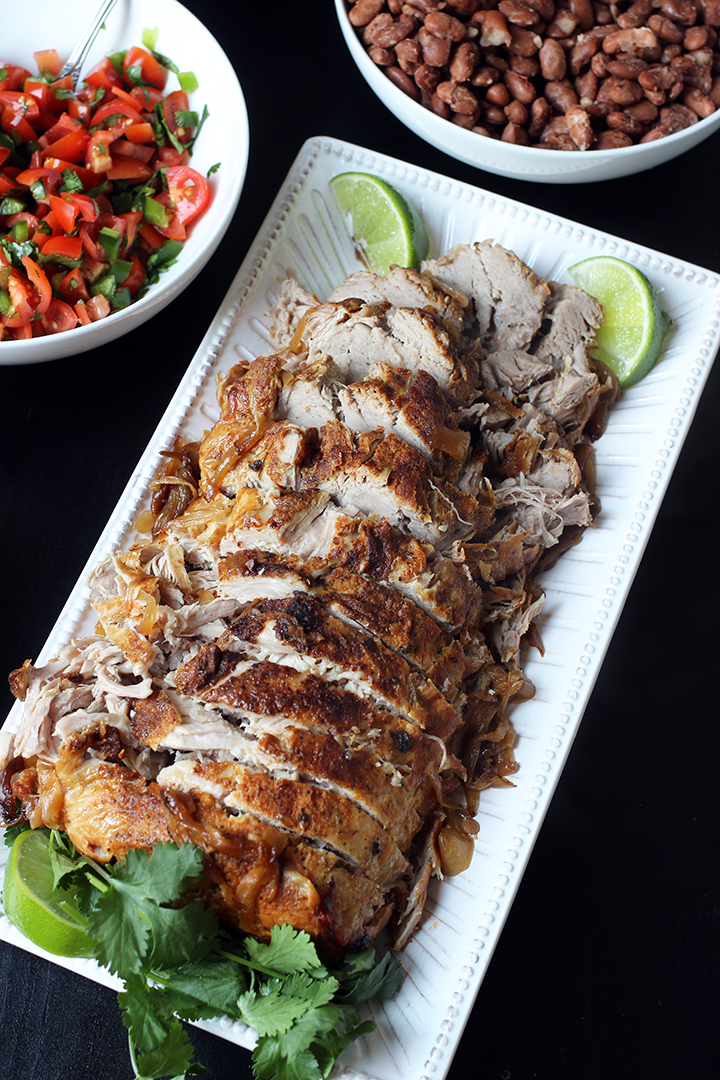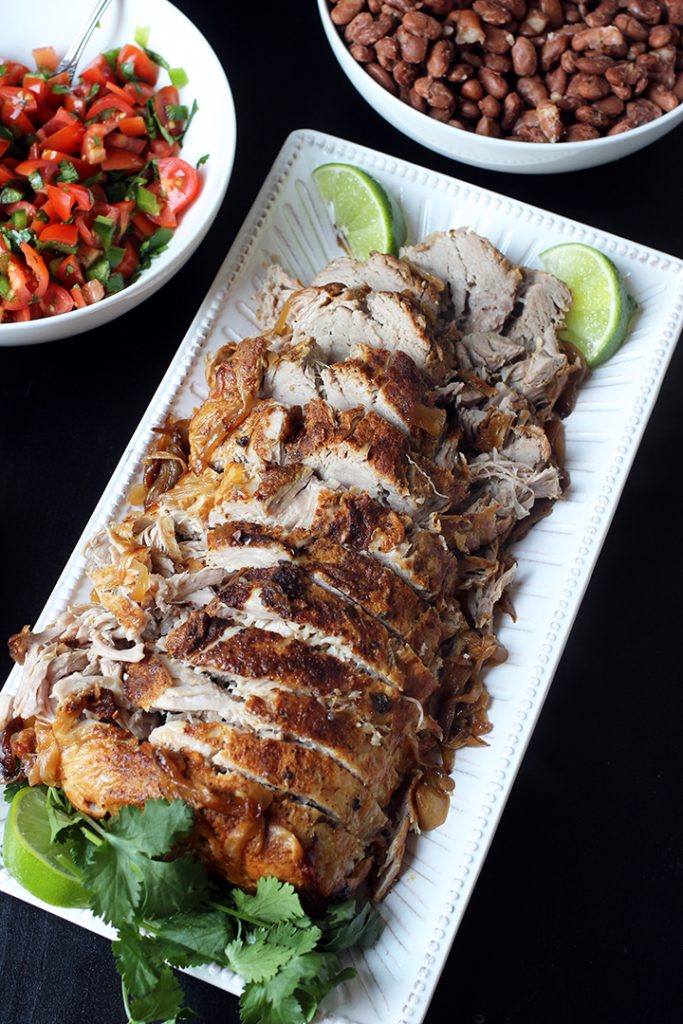 Cumin Pork Loin Roast Recipe
This cumin-scented pork loin cooks up easily in the slow cooker, allowing time for the meat to tenderize and the flavors to build. It's a great addition to tacos and burrito bowls.
Ingredients
1

teaspoon

salt

½

teaspoon

ground cumin

½

teaspoon

smoked paprika

½

teaspoon

dried oregano

½

teaspoon

black pepper

⅛

teaspoon

ground cayenne pepper

2 to 3

lb

pork half loin roast

1

tablespoon

olive oil

1

onion

chopped

2

clove

garlic

chopped

1

lime, optional

thinly sliced
Instructions
In a small bowl, combine the salt, cumin, paprika, oregano, pepper, and cayenne. Spread this generously over the pork loin.

Heat the olive oil in a large skillet over medium-high heat. Sear the roast on all sides in the hot oil. Remove the roast to the crock of a slow cooker..

Add the onion and garlic to the pan and saute until clear and starting to brown around the edges. Remove from heat.

Layer the lime slices (if using) over the pork roast and cover with the onion mixture.

Place the lid securely and turn the heat to HIGH for the first 30 minutes. Reduce the heat to LOW and cook 6 to 8 hours or until the pork is fall apart tender.

Remove the roast from the pot and slice or shred the meat to serve.
Notes
Promptly store leftovers in an airtight container in the refrigerator, for up to 3 days.
Nutritional values are approximate and based on ⅛ the recipe.
Note: the lime gives a very distinct flavor during the longer cooking time. If you prefer, omit the lime for cooking, and serve wedges at serving.
Nutrition
Calories:
176
kcal
|
Carbohydrates:
3
g
|
Protein:
26
g
|
Fat:
6
g
|
Saturated Fat:
2
g
|
Cholesterol:
71
mg
|
Sodium:
347
mg
|
Potassium:
453
mg
|
Fiber:
1
g
|
Sugar:
1
g
|
Vitamin A:
75
IU
|
Vitamin C:
4
mg
|
Calcium:
15
mg
|
Iron:
1
mg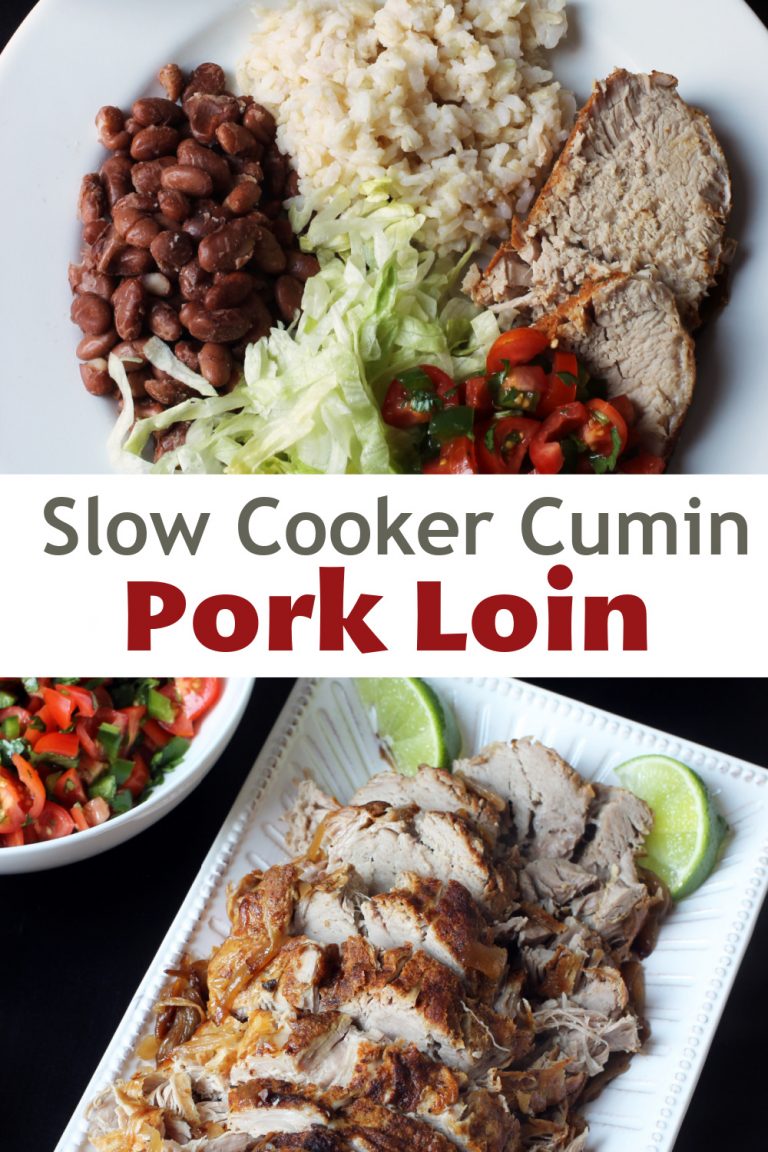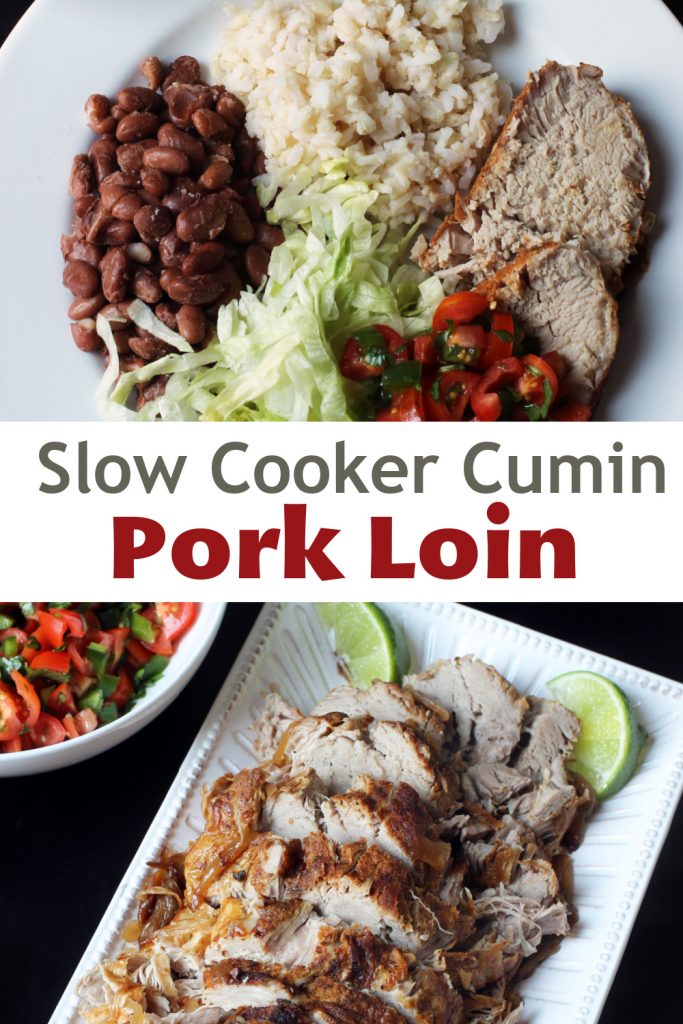 This post was originally published on August 6, 2009. It has been updated for content and clarity.