Applesauce is super easy to make from scratch with a slow cooker. Toss in apples and a bit of water. A few hours later, give it a stir and season to taste with cinnamon and sugar. It's that easy!
Growing up I wasn't too fond of applesauce. Usually, Mom purchased the jarred variety and I wasn't crazy about the texture. It wasn't until I was in college that I tasted the real deal.
I had broken my jaw and couldn't eat solid foods for about six weeks. At the time, I worked for the university catering company. A co-worker came by with homemade applesauce. I was stunned. It was so good!
It definitely made my newfound "diet" a little easier to swallow. Well, that was just the beginning. My friend had opened a whole new world for enjoying apples. And you'll be surprised at how easy it is to make!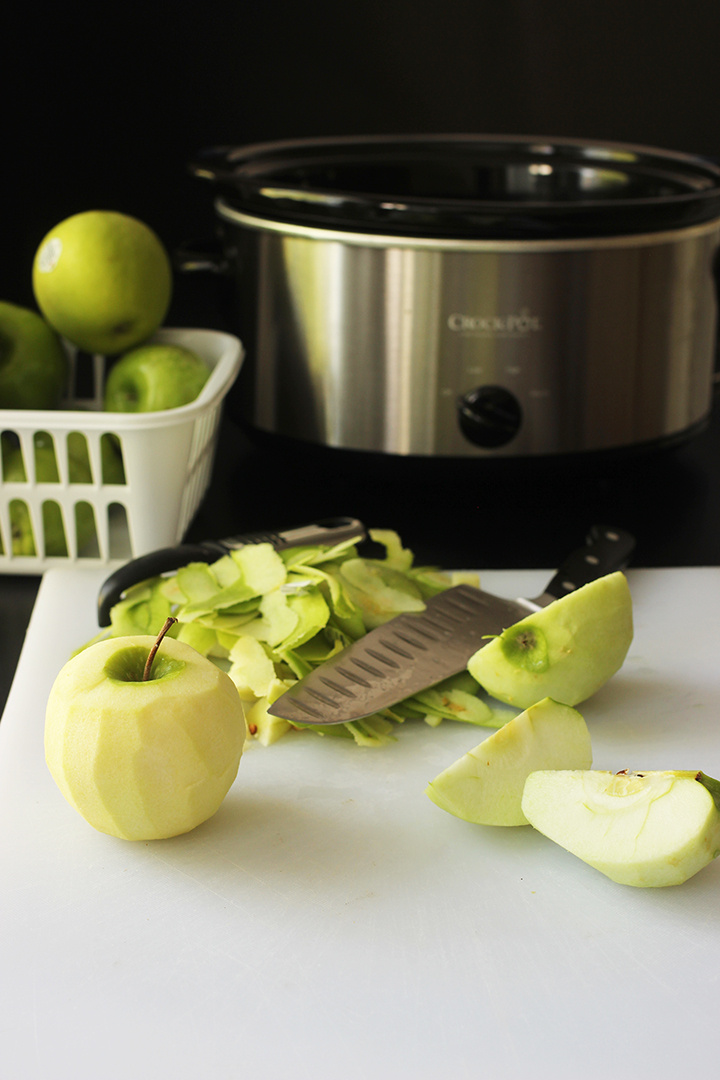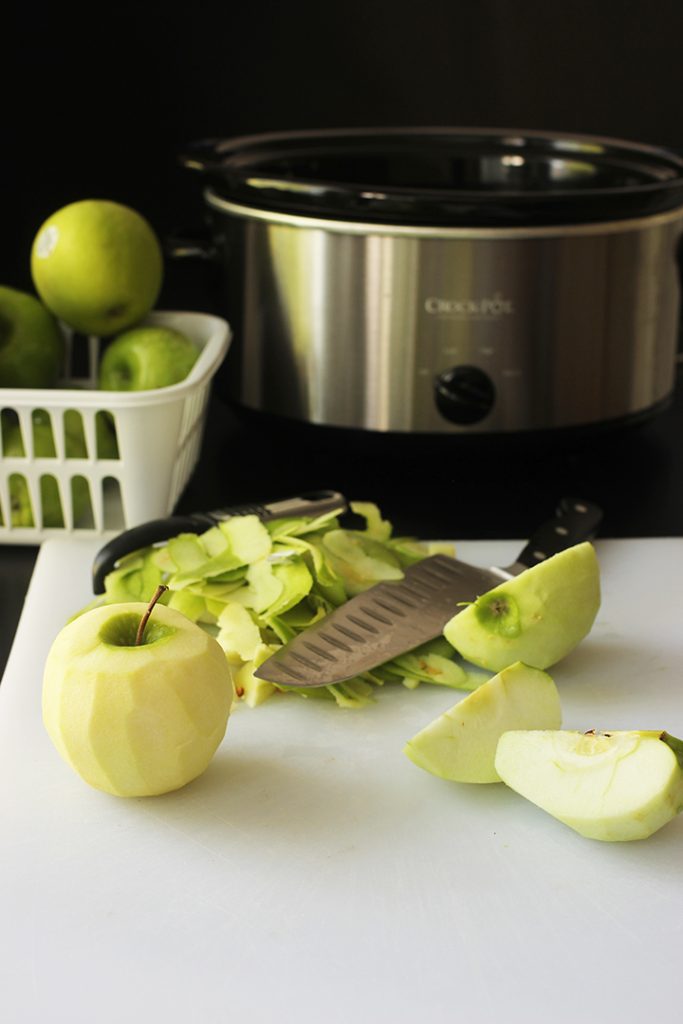 How do you make homemade applesauce in the slow cooker?
Making applesauce in the slow cooker is super easy and hands-free. This delicious, lightly sweetened applesauce practically cooks itself, freeing you up to do other things.
Peel, quarter, and seed your apples. Check out these ways to slice an apple to make the process easier.
Pile them in the crock of a slow cooker and add 1 cup water.
Cook until the apples start to disintegrate and foam, 2 to 4 hours.
Remove the lid, and stir the mixture down.
If needed, break up larger bits with a spoon or potato masher. You can also blend the sauce with an immersion blender for a smoother puree.
Season to taste with brown sugar and cinnamon.
Serve the applesauce hot, warm, or cold.
Store leftover applesauce in the fridge for up to a week or in the freezer for longer storage.
What can you do with slow cooker applesauce?
Homemade applesauce is delicious as a snack or side dish, but you can also use it in recipes, such as these: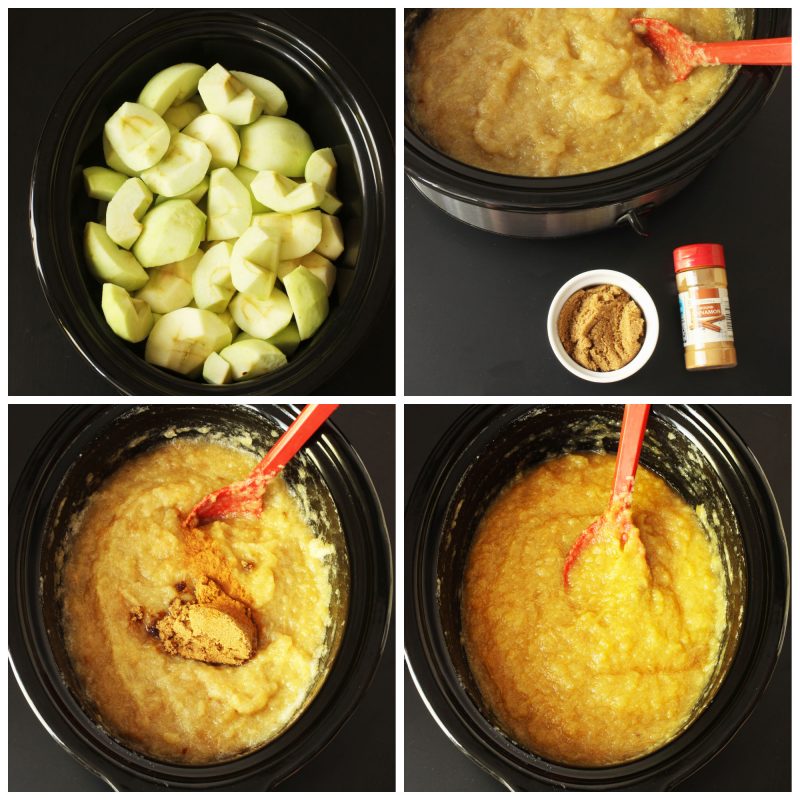 What apples should you use for applesauce?
Not all apple varieties are created equal. In fact, some are better for eating fresh while some are best for cooking. And some, you guessed it, are better for making applesauce.
I learned this the hard way when I made applesauce with apples that weren't for saucing. They practically disintegrated when cooking. There was hardly anything left!
Be sure to use apples that are suited for slow cooker applesauce, such as:
Gala
Fuji
Granny Smith (pictured for this recipe)
Honeycrisp
Pink Lady
Golden Delicious
Braeburn
Ambrosia
Cameo
Jazz
Jonagold
Opal
Piñata
DO NOT USE: Red Delicious.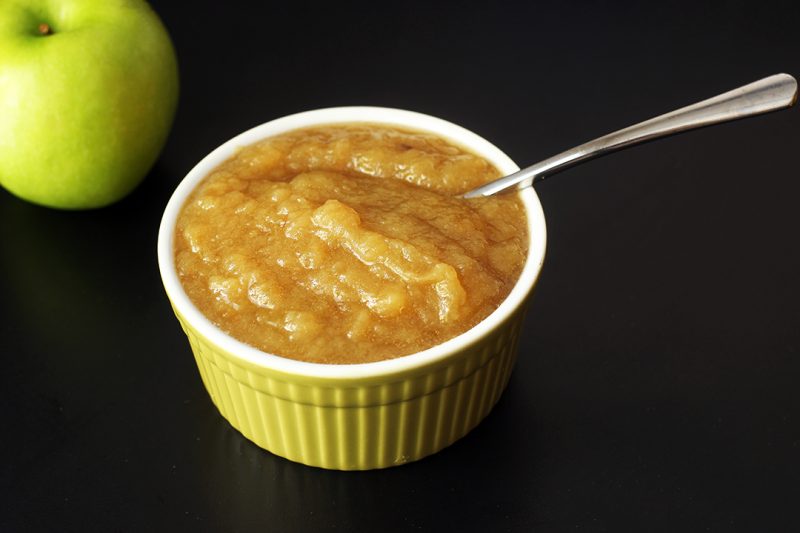 Is it cheaper to make your own applesauce?
Homemade applesauce can be a lot more affordable than purchased applesauce, especially when you can find the apples for free or cheap. Be sure to ask your local apple grower if they've got "seconds." These not-so-pretty apples are just fine for saucing, just not that pretty for other uses.
There are 2 to 3 apples per pound. Here's how this recipe pencils out when you can buy apples for $1/pound or less:
6.5 pounds of apples (about 16 medium) = $6.40
brown sugar = $0.09
It costs about $6.49 to make 10 cups of sauce, or 80 oz. That works out to be about $0.08/ounce.
The cheap (read: not very tasty) brand of applesauce at the store also costs $0.08/ounce. Price-wise, it's a wash, but the flavor of homemade applesauce can't be beat.
If you can get your apples for less than $1/pound, you will come out the winner on both counts.
Can you freeze slow cooker applesauce?
Slow cooker applesauce is great to freeze! Simply chill the sauce, divide into 1- or 2- cup freezer-safe containers, label and date the containers, and stash them in the freezer.
To serve: just thaw and eat. My kids love having it in that slightly slushy stage. Such a fun, easy dessert!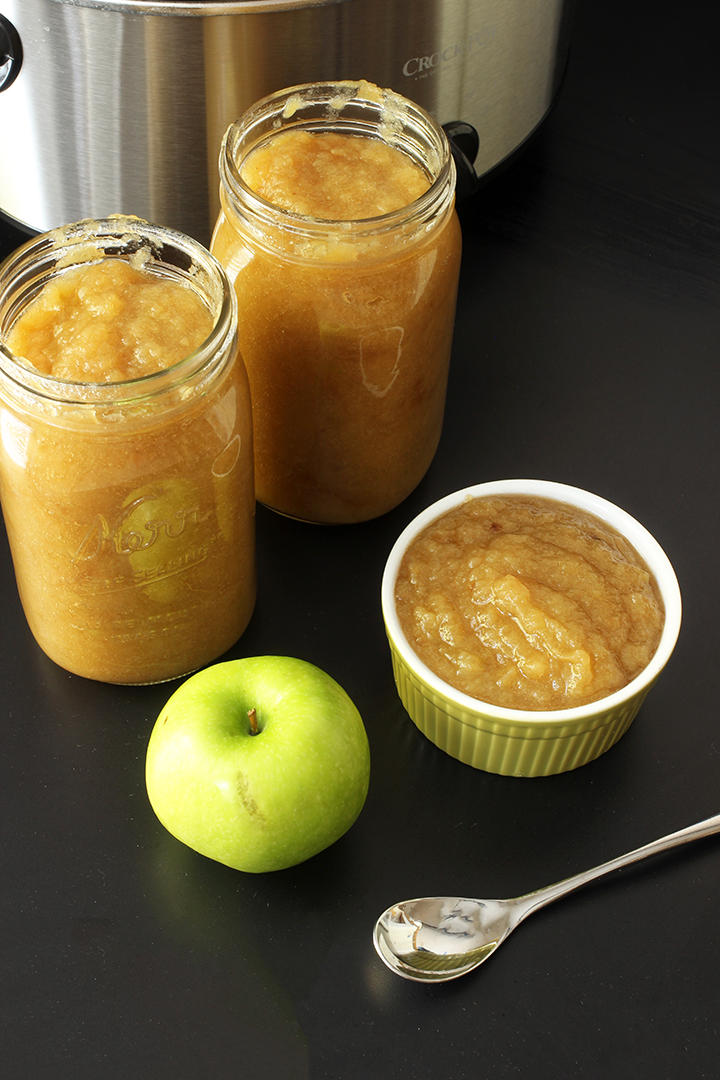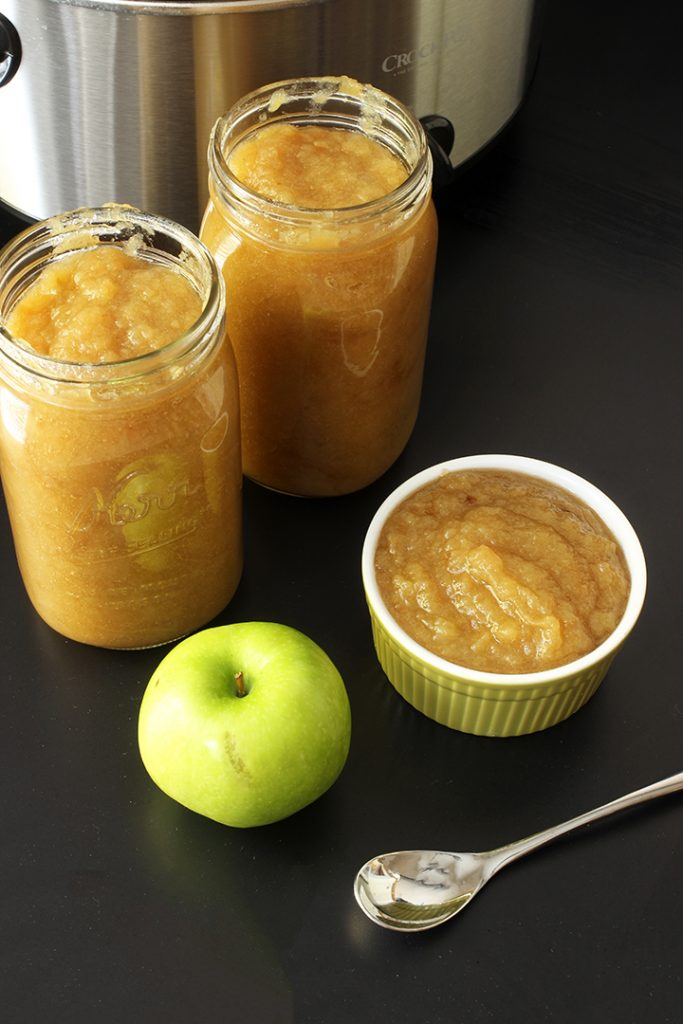 Slow Cooker Applesauce
This delicious, lightly sweetened Slow Cooker Applesauce practically cooks itself, allowing you time to do other things. Load up the slow cooker and in a few hours, come back to warm, comforting applesauce.
Ingredients
16

apple

peeled, cored and cut into quarters

1

cup

water

¼

cup

brown sugar

optional

ground cinnamon to taste

optional
Instructions
Place the apples and water in the crock of a slow cooker. Cover.

Cook on HIGH for about 4 hours or on LOW for 6 to 8 hours. The apples have softened and darkened slightly.

Mash the apples with a potato masher to the desired consistency. Stir in brown sugar and season to taste with cinnamon, if desired.

Serve warm, at room temperature, or chilled.
Notes
Note: package leftovers promptly and store in an airtight container in the refrigerator for up to 4 days. You can also divide the sauce into covered containers, label, and chill completely before storing in the freezer for up to 6 weeks.
If you don't have a crockpot, you can make it on the stovetop just as well, just check often to make sure the water doesn't evaporate. Once the apples have cooked down, you're good to go.
Nutritional values are approximate and based on 1/16 of the recipe.
The recipe yield will depend on the size and type of apple you use. A 6 qt slow cooker full of apples yielded 10 cups of sauce.
Nutrition
Calories:
108
kcal
|
Carbohydrates:
29
g
|
Protein:
1
g
|
Fat:
1
g
|
Saturated Fat:
1
g
|
Sodium:
4
mg
|
Potassium:
199
mg
|
Fiber:
4
g
|
Sugar:
22
g
|
Vitamin A:
98
IU
|
Vitamin C:
8
mg
|
Calcium:
14
mg
|
Iron:
1
mg
Tried this Recipe? Tell us what you think!
Your reviews help us develop better recipes and give newcomers the confidence to try your favorites. Scroll down to leave a starred comment.
This post was originally published February 1, 2010. It has been updated for content and clarity.