Freezing smooth, homemade applesauce in an ice cream maker creates the simplest apple sorbet.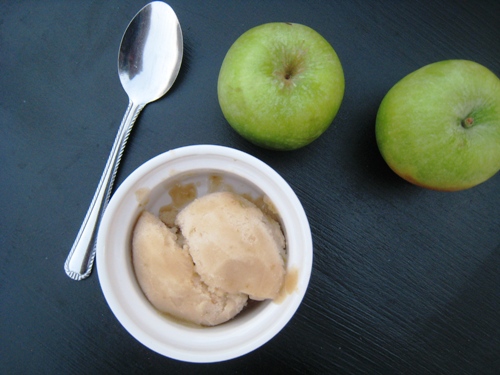 Years ago, hubby and I visited a restaurant in Paris that we remember to this day. We were dating at the time and had done the Let's Go France – budget thing for six weeks. On this last night before he flew back to the States, we splurged Chez Lena et Mimile.
We hadn't had too many decent restaurant meals during his stay, but spending a little more money appeared to do the trick for getting us a nice three or four course meal. We ended the repast with a chocolate mousse that was out of this world and a scoop of green apple sorbet.
I was stunned. The sorbet tasted just like a perfect green apple. It was amazing. I'd never tasted anything like it.
Recently, while I was processing some of the 70 pounds of apples I've bought this season, I decided to try my hand at sorbet making. I am not a frozen dessert expert, by any meals. So, I kind of cheated by pouring pureed homemade applesauce into the ice cream maker. While the result was certainly not the green apple sorbet of my memory, it was, nonetheless, delicious.
It's also an amazingly healthy "dessert" that I don't mind feeding my kids right before bed.
Simplest Apple Sorbet
Ingredients
4

cup

applesauce

blended very smooth

1

tsp

vanilla extract
Instructions
Combine the applesauce and vanilla.

Pour the mixture into your ice cream maker and run until creamy and soft serve-like.

Spoon into a covered dish and freezer for several hours before serving.
Notes
Nutritional values are approximate and are based on 1/8 of the recipe. Freeze leftovers promptly and use within 4 days.
Nutrition
Calories:
53
kcal
|
Carbohydrates:
14
g
|
Protein:
1
g
|
Fat:
1
g
|
Saturated Fat:
1
g
|
Sodium:
2
mg
|
Potassium:
90
mg
|
Fiber:
1
g
|
Sugar:
12
g
|
Vitamin A:
35
IU
|
Vitamin C:
1
mg
|
Calcium:
5
mg
|
Iron:
1
mg