Looking for a fun dessert that you can make in just a matter of minutes? These Sparkling Apple Cider Floats are just the thing!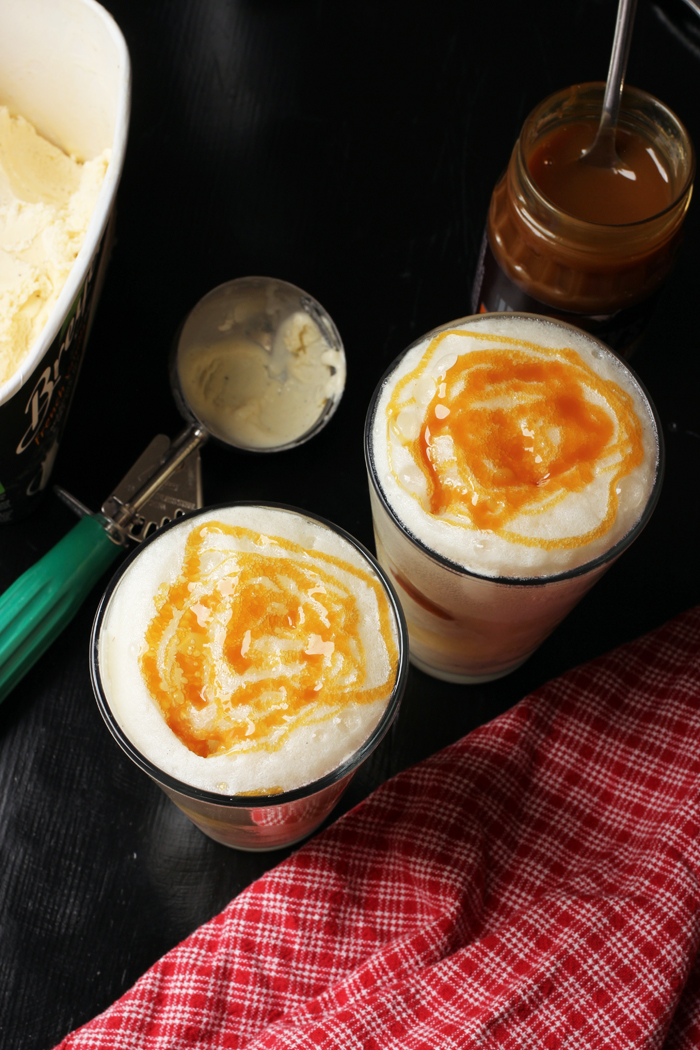 There's always room for dessert, am I right? Only sometimes, coming up with a creative dessert idea or drumming up the energy to bake said dessert can be a littler harder than one would think.
I mean, we are talking about dessert, right?
It pays to have a repertoire of quick desserts to draw from, desserts that can be made in a matter of minutes with regular kitchen staples.
No need to shop all over town for fancy ingredients. No need to time the baking and cooling and finishing of the dessert. Just mix and serve.
How about an Apple Cider Float?
These Apple Cider Floats are just the thing. Not only can you easily stash a carton of ice cream in the freezer and sparkling cider and caramel syrup in the pantry, but you can mix up a tray of these babies in minutes….
AND look like the hostess with the mostest!
Now before you get too excited, let's chat a little bit about some details. Just for your personal edification and optimum dessert enjoyment.
What is the difference between an ice cream float and an ice cream soda?
An ice cream float and an ice cream soda are very closely related. A float is a soft drink (like root beer) with scoops of ice cream floating in it. An ice cream soda is a dessert of ice cream scoops topped with a flavored soft drink or soda water and flavored syrup.
While most people think of soft drinks as carbonated colas and the like, soft drink is merely a generic term for non-alcoholic beverages. Alcoholic beverages are "hard"; other beverages are soft. So technically, sparkling apple cider falls under the soft drink category.
Technically this recipe constitutes as an ice cream soda, but really, it would be confusing to call this an apple cider ice cream soda. Dontcha think?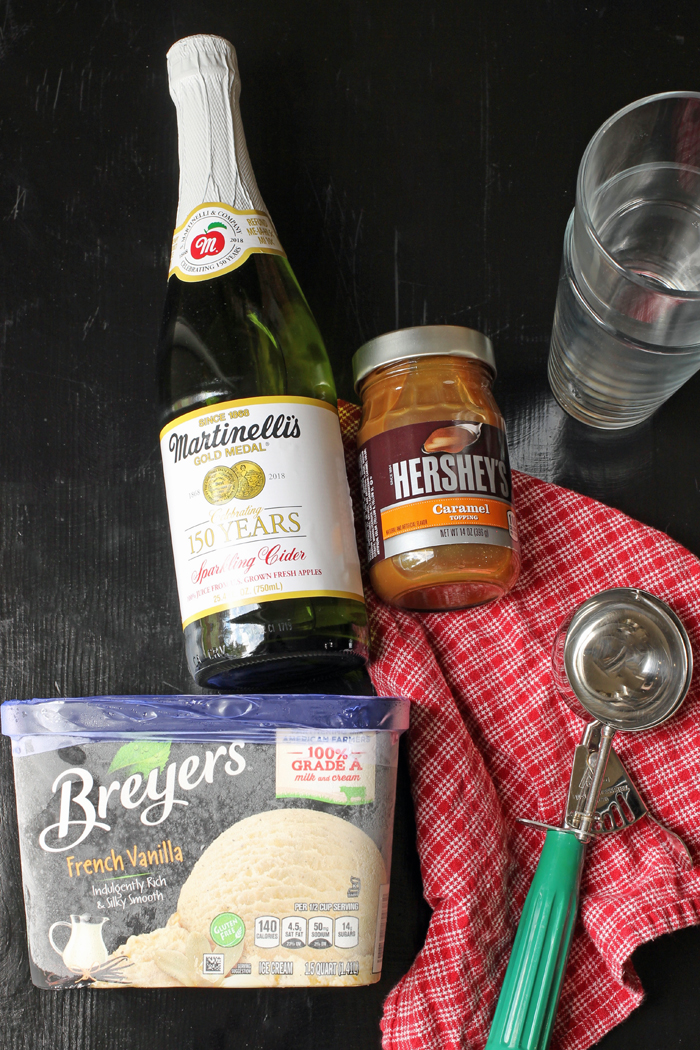 How do you make a good ice cream float or ice cream soda?
Regardless of what you call it — the difference between the two desserts is a question of added syrup — an ice cream float and an ice cream soda are made in similar ways. And they are best made with very cold liquid, very cold glasses, and of course cold ice cream.
Going along with the cold theme, it's best to use room temperature syrup in order to get the right drizzle. Heating cold syrup will get you there, but then you're warming up your ice cream soda.
Whenever possible, plan ahead and chill your glasses and beverage.
Is apple cider the same as sparkling apple cider?
Apple cider is apple juice that hasn't been filtered to remove sediment or bits of pulp. It has a more apple-y flavor, according to some. Commercial sparkling apple cider, such as Martinelli's, is carbonated apple juice.
Fun fact: this recipe was a happy accident. Back in 2011 when Pinterest was just going crazy, I saw this picture of Rachael Ray's Apple Cider floats. Since I have a hard time reading directions — I get too excited — I just assumed that she used sparkling apple cider to create her floats.
She didn't.
She used hot spiced cider! Which is probably pretty good. I imagine the ice cream melts into the hot cider, creating a hot, creamy, yummy treat. But, I didn't catch that when I scanned the recipe before making my grocery list.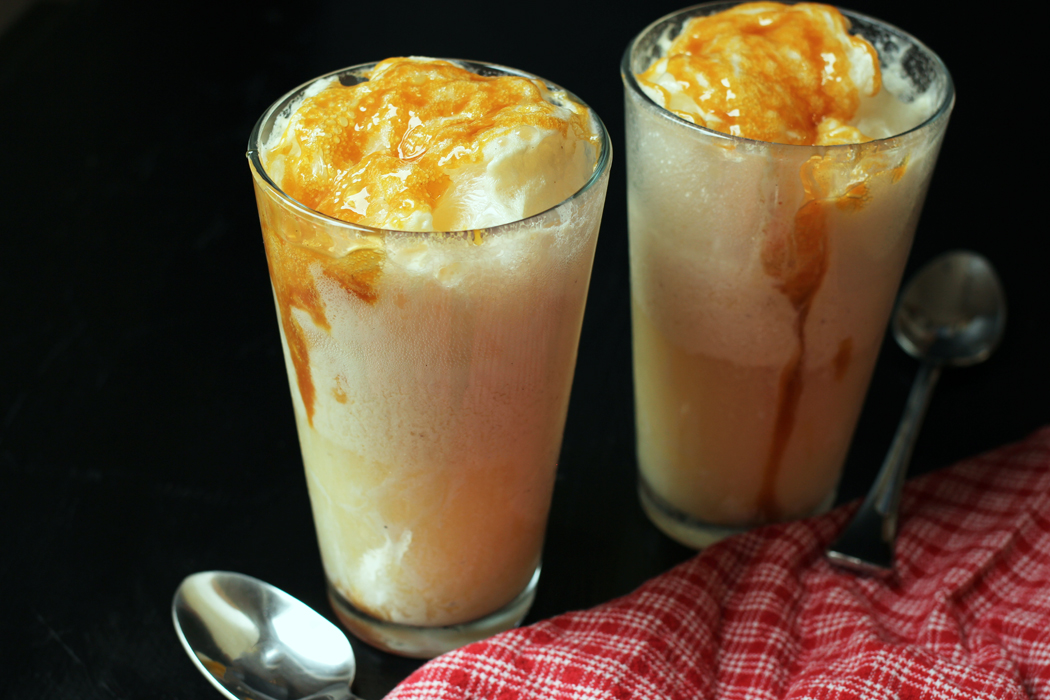 Instead, I created cold, creamy yummy treats. And I'd like to point out that my lack of attention paid off! These Apple Cider Floats are delicious. Cold, bubbly, tart-sweet apple cider, vanilla bean ice cream, drizzles of caramel sauce. Yeah, baby. It totally works. Try it for yourself!
For the adults in your midst, consider serving these with hard cider for an interesting twist.
How To Make Apple Cider Floats Good and Cheap:
To make this recipe more economical:
Stock up on ingredients when they are on sale. Ice cream tends to go on sale fairly often; same with ice cream toppings. Watch for sales and stock up. I usually buy several flavors at one time and stash them in the freezer. Near the holidays you'll find sparkling cider at super cheap prices. It stays good for awhile, so don't hesitate to buy a few extra bottles.
Make your own ice cream. Depending on your sourcing options and how much time you have, it may be cheaper to make your own ice cream. Talk about taking this dessert over the top!
How I Make This Float/Soda Easy:
Having the right kitchen tools can really make your time in the kitchen more enjoyable. Over time, I've honed my collection so that they are perfect for my needs. Here are the tools that I use for this recipe:
Apple Cider Floats with Caramel Drizzle
Looking for a fun dessert that you can make in just a matter of minutes? These Sparkling Apple Cider Floats are just the thing!
Keyword:
apple, apple cider, apple cider floats, floats, ice cream, ice cream float, ice cream soda
Ingredients
4

tsp

caramel syrup

at room temperature

8

scoops

vanilla ice cream

from a 1.5 quart container

1

bottle

sparkling apple cider,

25.4 fl oz.
Instructions
Chill the glasses and the cider prior to serving.

Warm the caramel syrup to a drizzle consistency. It's best to let it come to room temperature.

Meanwhile, in each chilled glass place two scoops of ice cream. Pour cider over the ice cream. Drizzle caramel sauce over the foam.

Serve immediately.
Have you got a favorite apple recipe?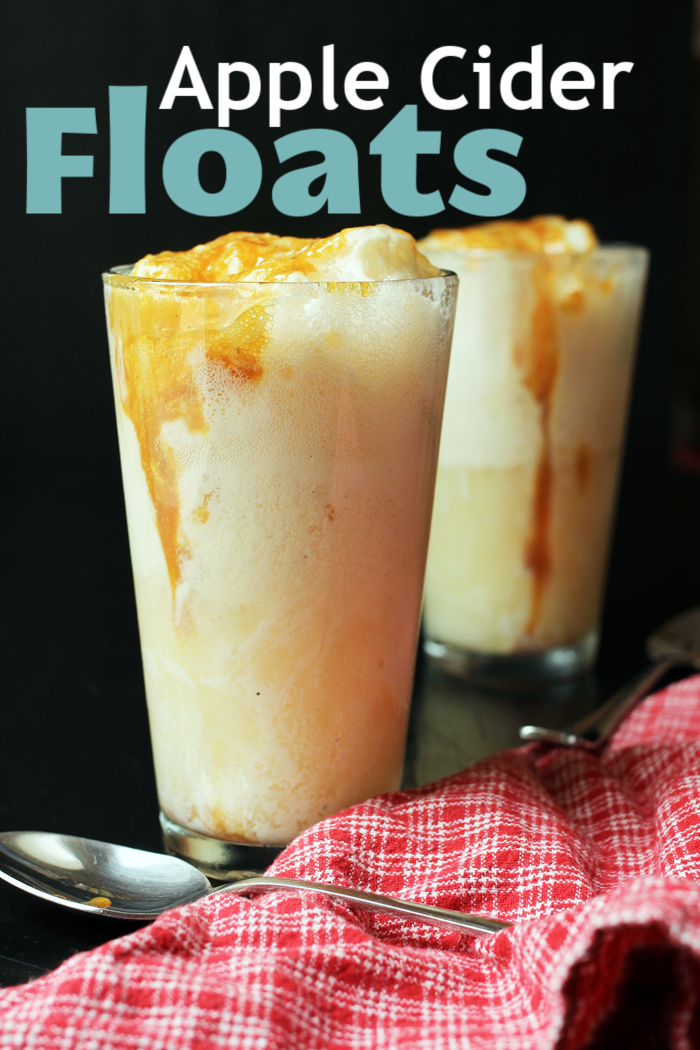 Ease your holiday stress!

Speaking of easy dinners and delicious desserts…. Want to make the holiday season a little brighter this year?

Ease your seasonal stress by planning in advance how you will handle your holiday kitchen.

Learn more here.