Believe it or not, homemade ice cream not only tastes better than store bought, but the cost analysis is comparable. Imagine all the custom-made concoctions you can enjoy this summer!
Include this yummy ice cream in Sherbet Punch or an Sorbet & Ice Cream Pie with Chocolate Ganache. It's great for topping one of your favorite Homemade Pies!
I've always loved the flavor and fun of homemade ice cream. It tastes so much better than store bought. And there is such excitement when an ice cream machine starts churning. The air just bursts with anticipation!
When I was a kid, we would go to backyard BBQs where the hosts would handcrank the ice cream for what seemed like hours. Later, electronic machines took over for the cranks, but you still needed to remember to buy the salt and ice. Nowadays a gel-filled canister takes the place of the ice and salt. Soft serve in a matter of minutes.
Recently, I took the plunge of buying an ice cream maker. One of those fancy-store-the-canister-in-the-freezer kind. Yeah, I know, I'm a sucker for small kitchen appliances.
I had priced out ice cream at the store a few days prior and was amazed at how small the packages had become and how high the prices, even on sale. Not to mention the unpronounceable ingredients!
Since we tend to give our appliances a good run for their money, I knew we could make it work for us in that way. A quick search showed me that Costco's price was pretty fab for the model in question. It's not the newest model, but it's $32.99 right now at Costco. More on the machine once I've used it enough to report effectively. (Head's up! If you make a purchase through that Amazon link there, I do receive a small percentage of the sale.)
But aren't the ingredients expensive?
Currently, I can buy half-gallons of organic cream at Costco for $6.79, or $0.85/cup. Milk is around $2.55/gallon, or $0.15/cup. Evaporated sugar cane juice, the sweetener I'm now using is $0.80/cup.
I used the recipe from the ice cream maker as follows:
$0.15 – 1 cup hormone-free milk
$1.70 – 2 cups organic cream
$0.60 – ¾ cup organic evaporated sugar cane juice
$2.45 – Total cost of 1 ½ quarts of homemade, almost organic ice cream
Healthier and Cheaper?
Clearly, the ingredients I used were almost as good as it gets. And the price comparison?
In my neck of the woods, ice cream no longer comes in half-gallons. It's so weird. In fact, one of our preferred brands sells them in 1 ½ quart tubs. And honestly, I pay a lot more than $2.45 for those tubs, even on sale. Last week their "sale" price was $3.99.
So, the verdict is that homemade ice cream can be more economical and healthier than store-bought. I never thought I would see the day where it was cheaper to make our own.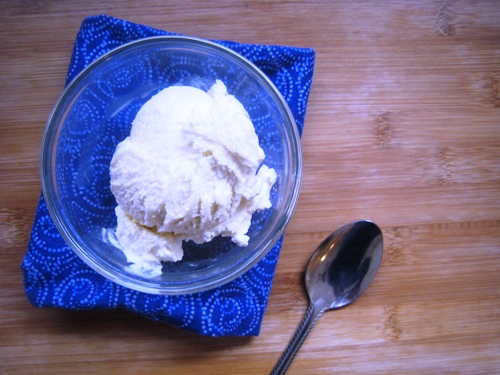 You can bet that we'll be making more homemade ice cream, sorbets, sherbets, and frozen yogurt this summer!
Simple Vanilla Ice Cream
Simple Vanilla Ice Cream is a delight. Made with only four ingredients, it tastes so much better than store-bought.
Ingredients
1

cup

milk

¾

cup

granulated sugar

2

cup

whipping cream

2

teaspoon

vanilla extract
Instructions
In a large mixing bowl, whisk together the milk and sugar until the sugar dissolves. Evaporated sugar cane juice takes a little longer to dissolve than regular granulated sugar. Some grains didn't completely dissolve, but I was okay with that.

Stir in the cream and vanilla.

Freeze in the ice cream machine according to the directions provided by the manufacturer of your particular machine.

Once the ice cream has thickened, eat immediately as soft serve ice cream or transfer it to an airtight container and store in the freezer for an additional 2 hours or more.
Notes
Nutritional values are approximate and based on ⅛ the recipe.
Nutrition
Calories:
299
kcal
|
Carbohydrates:
22
g
|
Protein:
2
g
|
Fat:
23
g
|
Saturated Fat:
14
g
|
Cholesterol:
85
mg
|
Sodium:
36
mg
|
Potassium:
85
mg
|
Sugar:
20
g
|
Vitamin A:
924
IU
|
Vitamin C:
1
mg
|
Calcium:
73
mg
Tried this Recipe? Tell us what you think!
Your reviews help us develop better recipes and give newcomers the confidence to try your favorites. Scroll down to leave a starred comment.