Apple Crowns are a fun and healthier alternative to traditional caramel apples. Make them this fall for a fun dessert for the whole family.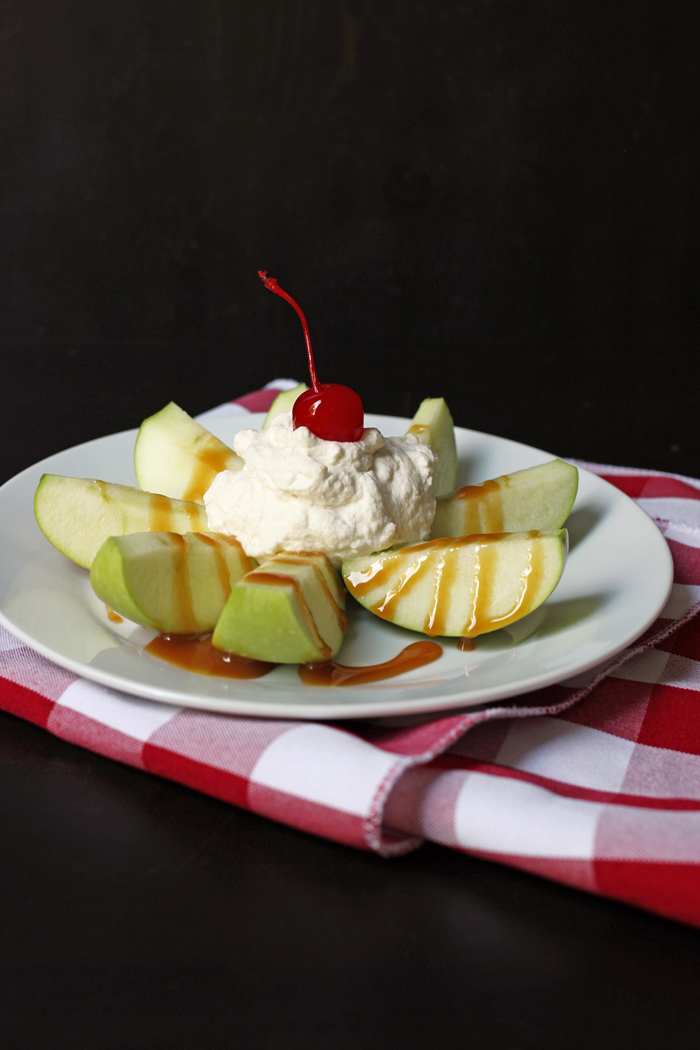 Do you have a food — or foods! — that take you back in time? A favorite recipe that makes you all gushy and sentimental, warm and comforted?
Those recipes are like pure gold, are they not? They don't have to be fancy or expensive or even complicated. These Proustian foods offer us a flashback in time to a special moment that's worth reliving.
If the food is extra tasty, well, so much the better!
Apple Crowns are one of those kinds of foods for me. This simple alternative to caramel apples has been an autumn tradition in our family since we first moved to Paso Robles in 1998. Five homes and two states later, Apple Crowns are still a favorite.
We discovered these caramel apples/ice cream sundae mashup at a roadside specialty shop on Highway 46 heading west to Cambria. Crisp fall apples, sliced and doused with caramel sauce and topped with whipped cream, nuts, and a cherry were — and ARE — a fabulous snack or dessert to indulge in.
Caramel Apples Made Easy!
Apple Crowns are so much easier to make that traditional caramel apples and so much more fun to eat! They are delicious with Maple Whipped Cream.
We've lived in several towns since then, but we've carried the Apple Crown tradition with us wherever we go. It's simple and easy and the kids love it. You will, too.
What are the best apples for caramel apples?
I prefer caramel apples (traditional or otherwise) to be made with sweet-tart apples to counteract the sweet of the caramel. Granny Smith, Cripps Pink, McIntosh, Jazz, and Piñata are all good options.
If you can buy a variety of apples at once, it's really fun to do an apple tasting. They really do vary quite a bit!
What's the best way to choose apples?
I always wonder if the produce people give me the side eye when I come to choose my apples. I want firm and unblemished fruit, which sometimes means digging down a layer in their fancy displays. We all know the top layer has been picked over, right? The apples should smell fresh and apple-y.
Choose organic apples if you can swing it since conventional are on the Dirty Dozen list.
What's the best way to store apples?
Apples can last for months under proper storage. When we lived in apple country, I had an extra fridge that I would fill to the brim with apples. Barring a special apple fridge, store your apples in a cool, dry place, in a plastic bag in the fridge is just fine.
Why make Apple Crowns instead of traditional caramel apples?
Traditional caramel apples are a surefire treat, but they are so loaded with sugar! It's not something I want my kids to consume on a regular basis. Apple Crowns are much easier to make and eat — and allow for a great reduction in sugar consumption.
Your kids will probably be happy to eat several apples at a sitting when served this way, so consider how "loaded" you make them.
Pro tip: I put very little maple syrup in my whipped cream, so the cream helps cut the sweet, too.
The original recipe includes chopped nuts. These, of course are optional. You can use dried cranberries, raisins or sunflower seeds if you want a nut-free alternative for topping.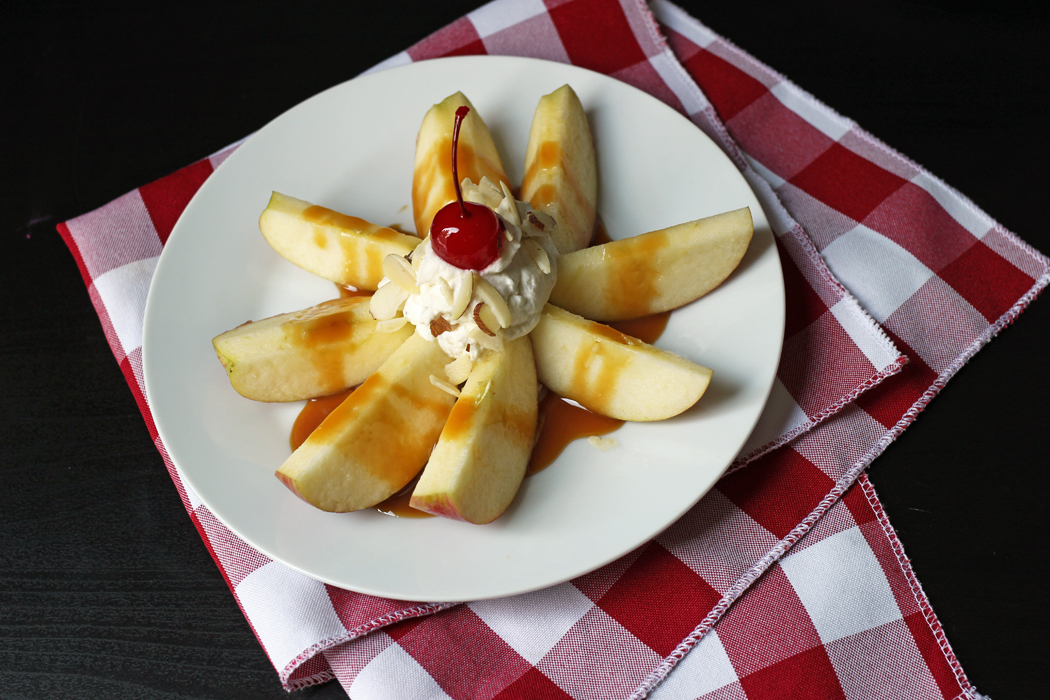 How to make this good and cheap:
To make this recipe more economical:
Stock up on ingredients when they are on sale.
Fall is your best time to find best selection, freshness, and price on apples, though it's true you can buy apples all year-round. My target price on apples is $1/pound, though I will go as high as $1.50 if they are organic. Watch for sales and stock up.
However, you can watch for sales year-round for things like caramel sauce, nuts, and maraschino cherries. Stock up when you see a sale and store those items for when you want Apple Crowns.
How I make this recipe easy:
Having the right kitchen tools can really make your time in the kitchen more enjoyable. Over time, I've honed my collection so that they are perfect for my needs. Here are the tools that I use for this recipe:
Not quite sure how to slice an apple? I'll show you four different ways to make easy apple slices.
Apple Crowns are fun and festive which makes them a super simple dessert to serve when you've got folks over for dinner. So easy and "superyum" as we say around here.
Apple Crowns
Apple crowns are a fun and healthier alternative to traditional caramel apples. Make them this fall for a fun dessert for the whole family.
Keyword:
apple, apple crown, apple dessert, caramel apple
Ingredients
1

apple

cored and sliced

1

tablespoon

caramel sauce

2

tablespoons

maple whipped cream

1

teaspoon

chopped nuts

optional

1

marashino cherry
Instructions
Place the apple slices in a circle on a serving dish. If you use an apple slicer (the kind that cuts it into wedges and removes the core), you can slice it right on the plate, remove the core and proceed.

Drizzle the caramel sauce around the crown. Place the whipped cream in the center.

Sprinkle the nuts over all.

Top with a cherry.