Enjoy a super easy dessert with these Peppermint Brownie Bites. Lots of crunchy edges and a gooey center with just the right amount of mint!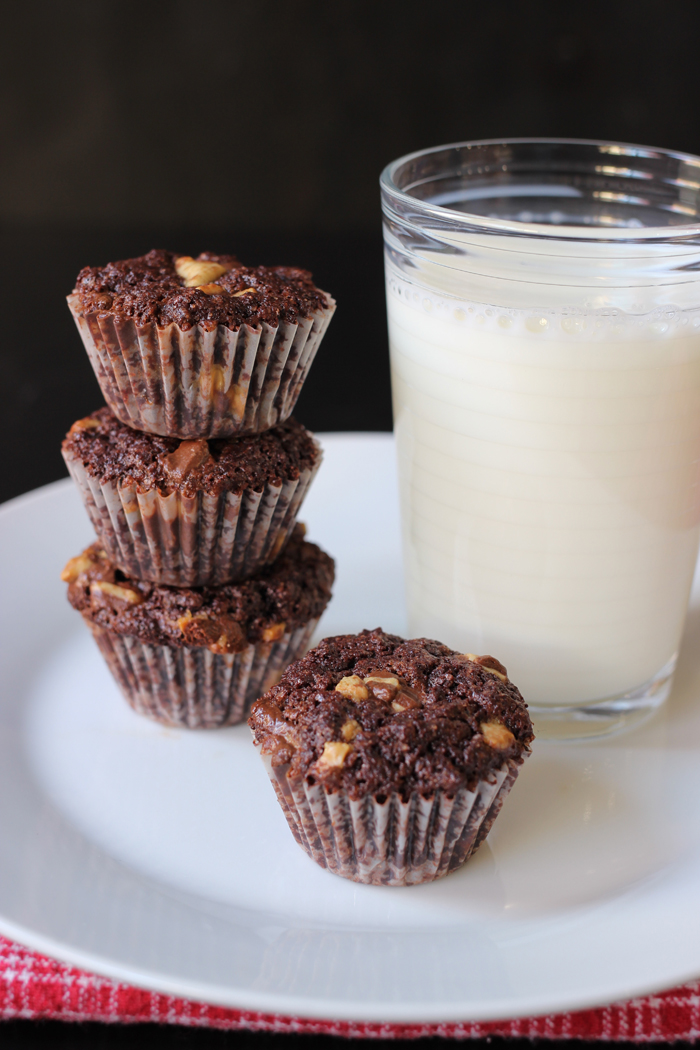 One of the attractions of baking a variety of different Christmas Cookies is that you don't have to lock yourself into one particular flavor. You can vary the tastes and textures, so that you never get bored.
As if one could grow bored of cookies…. but still.
Think about it. What flavors we got at Christmas? Gingerbread, chocolate, caramel, lemon, but yeah, peppermint kinda rises to the top, doesn't it, when you think of Christmas flavors?
These Peppermint Brownie Bites just might be the easiest thing you whip up for your holiday cookie plate.
Not only are they crazy easy to mix up in just minutes, but as my 10-year old connoisseur also pointed out, "they get lots of crunchy on the outside but nice and gooey in the center." My husband recently went out of his way to comment how good they were, "with the perfect amount of mint."
Mint can be tricky people. That there is potent stuff. Use a light hand! There's only 1/4 teaspoon peppermint extract in it. you don't need much.
Besides being crunchy and gooey and chocolatey and minty, these Peppermint Brownie Bites are just that — a bite! Well, maybe two.
No messing with cutting up pieces, no washing a dirty pan, and best yet, built in portion control!
These Peppermint Brownie Bites are super simple to make, especially if you have a homemade brownie mix waiting for you. I make my own mixes because it's cheaper and easier that way.
Just mix it up with the eggs, oil, vanilla, and a splash of peppermint extract, spoon the batter into mini muffin cups, and then sprinkle on Andes peppermint baking chips. Bake and cool. Then enjoy.
If you're so inclined, layer them between sheets of waxed paper in an airtight container and stash them in the freezer. Now you'll be ready for a minty cool snack anytime. They're really good cold!
Any questions?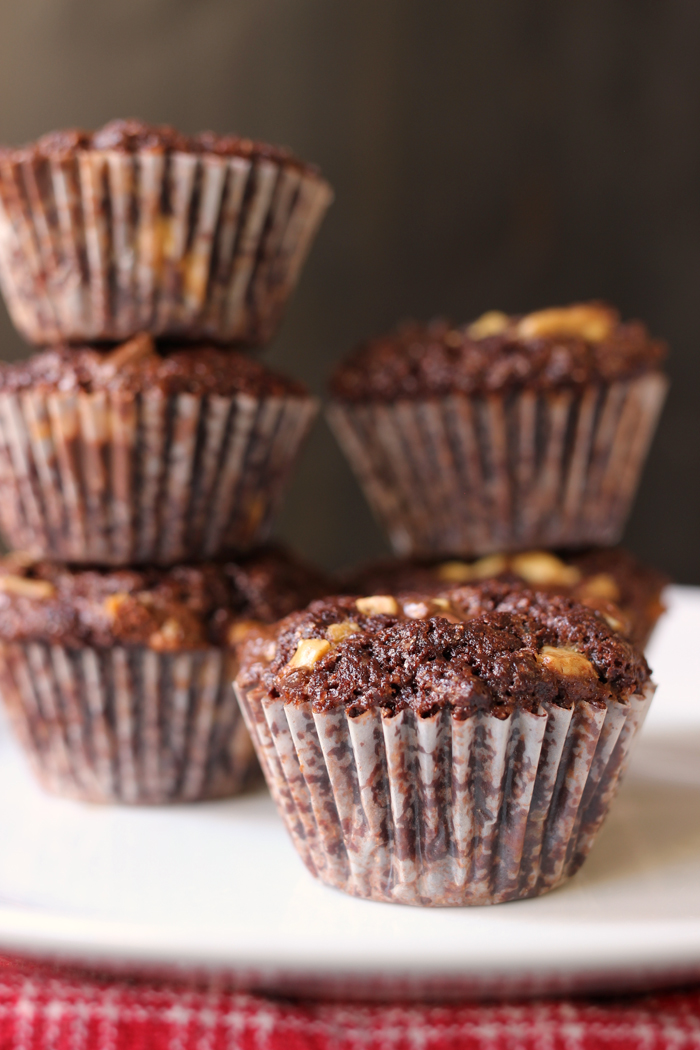 Can I make my own brownie mix! 
Heck yes! Making your own brownie mixes in the only way to go. Simply mix together the dry ingredients
Can you bake brownies in a mini muffin pan?
Yes, you can. The texture of brownies baked in a mini muffin pan is different from that baked in a 9×13. You'll find more crunchy edges, but still have a nice gooey center.
How long does it take to bake brownies in a mini muffin pan?
Mini muffin brownies are going to bake more quickly that traditional brownies, about 15 to 20 minutes.
Can you put brownie mix in cupcake liners?
Yes. Who wants to wash muffin cups?! No one. Keep in mind that foil (not paper interior) cupcake liners or silicone baking cups will work better than paper ones. The brownies can bake onto standard paper cups, so try using foil or silicone for less sticking.
Can I freeze chocolate brownies?
Absolutely! Freezing brownies is a great way to stretch your baking investment. You can bake a few batches at once, maximizing on your ingredients investment and enjoy brownies for weeks and months to come.
How long do brownies last in the freezer?
Frozen foods are good indefinitely as long as the temperature remains below zero, however, long storage can effect taste and texture. It's best to eat up brownies within 6 to 8 weeks if stored in a refrigerator freezer, up to 6 months in a deep freeze.
How do you defrost frozen brownies?
You don't really need to defrost frozen brownies. These Peppermint Brownie Bites are great cold! Let them sit on the counter at room temperature for 30 to 60 minutes and enjoy!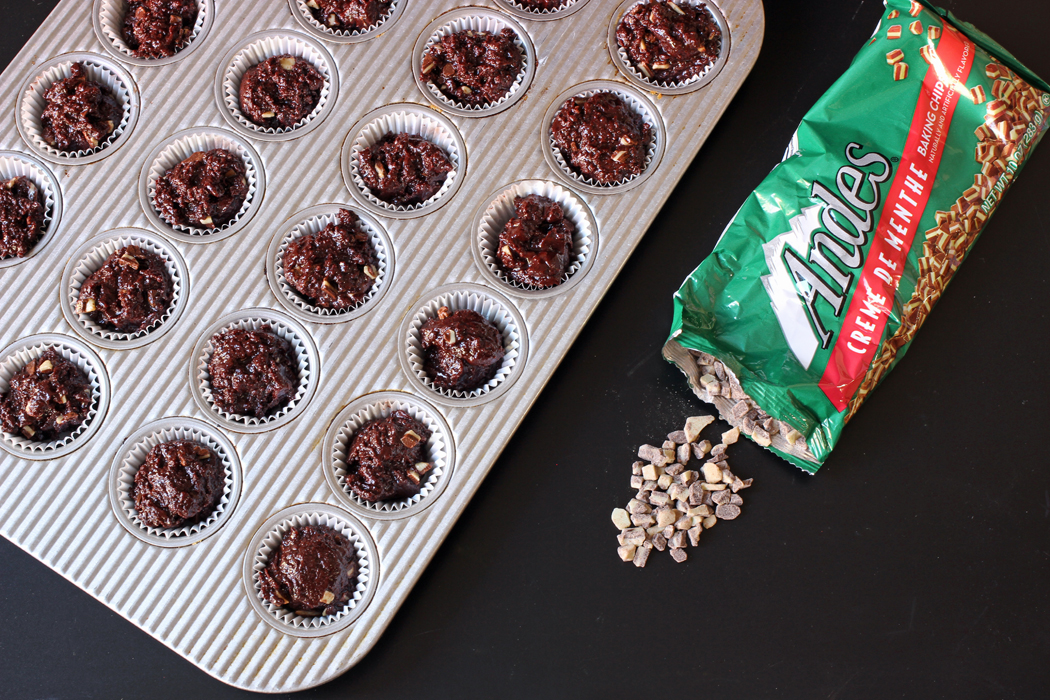 How do I make these cookies affordably?
Here are some of the strategies you can use to make Peppermint Brownie Bites more economical:
How can I make easy Peppermint Brownie Bites?
This recipe really couldn't be easier than it is, but having the right kitchen tools can really make your time in the kitchen more enjoyable. Over time, I've honed my collection so that they are perfect for my needs.
Here are the tools that I use for this recipe: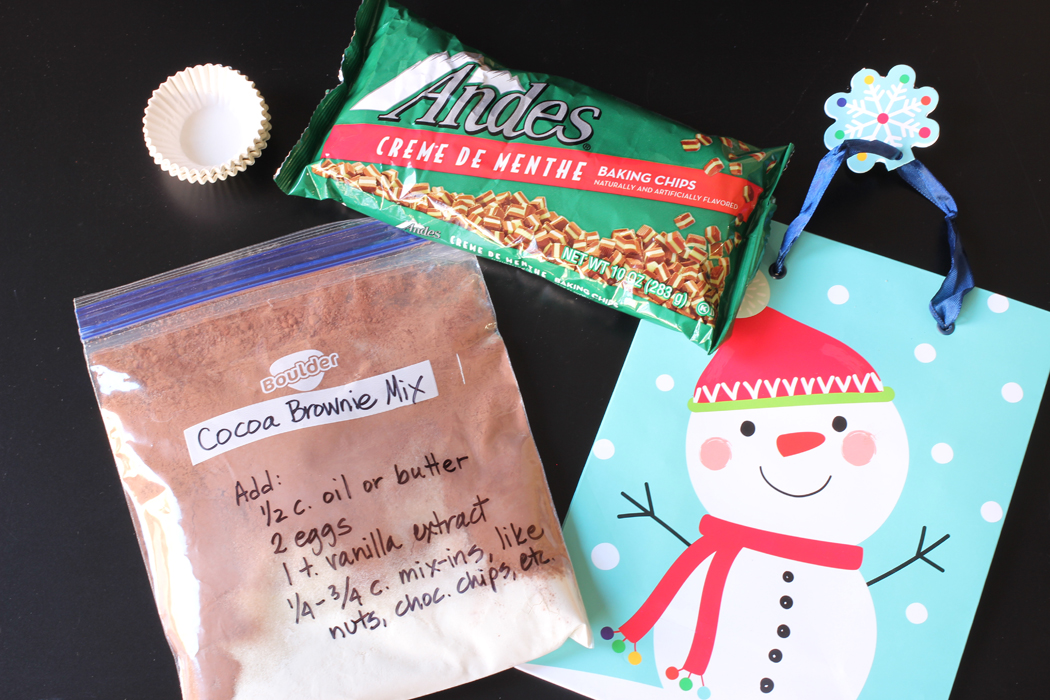 Fun gift idea! Fill a gift bag with a couple bags of Cocoa Brownie Mix, a bag of Andes Peppermint Crunch baking chips, and a package of mini muffin papers. Don't forget to mark the necessary "wet team" on and to include baking instructions on the bag of mix.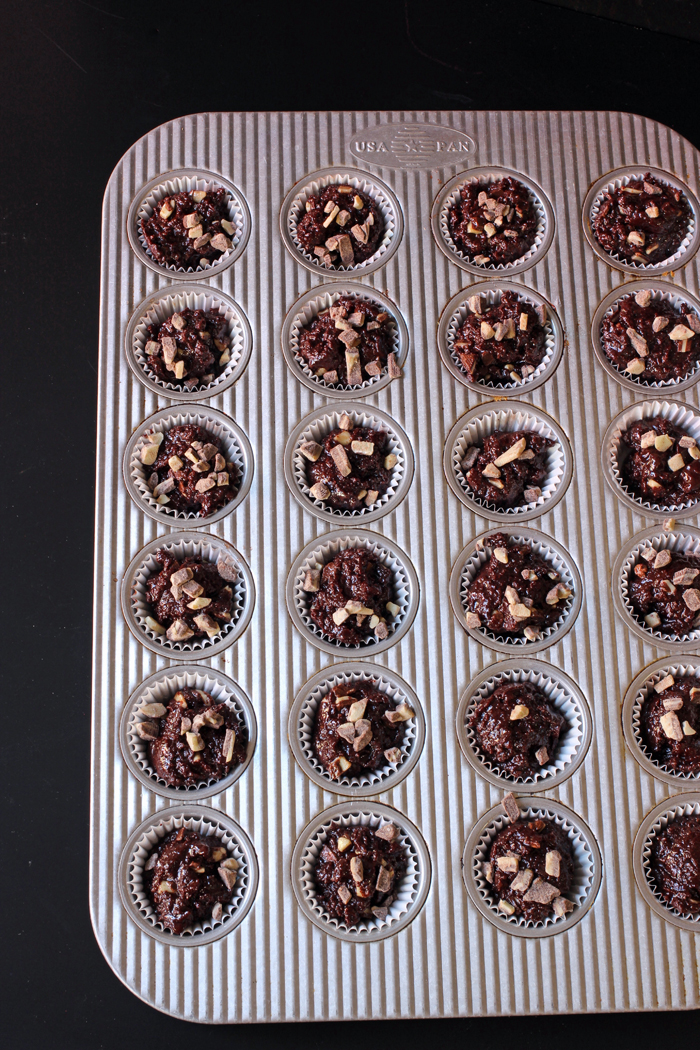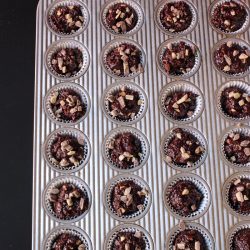 Peppermint Brownie Bites
Enjoy a super easy dessert with these Peppermint Brownie Bites. Lots of crunchy edges and a gooey center with just the right amount of mint!
Keyword:
brownies, peppermint brownie bites, peppermint brownies
Ingredients
1

cup

sugar

2/3

cups

unbleached

all-purpose flour

2/3

cup

cocoa powder

1/2

teaspoon

baking powder

1/2

teaspoon

salt

1/2

cup

vegetable oil

2

eggs

1

teaspoon

vanilla extract

1/4

teaspoon

peppermint extract

3/4

cup

Andes baking chips
Instructions
Preheat the oven to 350. Line a 24-cup mini muffin pan with foil liners.

In a large mixing bowl, whisk together the sugar, flour, cocoa, baking powder, and salt to the wet mixture. Place the oil, eggs, and vanilla and mint extracts in another large mixing bowl and stir to blend. Add the dry ingredients to the wet and stir gently to combine. Fold in 1/2 cup of the baking chips.

Spoon the batter into the prepared muffin cups. Sprinkle the remaining 1/4 cup chips over the top of the batter.

Bake until a tester comes out with few crumbs attached, about 15 to 20 minutes. Cool.

Brownie bites can be stored in an airtight container in the freezer for up to 2 months.
Nutrition Facts
Peppermint Brownie Bites
Amount Per Serving
Calories 133
Calories from Fat 63
% Daily Value*
Fat 7g11%
Cholesterol 13mg4%
Sodium 58mg3%
Potassium 53mg2%
Carbohydrates 16g5%
Protein 1g2%
Vitamin A 20IU0%
Calcium 10mg1%
Iron 0.8mg4%
* Percent Daily Values are based on a 2000 calorie diet.