Chocolate Butterhorns are yeast rolls filled with chocolate. They are perfect for freezing which makes them perfect for snacking — anytime. You'll wanna make these today.
You know those refrigerator crescent rolls that come in a can? The ones that are so fun to bang on the side of the counter so that the rolls kinda explode out of the wrappings?
Yeah, those.
While fun to make, they aren't as amazing as homemade rolls. And usually the ingredients list is pretty crap.
If you're someone who…
… finds yourself slowing down in the bakery aisle of your grocery store?
… can smell the tantalizing aroma of baked rolls and chocolate a mile away?
… crave a sweet treat on the weekends?
Then it may be time to try your hand at homemade dough. I promise it's not hard. I once shook in my boots at the idea of making homemade dough. Not anymore.
And this recipe for Chocolate Butterhorns is a great one to try out.
Chocolate Butterhorns are yeast rolls that come together quickly and easily. You can make the dough in a stand mixer, in a bread machine, or even in a mixing bowl with a spoon.
These chocolate-laden rolls freeze beautifully – as all yummy baked goods should — and make for a delicious addition to any breakfast, brunch, snack, or dessert table.
What is a butterhorn roll?
A butterhorn roll is a soft, flaky pastry in the shape of a crescent. Basically, a homemade version of those refrigerator crescent rolls you buy in a can. Only better!
One source says that they are Austrian in origin and that the crescent shape is to symbolize the removal of the Ottoman empire from the region. I could only find one source who claimed that though, so if you can confirm this, please do!
What's the difference between a pain au chocolat, chocolate croissant, and a chocolate butterhorn?
Pain au chocolat is a flaky, French pastry filled with chocolate, usually in the shape of a rectangle. It's made with the same type dough as a traditional croissant so it is often called a chocolate croissant, in English.
A chocolate butterhorn is similar to a pain au chocolat or chocolate croissant, but not exactly. The dough of a butterhorn is rich and buttery, but you won't find the same type of layers in the pastry. It's flaky, but not quite as flaky as a croissant.
I've adapted this Butterhorn Recipe to become CHOCOLATE BUTTERHORNS.
How do you defrost frozen rolls quickly?
Baked chocolate butterhorns are great for freezing. Bake and cool completely on a rack. Then store in an airtight container in the freezer. To thaw, simply pull out as many rolls as you would like to serve and set them on a plate at room temperature. The rolls will thaw in about 20 to 30 minutes.
This recipe makes 32 rolls, meaning one batch should stock your freezer for a few weeks. Or help you host one fantastic coffee klatch.
How should you reheat frozen rolls?
Reheat the thawed rolls in a 300 degree oven for about 10 to 15 minutes until warm.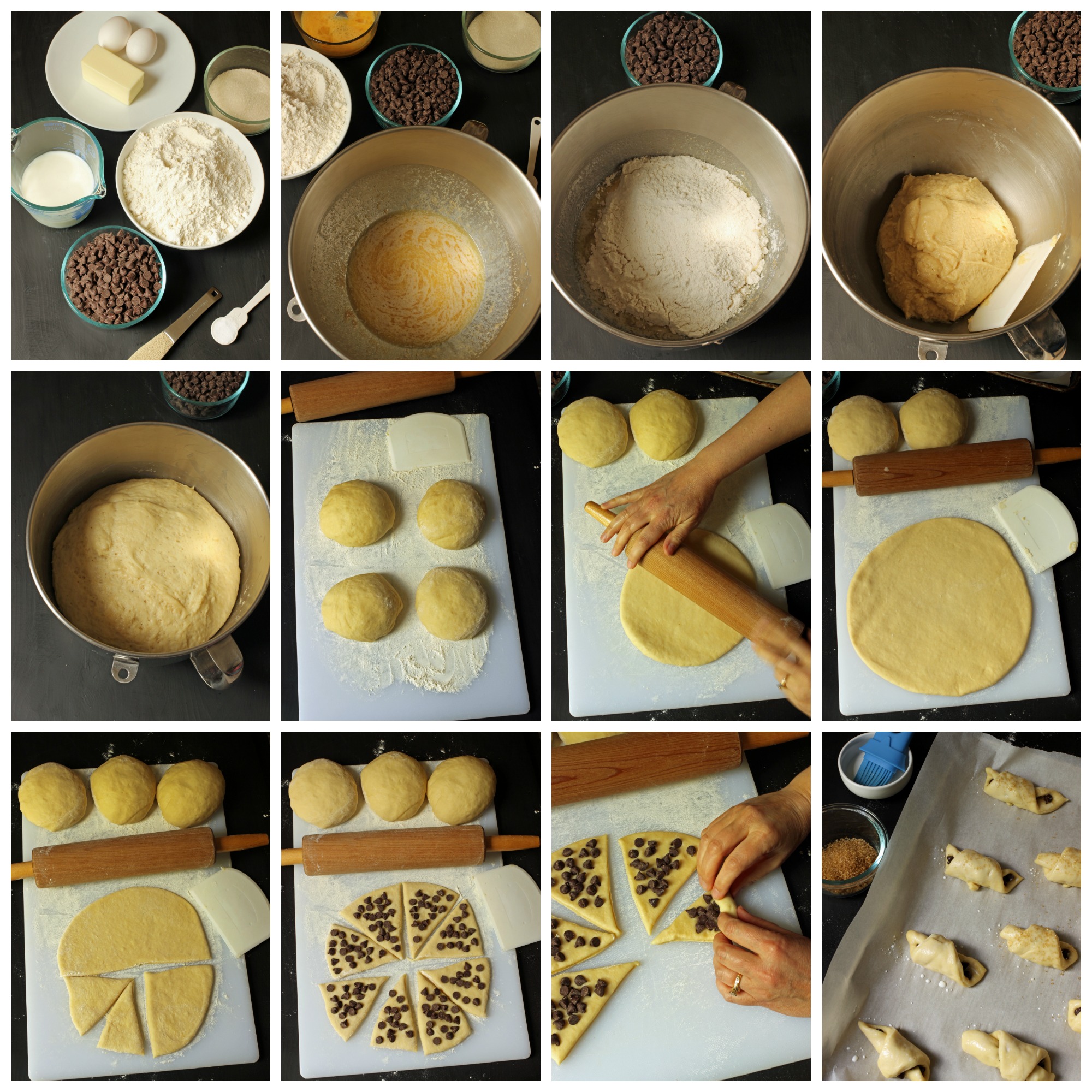 How do you make Chocolate Butterhorns?
The process of preparing Chocolate Butterhorns is fairly simple.
Prepare the yeast dough and allow it to rise until doubled in bulk. You can make the dough really easily in a bread machine or stand mixer.
Divide the dough into four equal portions.
Roll each portion into a large round.
Cut the round into 8 equal portions.
Sprinkle chocolate chips over the surface of each wedge.
Roll up each wedge, starting with the bottom of the triangle.
Lay the rolls out on a lined tray, brush them with milk and sprinkle with coarse sugar or sprinkles.
Bake until golden. Cool on a rack. Enjoy!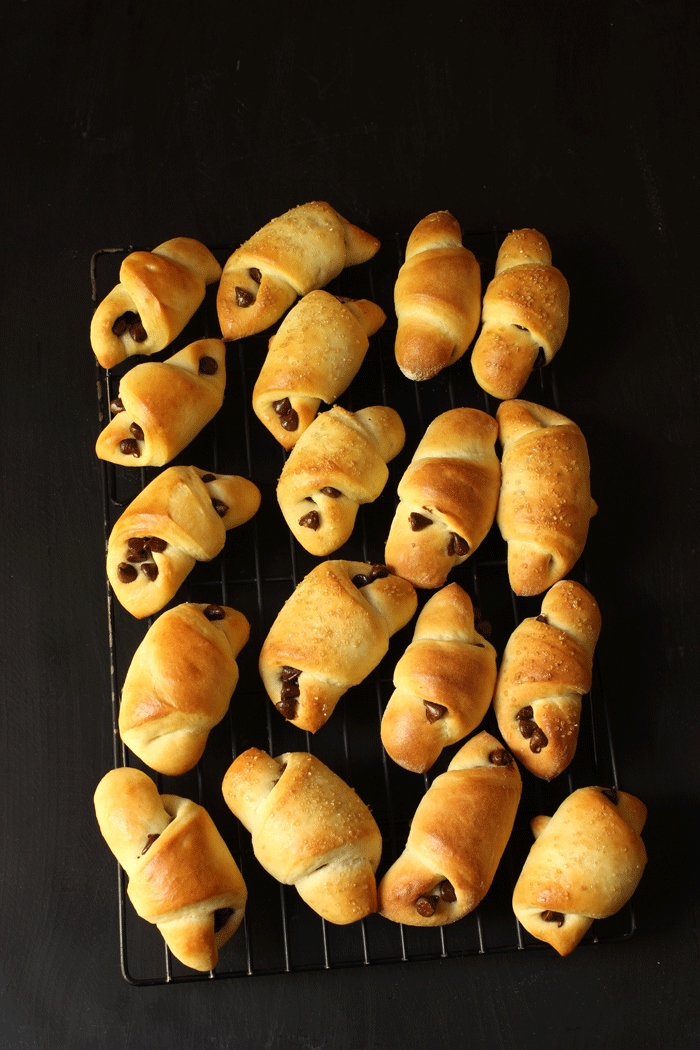 How to make this good and cheap:
You know I don't typically want to make something if I can't make it good as well as cheap. Here are some of the strategies you can use to make this recipe more economical:
Stock up on ingredients when they are on sale. When I find regular kitchen staples on sale, I buy a lot. I'm currently using a price book to track prices and that's saving me money. For this recipe, keeping an eye on the price of flour, butter, and sugars can help keep the price down. And of course, stock up on chocolate when they're at a great price!
Buying in bulk – It's rare that I would buy a small bag of flour. I hedge my bets by buying in bulk. I also have gotten into the habit of buying cases of flour from Bob's Red Mill or VitaCost so that I always have baking supplies on hand. If the grocery store has a sale, I stock up!
Load up on post-holiday clearance specials. You'll find great deals on colored sugars and sprinkles after holidays. There are lots of ways to use holiday baking items creatively. Remember that chocolate candies can be chopped up and substituted for the chocolate chips in this recipe.
How I make this recipe easy:
This recipe really couldn't be easier than it is, but having the right kitchen tools can really make your time in the kitchen more enjoyable. Over time, I've honed my collection so that they are perfect for my needs.
Here are the tools that I use for this recipe:
stand mixer or bread machine – Either of these tools make quick work of making the dough. You can do it by hand, but I prefer my food processor.
parchment paper – I hate washing pans. Parchment paper makes clean up a breeze.
sheet pans – I LOVE my set of steel sheet pans. They make such a difference in baking.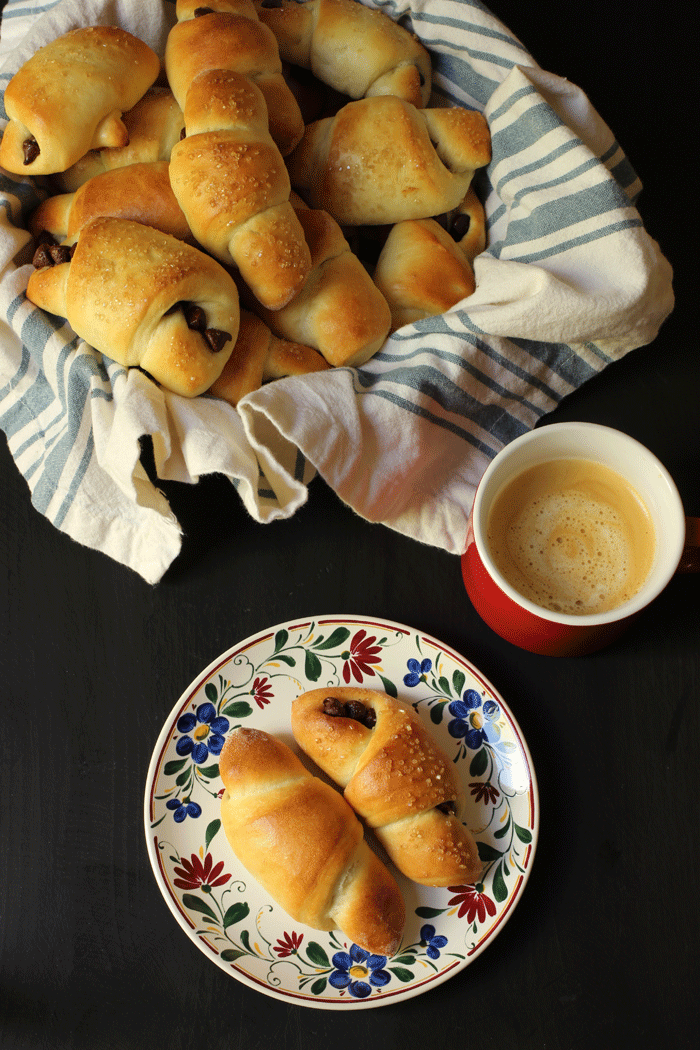 If you prepare this recipe, be sure to share a picture on social media and hashtag it
#GOODCHEAPEATS
. I can't wait to see what you cook up!
Chocolate Butterhorns
Chocolate Butterhorns are yeast rolls filled with chocolate. They are perfect for freezing which makes them perfect for snacking — anytime.
Ingredients
Dough
1

cup

milk

1/2

cup

butter

cubed

1/2

cup

granulated sugar

1

tbsp

active dry yeast

heaping

2

egg

beaten

4– 4 1/2

cups

unbleached, all-purpose flour

1

tsp

salt
Rolls
2

cup

chocolate chips

depending on how chocolatey you want them

2

tbsp

whipping cream

or half and half

2

tbsp

demerara sugar

or colored sprinkles
Instructions
To make the dough in a bread machine:
Combine all dough ingredients in the pan of your bread machine according to the manufacturer's directions. Set on the dough cycle and start machine.
To make the dough in a stand mixer:
Warm the milk and melt the butter (in the microwave or in a pot on the stove). Stir in the sugar to dissolve. If the mixture is very hot, allow this to cool to 110 degrees.

Transfer this mixture to the bowl of the stand mixer and sprinkle the yeast over the top. Allow this to proof for five minutes.

Add the eggs, flour, and salt to the bowl. Knead with the dough hook until a sticky dough forms. Allow the dough to rise for 60 to 90 minutes or until doubled in bulk.
To make the dough by hand:
Follow the stand mixer instructions until it's time to knead. Stir the dough with a wooden spoon until all the ingredients are incorporated. The dough will be very sticky.
To assemble the rolls:
When the dough is ready, transfer it onto a floured surface, divide it into four equal parts. Shape each part into a tight round.

Roll each part into a 12-inch circle and cut each circle into 8 wedges. Sprinkle chocolate chips over the surface of each wedge. Roll each wedge like a crescent roll, starting with the bottom of the triangle and ending with the point.

Line several baking sheets with parchment paper.
To bake immediately:
Place the rolls, point down on the prepared baking sheets. Allow to rise for 30 minutes.

Preheat oven to 375 °. Brush with the cream and sprinkle with the coarse sugar or sprinkles. Bake the rolls for 12-15 minutes, or until lightly browned. Cool on wire racks.
To make the rolls to freeze ahead of baking:
After rolling, place the rolls on a lined tray and place the tray in the freezer for a hour or two. Once they are frozen stiff, place them in freezer bags and store in the freezer until needed.

To bake: Place the frozen rolls on prepared sheet. Allow to thaw and rise for five hours or until doubled in size. Preheat oven to 375 °, brush with cream and sprinkle with sugar and then bake the rolls for 12-15 minutes, or until lightly browned. Cool on wire racks.
Notes
Baked rolls can be frozen. Simply store in an airtight container for 4 to 6 weeks in the freezer. Thaw at room temperature and serve.
Nutrition
Calories:
166
kcal
|
Carbohydrates:
24
g
|
Protein:
3
g
|
Fat:
7
g
|
Saturated Fat:
4
g
|
Cholesterol:
22
mg
|
Sodium:
114
mg
|
Potassium:
32
mg
|
Fiber:
1
g
|
Sugar:
11
g
|
Vitamin A:
155
IU
|
Vitamin C:
1
mg
|
Calcium:
27
mg
|
Iron:
1
mg
After you've baked a batch — or two! — be sure to come back and leave a starred review. Your feedback is so helpful. Thank you!