When you're wanting a sweet treat, then Easy Chocolate Desserts are likely to top your list. Rich and full of flavor, it's hard to beat chocolate, especially when you can make it into so many delicious dishes.
If you're looking for some easy chocolate desserts, then rest easy. We've got you covered with everything from the Best Chocolate Baked Donuts to Mint Chocolate Cream Parfaits and everything in between.
Jump to:
Chocolate understands.
I've got that written on a t-shirt—proof that it's true. While therapists may say that it's not healthy to rely on a food for comfort, I'm here to say things like they are.
Some days chocolate comes to the rescue.
Thought to dispel dementors, improve blood flow, and reduce blood pressure, chocolate may have some health-improving properties. Or it may just taste good and make us happy.
Either way, having a repertoire of Easy Chocolate Desserts can come in handy for holidays and special occasions as well as any day ending in y.
Why It Matters
Dessert needs to be easy. After all the hassle of shopping and prepping a meal, dessert needs to be easy. Rather that wrack your brain for options, keep a list (or bookmark this post) of easy chocolate desserts you can rely on.
Dessert needs to be delicious. There are a few people in the world who don't like chocolate, I get that. But for the rest of us, chocolate can't be wrong. So offering easy chocolate desserts is going to be a win for you.
Make it easy. Make it delicious. You pretty much can't lose.
I've rounded up some of the best Easy Chocolate Desserts to add to your repertoire of chocolatey goodness. I can't wait to hear what you like the best!
Ingredients
Stocking up on some basics can make it easy for you to whip up a sweet treat on a moment's notice. Keep these ingredients on hand for easy chocolate desserts any time of day: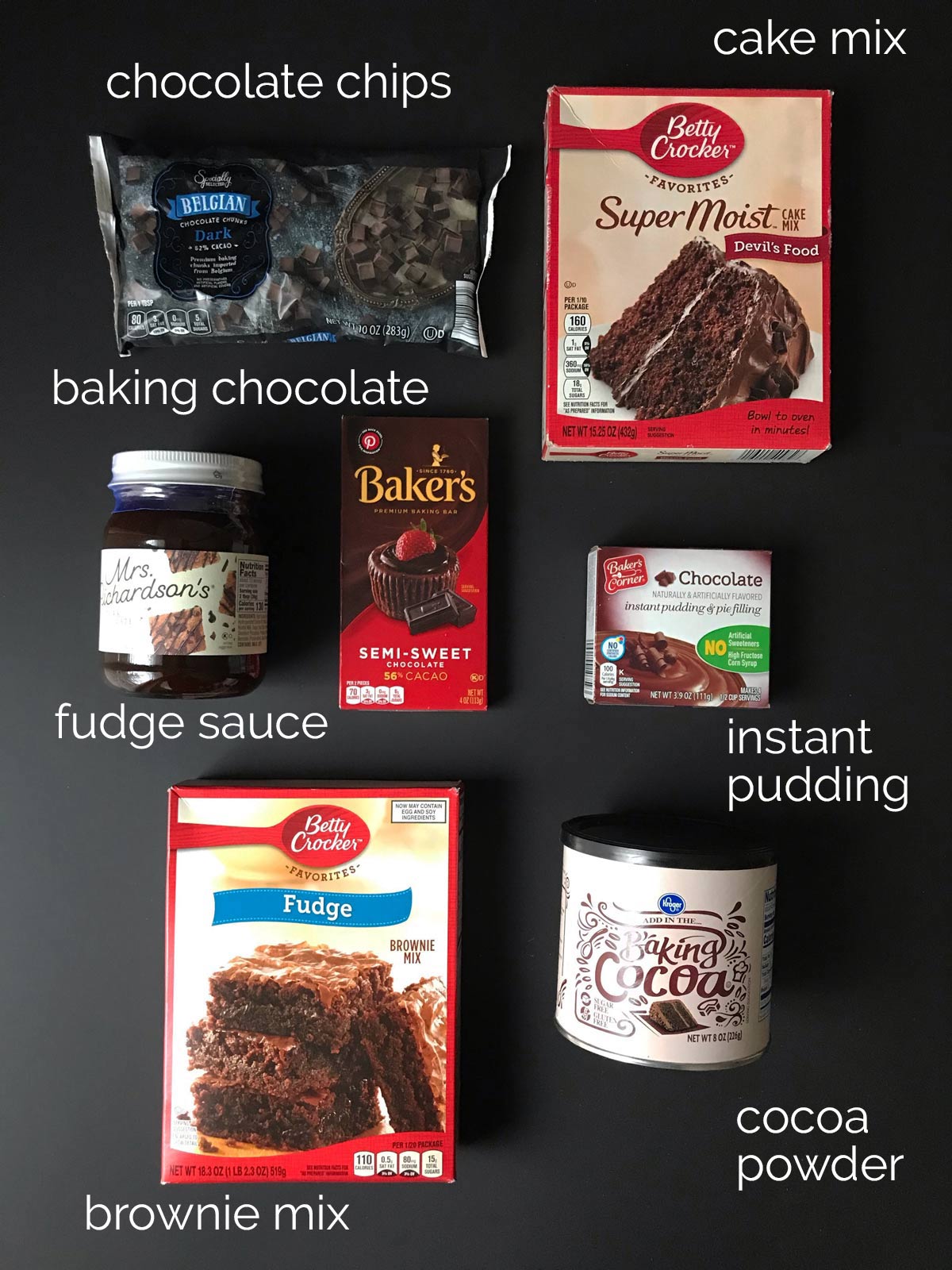 cake and brownie mixes – These often go on sale throughout the year, sometimes as low as 50 cents. Stash a few in the pantry for easy chocolate desserts whenever you want them. You can also make your own brownie mix and keep that on hand as well.
chocolate and fudge sauces – While you can easily make your own chocolate magic shell or Homemade Mocha Chocolate Syrup Recipe, having a jar or two of commercial fudge sauce makes for quick and easy chocolate desserts without fussing with melted chocolate.
cocoa powder – Unsweetened cocoa powder, also known as baking cocoa comes in handy for all kinds of easy chocolate desserts, including homemade hot cocoa, brownies, and chocolate sheet cake.
baking chocolate – Baking chocolate is available in a number of different forms: bittersweet, unsweetened, and semi sweet. It's super helpful to use in chocolate cookies, cheesecakes, and for melting and dipping.
chocolate chips – Chocolate chips and chunks are the basis of easy chocolate desserts. In a pinch, you can just eat a handful! I kid, but it's pretty good in Nut-Free Homemade Trail Mix that can be a pretty easy chocolate dessert in itself. Keep chocolate chips on hand for cookies, melting, and stirring into all kinds of baked goods.
instant chocolate pudding – It's super easy to make Homemade Chocolate Pudding, but sometimes you need something even easier. Instant pudding can pinch hit when you're in a rush.
other ingredients to keep on hand – pretzels for treats like Easter Pretzels, whipping cream, evaporated and sweetened condensed milk, ice cream, sandwich cookies for Easter Oreos, chocolate cookies or graham crackers, essential baking ingredients, and a creative spirit.
FAQs
What can be made from chocolate?
Easy chocolate desserts include cake, cookies, graham crackers, puddings and custards, pies, scones, syrups and sauces, ice cream and gelato, and even whipped cream.
How can you use chocolate in cooking?
Chocolate can come in a variety of forms, including baking chocolate, pieces or chips (dark or bittersweet, semisweet, milk, or white chocolate) chocolate syrup or sauce, cocoa powder, cocoa nibs. All can be used in a number of easy chocolate desserts.
What is the simplest type of dessert?
There is a wide range of easy chocolate desserts. Anything from whipped cream to cookies to cake to ice cream pie, as long as it's a sweet treat, it counts as dessert. Simple desserts would include: fudge and other candy, whipped cream, ice cream sundaes, cookies, cake, fruit with or white a dip or sauce, and fondue with dippers.
Easy Chocolate Dessert Recipes
This post was originally published on December 18, 2020. It has been updated for content and clarity.