Save some coin and bake your own triple chocolate donuts.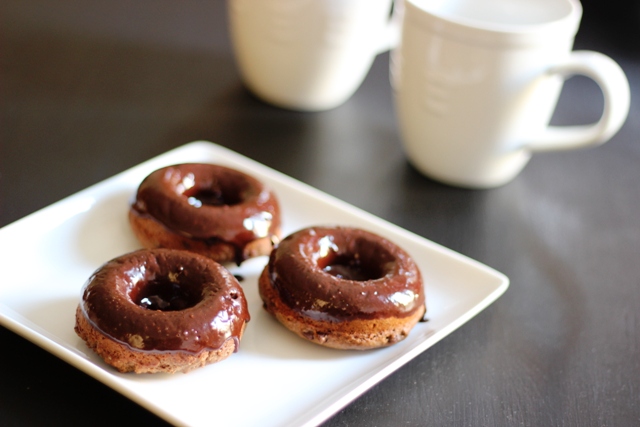 I baked four and a half dozen donuts in the making of this post. I did it all for you.
Last week I took the plunge and purchased a couple donut pans. Yeah, I know, I'm late to the donut baking party. Joy bakes them. Amy bakes them. Lynn even bakes them gluten free. I just didn't know if they would taste all that donuty. I was skeptical. But, I asked the Facebook peeps, and the consensus was that I should give it a go.
So, I bought two donut baking pans (affiliate link). There's no way I'm making only six donuts at a time. Not with six children. I bought two pans, but I might be tempted to buy a third. They nest very compactly and take up very little space. Plus, now that my girl's walnut and peanut allergies have been confirmed, I'm a little hesitant to buy donuts from a shop where the risk of cross-contamination is pretty high. We'll start experimenting with some new donut recipes, me thinks.
And just for the record, both spellings donut and doughnut are correct. In case you were wondering….
We've fried donuts before, but the mess is not exactly worth the results. Plus, all that oil is a pain to deal with. Baking sounded like a doable option.
Making donuts myself.
I started my recipe testing over the weekend, making an adaptation of Gramma John's Buttermilk Donuts. I upped the baking soda and liquid, and they were good. Going to retest those again next week
But, I decided to go with a chocolate version for extensive testing. I tweaked a few more times until it was deemed perfect by my family. Chocolate cake with mini chocolate chips and a chocolate glaze: superyum. There are about six unglazed that went into the freezer. The rest have disappeared.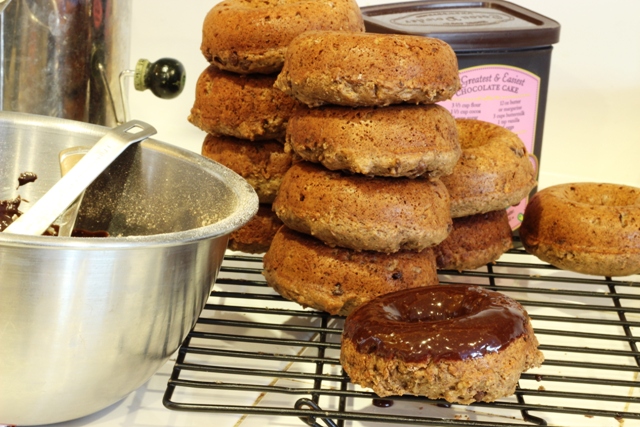 Making them cheaper.
A dozen donuts at our regular shop is about $6. A box of 8 at the grocery store runs about $3.68. This means that commercially made donuts are running 46 to 50 cents each.
My donut costs break down this way:
unbleached, non-bromated flour $0.75
sugars $0.50
hormone-free milk $0.20
cocoa powder $0.30
eggs $0.40
oil $0.20
generous allowance for leavenings and extract $0.25
The total comes to $2.60 for 18 donuts, making them about 15 cents a piece. While these aren't as melt-in-your mouth amazing as traditional fried donuts, they're still tasty and they are a lot cheaper.
Plus, the people you feed will think you're a rockstar. You made donuts?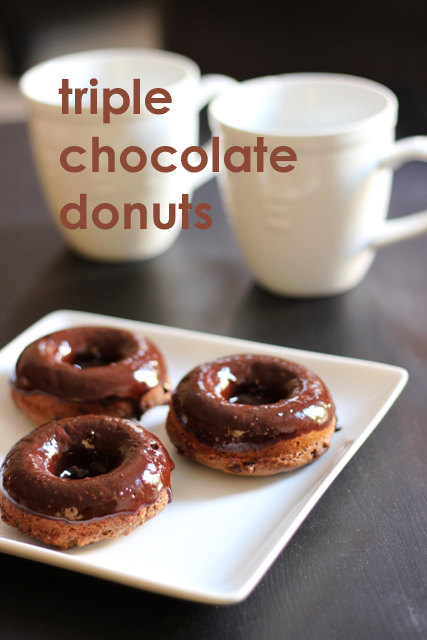 Recipe: Triple Chocolate Donuts
Ingredients
1 cup milk
1 cup sugar
2 eggs
1/4 cup oil
1 teaspoon vanilla extract
3 cups unbleached, all-purpose flour
1/2 cup cocoa powder
1 tablespoon baking powder
3/4 teaspoon baking soda
3/4 teaspoon salt
1/2 cup mini chocolate chips
Glaze: 1 cup powdered sugar, 1/2 cup cocoa powder, 2 to 3 tablespoons hot water
Instructions
Preheat the oven to 375°. Grease donut pans with nonstick-cooking spray.
In a large mixing bowl, whisk together the milk, sugar, eggs, oil, and vanilla extract.
In another bowl, sift together the flour, cocoa powder, baking powder, baking soda, and salt.
Combine the wet and dry ingredients just until mixed. Fold in the chocolate chips.
Spoon the batter into the prepared pans or pipe the batter in with a pastry bag.
Bake for 8 to 10 minutes. Cool on a rack.
In a small mixing bowl, sift together the powdered sugar and 1/2 cup cocoa powder. Stir in enough hot water to make a thin glaze. Dip the donut tops into the glaze and allow to set until firm.
Preparation time: 10 minute(s)
Cooking time: 10 minute(s)
Number of servings (yield): 18
Do you make your own donuts?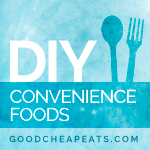 This is part of the DIY Convenience Foods series.
Don't want to miss a post in this series? Subscribe to 31 Days of DIY Convenience food here. Get updates via email here.