Donut shop mornings can be blissful, but also expensive. Save some coin and bake your own chocolate donuts. Super delicious and loaded with chocolate, these chocolate baked donuts are a fun treat to make.
Whether you serve them alongside traditional fried Buttermilk Donuts or keep to the baking theme with Lemon Drop Scones and Raspberry Muffins, these chocolate donuts are sure to please everyone at your table.
Jump to:
You've seen it scrolling through your feed. That box of donuts with their colorful sprinkles and sweet glazes just beckoning you.
I mean, really? Who can look at a box of fresh donuts and not feel a flutter of excitement? It's just in our DNA.
That said, there are times when loading up at the donut shop is just not possible. And those times are the times when you bake your own.
Yes, really. Baked chocolate donuts, while not the same as fried, are still utterly irresistible. Especially when you load up on the chocolate glaze, sprinkles, and chocolate chips!
Why Make This
It's more nutritious. Fried foods, while delicious, are often unhealthy for folks with certain medical conditions. Baking, while not making donuts a "health food", bring it up a notch.
It's more economical. Frying donuts requires a great quantity of oil, that unless you plan on frying often and reusing your oil, can be costly. Baked donuts are more economical.
It's easy! Frying donuts is cumbersome and time-intensive, whereas with baking donuts, you can bake as many donuts at once as you have donut pans. Just like baking a batch of muffins which we already know is super easy.
Ingredients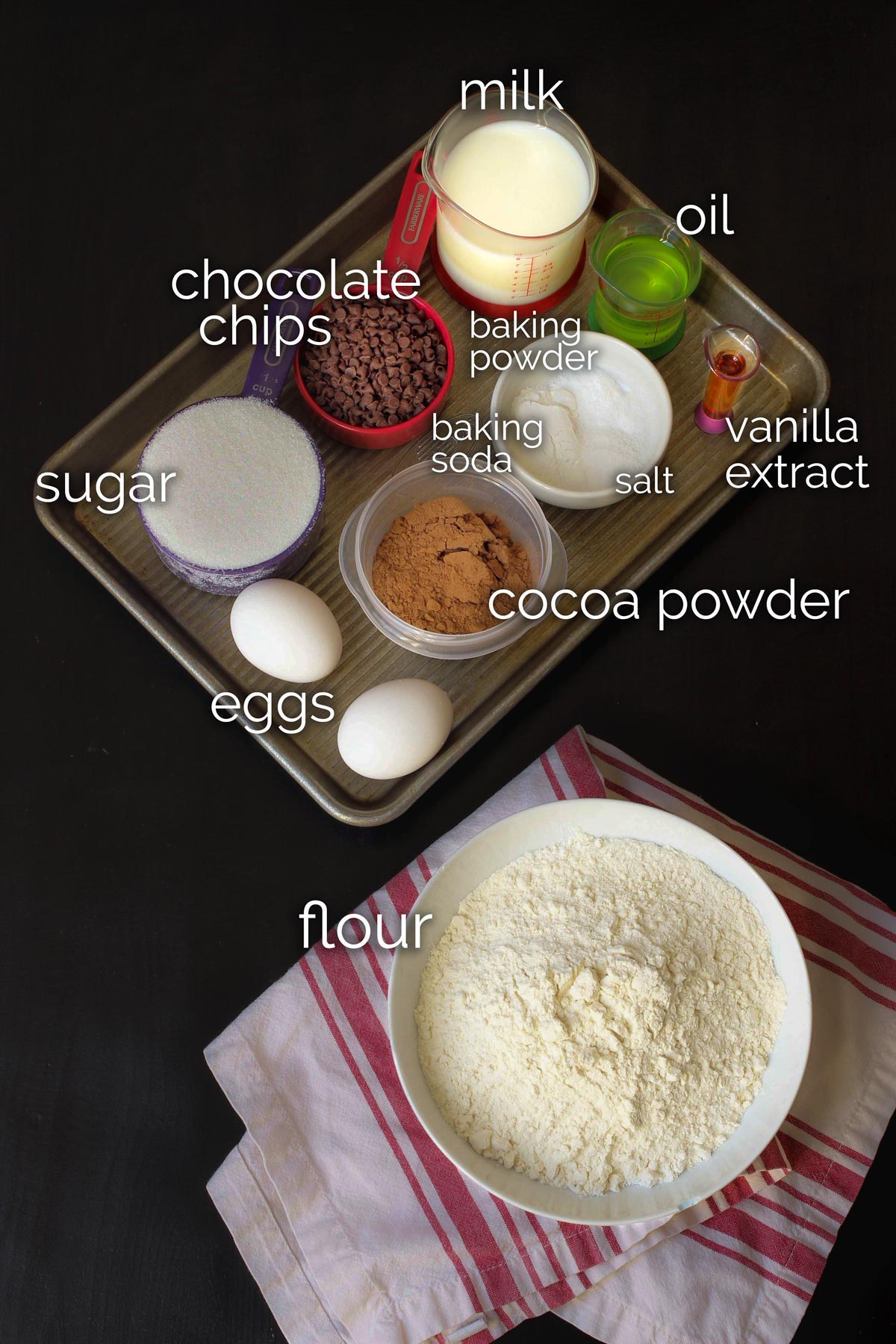 In order to make Chocolate Baked Donuts, you'll need some standard baking supplies, such as:
milk – Milk gives a softer, more tender texture to baked goods. Use whatever milk you prefer.
sugar – We use granulated sugar for chocolate baked donuts. For a slightly different texture and flavor, you can also use honey, maple syrup, or brown sugar. If you use a liquid sweetener, dial back on the milk just a bit.
eggs – Eggs add lift and richness to your donuts. You can use flaxseed as an egg replacement, but the texture won't be quite the same.
neutral oil – A neutral cooking oil is one that doesn't add a lot of flavor. Olive oil might impart too much flavor. Use canola, vegetable, or avocado oil for best results. You can also use melted butter or margarine.
vanilla extract – Vanilla does a great job offsetting the flavor of chocolate. Believe it or not, they do go well together.
flour – use unbleached all-purpose flour for best results, but you can use whole wheat pastry flour or regular all-purpose flours if that's what you have.
cocoa powder – Be sure to use unsweetened cocoa powder. It's what flavors the chocolate cake donut.
leaveners – baking powder, baking soda, and salt all give lift, texture, and flavor to the donuts.
mini chocolate chips – While optional, these tiny bits of chocolate keep the cake from drying out.
Glaze ingredients (not pictured) – While technically optional, the glaze is pretty amazing. Don't skip it if you can help it. All you need is powdered sugar, more cocoa powder, and hot water.
Toppings – The toppings are optional as well, but they certainly make the baked donuts more fun. Use colored sprinkles, chocolate jimmies, or mini chocolate chips to top your chocolate donuts.
Step-by-Step Instructions
Baking donuts is similar to baking muffins. It's incredibly simple.
To prepare the donuts
In a large mixing bowl, combine the milk, eggs, oil, sugar, and vanilla extract.
In another mixing bowl, whisk together the flour, cocoa powder, baking powder, baking soda, and salt.
Add the wet ingredients to the dry and fold to combine.
Add the chocolate chips and fold to combine.
At this point you can spoon the batter into the greased pans, but you'll have better results and a more rounded donut shape on all sides, if you transfer it into a gallon-size ziptop bag to use as a piping bag. Snip off the corner and pipe the batter into greased donut pans.
Bake the donuts. Cool on a wire rack.
To make the donut glaze
Once the donuts are baked, you're ready to glaze them with the yummy chocolate glaze. It's super easy to make!
Sift together the powdered sugar and cocoa powder in a small mixing bowl.
Add the hot water and stir until smooth with a wooden spoon.
Place the wire rack inside a sheet pan to catch the drips of chocolate glaze. Dip each donut into the glaze and turn it glaze side up on the rack.
Add colored sprinkles and mini chocolate chips to the wet glaze. Allow the glaze to set up before serving.
FAQs
Do baked donuts taste the same as fried?
While baked donuts don't have that distinctive crisp, fatty taste of fried donuts, they are still delicious. The cake flavor in the cake donut is emphasized in a baked donut.
Plus, if you load on the glaze and sprinkles, you've got the best part of the donut anyway!
Do you need special equipment to make baked donuts?
The thing that differentiates this recipe from a cupcake is the shape of the baked good. A donut isn't a donut unless it's round with a hole in the middle. In order to make these chocolate baked donuts, it's best to have a few donut pans. Two is a minimum, though four would be ideal.
Recipe costs
We always assume that making it at home will cost less money than buying it elsewhere. This is often, but not always the case. Let's see how much that donut really costs, shall we?
These Triple Chocolate Donuts are made from some basic ingredients, ingredients that when bought at regular, non-sale prices break down as follows:
milk: $0.19 ($3.09/gallon)
granulated sugar: $0.22 ($1.97/4#)
eggs: $0.50 ($2.99/12)
oil: $0.16 ($1.99/48 oz)
vanilla extract: $0.67 ($7.99/2 oz)
unbleached, all-purpose flour: $0.45 ($2.69/5#)
cocoa powder: $0.64 ($1.93/8 oz)
baking powder: $0.09 ($1.49/8.1 oz)
baking soda: $0.01 ($0.99/16 oz)
salt: $0.02 ($2.99/26 oz)
mini chocolate chips: $0.72 ($3.50/10 oz)
powdered sugar: $0.37 ($2.99/2#)
The total comes to $4.04 for 2 dozen donuts, making them about 17 cents a piece.
In comparison, check out these donut prices;
grocery store bakery donuts in waxy chocolate – $4.99/dozen or 42 cents each
Krispy Kreme glazed chocolate cake donuts – $13.99/dozen or $1.17 each
While these aren't as melt-in-your mouth amazing as traditionally fried donuts, they're super tasty and they are a lot cheaper than the donut shop.
Plus, the people you feed will think you're a rockstar. You made donuts?
Why, yes, yes, I did.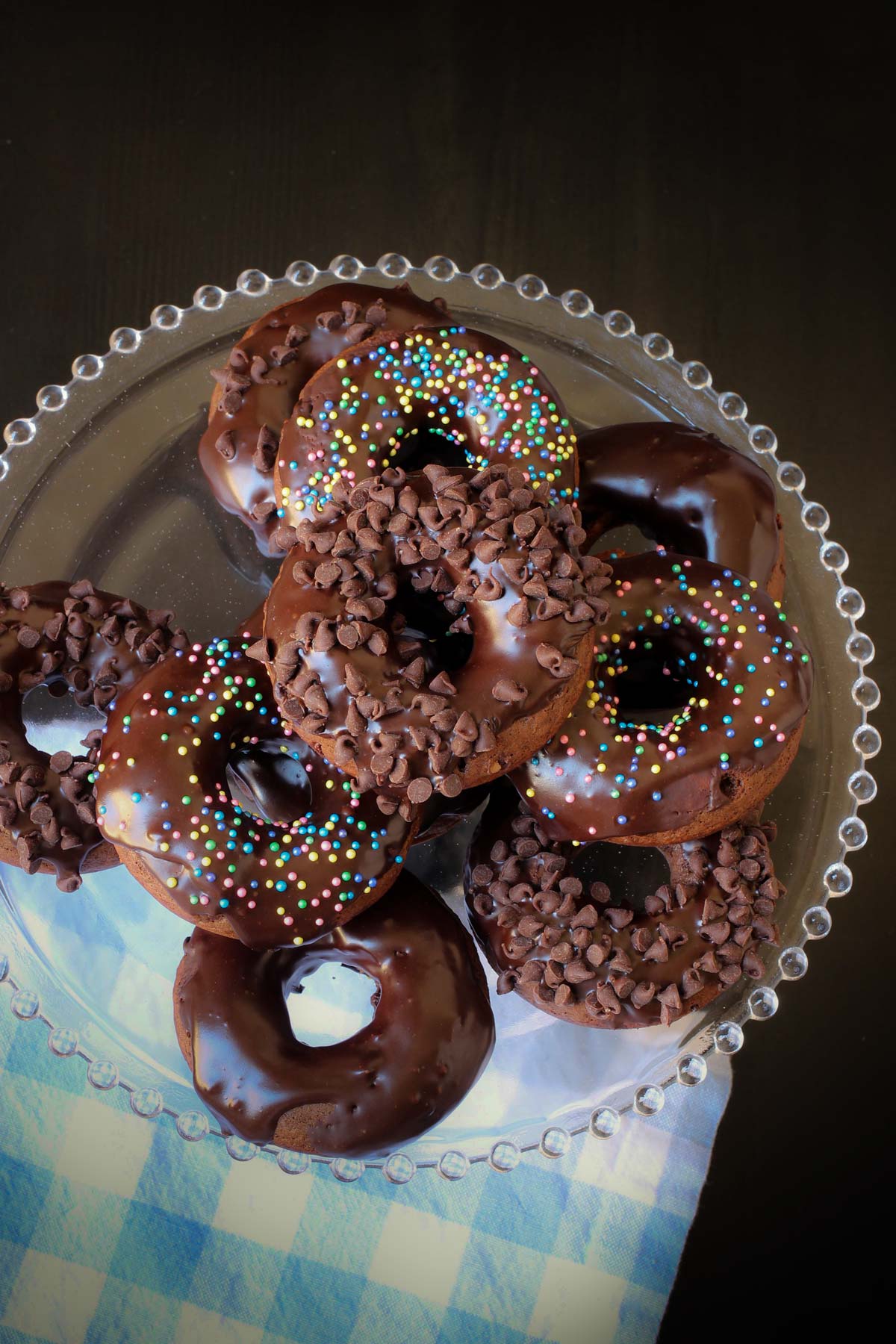 Great Chocolate Desserts
Chocolate Baked Donuts
Save some coin and bake your own chocolate donuts. Super delicious and loaded with chocolate, these chocolate baked donuts are a fun treat to make.
Ingredients
For the baked donuts
1

cup

milk

1

cup

granulated sugar

2

egg

1/4

cup

neutral oil

1

tsp

vanilla extract

3

cup

unbleached, all-purpose flour

1/2

cup

unsweetened cocoa powder

1

tbsp

baking powder

3/4

tsp

baking soda

3/4

tsp

salt

1/2

cup

mini chocolate chips
For the glaze
1

cup

powdered sugar

for glaze

1/2

cup

unsweetened cocoa powder

for glaze

2-3

tbsp

hot water

for glaze
For the topping
1/2

cup

mini chocolate chips

2

tbsp

colored sprinkles
Instructions
To bake the donuts:
Preheat the oven to 375°. Grease donut pans with nonstick-cooking spray.

In a large mixing bowl, whisk together the milk, sugar, eggs, oil, and vanilla extract.

In another bowl, sift together the flour, cocoa powder, baking powder, baking soda, and salt.

Combine the wet and dry ingredients just until mixed. Fold in the chocolate chips.

Spoon the batter into the prepared pans or pipe the batter in with a pastry bag.

Bake for 8 to 10 minutes. Cool on a rack.
To glaze the donuts:
In a small mixing bowl, sift together the powdered sugar and 1/2 cup cocoa powder. Stir in enough hot water to make a thin glaze.

Dip the donut tops into the glaze. Top the donuts with the mini chocolate chips and sprinkles and allow the donuts to set until the glaze is firm.
Notes
To make as a mix: Take a large ziptop bag or container and label it with the wet ingredients and the baking instructions. Measure out the dry ingredients into the bag. Seal and store until ready to use.
If you pipe the batter into the pans, you should be able to get 24 donuts. If you spoon it in, you will like have fewer, about 18.
Nutritional values are approximate and are based on 1 donut.
Store leftovers promptly and use within 4 days.
Nutrition
Calories:
225
kcal
|
Carbohydrates:
41
g
|
Protein:
4
g
|
Fat:
6
g
|
Saturated Fat:
2
g
|
Cholesterol:
20
mg
|
Sodium:
161
mg
|
Potassium:
187
mg
|
Fiber:
2
g
|
Sugar:
22
g
|
Vitamin A:
60
IU
|
Calcium:
62
mg
|
Iron:
2
mg
This post was originally published October 8, 2013 as part of the DIY Convenience series. It has been updated for content and clarity.