Gramma John's Buttermilk Donuts have been a favorite in our family for decades. They are delicious and perfect for freezing.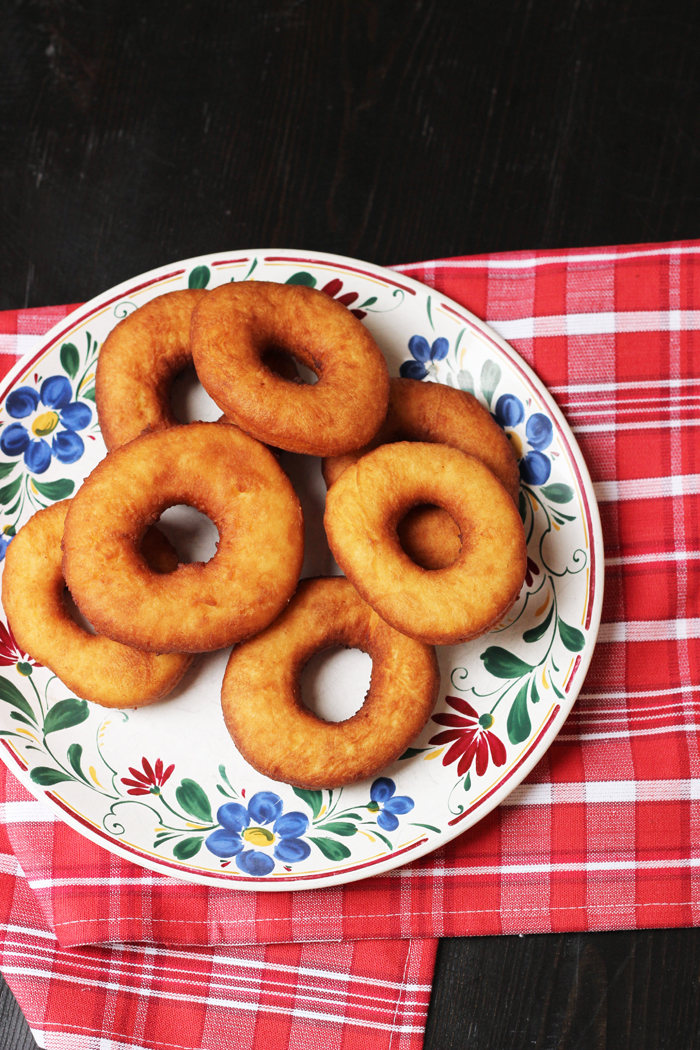 My childhood summers were spent in South Dakota and Minnesota. Though I was born and raised in California, my parents both grew up in Minnesota. With loads of family on both sides, and my dad hankering for farm-stomping, we spent every summer on the road, driving to the midwest and then hopping from family to family for visiting.
The highlights of my summer were hanging out my cousins Laurie, Kristin, and Jenny, and playing cards with my Gramma John. Oh and eating at Aunt Peggy's house. And Aunt Sandy's house.
My Gramma John was a character. She married young and survived an abusive husband. She raised eight kids as best she could on a farm with little money. I only knew her in her town-living retirement years, when she would babysit my cousins, garden in her backyard, can and bake in her basement kitchen, and play cards and watch soaps all afternoon.
Gramma John was one of my best friends growing up. We were great penpals right up until she passed away in 2000. She listened to me when no one else did. And quite honestly, I miss her terribly, though she's been gone for almost 16 years.
One of my sweetest memories of her is sitting in her last kitchen in a small apartment in a retirement building. She was able to fit a small deep freeze in that minuscule kitchen.
In said deep freeze were stacks of lefse and plastic boxes filled with buttermilk donuts. When she wasn't looking, I'd sneak donuts from the freezer, eating them before they had a chance to thaw completely. Mmmm. They were good.
I was 18, and could eat all the donuts without gaining an ounce. Those were the days.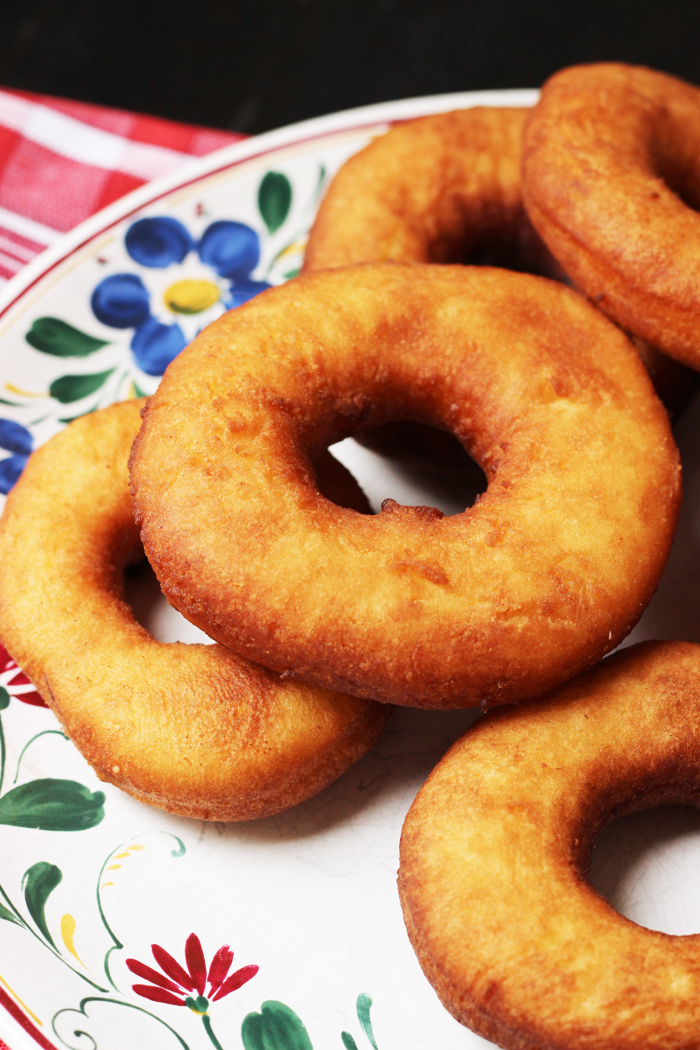 A few years ago after watching a few seasons of Good Eats, FishPapa started pining for a fryer. He's not one to usually request kitchen appliances, so I figured he had really thought it through.
When my dad said that a neighbor had a brand-new, commercial fryer to give away, I said yes. I figured if it wasn't exactly what Alton recommended, we could probably find a home for it. As it turns out, it is exactly what FishPapa wanted in a fryer.
We've tested Alton's recipe for Yeast Doughnuts. They are excellent. They puff up light and fluffy and crisp. FishPapa would recommend that you omit the nutmeg. He isn't crazy about nutmeg.
But, my heart belongs to Gramma John and her Buttermilk Donuts. And honestly, when I'm too lazy to go to the garage for the fryer, I just make these in a pot. No fryer required.
I hope you will give these a spin. They aren't super fancy. They're what FishChick9 would call "a friendly dessert". They're not too fancy to eat. And you have my permission to eat them cold from the freezer.
This recipe makes a very sticky dough. My cousin Laurie and I recently compared notes when I sent her a picture of my donut dough and asked if hers was as sticky. Turns out her dad, my Uncle Donny, used only egg yolks when he made these donuts. I am going to be testing that theory soon to see how they fare. I'll update this post when I do.
Tools that come in handy when making this recipe:
Gramma John's Buttermilk Donuts
Gramma John's Buttermilk Donuts have been a favorite in our family for decades. They are delicious and perfect for freezing.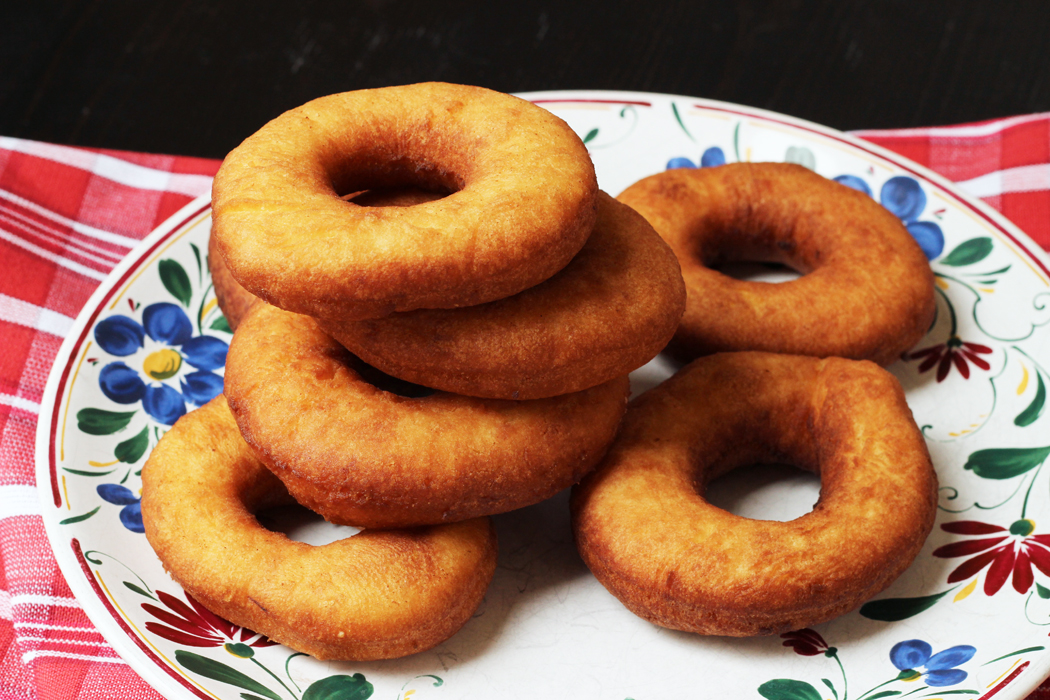 Preparation Time:10 minutes
Cook time:25 minutes
Total time:35 minutes
about 20 donuts
Ingredients:
2 eggs

1 cup sugar

1 teaspoon vanilla

1/4 cup vegetable oil

1 cup buttermilk

4 cup unbleached, all-purpose flour

4 teaspoons baking powder

1/4 teaspoon baking soda

3/4 teaspoon salt

oil for frying, like peanut or avocado
Instructions:

In a large mixing bowl, combine the eggs, sugar, vanilla, vegetable oil, buttermilk, flour, baking powder, baking soda, and salt. The dough will be quite sticky.
Roll out the dough on a floured board. Cut into rounds with a donut cutter.
Heat a pot of oil to a depth of at least two inches, and fry the donuts, flipping once, until golden brown and cooked through. Drain on a rack set over paper toweling.
Cooled donuts can be packed in an airtight container and frozen for up to 6 weeks.
Do you make donuts?
Are you looking for more good cheap eats?