This Bacon Quiche with Broccoli & Cheddar comes together quickly and easily, yet it feels like an elegant meal. It's perfect for breakfast, lunch, or dinner.
One of the best Homemade Pies for dinner, this easy quiche recipe is top of this for Fancy Dinner Ideas on a Budget. Love eggs? Got extras? Be sure to check out our recipes for what to make with eggs.
Ready for an easy dinner that will knock folks' socks off? This easy Bacon Quiche with Broccoli & Cheddar fills the bill to a T. Not only is it simple to prepare and freezer-friendly, but also: Bacon.
Right? Bacon makes everything good. And adding to a quiche is always a good idea. I've done it before with this Bacon and Spinach Quiche but this time I'm swapping out the spinach and swiss for broccoli and cheddar.
Okay, bacon aside, it's got everything going for it: a whole wheat pastry, eggs and milk, hearty cheddar, and broccoli. It's like a one-dish dinner. You can add a salad on the side or start with a vegetable soup course, but you wouldn't have to. The gang's all here!
Yes, I really do make this with whole wheat pie crust. My family didn't even notice. I use whole wheat pastry flour to make sure the texture isn't too wheaty. Works like a charm.
This Bacon Quiche is perfect for a cozy fall supper, a laid back lunch with friends, or even a weekend brunch or breakfast. I love that I can make it ahead of time and freeze it!
How I make this good:
Whenever possible I like to cook with plain old ingredients. While the convenience of mixes and canned sauces is nice, I feel better about feeding my family just real food whenever possible. (Go here for some of my reasons on all that.)
For this particular dish, the only "processed" item is the bacon. Read labels and find the best quality bacon to fit your budget. All the other ingredients in this Bacon Quiche are just regular foods: broccoli, cheddar, eggs, flour, butter, half-and-half (aka cream and milk). In other words, if you were Ma Ingalls, you could grow, harvest, or make any of these ingredients yourself.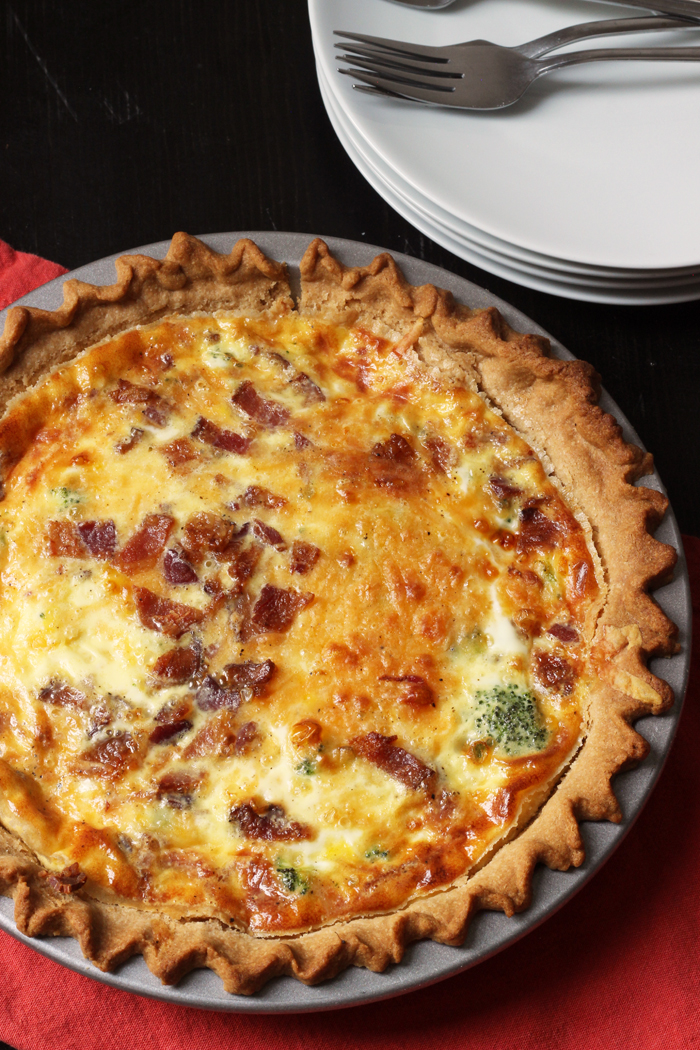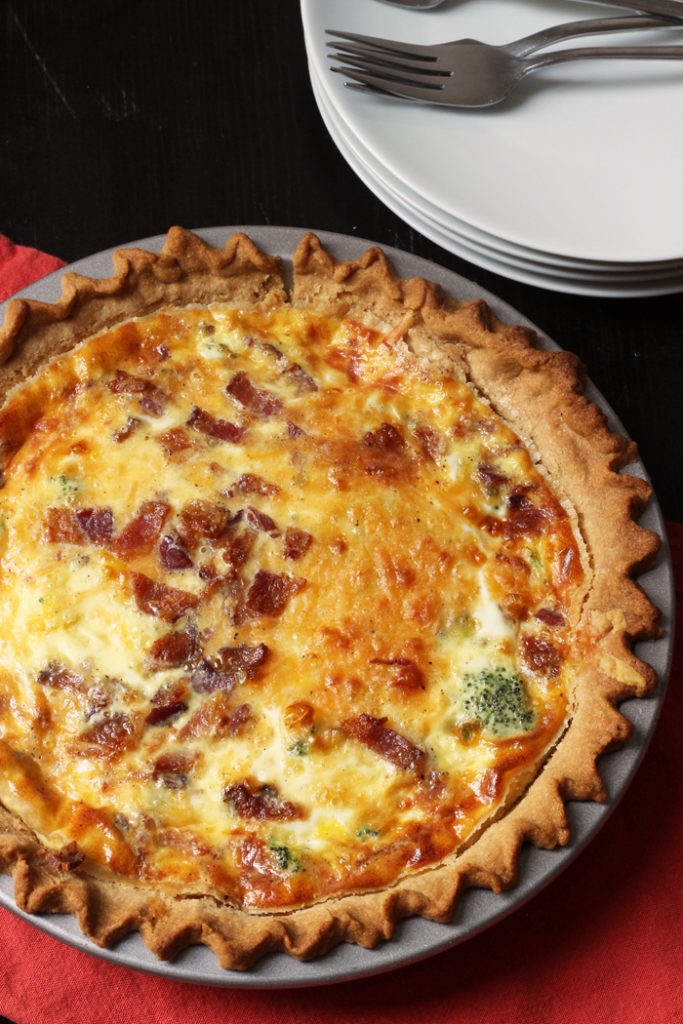 How I make this cheap:
Quiche is not something we would call a "cheap food", at least not with bacon and cream and butter, items that at full price cost a pretty penny. There are some strategies, however, to make this Bacon Quiche recipe a verified good cheap eat.
Do a price comparison. I know that Costco is the best place to buy ingredients like eggs and butter when there isn't a great sale elsewhere. I keep track of prices so that I know who has the best deal where.
Stock up on ingredients when they are on sale. For instance, when I see a great price on eggs, I buy a lot. This often happens at Ralphs where I'll find organic eggs marked down for less than $2. I recently found Applegate uncured bacon on manager's special. I loaded up my freezer with all that was there.
Use a lower priced alternative. Cream is generally more expensive than half and half. Using half and half instead reduces the price of the dish.
Tools I use to make this recipe easy:
This is a pretty straight-forward dish. You don't need any fancy equipment. However, having some good basic kitchen tools can really make your time in the kitchen more enjoyable. Over time, I've honed my collection so that they are perfect for my needs. Here are the tools that I like to use in this recipe.
Bacon Quiche with Broccoli & Cheddar
This Bacon Quiche with Broccoli & Cheddar comes together quickly and easily, yet it feels like an elegant meal. It's perfect for breakfast, lunch, or dinner.
Ingredients
1

batch

single pie crust

made with whole wheat pastry flour

1

head

broccoli

cut into florets and steamed (2 cups)

5

oz

cheddar cheese (shredded)

(1 ¼ cup)

1

tablespoon

unbleached, all-purpose flour

4

slices

bacon

cooked and chopped

4

egg

1 ½

cup

half-and-half

salt

black pepper
Instructions
Preheat the oven to 375 degrees. Place a pie or quiche pan on a small baking sheet to make it easier to handle and to catch the drips. Lay the prepared pie crust into the quiche pan and trim the edges.

Layer the broccoli in the bottom of the prepared pan. Combine the cheese with the flour in a small dish and toss to coat. Sprinkle this over the broccoli. Sprinkle the bacon over the cheese.

In a large mixing bowl, combine the eggs and half and half. Season to taste with salt and pepper. Pour this mixture over the fillings in the pie shell. (This is the point at which you could freeze it, if making it in advance. Lay the pie plate on a rack in the freezer until firm. Wrap tightly with foil and place inside a labeled, ziptop freezer bag.)

Bake the quiche for 30 minutes or until set and golden. Allow to cool slightly before serving.
Notes
(If baking from frozen, there's no need to thaw. Just add 5 to 10 minutes to your baking time.)
Nutrition
Calories:
317
kcal
|
Carbohydrates:
16
g
|
Protein:
11
g
|
Fat:
24
g
|
Saturated Fat:
10
g
|
Cholesterol:
117
mg
|
Sodium:
254
mg
|
Potassium:
227
mg
|
Fiber:
2
g
|
Sugar:
1
g
|
Vitamin A:
598
IU
|
Vitamin C:
21
mg
|
Calcium:
207
mg
|
Iron:
1
mg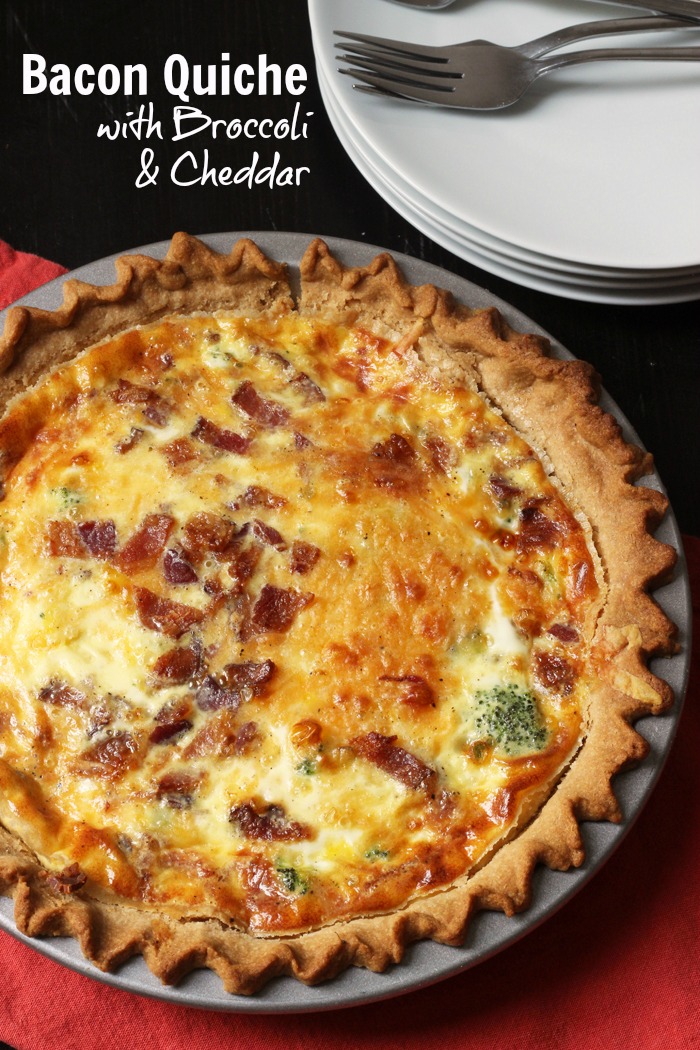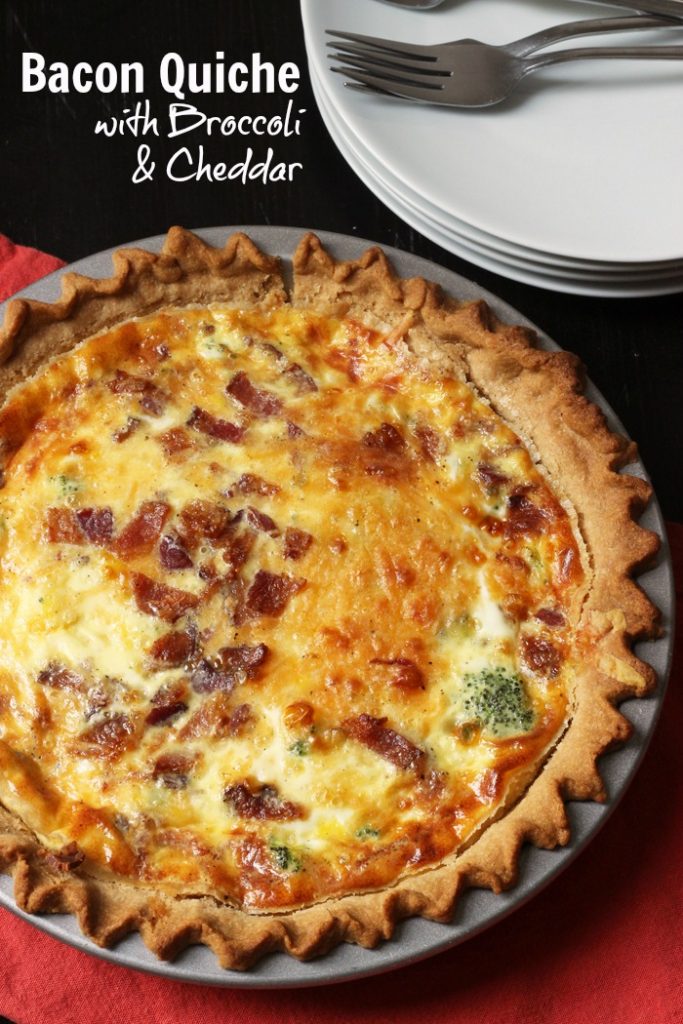 Are you looking for more good cheap eats?