These yummy Raspberry Muffins are light and fluffy, dotted with fresh raspberries and topped with a lid of crunchy nuts and sugar bits. So easy to make, yet they feel so special!
Whether you include them in a Lunchtime Meal Prep or serve them with Tea Time Snacks, these muffins are bound to be a hit. Be sure to freeze some muffins to bake later.
Jump to:
Homemade raspberry muffins are the bees' knees. Tender muffin crumb dotted with sweet-tart berries… the only thing better is the crunchy nutty streusel that tops it off.
Each bite is a flavor explosion! So much so, you'll be glad that this recipe makes a big batch.
Why Make This
They're super tasty. Muffins are a perfect accompaniment to tea, coffee, or milk, making them a great mid-morning (or late afternoon!) snack. These raspberry muffins are equally delicious served at breakfast or tucked into lunch boxes.
They're freezer-friendly. You can bake and freeze or make and freeze, whichever you like. Both insure that you can enjoy raspberry muffins as often as you like.
They're a good cheap eat. At only 25 cents a muffin, these are a great breakfast, snack, or dessert to serve to friends and family.
Ingredients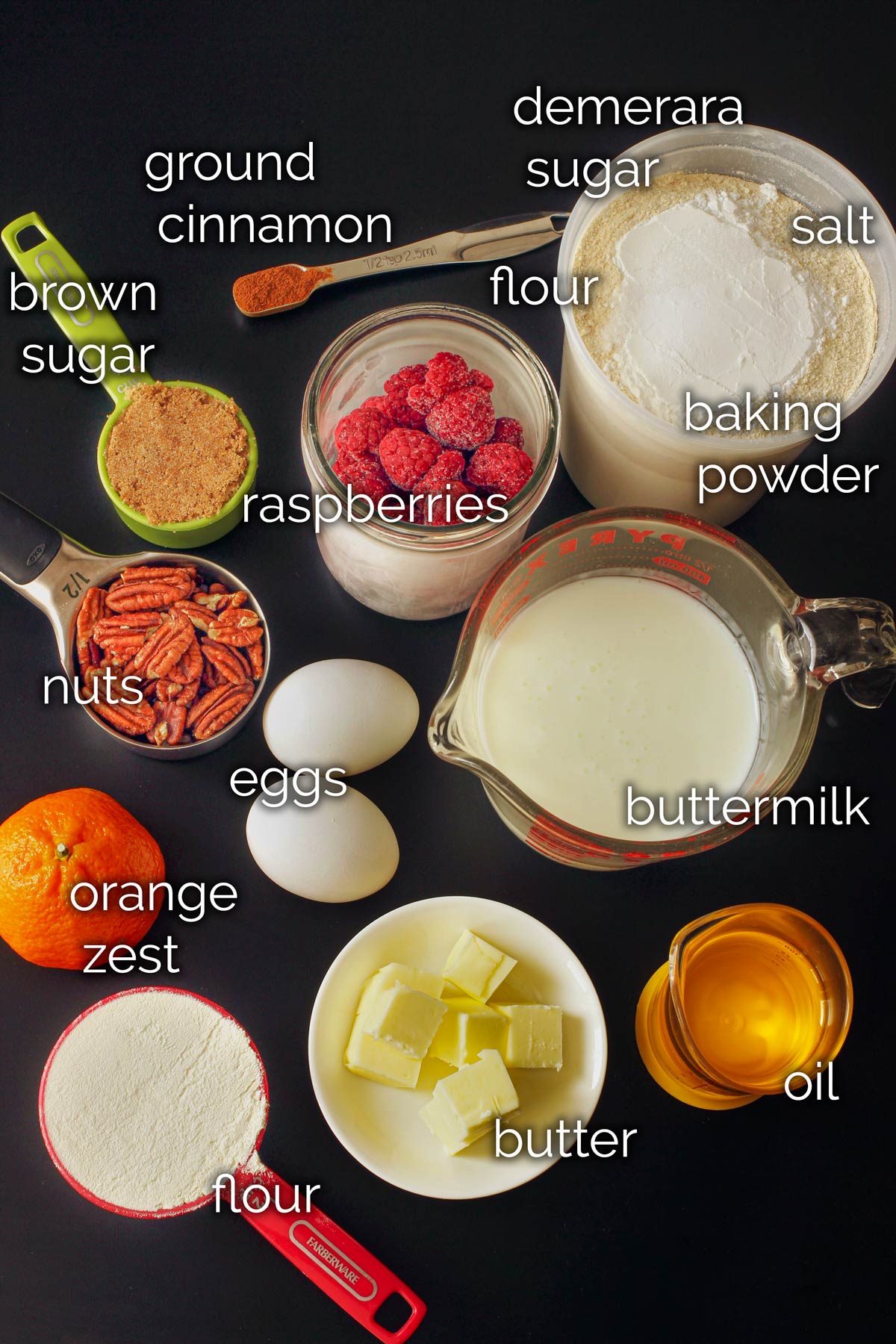 At Good Cheap Eats we don't want you to spend a lot of money on specialty ingredients. Rather, we want to help you expand your flavor horizons with typical grocery staples that can be mixed and matched in delicious ways.
These muffins call for pretty standard baking ingredients, plus a Nutty Streusel Topping, to take these baked goodies over the top.
You'll need:
flour – My homemade muffin mix calls for all-purpose as well as a bit of whole wheat. If you don't have whole wheat, just sub more all-purpose flour.
granulated sugar – Or you can also use sucanat, brown sugar, demerara, or honey. If you use honey, reduce the buttermilk just a tad.
baking powder – This is needed for your muffins to rise.
cinnamon – I love the addition of cinnamon in these muffins, but feel free to use cardamom, ginger, or nutmeg if you prefer.
salt – A little salt always helps to balance all the sweetness and give texture to your muffins. Don't omit it.
buttermilk – This helps give your muffins a lift. You can buy commercial buttermilk or make your own cultured buttermilk. If you don't have it on hand, mix an equal amount of milk and yogurt as a substitute.
oil – I used a neutral oil, like avocado. Use what you normally do for baking. You can also use melted butter.
eggs – You'll need two; just give them a quick whisk before adding them to your bowl. If you're out of eggs, consider using Flaxseed Meal as an Egg Substitute.
Orange – I love a little fresh citrus zest to help brighten up these muffins. Orange pairs beautifully with the raspberries. You can also use lemon or lime zest if you prefer.
Raspberries – I typically use frozen because that's often the cheapest form I find, but you can absolutely use fresh. Either way fold them in gently so as not to crush them.
Streusel Ingredients
Streusel is a nutty, crumb topping that is delicious on pies, muffins, and coffeecakes. It takes pumpkin pie over the top and makes the simplest muffin seem special.
For the streusel topping, you'll need:
Brown sugar – Either light or dark brown sugar will work. You can also make your own brown sugar if you run out.
Flour – All-purpose is just fine. 
Butter – Butter gives your streusel a rich flavor, but you can also use margarine or a plant-based butter, if you prefer
Nuts – I love pecans, but you can use any nut or even a seed like sunflower or pepita to give the the topping a bit of a crunch. You can also omit the nuts if needed for allergy reasons.
Step-by-Step Instructions
Prepare the streusel.
1. In a mixing bowl, combine the butter and flour. Using a pastry blender or two knives held together, cut the butter into the flour until coarse crumbs form.
2. Add the brown sugar and chopped nuts and set aside.
Prepare the muffins
3. Whisk together the homemade muffin mix, cinnamon, and orange zest in a large bowl.
4. In a medium bowl, whisk together the buttermilk, oil, and eggs until blended.
5. Pour the wet mixture into the dry ingredients and give it a few folds. Add the raspberries. Fold just until combined; do not overmix.
6. Preheat the oven to 375 degrees. Line two 12-cup muffin pan with muffin papers. Spoon the muffin batter into the prepared muffin cups, dividing evenly. Divide the streusel mixture among the muffin cups.
Bake for 20 minutes or until tester comes out clean. Cool on a wire rack.
Pro tip: see Freezing Instructions below for instructions for freezing unbaked or baked muffins.
Storage
Baked muffins are good for up to 3 days stored in an airtight container at room temperature. Freeze baked muffins for longer storage.
Freezing instructions
Raspberry muffins are great for freezing. Why buy one at the coffee shop when you can bake them yourself for so much less? Freezing helps you keep up your muffin habit for a lot less cash.
To freeze unbaked muffins:
If you don't want to bake all 24 muffins at one time, you can freeze them unbaked! To do so, you must use paper liners. Place the muffin tins in the freezer until the batter is frozen solid.
Once frozen, carefully remove the cups from the tin and place them in an airtight container with a lid. The crumbs of the streusel will not completely stick together, so do this carefully to avoid spillage. Freeze until ready to bake.
To bake: place the frozen muffin "pucks" back into the muffin tin and bake as directed.
Alternatively, you can freeze the muffins prior to adding the streusel. Store the streusel in its own ziptop freezer bag along with the frozen muffins. Add the streusel prior to baking.
To freeze baked muffins:
Prepare the raspberry muffins according to the recipe. Cool completely on a rack.
For individual freezing, wrap each in plastic or beeswax wrap and place them all in ziptop freezer bag.
For freezing many, place them in a large container with a lid, tucking parchment, deli wraps, or beeswax wrap around them as a layer of protection against the cold.
To serve: place the desire number of muffins on the counter about an hour before serving. They will thaw at room temperature. 
Tips for success
Keep a mix on hand.
Having mixes premade is such a happy thing for me. No measuring too early in the morning, no flour flying. And I especially love it that I can customize mixes. Since it's so easy to prepare baked goods with a homemade mix, I feel a little added inspiration to get creative.
This homemade muffin mix allows you not only to have a homemade mix at the ready, but it also offers you a lot of freedom in your baking. Add whatever "mix-ins" sound good to you. These Raspberry Muffins are just one of the many ways you can make good use of the mix.
FAQs
Can you put frozen raspberries in muffins?
Typically frozen raspberries are more affordable than fresh, so it's what I recommend. Just be sure not to thaw them before you add them to the recipe. Just add them frozen and stir gently so as not to break them. They're fragile frozen as much as fresh.
Recipe Costs
Knowing how much it costs you to prepare a recipe can help you decide if it's the type of recipe to make regularly or one you might want to save for special occasions. Let's crunch some numbers and see how this recipe pencils out.
Mix & Match muffin mix – $0.92
buttermilk – $1.20
oil – $0.16
eggs – $0.50
orange zest – $0.20
cinnamon – $0.02
raspberries – $1.00
flour – $0.08
butter – $0.46
brown sugar – $0.09
nuts – $1.33
Two dozen of these delicious raspberry muffins with streusel topping pencils out to cost $5.96 or 25 cents each!
While they are half-size of what you'd find at the bakery, you can't argue at that price, even doubled!
How to save even more money
Follow the Good Cheap Eats System and you'll be able to shave more off the price of these delicious, homemade muffins.
Use what you have. If you don't have raspberries, use blueberries or blackberries instead. Out of nuts? Omit them from the streusel. You'll still have a tasty muffin!
Make a plan for leftovers. Whether it's freezing the raspberry muffins to avoid wasting them or making sure you use up the rest of the berries (raspberry sauce is a good option!), make sure you plan to use up both the prepped food and the leftover ingredients.
Visit the store with the best prices. There is a wide range of prices charged for the exact same product, depending on where you shop. Be sure that you're frequenting the store that offers the best prices overall.
Check the sales and clearance. The highest priced items here are the buttermilk, raspberries, and nuts. Watch for sales on these items and stock up so you can make budget muffins whenever you want. The holiday time is great for having sales on things like nuts.
Opt for lower price alternatives. As mentioned earlier, you can swap out ingredients for others like the milk. Using regular dairy milk would reduce the cost of this batch down significantly. Will the texture and flavor be slightly different? Sure, but not enough to matter compared to cost savings.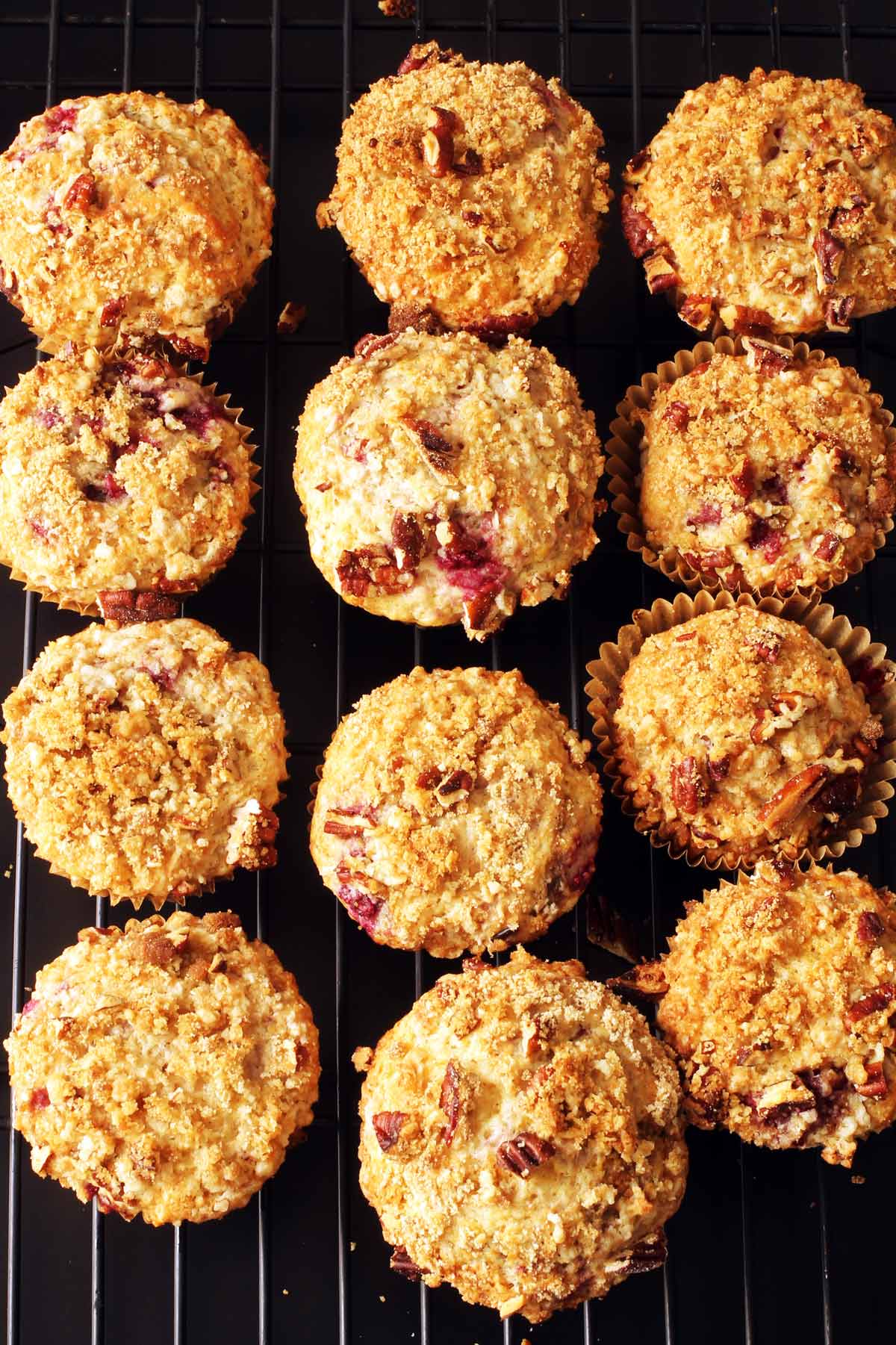 More Great Muffins & Quick Breads
Raspberry Muffins with Nutty Streusel Recipe
These yummy Raspberry Muffins are light and fluffy, dotted with fresh raspberries and topped with a lid of crunchy nuts and sugar bits. So easy to make, yet they feel so special!
Ingredients
1 ½

cup

buttermilk

½

cup

neutral oil

2

egg

beaten

3 ½

cup

unbleached, all-purpose flour

1

cup

demerara sugar

plus more for sprinkling

4

teaspoon

baking powder

1

orange, zested

1

teaspoon

salt

½

teaspoon

ground cinnamon

1 ½

cup

raspberries

frozen can be used
Nutty Streusel
½

cup

unbleached, all-purpose flour

¼

cup

butter

cut into cubes

¼

cup

brown sugar

½

cup

chopped nuts
Instructions
Preheat the oven to 375°. Line two muffin tins with paper liners or spray with nonstick cooking spray.

In a large mixing bowl, combine the buttermilk, oil, and eggs.

In another large bowl, whisk together the flour, sugar, baking powder, orange zest, salt, and cinnamon. Fold the dry ingredients into the wet. Add the raspberries and gently fold them in.

Divide the batter into the 24 muffin cups of the pan.

Prepare the nutty streusel by working together the flour and butter with a pastry blender until coarse crumbs are formed. Work in the brown sugar. Then stir in the nuts.

Sprinkle the streusel over the tops of the muffins.

Bake until golden brown and a tester inserted comes out with a few crumbs attached, about 20 minutes. Cool on a rack.

To freeze: cooled muffins can be stored in an airtight container in the freezer for up to 2 months.
Notes
Nutritional values are approximate and are based on 1 muffin. Use within 3 days or freeze for longer storage.
Muffins can also be frozen unbaked. Place lined tray in freezer until batter is solid. Remove muffins from the tray and place in an airtight container in the freezer. Bake as directed when ready to serve.
Nutrition
Calories:
212
kcal
|
Carbohydrates:
29
g
|
Protein:
4
g
|
Fat:
9
g
|
Saturated Fat:
2
g
|
Trans Fat:
1
g
|
Cholesterol:
20
mg
|
Sodium:
137
mg
|
Potassium:
144
mg
|
Fiber:
1
g
|
Sugar:
12
g
|
Vitamin A:
109
IU
|
Vitamin C:
3
mg
|
Calcium:
60
mg
|
Iron:
1
mg
This post was originally published on June 28, 2008. It has been updated for content and clarity.