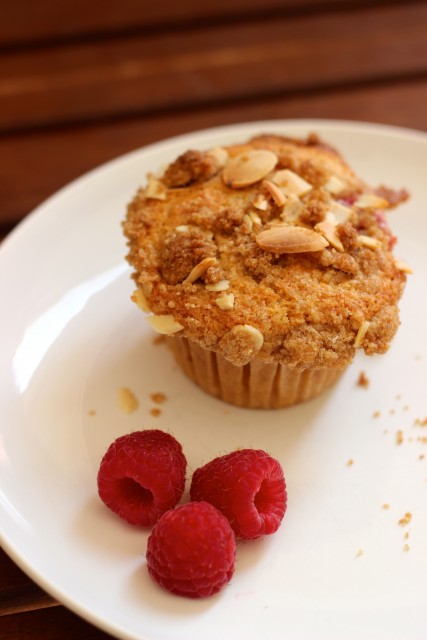 In case you're inspired to bake muffins here is one of my all-time favorites. It's from my stained and tattered (as all good cookbooks should be) copy of All the Best Muffins and Quick Breads by Joie Warner. I originally posted the recipe "straightup" before I realized that that wasn't the appropriate way to share recipes. Here is my little more "guilt-free" adaptation. You can also substitute other kinds of berries if you want.

Recipe: Raspberry Muffins with Nutty Topping
Ingredients
2 cups whole wheat pastry flour
1 cup sucanat
1 Tablespoon baking powder
1/4 teaspoon ground cinnamon
1/2 teaspoon salt
3/4 cup milk
1/4 cup sunflower oil
2 large eggs
finely grated zest of 1 medium orange (I consider this optional)
1 cup fresh raspberries (frozen works fine, too)
1/3 cup packed brown sugar
1/3 cup whole wheat pastry flour
3 Tablespoons butter, softened
1/3 cup sliced almonds
Instructions
Preheat the oven to 400 degrees. Line a 12-cup muffin pan with muffin papers.
Whisk together the flour, sucanat, baking powder, cinnamon, and salt in a large bowl.
In a medium bowl, whisk together the milk, oil, eggs, and orange zest until blended. Pour the wet mixture into the dry ingredients and add the raspberries. Fold just until combined; do not overmix. Spoon batter into prepared muffin cups, dividing evenly.
To make the topping, combine the brown sugar, flour, and butter in a small bowl with a fork, stir in the almonds then sprinkle evenly over muffin tops.
Bake for 20 minutes or until tester comes out clean. Cool on a wire rack.