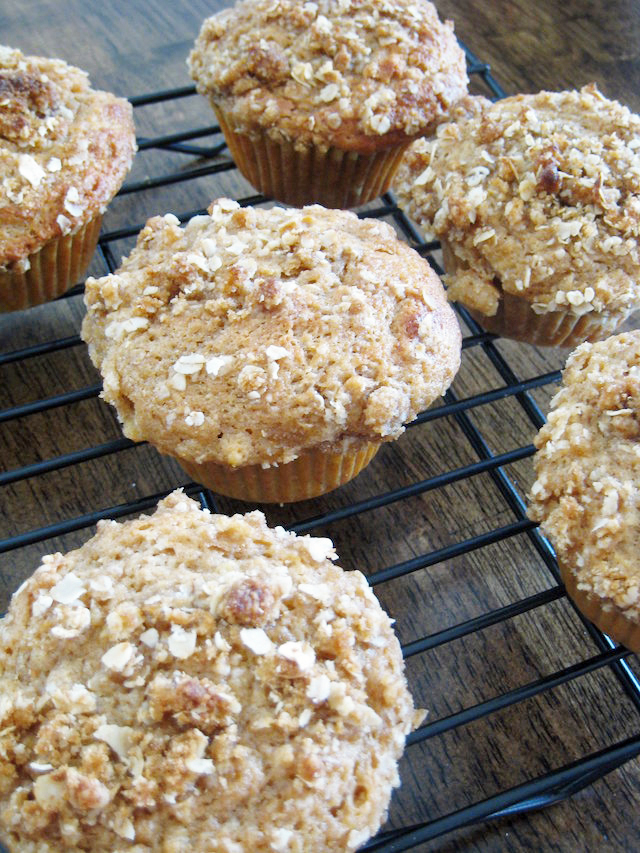 I often take a base recipe for something and sub out different ingredients based on what will make it healthier or make use of what we already have in the cupboards. These moist, tangy muffins have yogurt, oats, whole wheat flour and bananas to make them healthy and a streusel topping to make them extra good.

Recipe: Maple Banana Oat Muffins with Streusel Topping
Ingredients
1 cup whole wheat flour
1 cup unbleached flour
1/4 cup quick oats
1/2 teaspoon salt
1 Tablespoon baking powder
1/2 cup canola oil
1/4 cup white sugar
1/2 cup brown sugar
2 eggs
1 cup nonfat plain yogurt
2 bananas, mashed
1 teaspoon maple flavoring
1/4 cup brown sugar
1/4 cup unbleached flour
3 Tablespoons butter
1/4 cup quick oats
Instructions
Preheat oven to 400F. Prepare muffin pan with papers or non-stick spray. In large mixing bowl, combine flours, oats, salt, and baking powder. Whisk to combine. In another mixing bowl, combine oil and sugar. Beat in eggs, then add yogurt, bananas, and maple flavoring. Add dry mixture and fold with a rubber spatula, just until combined. Scoop batter into prepared muffin pan, dividing evenly.
In small mixing bowl, combine flour and brown sugar. Cut in butter until coarse crumbs are formed. (You can also pulse this in the food processor.) Stir in oats. Sprinkle crumb mixture over tops of muffin batter, dividing evenly.
Bake 20 – 25 minutes until golden brown and tester comes out clean.