Bake someone happy with a bulk batch of these Banana Chocolate Chip Muffins. Easy and delicious, they are perfect for breakfast and for tucking into lunch boxes.
Jump to:
There's no question that muffin mixes are convenient to prepare. And bakery or cafe muffins are pretty easy to come by. But, they often lack depth of flavor and heartiness, not to mention the fact that they often taste like fake food.
Good thing it's so easy to bake up your own homemade banana muffins. This version, studded with mini chocolate chips, is a surefire winner. Not only does it mix up quickly and bake up tender, it is also freezer-friendly, taking it to the top of your must-make list.
What is a banana muffin?
Muffins are small, cake-like quick breads that are leavened with baking powder or baking soda, or both. They can be sweet or savory and are often flavored with fruit, cheese, or spices.
Banana muffins fall into the sweet muffin category. Akin to banana bread, they are made with mashed, ripe, brown bananas—the ones that are too soft and dark for pleasant eating. Banana baked into muffins and bread can leave telltale black or brown flecks in the bread.
Chocolate and nuts both pair well in banana muffins so you can stir either or both into your muffins.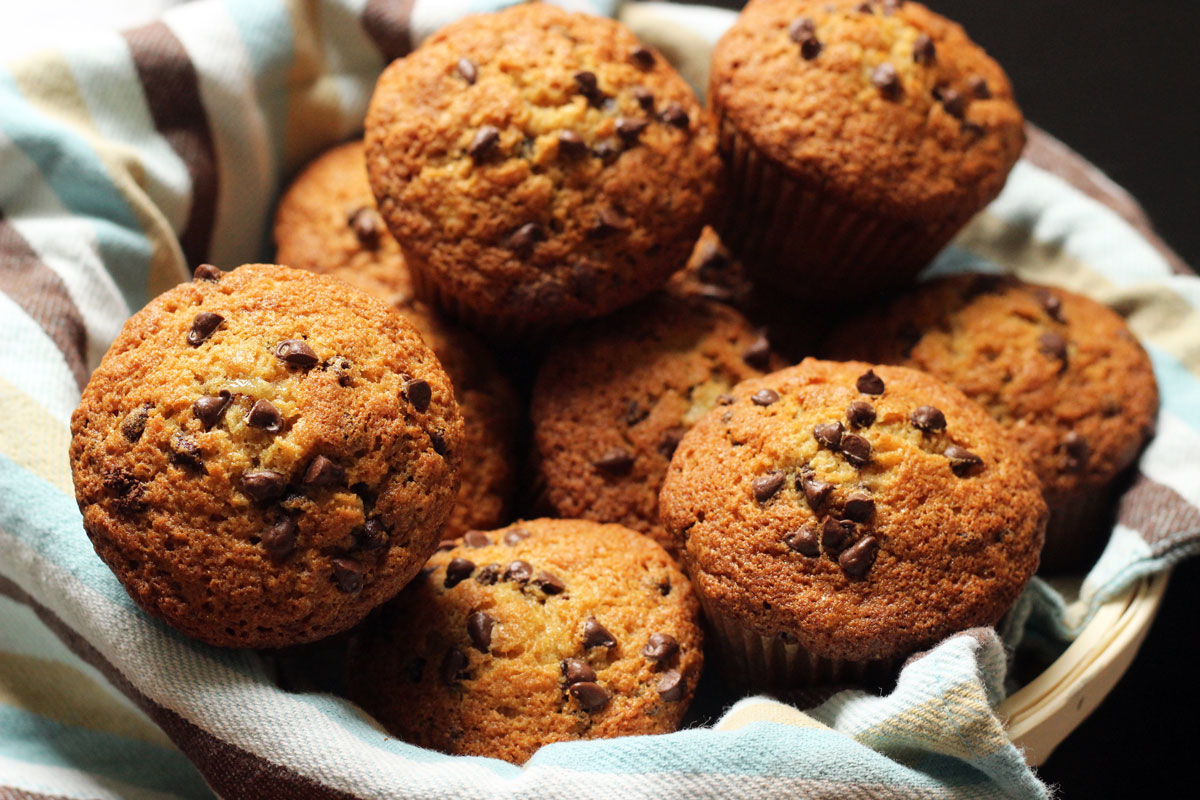 Serving suggestions
While muffins are traditionally a breakfast dish, they can really be served any time of day, as a side dish to lunch, an afternoon snack, or a light dessert after dinner. I've even been to upscale restaurants that fill their bread baskets with a variety of mini muffins.
These muffins are delicious served with coffee, tea, or milk.
Ingredients
One of the great things about banana muffins is that as long as you've got ripe bananas, you only need a few regular pantry staples to bake a batch.
We've all been in situations when we didn't have exactly what a recipe called for. In those instances, it's nice to have options.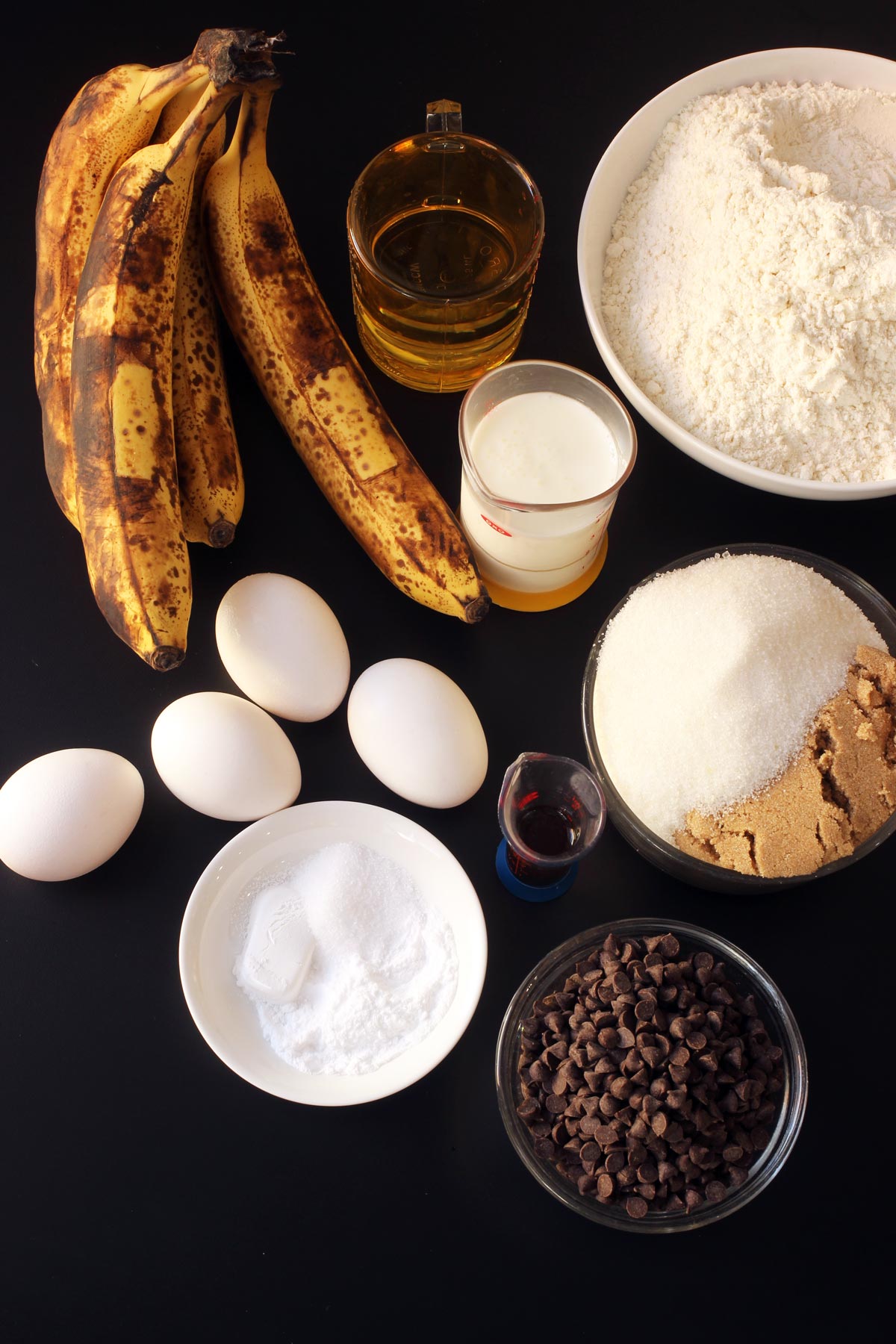 Substitutions
eggs – You can use a Flaxseed Meal Egg Substitute if you don't have eggs or can't eat them.
neutral oil – Use any neutral flavored oil or you can use melted butter or margarine if needed.
buttermilk – While I love to use fresh buttermilk or make cultured buttermilk at home, you can also substitute equal parts of yogurt and milk for the buttermilk in this recipe if you don't have the real deal.
vanilla extract – this adds great flavor to the muffins, but if you don't have any, you can omit it or add an equal amount of rum. The alcohol bakes off, leaving a nice flavor behind.
granulated sugar and brown sugar – the difference between the two is largely a bit of molasses. Yep, you can make your own brown sugar if needed. However, for this recipe, I'd just add a bit of molasses if I didn't have the brown. If you don't have regular white sugar, you can substitute brown sugar. It should turn out relatively the same.
flour – You can't make muffins without flour. I recommend unbleached all-purpose, but you can use bleached all-purpose, whole wheat pastry flour, or white whole wheat flour. If you need to go gluten-free, use a commercial 1-for-1 gluten free blend.
leaveners – Both baking soda and baking powder are called for in this recipe. While you can make your own baking powder, you can't make your own baking soda. There is no substitute for that in this instance.
salt – Salt adds flavor and texture to baked goods. Best not to leave it out.
chocolate chips – I like to use mini chocolate chips as they permeate the muffins more thoroughly. You can use any kind of baking chip you like—cinnamon or butterscotch would add an interesting twist—or you can sub in an equal amount of chopped pecans or walnuts. You can also omit the mix-ins all together, and just have plain banana muffins.
Instructions
You can prepare the muffin batter in a mixing bowl with a spoon or in a stand mixer with a paddle attachment.
Preheat the oven to 350 degrees. Line two 12-cup muffin tins with muffin papers.
Place the bananas in the bowl and mash. I prefer to leave a few smallish chunks of banana, but you can mash it smooth if you like.
Add the eggs, oil, buttermilk, and vanilla, and mix until smooth.
Stir in the sugars until smooth.
Add the flour, baking powder, baking soda, salt, and chocolate chips. Stir until combined.
Divide the batter among the 24 muffin cups.
Bake for 20-25 minutes or until a tester inserted comes out with a few crumbs attached.
Cool on a rack before serving.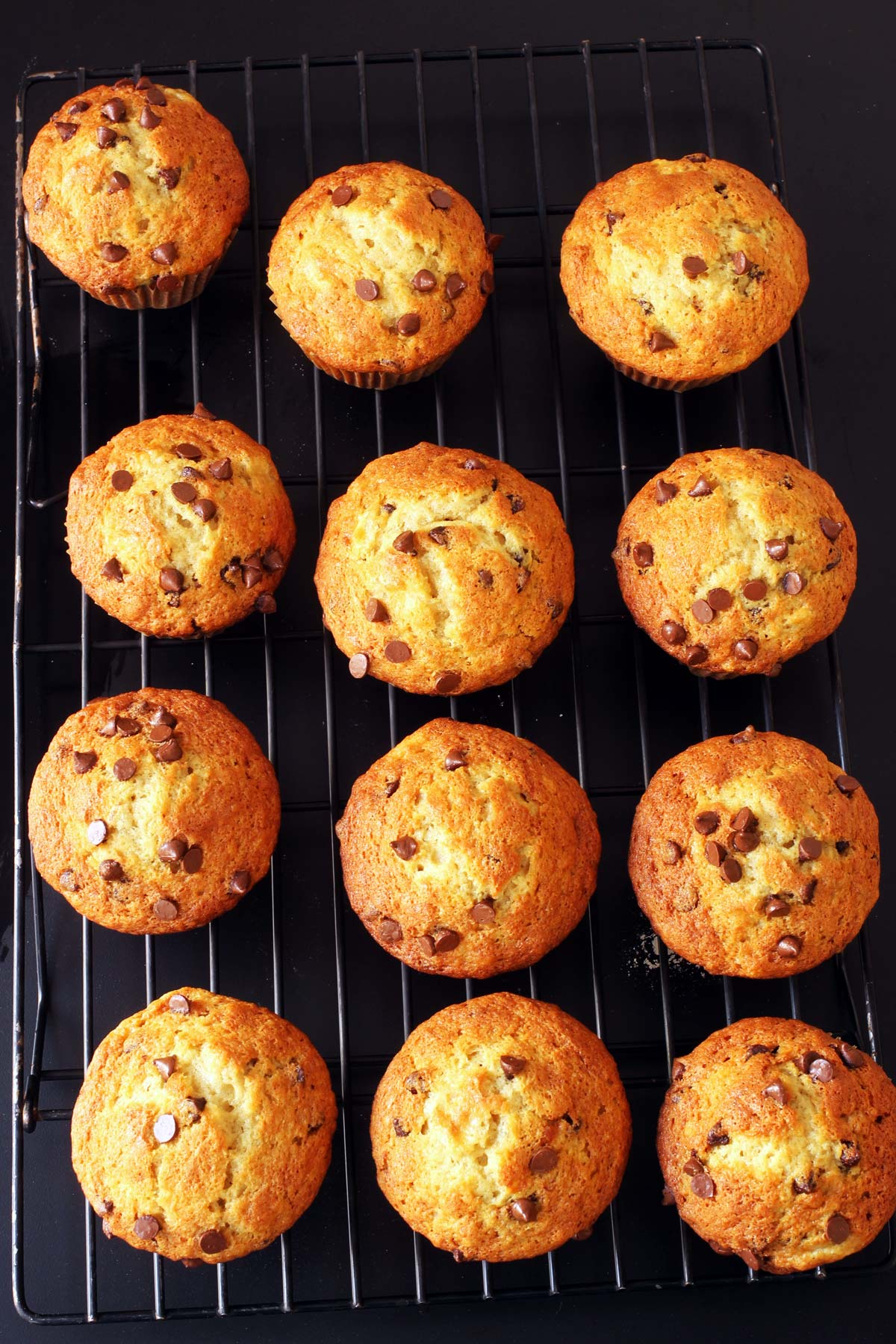 Tips for success
This recipe makes 24 muffins. You will need two 12-cup muffin tins or be willing to bake them in batches.
Storage tips
Baked muffins are good stored in an airtight container at room temperature for 3 to 5 days.
For longer storage, follow the freezing instructions.
Freezing instructions
You can freeze muffins three different ways:
a homemade mix – simply assemble the dry ingredients in an airtight container. Label with the recipe name, what wet ingredients to add later, and baking instructions. Check out my Homemade Muffin Mix for more ideas.
ready-to-bake muffin pucks – prepare the batter and divide into muffin cups, lined with paper or silicone liners. Place the tray in the freezer. Once the batter is frozen solid, you should be able to remove the frozen muffin "pucks", liner and all, and store them in an airtight container in the freezer. To bake, simply remove as many muffins as you wish, place them back in the muffin tray, and bake according to recipe instructions.
ready-to-eat-muffins – bake and cool the muffins according to recipe instructions. Wrap individually in plastic or beeswax wrap or package several in a ziptop bag or airtight container and store in the freezer. To serve, thaw for about 15 minutes at room temperature.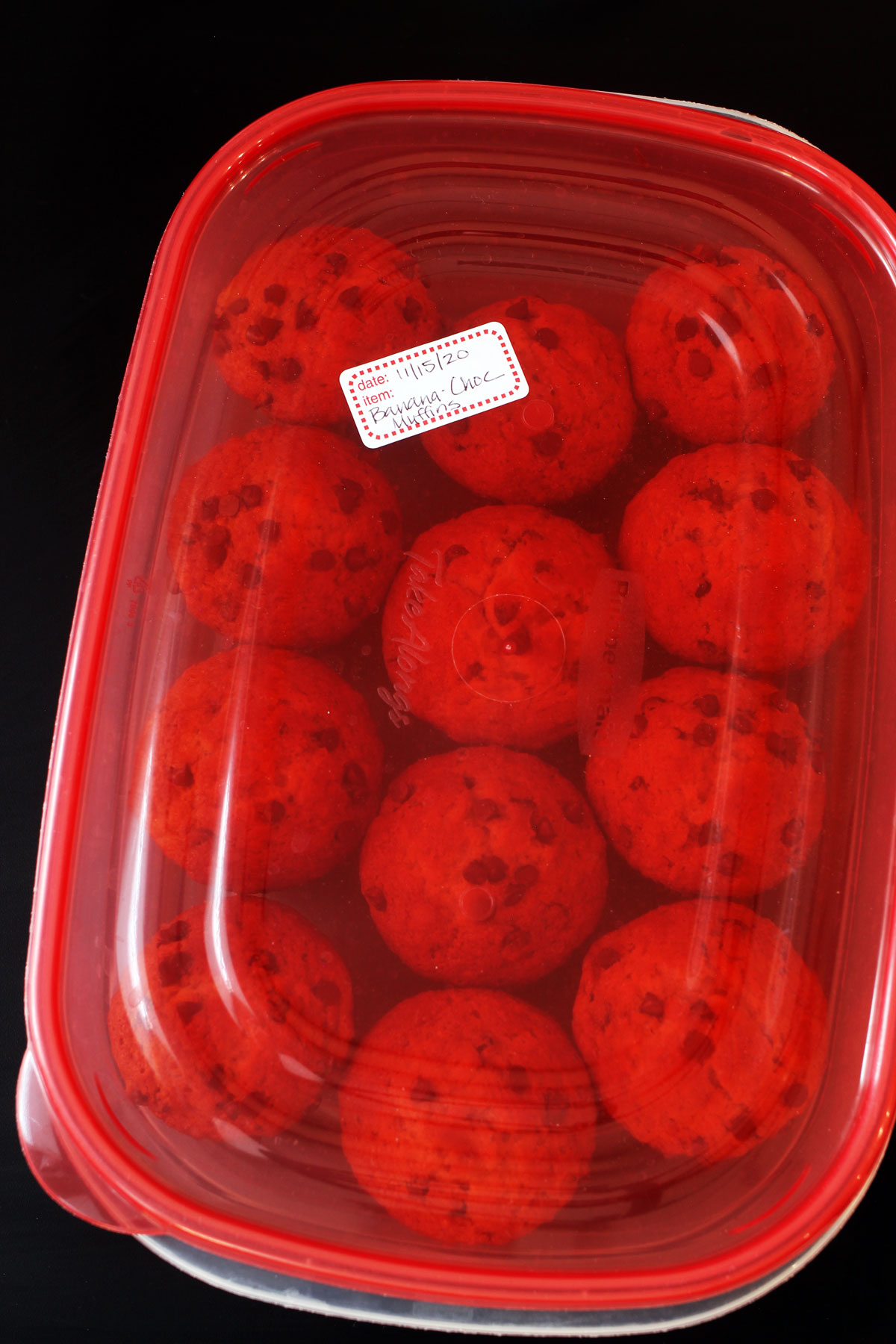 Recipe costs
Knowing how much it costs you to prepare a recipe can help you decide if it's the type of recipe to make regularly or one you might want to save for special occasions. Let's crunch some numbers and see how this recipe pencils out.
bananas – $0.59
eggs – $1.00
oil – $0.32
buttermilk – $0.40
vanilla – $0.50
granulated sugar – $0.22
brown sugar – $0.36
flour – $0.60
baking soda – $0.04
baking powder – $0.02
salt – $0.02
chocolate chips – $1.00
This recipe for 24 banana muffins costs $5.07 to make when shopping at non-sale prices at a mid-range grocery store in Southern California. Your mileage may vary, of course, but this is a pretty fair estimate.
This works out to be 21 cents/muffin, much cheaper than you would pay at a bakery. By contrast a banana muffin mix costs $2.14 and requires additional eggs and oil (another $1.02), making the cost of muffins from a commercial mix 26 cents/muffin.
Clearly homemade is the winner on all counts.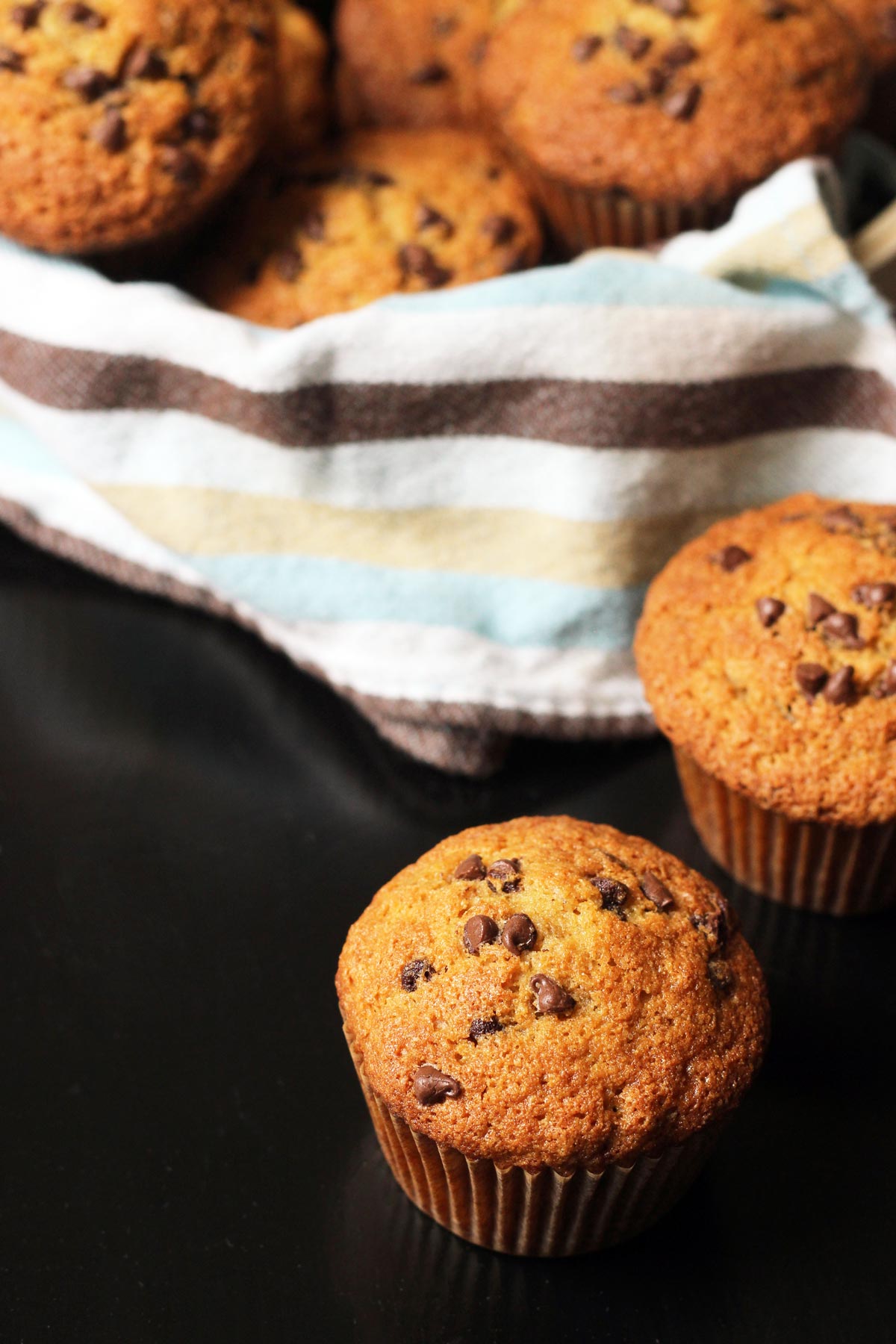 How to save more money
You can save even more when you work the Good Cheap Eats System:
Shop the kitchen – Use what you have. This is simple to do with the extensive substitutions we've listed here.
Make a plan for leftovers – Food waste equals money waste. If you end up wasting the rest of the buttermilk, you cancel out any savings from baking homemade. Scan these buttermilk recipes to find one to help you use it up.
Visit the store with the best prices – Not all stores are created equal, nor do they offer the same prices. Do some comparisons to see what store is the best place to spend your grocery dollar.
Check the sales and clearance – ripe bananas often get marked down for pennies. A great time to bake with bananas!
Freeze extra for later – Chances are you won't eat all 24 muffins in one sitting. Be sure to freeze or share the extra muffins.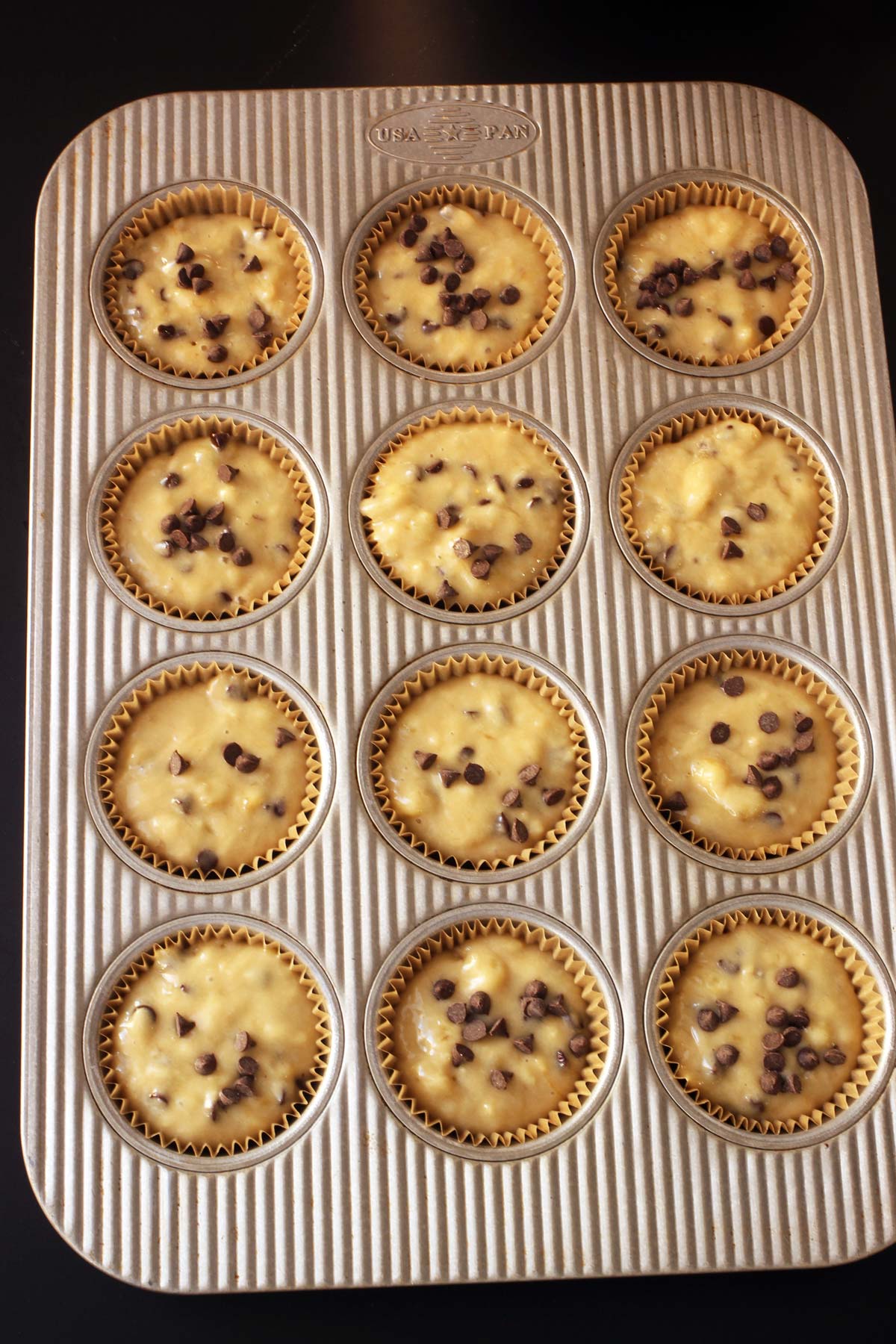 Kitchen equipment
While my much-loved, Airbake pan bit the dust long ago, Good Cheap Eaters came to the rescue with muffin pan advice. Their suggestion? These USA pans, pans that have changed my life. I love those suckers like no other since baked goods never burn or stick in them. Wowza. No greasing needed! If you need pans, they're the kind to buy! I've been slowly replacing all my old pans with USA pans 
Other muffin tools I use almost every week:
If you make this recipe, I'd love for you to give it a starred review below. Your feedback helps me develop recipes and strategies to serve you better. Thank you!

— Jessica

If you prepare this recipe, be sure to share a picture on social media and hashtag it
#GOODCHEAPEATS
. I can't wait to see what you cook up!
Bulk Batch Banana Chocolate Chip Muffins Recipe
Bake someone happy with a batch of these Banana Chocolate Chip Muffins. Easy and delicious, they are perfect for breakfast and for tucking into lunch boxes.


Ingredients
4

ripe bananas

mashed

4

egg

beaten

1

cup

neutral oil

½

cup

buttermilk

2

teaspoon

vanilla extract

1

cup

granulated sugar

1

cup

brown sugar

packed

4

cup

unbleached, all-purpose flour

(can also use whole wheat pastry flour or white whole wheat flour)

2

teaspoon

baking soda

1

teaspoon

baking powder

1

teaspoon

salt

1

cup

chocolate chips

plus extra for topping
Instructions
Preheat the oven to 350 degrees. Line two 12-cup muffin pans with papers or spray with non-stick cooking spray.

In a large mixing bowl, combine the bananas, eggs, oil buttermilk, and vanilla. Stir in the sugars. Add the flour, baking soda, baking powder, salt. Fold in the chocolate chips. Stir until well combined.

Fill muffin cups almost full. Top with a few chocolate chips. Bake for 20-25 minutes or until done.
Notes
To make ahead: Baked and cooled muffins can be stored in an airtight container at room temperature for 3-5 days. For longer storage, place the container in the freezer. 
Nutritional values are approximate and based on 1 muffin.
Nutrition
Calories:
295
kcal
|
Carbohydrates:
43
g
|
Protein:
4
g
|
Fat:
12
g
|
Saturated Fat:
2
g
|
Trans Fat:
1
g
|
Cholesterol:
29
mg
|
Sodium:
212
mg
|
Potassium:
139
mg
|
Fiber:
1
g
|
Sugar:
25
g
|
Vitamin A:
78
IU
|
Vitamin C:
2
mg
|
Calcium:
38
mg
|
Iron:
1
mg
This post was originally published October 7, 2008. It has been updated for content and clarity.