This easy, homemade muffin mix recipe allows you to make big, bakery-style muffins that can be flavored any way you like. Make several batches of mix and bake all kinds of muffins!
Homebaked muffins are hard to beat. Unless you add more sugar and call them cupcakes.
Muffins are easily portable and have no need for utensils or even a plate in order to enjoy them. They make for delicious breakfasts and snacks that are easy on the budget.
And the best muffins are made from homemade muffin mix!
Homemade Muffin Mix – Mix and Match Muffins
This Mix and Match, Homemade Muffin recipe has endless possibilities. It's one basic batter that you can customize however you like.
Talk about versatility! Mix up the dry ingredients and when you add the wet team, toss in whatever fruit, nuts, or flavorings you have on hand. We've tried vanilla blueberry and cranberry chocolate with great success —  just to name a few of our muffin combinations.
This Coconut Lime Chocolate Chip is a winner!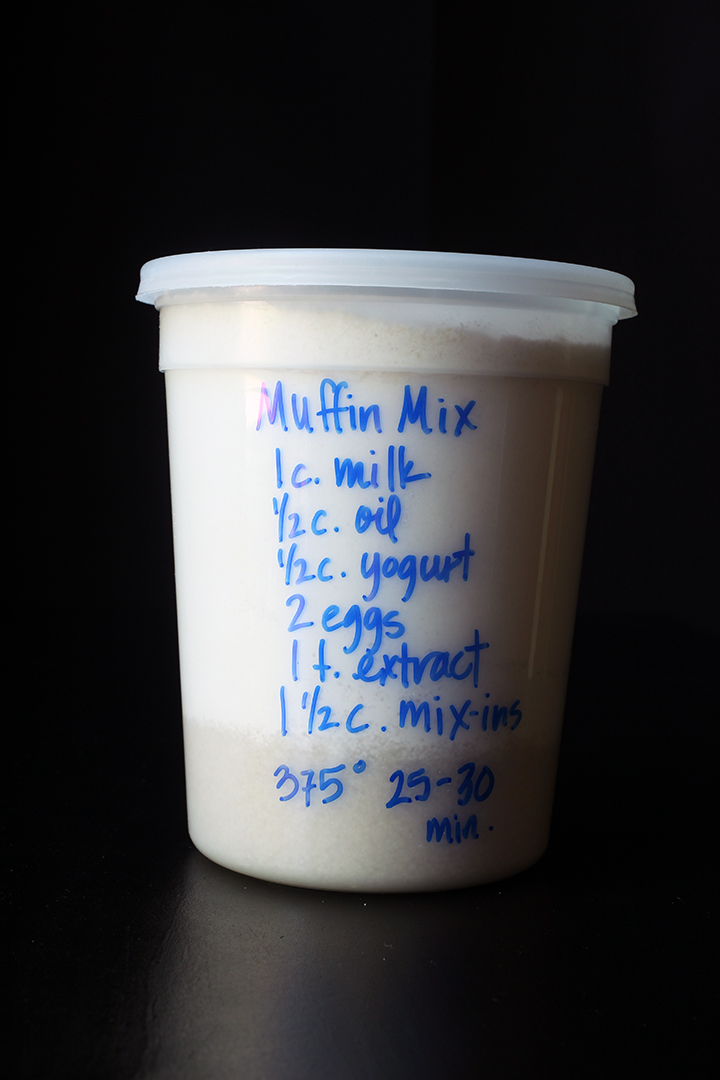 How do you make muffin mix from scratch?
Making a homemade muffin mix is a great way to save money, control ingredients, and enjoy the best homemade muffins whenever you like.
The process is super simple:
Collect containers you'd like to use to store the mix. This can be mason jars with lids, plastic containers with lids, or ziptop quart size bags. Funnily enough, my plastic quart containers hold more than my quart jars. Don't ask me why.
Label the containers with the baking instructions as well as what wet ingredients should be added. You're only going to put dry ingredients in your jar.
Layer in the ingredients in the jar: flour, sugar, whole wheat flour, baking powder, baking soda, and salt.
Store the mix in a cool dry place until ready to use. For longest shelf life, store the mix in the freezer.
I was inspired by a Joann Chang recipe for bakery-style muffins, but have tweaked it to fit the schedule of a busy mom. Who has time to separate eggs when there's so much to do on any given day? I've also healthified it by substituting plain yogurt for the sour cream and a little whole wheat flour for the white.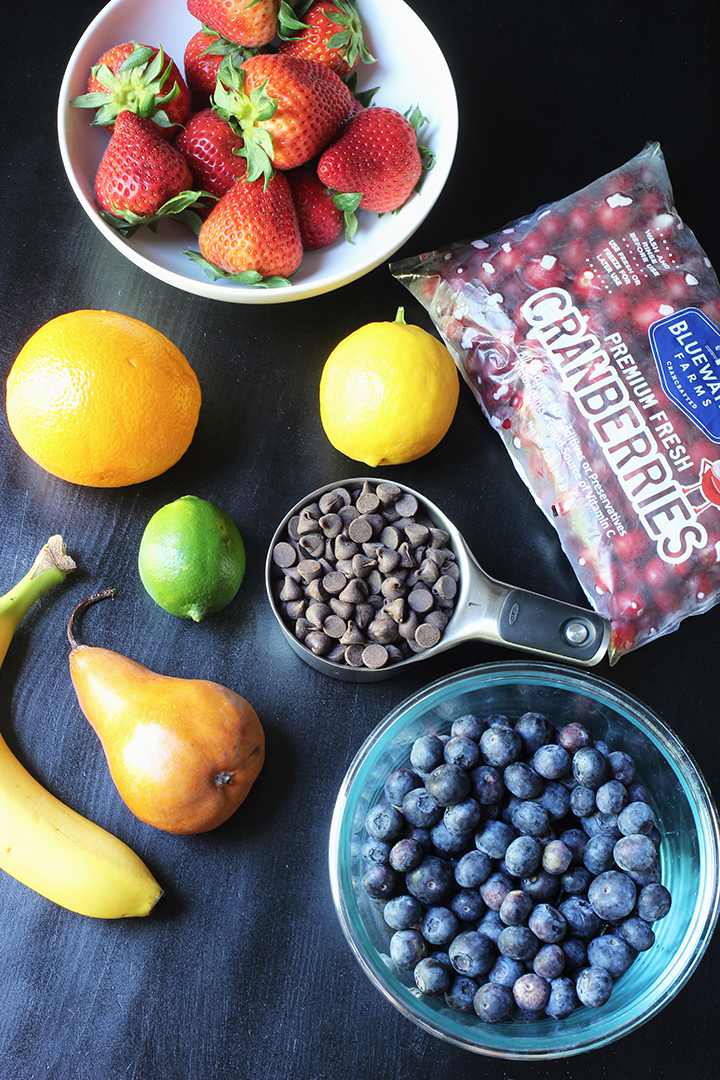 How can I make my muffin mix better?
Muffins are delicious plain, but you can make them so much better by varying the fruits and flavorings that you stir in. Consider:
blueberry and nutmeg
lime and chocolate
carrot and spice
berry and ricotta
pineapple and coconut
There are so many delicious combinations of fruits, nuts, spices, and extracts, you could probably make a different type of muffin every day of the month!
Can I make muffin mix the night before?
You can even prepare the baking mix ahead of time. I usually make up three or four quart-size mason jars to fill with the dry ingredients.
Mark on the jar the wet ingredients that should be added later. I stash these in the pantry or the freezer for longer shelf life and then can use them throughout the coming weeks to have quick and easy muffins for breakfast.
I prefer leaving it until morning to mix up the wet ingredients and add those to the mix. Fresh mixed and baked muffins taste the best.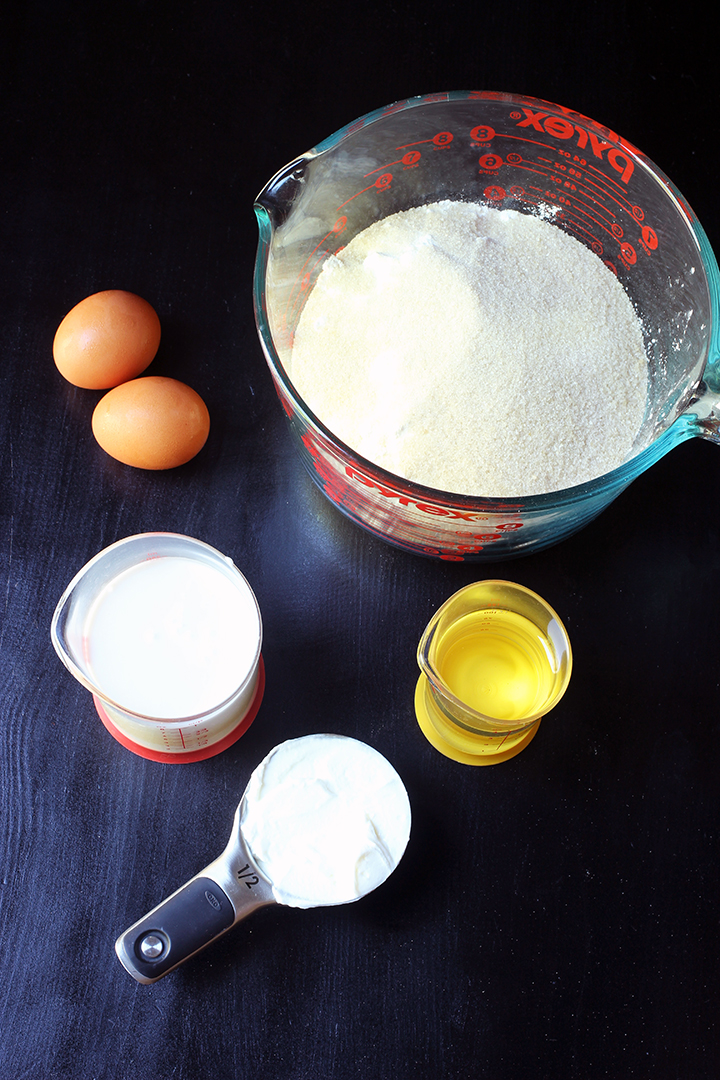 What else can you do with homemade Muffin Mix?
This recipe is great for freezer cooking but also makes a fantastic gift for someone. You are definitely gonna want to mix up several bags of the mix for later use once you taste how yummy these muffins are. Just place all the "dry team" ingredients in a quart-size ziptop freezer bag or jar and seal. Be sure to give them the directions!
Alternatively, just fill a basket with baked muffins. You'll be Friend of the Year whichever way you go.
Can you freeze baked muffins?
If you don't have the time to bake the muffins right before serving, no worries! You can cool them on a rack, wrap them well, and freeze them.
When ready to serve, pull out as many muffins as you'd like and let them sit at room temperature for an hour or two until thawed.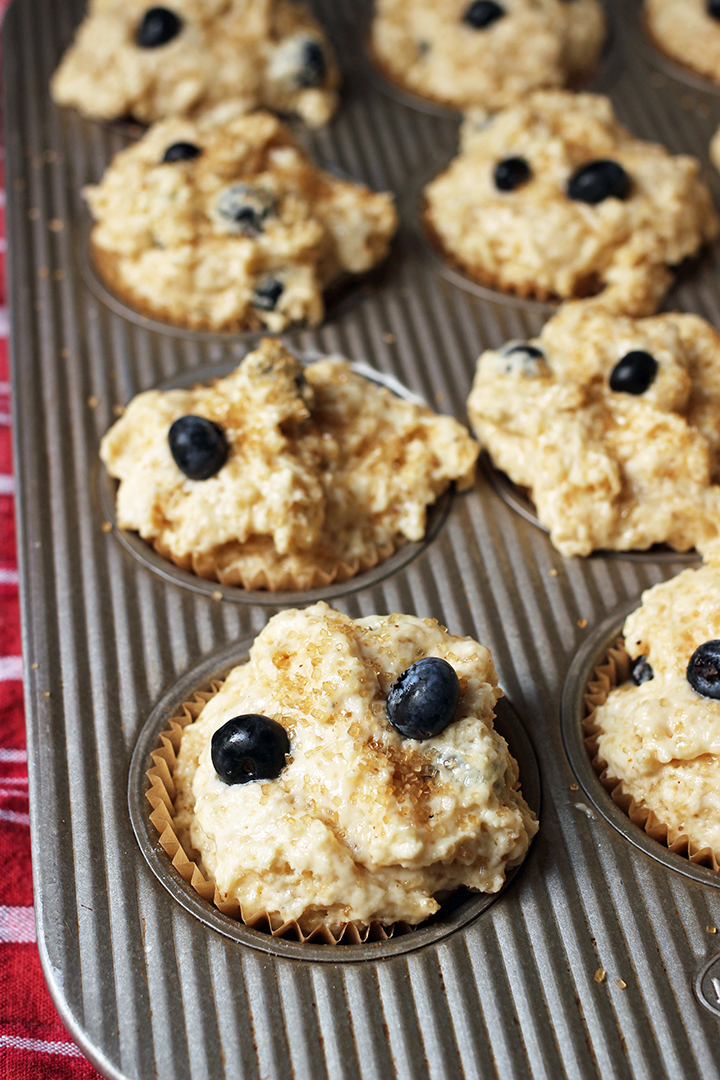 Do you need special equipment to bake muffins?
After years of weekly muffin baking, I've come across a few tools that I absolutely LOVE for muffin baking:
A few notes about this recipe:
A few things of note about this recipe. Originally, I baked these at 350, but lately I've been raising the heat to 375 and reducing the baking time a bit. I like the crunchier texture of the baked muffin this way. If you prefer, you can bake at the reduced temperature.
Keep in mind the cups do get VERY full. That's okay. Just spray the top of the pan to make sure they don't stick. If you want smaller muffins, go for it. Just reduce the baking time.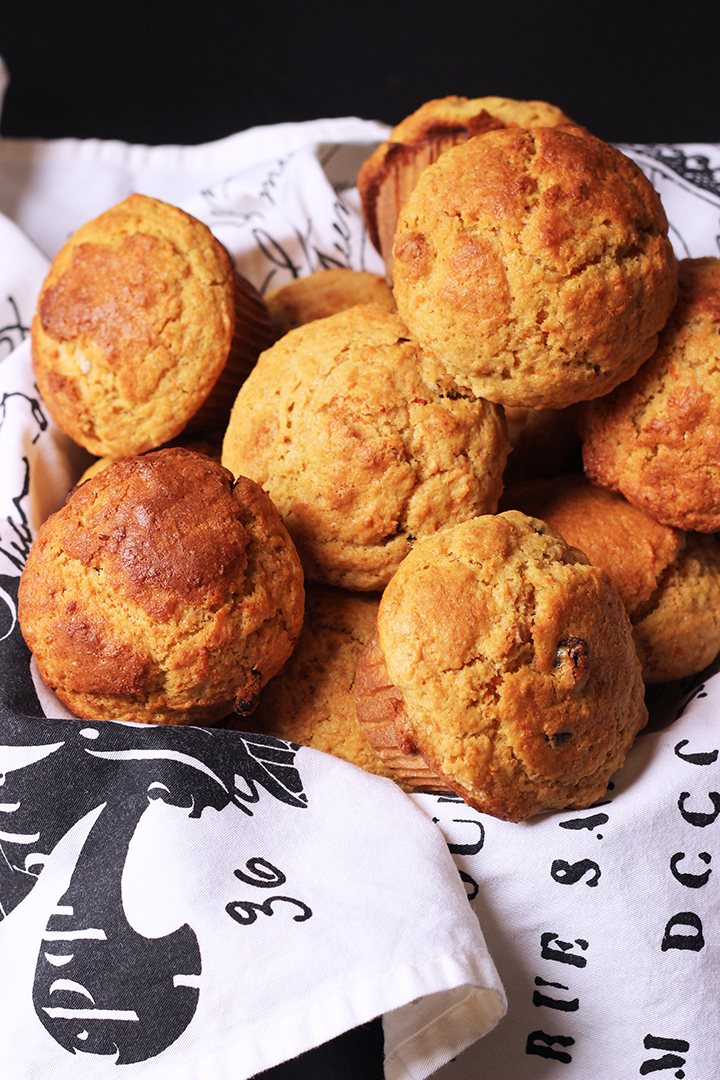 Is it cheaper to make a homemade muffin mix?
We often assume that homemade is cheaper than a store-bought mix. Surely, homemade tastes better and allows you to control which ingredients are used, but it's always good to crunch the numbers to see if it's worth any price difference.
Here's what it costs to make the homemade mix (not including wet ingredients or add-ins) when you buy the ingredients at a mid-range grocery store:
all-purpose flour – $0.45 ($2.69/5# bag)
sugar – $0.22 ($1.97/4# bag)
whole wheat flour – $0.13 ($3.99/5# bag)
baking powder- $0.09 ($1.49/8.1 oz)
baking soda – $0.01 ($0.99/16oz)
salt – $0.02 ($2.99/26 oz)
A homemade mix that yields 12 extra large muffins costs 92 cents! This does not account for the wet ingredients, the oil, eggs, milk, yogurt, or mix-ins.
A similar commercial mix that makes 6 muffins costs $1.79. This does include the eggs and oil, however, even accounting for the cost of those ingredients, homemade is way cheaper, making it more than worth your while to make your own homemade muffin mix.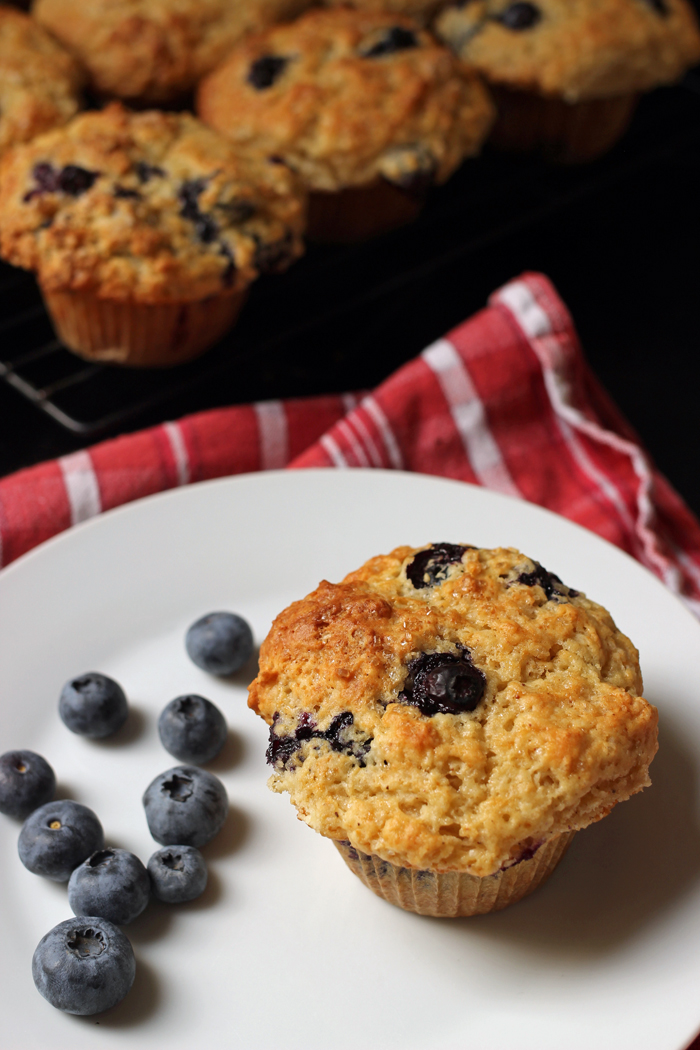 Save even more money when you shop the Good Cheap Eats way!
This cost estimate is based on non-sale prices at a mid-range grocer. You can do even better at lowering your costs for this recipe.
Shop the lowest priced store. This will vary, depending on where you live. Do a quick price comparison to see what store offers the best price on the ingredients you regularly buy.
Shop the sales. Avoid paying full price. Make a habit of checking your grocer's weekly sales (as well as clearance!) and buying when the price is low.
Buy in bulk. When you see those killer prices, buy as much as your budget and storage space will allow. Be sure to check the best-by dates so you can maximize your purchase.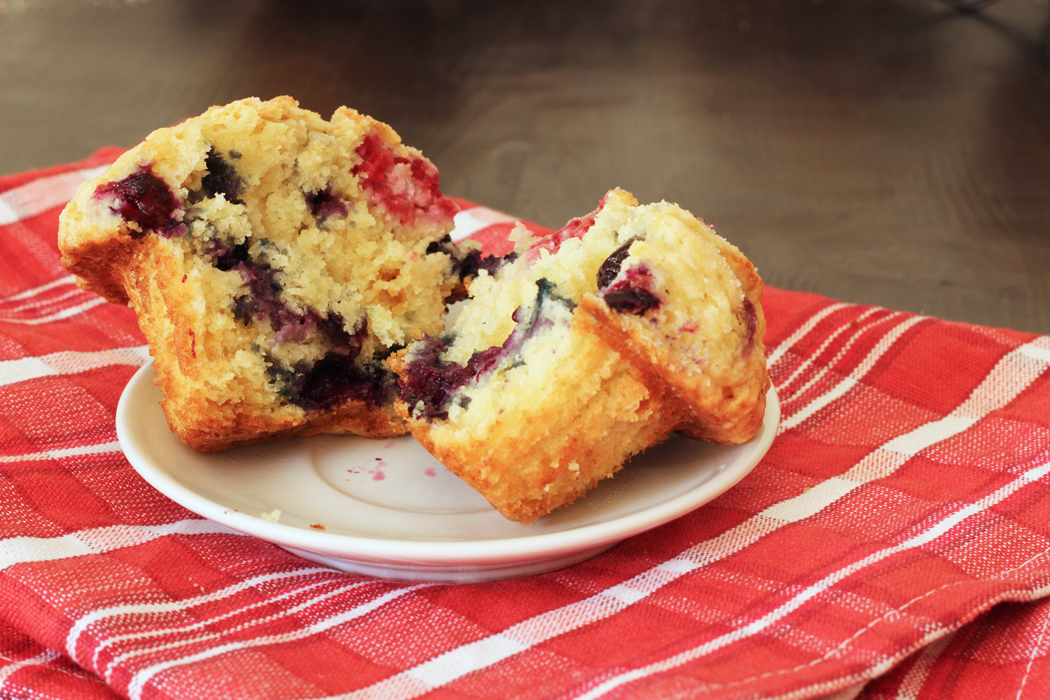 If you prepare this recipe, be sure to share a picture on social media and hashtag it
#GOODCHEAPEATS
. I can't wait to see what you cook up!
Homemade Muffin Mix Recipe
This easy muffin recipe allows you to make big bakery-style muffins to flavor any way you like. Make several batches of mix and bake all kinds of muffins.
Ingredients
3

cup

unbleached, all-purpose flour

1

cup

granulated sugar

brown sugar or sucanat can also be used

½

cup

whole wheat flour

4

teaspoon

baking powder

½

teaspoon

baking soda

½

teaspoon

salt

2

egg

1

cup

milk

½

cup

neutral oil

½

cup

plain yogurt

1

teaspoon

vanilla extract

or any flavor you prefer

1 ½

cups

mix-ins for muffins

any combination of nuts, chocolate, or fruit, such as mashed bananas, blueberries, finely chopped apples, raspberries, or coarsely chopped cranberries
Instructions
Preheat the oven to 375°. Line a 12-cup muffin tin with muffin papers or spray with nonstick cooking spray.

In a large mixing bowl, combine the flours, baking powder, baking soda, salt, and sugar.

In a separate bowl, combine the oil, milk, yogurt, eggs, and extract, if using. Whisk to blend.

Add the wet ingredients to the dry. Fold gently until mostly moistened, but still lumpy. Fold in mix-ins of your choosing.

For 12 large muffins, fill muffin cups completely, even mounding past their tops. For 18 kid-size muffins, fill almost full.

Bake 25 - 35 minutes, depending on how much you fill them. Bake until a tester comes out clean. Cool on a wire rack before serving.
Notes
Nutritional values are approximate, and do not include any mix-ins you might choose.
To freeze: baked and cooled muffins can be stored in an ziptop freezer bag in the freezer for up to 6 weeks.
To make as a mix: Take a large ziptop bag or container and label it with the wet ingredients and the baking instructions. Measure out the dry ingredients into the bag. Seal and store until ready to use.
Nutrition
Calories:
309
kcal
|
Carbohydrates:
46
g
|
Protein:
6
g
|
Fat:
11
g
|
Saturated Fat:
2
g
|
Cholesterol:
31
mg
|
Sodium:
176
mg
|
Potassium:
273
mg
|
Fiber:
1
g
|
Sugar:
18
g
|
Vitamin A:
83
IU
|
Calcium:
118
mg
|
Iron:
2
mg
Tried this Recipe? Tell us what you think!
Your reviews help us develop better recipes and give newcomers the confidence to try your favorites. Scroll down to leave a starred comment.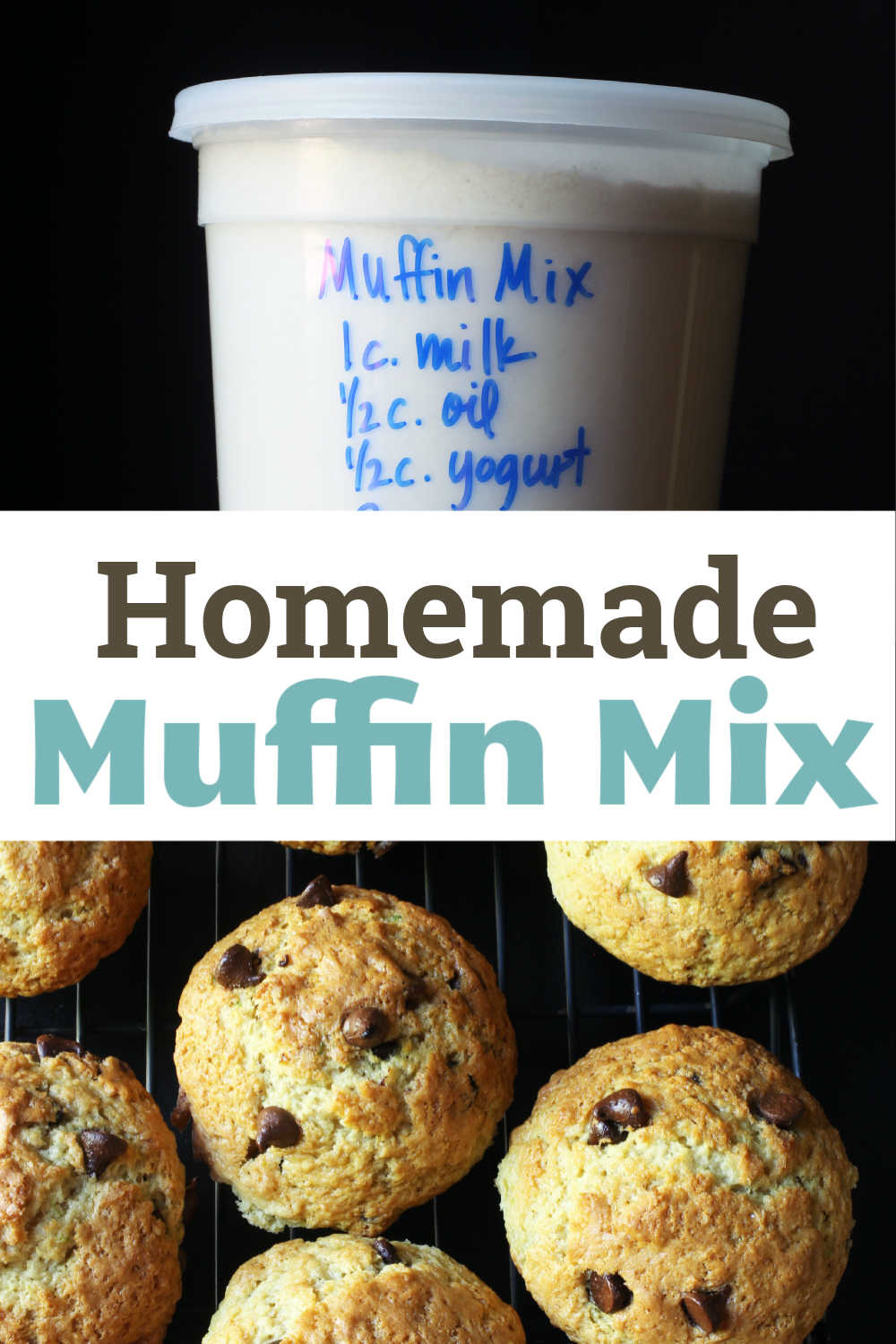 This post was originally published on November 8, 2009. It has been updated for content and clarity.