This easy muffin recipe allows you to make big bakery-style muffins that can be flavored any way you like. Make several batches of mix and bake all kinds of muffins.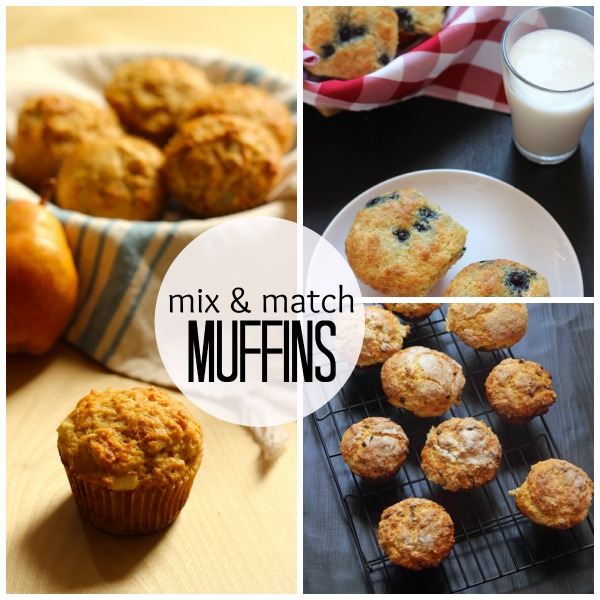 Homebaked muffins are hard to beat. Unless you add more sugar and call them cupcakes. Muffins are easily portable and have no need for utensils or even a plate in order to enjoy them.
This Mix and Match Muffin recipe has endless possibilities.
Talk about versatility! Mix up the dry ingredients and when you add the wet team, toss in whatever fruit, nuts, or flavorings you have on hand. We've tried vanilla blueberry and banana chocolate chip (above) with great success, just to name a few of our muffin combinations.
Coconut Lime Chocolate Chip is a winner!
You can even prepare the baking mix ahead of time. I usually make up three or four quart-size mason jars to fill with the dry ingredients. I mark on the jar the wet ingredients that should be added later. I stash these in the pantry or the freezer for longer shelf life and then can use them throughout the coming weeks to have quick and easy muffins for breakfast.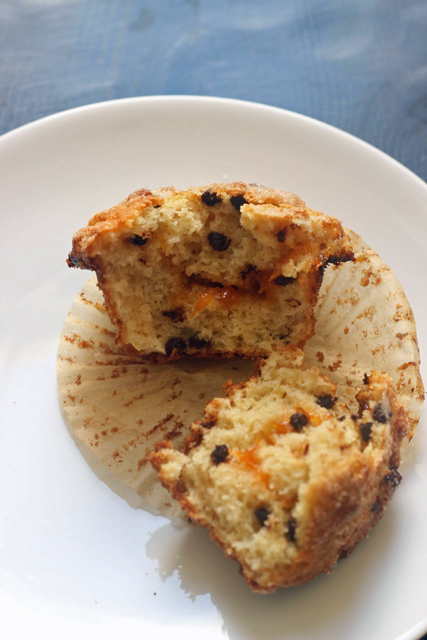 I was inspired by this recipe in Fine Cooking, but have tweaked it to fit the schedule of a busy mom. Who has time to separate eggs when there's so much to do on any given day? I've also healthified it by substituting plain yogurt for the sour cream and a little whole wheat flour for the white.
After years of weekly muffin baking, I've come across a few tools that I absolutely LOVE for muffin baking:
A few things of note about this recipe. Originally, I baked these at 350, but lately I've been raising the heat to 375 or 400 and reducing the baking time a bit. I like the crunchier texture of the baked muffin this way. I've left the original baking directions, but feel free to experiment.
Also, the cups do get VERY full. That's okay. Just spray the top of the pan to make sure they don't stick. If you want smaller muffins, go for it. Just reduce the baking time.
Mix and Match Muffin Recipe
This easy muffin recipe allows you to make big bakery-style muffins to flavor any way you like. Make several batches of mix and bake all kinds of muffins.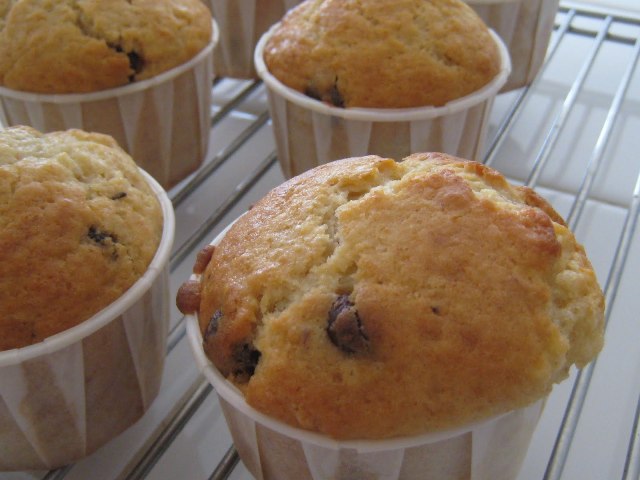 Preparation Time:10 minutes
Cook time:25 minutes
Total time:35 minutes
12 large muffins
Ingredients:
3 cups unbleached flour

1/2 cup whole wheat flour

4 teaspoons baking powder

1/2 teaspoon baking soda

1/2 teaspoon salt

1 cup sugar, brown sugar, or sucanat

1/2 cup oil

1 cup milk

1/2 cup plain yogurt

2 eggs

1 teaspoon extract

1 1/2 cups any combination of nuts, chocolate, or fruit, such as mashed bananas, blueberries, finely chopped apples, raspberries, or coarsely chopped cranberries
Instructions:

Preheat oven to 350°. Line muffin tin with papers or spray with nonstick cooking spray. In large mixing bowl, combine, flours, baking powder, baking soda, salt, and sugar. (If preparing as a mix, simply combine all these ingredients in a ziptop bag, label well, mark with the wet ingredients and baking instructions.)
In a separate bowl, combine oil, milk, yogurt, and eggs. Whisk to blend. Add wet ingredients to dry. Fold gently until mostly moistened, but still lumpy. Fold in mix-ins.
For 12 large muffins, fill muffin cups completely, even mounding past their tops. For 18 kid-size muffins, fill almost full. Bake 25 – 35 minutes, depending on how much you fill them.
To make-ahead: prepare the dry team as a baking mix to use later. Alternatively, baked and cooled muffins can be stored in an ziptop freezer bag in the freezer.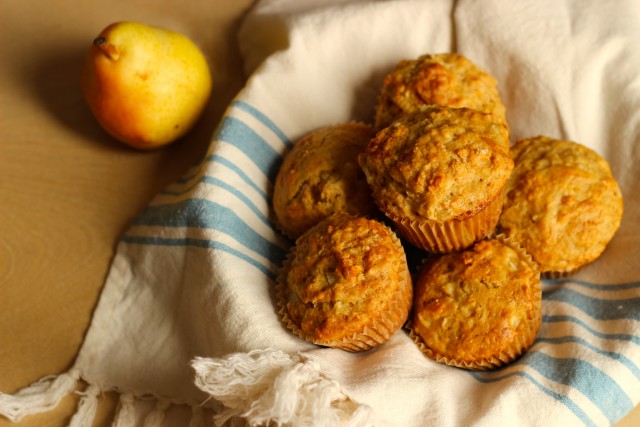 A Great Make Ahead
This recipe is great for freezer cooking but also makes a fantastic gift for someone. You are definitely gonna want to mix up several bags of the mix for later use once you taste how yummy these muffins are. Just place all the "dry team" ingredients in a quart-size ziptop freezer bag or jar and seal. Be sure to give them the directions!
Alternatively, just fill a basket with baked muffins. You'll be Friend of the Year whichever way you go.
What's YOUR favorite muffin flavor?