A homemade baking mix gets jazzed up with two forms of chocolate and a cheesecake like topping. Delicious and easy to pull together!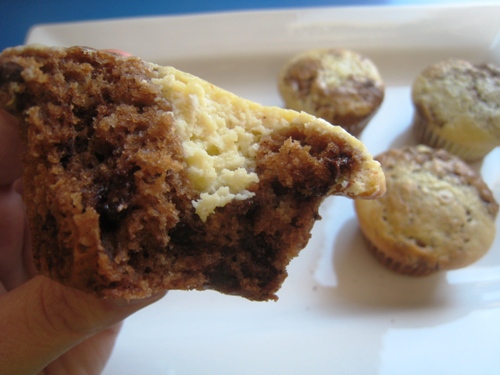 As you may know, we're in the midst of a Pantry Challenge over here. While I've not completely sworn off grocery shopping this month, I am "shopping my closet" as it were before buying something more. I love the Pantry Challenge because it really encourages me to be creative with what I already have. These muffins are a great example.
I had a bag of homemade muffin mix in the freezer just begging to be used. And I'd been wanting to choco-fy it for some time. So, in went cocoa powder and chocolate chips. Then, to gild the lily — and use up one of many cream cheese packages in my fridge — I added a cheesecake topping.
We tested these muffins twice this week. I say "we" because my kids all had opinions about it. Yesterday's cheesecake topping was better than today's. But, today's chocolate mixture was better than yesterday's. So, I'm giving you the best of both worlds.
This recipe is an awesome way to jazz up a homemade baking mix.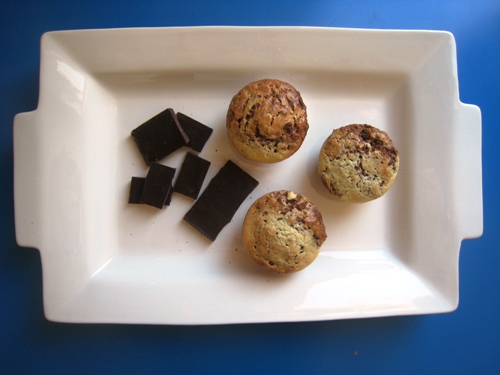 Recipe: Chocolate Cheesecake Muffins
Ingredients
1 cup milk
1/2 cup oil
1/2 cup sour cream
2 eggs
3 cups unbleached flour
1 cup sugar
1/2 cup whole wheat pastry flour
1/2 cup cocoa powder
4 teaspoons baking powder
1/2 teaspoon baking soda
1/2 teaspoon salt
1 cup mini chocolate chips
Cream Cheese Topping
8 ounces neufchatel cheese (light cream cheese)
1/2 cup sugar
1 egg
1 teaspoon vanilla
Instructions
Preheat oven to 350 °. Line 24 muffin cups with paper liners. In a large mixing bowl, sift together the flours, sugar, cocoa powder, baking powder, baking soda, and salt. (If preparing as a mix, simply combine all these ingredients in a ziptop bag, label well, mark with the wet ingredients and baking instructions.)
In a separate bowl, combine milk, oil, sour cream, and eggs. Whisk to blend. Add wet ingredients to dry. Fold gently until mostly moistened, but still lumpy. Fold in chocolate chips.
Divide the mixture amongst the muffin cups, about 1/4 cup batter for each cup.
In another mixing bowl, combine the neufchatel cheese, sugar, egg, and vanilla. Beat until smooth. Divide the cheese mixture amongst the cups.
Bake 20 to 30 minutes or until a tester comes out with a few crumbs attached.
Preparation time: 20 minute(s)
Cooking time: 20 minute(s)
Number of servings (yield): 12