When my family is hungry, stand back. Things can get pretty crazy around here with four hungry boys, not to mention the FishPapa, wanting to eat. It helps to have a few tricks up my sleeve when it comes to meal prep. I love having meals stashed in the freezer and I love my crockpot. But, sometimes, you just need a quick fix.
One speedy recipe we enjoy around here is Chili Burritos. I was surprised at how easily my kids took to them. And they practically scarf them down. You can use canned chili in a pinch, though my personal favorite is homemade. Certainly, the canned variety makes for a quicker meal.
It's a super simple recipe that is on the table in minutes.
Chili Burritos
large flour tortillas
your favorite chili, heated through
grated cheese
Additional toppings: sour cream, salsa, diced avocado, sauteed onions and peppers
Warm tortillas until they are soft and pliable. Spoon about 1/3 cup of chili down the center. Sprinkle with cheese. Add your choice of additional toppings. Roll up and serve. Delicious!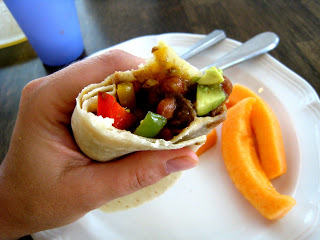 What's a quick meal you make at your house?