Make Chili Cheese Fries a little bit "good for you" with homemade chili, oven fries, and shredded cheddar.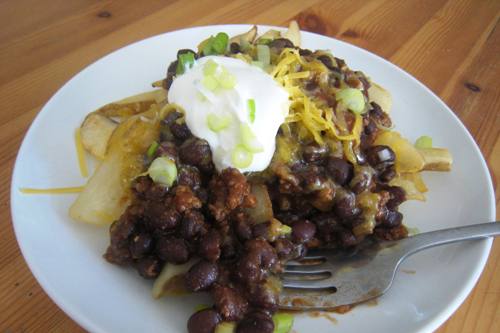 When I was in high school, chili cheese fries were a staple of life. Our high school cantine offered french fries, slathered with movie theatre-style cheese sauce and canned Hormel chili. And honestly? I loved it.
I don't think I would love it today, but back then I did.
Based on that experience, one could expect to rank Chili Cheese Fries in the Halls of Junk Food forever. But, what happens when you top oven fries with homemade chili and shredded cheddar cheese?
Well, you get the novelty and fun factor of Chili Cheese Factor with a lot less processed and a helping extra of "good for you".
This chili is simple to pull together with regular kitchen staples. Feel free to serve it without the fries. My girls each ate two bowls full. The chili is freezer friendly; you can make a double batch and freeze the extras for another night. It also goes great on hot dogs, over chips, and anytime you just want "a bowl of red."
Recipe: Healthier Chili Cheese Fries
Ingredients
1/2 pound ground beef
3/4 cup chopped onion
1 1/2 teaspoons crushed garlic
one-half 6-ounce can tomato paste
1 cup salsa verde
two 15-ounce cans black beans, drained
1/4 teaspoon cayenne pepper
one 32-ounce package frozen french fries or 1 batch Simple Dill Potatoes (omit the dill if you like)
Toppings: shredded cheese, sour cream or greek yogurt, chopped scallions, sliced black olives
Instructions
In a large stockpot, brown the beef, onion, and garlic until the meat is no longer pink and the onions are clear.
Add the tomato paste, salsa verde, beans, and cayenne pepper. Stir well to blend. Simmer 20 to 40 minutes, uncovered. At this point you can package and chill the mixture for freezing, if desired. Thaw and reheat and then continue with the steps.
Meanwhile prepare the potatoes.
Serve potatoes and chili with toppings.
Preparation time: 5 minute(s)
Cooking time: 45 minute(s)
Number of servings (yield): 4
To make a freezer meal kit: Freeze the cooled chili, alongside a package of frozen fries and a small bag of shredded cheese. To serve, thaw and reheat the chili, bake the fries per directions, thaw the cheese to use as a topping.