Cool off with this lime-mint cooler. This recipe for a non-alcoholic mojito is ultra refreshing!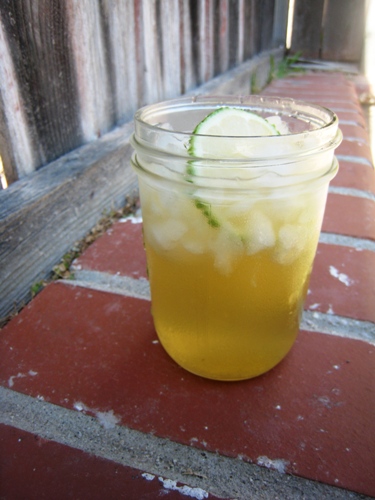 Ready for a cool drink? Summertime does that. Crushed ice, some slices of lime, and a tasty beverage just beckon to us.
And while I am a huge, HUGE fan of Coke-Cola, it's the high fructose corn syrup I'd like to do without. But, that means I can concoct all kinds of other tasty beverages to serve over crushed ice.
This Lime-Mint Cooler is one of them.
Fresh Mint, the weed that you can love
Mint is a weed in the sense that it will grow wherever you don't want it to. If you plant your own, be sure to do it in a pot. But, it can still spread its seeds. It's a wily plant, that one. Once it takes root it is almost impossible to get rid of.
This is good news if you love mint-flavored beverages.
Over the last few months we've received a fair amount of mint in our produce box. At first I didn't know what to do with it. But the folks on Good Cheap Eats' Facebook page suggested I make mint syrup, so I did that. Peppermint Syrup and Chocolate Mint Syrup were awesome in hot cocoa and coffee drinks this past winter.
Another friend suggested mojitos. I had never had one. In fact, until that suggestion, I'd never had many mixed drinks at all. A couple months ago I started researching recipes. It's the national drink of Cuba, in case you were wondering.
Yum! That is one tasty drink! Not boozy at all, but light and refreshing, a perfect summer drink.
If you're looking for a non-alcoholic version of the mojito, this lime-mint would be it. (And you're free to switch out some of the water for rum if you want the real deal.)
Since I use evaporated sugar cane juice (aka organic sugar), my syrup is a little darker than it would be if I used conventional granulated sugar. If yours isn't exactly the same color, that's why.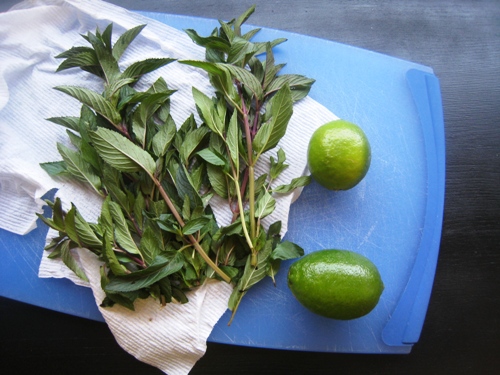 Store your mint leaves wrapped in damp paper towels in a ziptop bag in the fridge. This bunch lasted for about a month this way. total surprise!
Then make a syrup to keep on hand to mix with lime juice and club soda. Add rum for a simple mojito. Serve either over crushed ice.
Lime-Mint Cooler
Cool off with this lime-mint cooler. This recipe for a non-alcoholic mojito is ultra refreshing!
Ingredients
1

cup

granulated sugar

1

cup

water

1

cup

fresh mint (chopped)

2

lime

, zested

24

oz

club soda

4

lime
Instructions
In a small sauce pot combine the sugar and water. Cook over medium heat until the sugar dissolves and the liquid just starts to bubble.

Stir in the mint leaves and lime zest. Allow the mixture to cool to room temperature.

Strain the syrup and store in a lidded jar. Refrigerate for up to 1 week. Store in the freezer for longer storage.

To prepare a cooler, mix 1/4 cup syrup with 3/4 cup club soda and the juice of one lime. Stir and serve over crushed ice.
Notes
For a mojito, substitute 1 to 2 ounces of rum for 1/4 cup of the club soda.
Nutritional values are approximate and based on 1/4 the recipe.
Nutrition
Calories:
232
kcal
|
Carbohydrates:
62
g
|
Protein:
1
g
|
Fat:
1
g
|
Saturated Fat:
1
g
|
Sodium:
45
mg
|
Potassium:
167
mg
|
Fiber:
4
g
|
Sugar:
52
g
|
Vitamin A:
528
IU
|
Vitamin C:
33
mg
|
Calcium:
69
mg
|
Iron:
1
mg
Tools I use for this recipe:
My cookbook Best 100 Juices for Kids includes recipes for 100 juices, smoothies, slushies, popsicles, and sports ades, all with a healthier bent.
Your purchase helps support this site. Thanks so much!
What's your favorite cool summer drink?