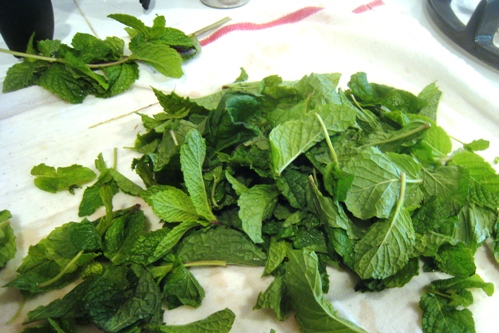 Recently, there was a bundle of mint in our produce box. Actually, there were two bundles of mint because unbeknownst to me, mint was part of the box that week and I had added on an extra. So, two bundles of mint? What to do?
Mint syrup, of course!
My friends on Facebook had suggested it a few months ago the first time I got mint in the produce box, and while that first effort was pretty good, I wanted to do better, namely, I wanted a thicker syrup.
I also wanted to try my hand at chocolate syrup. I was amazed at how easy both were! I don't think we ever need to buy bottled again!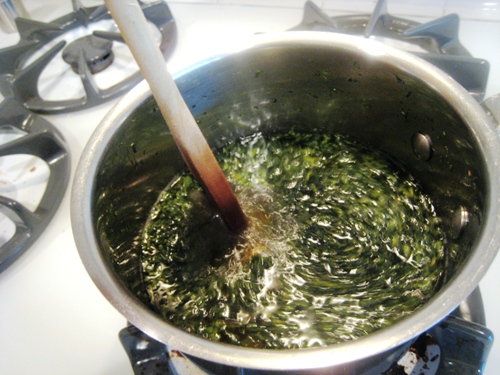 For simple mint syrup,you are basically making a Simple Syrup Recipe but you use twice the amount of sugar and you just steep chopped mint leaves in a hot sugar and water mixture. For chocolate syrup, I took a standard recipe for chocolate syrup and embellished it by steeping chopped mint leaves in the sugar, cocoa, and water mixture. Amazingly easy. And soooo delicious.
We've been enjoying mint and chocolate mint syrups in cocoa and coffee for weeks. I also stored small portions of the syrups in the freezer to enjoy later. Yes, yes, I did.
Peppermint Syrup
Peppermint Syrup is delicious for flavoring hot or cold drinks or using to add minty flavor to any number of desserts
Ingredients
1

cup

water

2

cups

granulated sugar

1 1/2

cups

fresh mint (chopped)
Instructions
Combine the water and sugar in a medium saucepan over medium heat. Add the mint leaves and bring to a boil.

Boil for three minutes. Remove from heat.

Allow the mint to steep in the syrup as it cools. Strain out the leaves through a fine mesh sieve.

Store the syrup in an airtight container in the refrigerator for up to 2 weeks or freeze for longer storage.
Notes
For Chocolate Mint Syrup: whisk in 1/2 cup cocoa powder with the water and sugar. Add 1/4 teaspoon salt after straining the syrup.
Nutritional values are approximate and based on 1 tablespoon of syrup.
Nutrition
Calories:
50
kcal
|
Carbohydrates:
13
g
|
Protein:
1
g
|
Fat:
1
g
|
Saturated Fat:
1
g
|
Sodium:
1
mg
|
Potassium:
12
mg
|
Fiber:
1
g
|
Sugar:
12
g
|
Vitamin A:
90
IU
|
Vitamin C:
1
mg
|
Calcium:
5
mg
|
Iron:
1
mg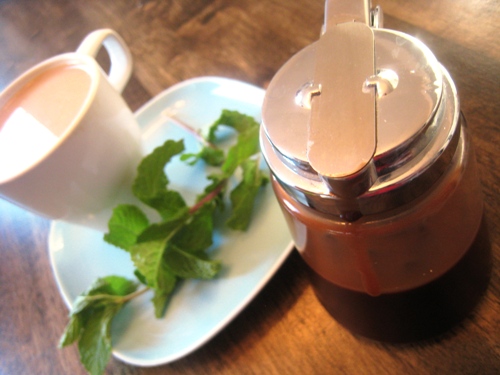 The chocolate mint syrup is ideal for adding to coffee while the mint syrup is great to add to hot cocoa.