Simple syrup is the ideal concoction to keep on hand in your refrigerator this summer to sweeten cold drinks, like tea or coffee.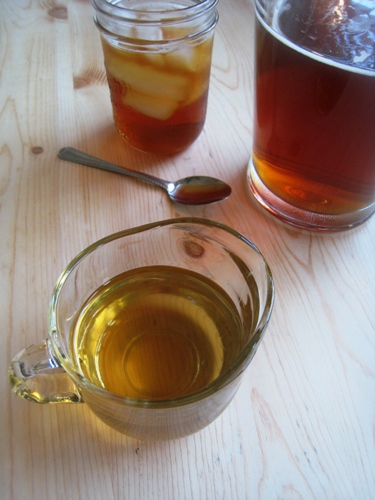 Simple syrup is just that. A simple syrup of sugar and water. It's basically that supersaturated solution that Mr. Glahn had us make in 11th grade chemistry. Only it's good. And you can eat it.
(You would never have wanted to eat anything crafted in our science labs.)
Simple syrup has a multitude of uses. Since the sugar is already dissolved in water, it makes a convenient sweetener for cold drinks like iced tea or coffee. You can use it to easily mix lemonade, make a citron presse, or stir up a pitcher of mojitos. Basically use it to sweeten or flavor any cold beverage.
Or just take a swig when you're desperate for a sweet pick-me-up.
Ok, I've never done the last thing, but I've done all the others. I love cold drinks in the summertime, and I do have a bit of a sweet tooth. So, simple syrup makes the whole process easier and tastier. Who wants gritty sugar at the bottom of a glass?
I've made this with evaporated sugar cane juice as well as standard granulated sugar. It works out fine both ways. If you use the less processed cane product, like I did in the batch in the picture, the color will be more amber than clear.
You can make flavored simple syrups by adding citrus zest, vanilla extract, or mint leaves to the hot mixture. Mint syrup is out of this world for hot chocolate or coffee drinks.
Print Recipe
Simple Syrup
Ingredients
2

cup

granulated sugar

2

cup

water
Instructions
Place the sugar and water in a medium saucepan over high heat. Bring to a boil, stirring.

Once the sugar is completely dissolved, remove the pan from the heat and allow it to cool to room temperature. Store in an airtight container in the refrigerator.
Notes
Nutritional values are approximate and based on 1

 tablespoon.
Nutrition
Calories:
48
kcal
|
Carbohydrates:
12
g
|
Sodium:
1
mg
|
Sugar:
12
g
|
Calcium:
1
mg
|
Iron:
1
mg