This decadent mocha chocolate syrup adds a touch of elegance to simple desserts like sundaes, affogatos, pound cakes, and more.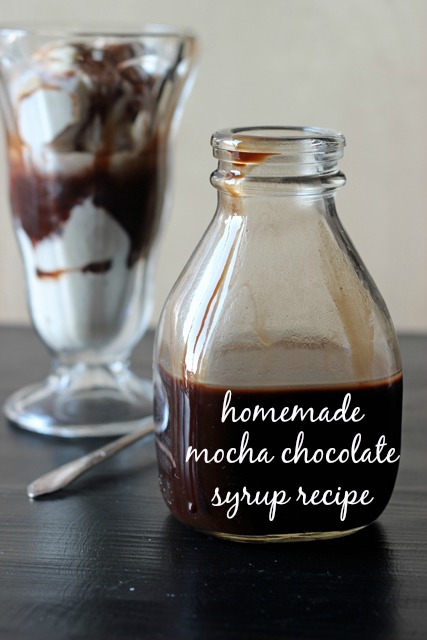 We are big fans of mocha flavor in these here parts. Chocolate mixed with coffee?! Yum-O. We've spent a small fortune on cafe mochas over the years which is pretty silly when you consider how easy it is to make these things ourselves. I think laziness is the culprit and maybe lack of convenience. It's so much easier to buy one ready-made or even buy the commercial syrups at the store. The bummer of those two options is that they are expensive and full of weird additives and sweeteners.
This last week I decided to stop with the lazy and get with the tasty. I made chocolate syrup with a twist. Instead of using water with my sugar and cocoa powder, I used decaf coffee. Yes, really. I boiled it down and voila!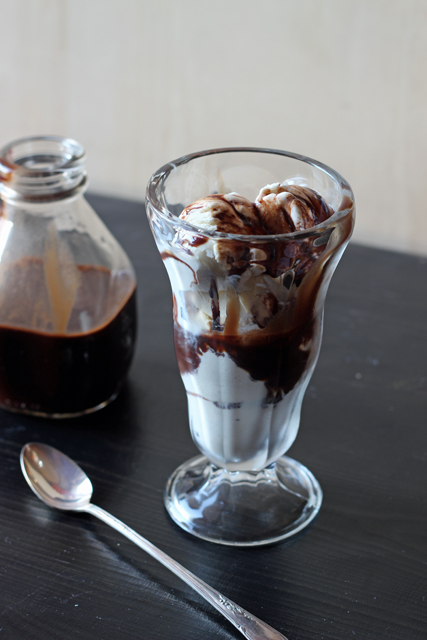 Mocha Chocolate Syrup ready to be poured into coffee drinks or hot chocolate, drizzled over ice cream, stirred into milk, or spooned over cake. There's no end to the uses for the syrup. I confess to eating it off the spoon.
Plan for some quick, impromptu desserts by keeping a jar of this stuff in your fridge. It takes three ingredients — four if you count salt — and comes together in less than 15 minutes.
Mocha Chocolate Syrup
Just 4 ingredients to make this homemade chocolate syrup to serve over ice-cream!
Ingredients
2

cups

sugar

1

cup

decaf coffee

1/2

cup

cocoa powder

1/4

teaspoon

salt
Instructions
In a saucepan, combine the sugar, coffee, and cocoa powder. Whisk until smooth. Bring to a boil and boil for 3 minutes. Simmer for a longer time if you desire a thicker syrup.

Remove the pan from the heat and whisk in the salt. Allow to cool completely.
Recipe Notes
Store in an airtight container in the refrigerator for up to a week.
Nutrition Facts
Mocha Chocolate Syrup
Amount Per Serving
Calories 823
Calories from Fat 27
% Daily Value*
Fat 3g5%
Sodium 300mg13%
Potassium 392mg11%
Carbohydrates 212g71%
Protein 4g8%
Calcium 28mg3%
Iron 3mg17%
* Percent Daily Values are based on a 2000 calorie diet.