This decadent mocha chocolate syrup adds a touch of elegance to simple desserts like sundaes, affogatos, pound cakes, and more.
Love chocolate? How about chocolate syrup? How about mocha chocolate syrup?
If you've spent a small fortune on cafe mochas over the years, why not try something different? Something quick, easy, and a heck of a lot cheaper than what you might buy elsewhere.
Mocha Chocolate Syrup
Mocha Chocolate Syrup is a great addition to hot and cold coffee drinks, milk, ice cream, and pretty much any dessert you can think of.
It's the perfect treat to keep on hand in the fridge for adding a little mocha flavor to whatever you're having.
How do you make chocolate syrup from scratch?
Making homemade chocolate syrup is really very simple. It's similar to a simple syrup, only cocoa powder is added.
Combine water with more sugar than would naturally dissolve at room temperature. Heating it allows the syrup to hold a greater quantity of sugar and thereby thicken. The addition of cocoa powder makes it chocolate syrup.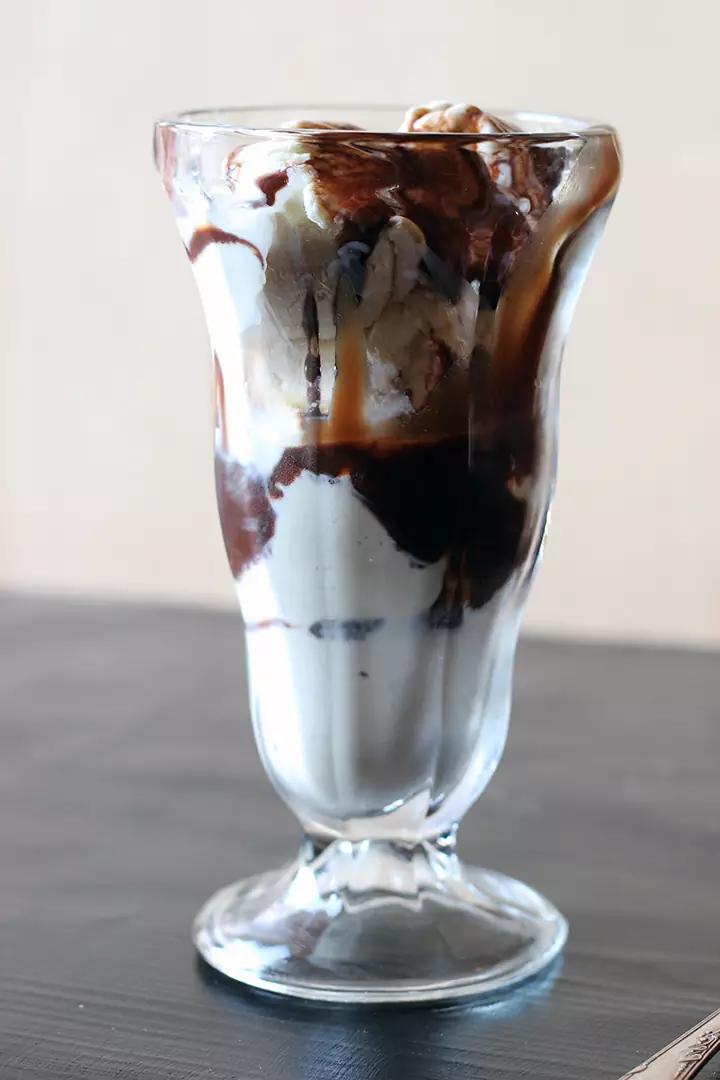 Can I make other flavored syrups?
Syrups are so easy to vary the flavors based on the liquid or the ingredients you use. You can make ginger syrup, peppermint syrup, or even homemade maple-flavored pancake syrup.
To make it mocha chocolate syrup, use brewed coffee instead of water. To make mint chocolate syrup, add chopped fresh mint leaves after the water boils. It will steep as it cools.
What is the use of chocolate syrup?
Chocolate syrup is great for making chocolate milk as the syrup easily dissolves in milk. You can also use it on ice cream sundaes, in milkshakes, and on other desserts. It's also good in sodas.
This syrup recipe is ready to be poured into coffee drinks , or top an Iced Mocha, or hot chocolate, drizzled over ice cream, stirred into milk, or spooned over cake. There's no end to the uses for the syrup. I confess to eating it by the spoonfuls.
Plan for some quick, impromptu desserts by keeping a jar of this stuff in your fridge. It takes three ingredients — four if you count salt — and comes together in less than 15 minutes.
This syrup is delicious in Salted Caramel Mocha Icebox Cake.
How to Make Mocha Chocolate Syrup
Combine sugar, brewed coffee, and cocoa powder in a saucepan.
Bring to a boil and simmer for 3 minutes.
Cool and store in an airtight container in the fridge.
Use the syrup in hot and cold drinks as well as desserts.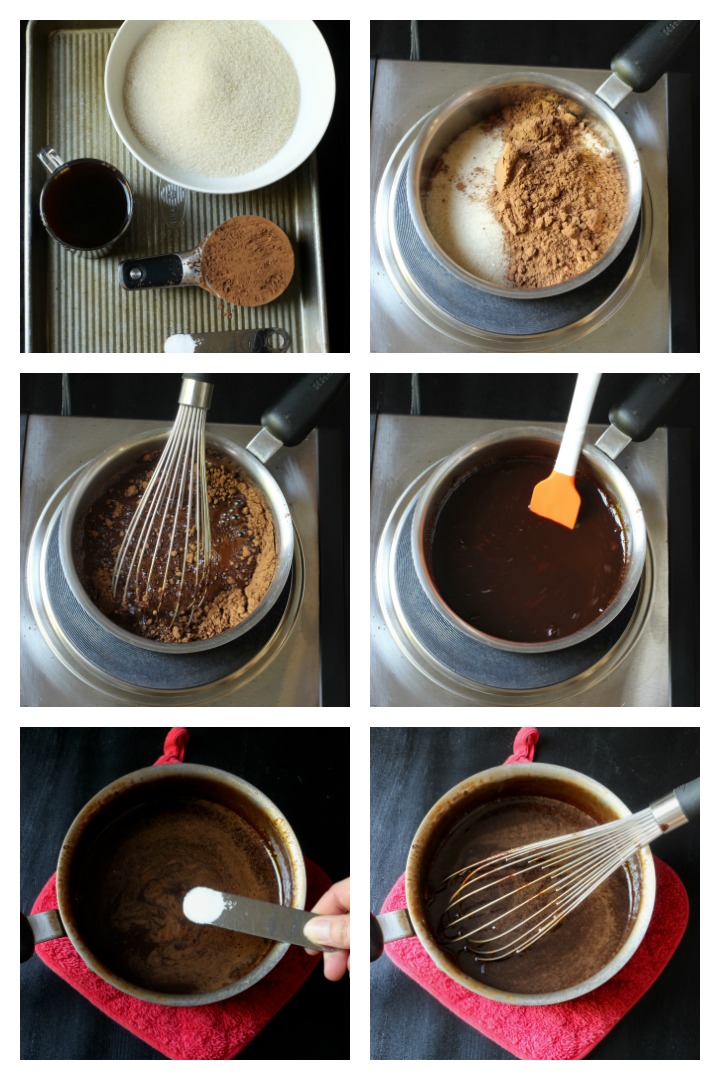 Is it cheaper to make your own syrups?
At the base, homemade syrup is just water and a sweetener like sugar or honey. In most cases, it's unlikely that you'll find commercial syrups for less, but let's crunch the numbers to be sure.
Purchased at a mid-range grocery store, at non-sale prices, the ingredients for this recipe cost:
sugar – $0.44 ($1.97/4#bag)
water – free; if using coffee, let's say $0.25
cocoa powder – $0.32 ($1.93/8 oz)
salt – $0.01 ($2.99/26 oz)
Total cost for chocolate: $0.77/16 oz or 5 cents/oz
Total cost for mocha: $1.02/16 oz
When purchasing commercially-made syrups, chocolate costs 10 cents/oz, the fancy flavored coffee syrups cost 42 cents/oz. Clearly, making your own syrups is more cost-effective.
Be sure to shop the sales and shop the cheapest store for the things that you buy in order to save even more.
Do you need special equipment to make your own syrup?
This is such an easy recipe, you really only need three pieces of kitchen equipment:
a good quality saucepan – I love this one I just got that has a built in strainer.
a whisk – I like one with a sealed barrel so dishwater doesn't get in and then drip out into your food.
a jar for storing the syrup – try to find one that is good for pouring and easy to clean. You don't want your fridge full of chocolate drips.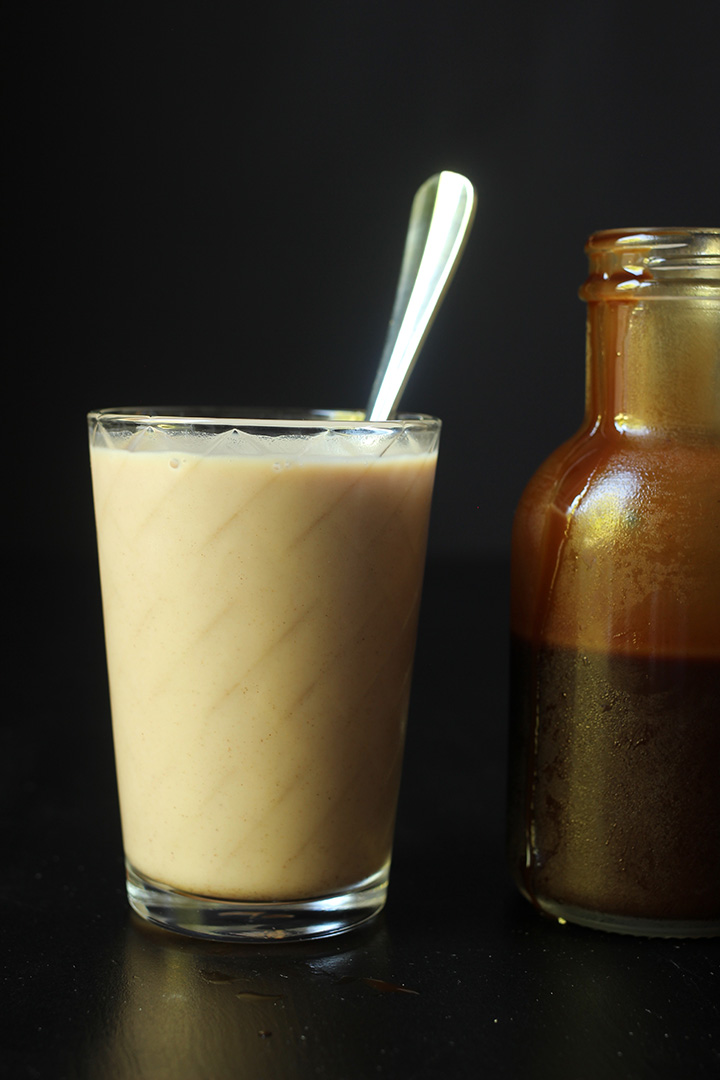 If you prepare this recipe, be sure to share a picture on social media and hashtag it
#GOODCHEAPEATS
. I can't wait to see what you cook up!
Mocha Chocolate Syrup
Just 4 ingredients to make this homemade chocolate syrup to serve over ice-cream!
Cost:
$1.02 per 2-cup batch
Ingredients
2

cup

granulated sugar

($0.44)

1

cup

brewed coffee

($0.25)

½

cup

unsweetened cocoa powder

($0.32)

¼

teaspoon

salt

($0.01)
Instructions
In a saucepan, combine the sugar, coffee, and cocoa powder. Whisk until smooth. Bring to a boil and boil for 3 minutes. Simmer for a longer time if you desire a thicker syrup.

Remove the pan from the heat and whisk in the salt. Allow to cool completely.
Notes
Store in an airtight container in the refrigerator for up to a week.
Nutritional values are approximate and based on 1

 ounce.
Decaf coffee is recommended.
Nutrition
Calories:
103
kcal
|
Carbohydrates:
27
g
|
Protein:
1
g
|
Fat:
1
g
|
Saturated Fat:
1
g
|
Sodium:
37
mg
|
Potassium:
48
mg
|
Fiber:
1
g
|
Sugar:
25
g
|
Calcium:
3
mg
|
Iron:
1
mg
Tried this Recipe? Tell us what you think!
Your reviews help us develop better recipes and give newcomers the confidence to try your favorites. Scroll down to leave a starred comment.
This post was originally published on November 25, 2014. It has been updated for content and clarity.