This icebox cake mimics the flavors of the Salted Caramel Mocha Frap, making it a must-do for the holiday season. It's super easy to prepare, so there's no reason not to.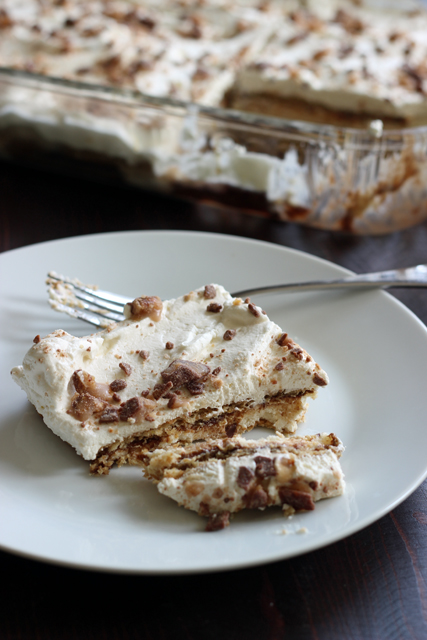 Last summer I fell in love with the icebox cake. I can't remember how many different versions we made over the summer, but we loved them all, the Lemon Blueberry Icebox Cake, included. It's the perfect dessert for summer because it's cool, refreshing, and requires no baking.
This fall I decided that it's also the perfect dessert for the holidays. It's cool, refreshing, and requires no baking. It's also a snap to pull together, meaning it gives you time for other pursuits. You can assemble it one night before bed and it will be ready the next day when you're heading to a church potluck. Or layer all the goodies together in the morning before work or school and it will be ready to take to that party in the evening. Easy peasy. It's like the crockpot –only not hot.
My new favorite icebox cake is the Salted Caramel Mocha. Yeah, baby. The SCM Frapp at Starbucks is probably one of the things I most look forward to at the holiday time. I've taken those flavors and infused them in an icebox cake.
Can you say Super Yum?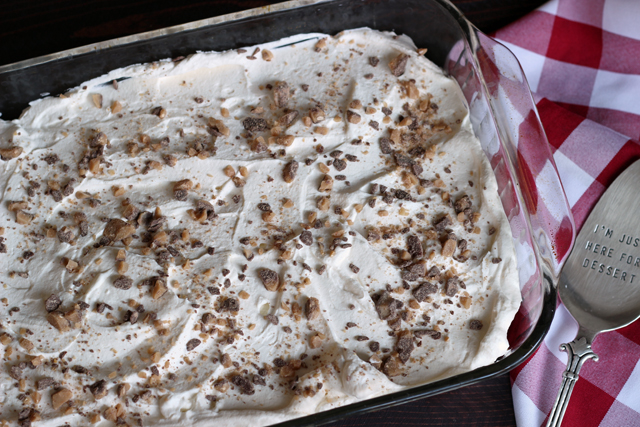 Now, I'll confess. I didn't spend a lot of time creating a handmade salted caramel topping. I've seen recipes for that crazy and that kinda goes against what I said about super easy and crockpot ease and all that kind of thing. Instead, to mimic the flavor of the salted caramel, I simply leaned on my favorite Heath Toffee Bits.
Me and Heath, we go way back. My kids know that if a Heath bar crosses their path, part of it is mine.
You will, however, want to make a batch of Mocha Chocolate Syrup for this cake. It won't be the same without it. So, make that a couple hours in advance so it can cool a bit before assembling the cake.
This cake is a huge hit at our house, so I'm guessing it will be the same at yours. Let me know how you like it or if you make any tweaks to the filling.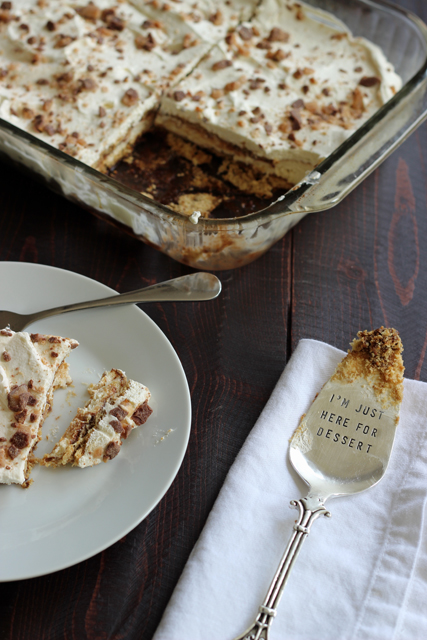 Salted Caramel Mocha Icebox Cake
Ingredients
2

sleeves

graham crackers

2

cup

whipping cream

1/2

cup

powdered sugar

1

tsp

vanilla extract

1

8-ounce package

cream cheese

softened and cut into cubes

2

tbsp

brown sugar

1/2

cup

Mocha Chocolate Syrup

1/4

cup

Heath Toffee Bits
Instructions
Layer graham crackers across the bottom of a 9x13-inch pan.

In a large mixing bowl, whip the cream, sugar, and vanilla together until light and fluffy. Transfer half the whipped cream to another bowl and whip in the cream cheese, a few pieces at a time. Blend in the brown sugar.

Spread the cream cheese mixture over the graham crackers.

Pour the chocolate syrup over this layer.

Cover the cake with another layer of graham crackers. Cover these crackers with the remaining whipped cream. Sprinkle the toffee bits over the top. Cover and chill for 6 to 24 hours.
Notes
You can always substitute regular chocolate syrup for the mocha version if you need to.
Nutrition
Calories:
748
kcal
|
Carbohydrates:
76
g
|
Protein:
9
g
|
Fat:
46
g
|
Saturated Fat:
26
g
|
Cholesterol:
147
mg
|
Sodium:
497
mg
|
Potassium:
256
mg
|
Fiber:
2
g
|
Sugar:
44
g
|
Vitamin A:
1598
IU
|
Vitamin C:
1
mg
|
Calcium:
143
mg
|
Iron:
3
mg