Want a most delicious summer dessert without heating the oven? Make these Strawberry and Chocolate Icebox Cakes for one of the easiest treats under the sun.
I bought these tasting bowls a few years ago, and they sat on a shelf in my office for months. I kinda forgot they were there. I bought a box of chocolate wafers around Christmas time and fended the kids off for months but never made anything with them.
Then, when I started thinking about summer desserts, I decided to do a little experimenting. On Mother's Day when I wanted something yummy I started puttering in the kitchen. I knew I wanted to use up the cookies finally. When I thought about a dish to assemble a cake in, I remembered the tasting bowls. Turns out they are the perfect size to stack those chocolate cookies in, smooshed between layers of whipped cream and chopped strawberries. Yum-O!
These cakes were so good. I confess to eating more than my fair share. I've made them several times since Mother's Day, and they are always delicious.
I love the simplicity of this dish: fresh fruit, in this case, strawberries, freshly whipped cream, and thin chocolate wafers. You can vary the fruit and cookies based on what you have.
Icebox cakes rock! Particularly for summer when you don't want to heat up the oven, but still want cake. The cookies soften in the whipped cream and get a cake-like texture. Super yummy!
Remember you can go for this Salted Caramel Mocha Icebox Cake or this Lemon Blueberry Icebox Cake if you run out of ideas or chocolate cookies.
Admittedly, the cookies are a little tough to find. When I wanted a second box to make this again, I searched through three (or was it four?) stores before I found them at Vons/Safeway. (Thank you to the reader who gave me that tip!) That place is always more expensive than anywhere else, so I very rarely shop there.
But, there were the Famous Chocolate Wafers, right where they are supposed to be, with the ice cream toppings.
I know this because 25 years ago I worked at Lucky Stores as a bag girl. These chocolate wafers were hard to find even then. It was a common question from customers that I fielded from customers, so I knew where they were.
(I always was a grocery geek.)
Except now the Famous Chocolate Wafers are harder to find. My favorite store, Ralphs, sells them at the holidays. Amazon sells them for an arm and a leg. I told the checker at Ralphs that next Christmas I'm stocking up and selling my stash on eBay.
The cookies aren't cheap, either, averaging around $5 a box. The good news is that you can make two batches of this recipe with one box. If you find them for less than that, buy many boxes and stock up!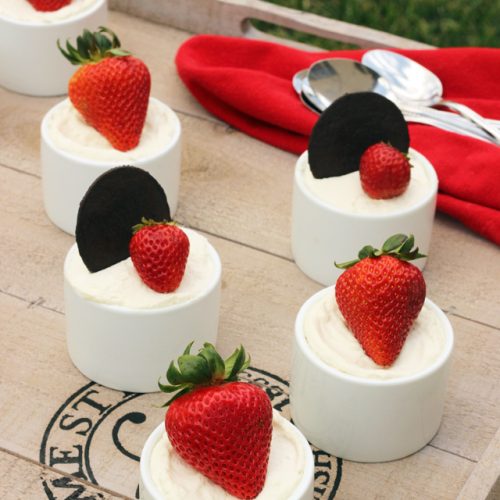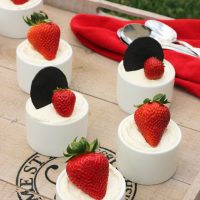 Strawberry and Chocolate Icebox Cakes
Want a most delicious summer dessert without heating the oven? Make these Strawberry and Chocolate Icebox Cakes for one of the easiest treats under the sun.
Print
Pin
Rate
Ingredients
¾

lb

strawberries

2

cup

whipping cream

½

cup

powdered sugar

1

teaspoon

vanilla extract

24

chocolate wafer cookies
Instructions
Chop the berries into bite sized pieces.

In a large bowl, pour the whipping cream and add the powdered sugar and vanilla extract. Beat with an electric mixer until the cream is whipped, somewhere between soft peaks and stiff peaks. You want it to be firm but spreadable.

Lay out 8 small ramekins or tasting bowls. Place a spoonful of whipped cream into each bowl. Place a cookie down on each blob of whipped cream and press until even. Spread whipped cream over the cookie in a thin layer. Cover the whipped cream with a layer of strawberries.

Repeat the layers two more times and top with a layer of whipped cream.

Refrigerate the cakes for about two hours or overnight. Serve with additional strawberries and cookies for garnish, if desired.
Notes
Nutritional values are approximate and are based on ⅛ of the recipe. Refrigerate leftovers promptly and use within 4 days.
Nutrition
Calories:
327
kcal
|
Carbohydrates:
26
g
|
Protein:
3
g
|
Fat:
25
g
|
Saturated Fat:
14
g
|
Cholesterol:
82
mg
|
Sodium:
147
mg
|
Potassium:
147
mg
|
Fiber:
1
g
|
Sugar:
15
g
|
Vitamin A:
875
IU
|
Vitamin C:
25
mg
|
Calcium:
51
mg
|
Iron:
1
mg
Tried this recipe?
Tell us what you think! Your reviews help us develop better recipes and give newcomers the confidence to try your favorites. Scroll down to leave a starred comment.
Do you have a favorite icebox cake?
I'd love to hear about it!