These "ranchers eggs" are such a great thing to wake up to. Huevos Rancheros also makes a great quick supper.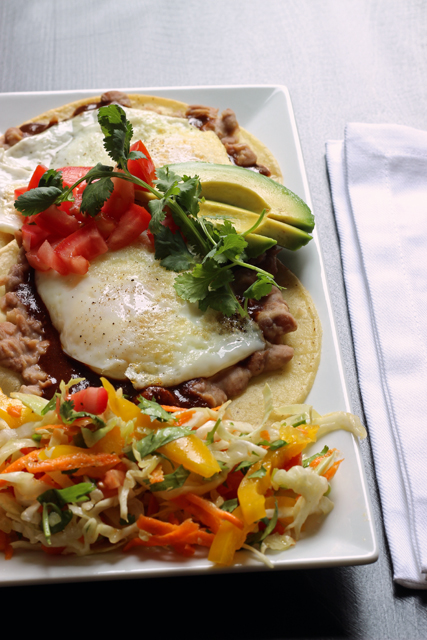 Although I grew up in Southern California, noshing on Mexican food all my life, there are some dishes that just weren't in my repertoire until adulthood. Chimichangas and tamales and chile relleno were things I'd heard about, but not really tasted or knew how to make until I was older.
I'm still scared
I'd never even tasted Huevos Rancheros until last spring when we went out to brunch with friends, and FishPapa ordered it. I was really surprised how good beans, tortillas, and eggs tasted together! Who knew?
You will love this dish. It makes the perfect quick and easy breakfast, but is equally good for lunch or dinner. Serve a little bit of southwest style coleslaw on the side, like my Cumin-Scented Cabbage Salad or Creamy Cole Slaw that Won't Go Soggy.
If you don't have a plan for Cinco de Mayo yet, this should be it!
Looking for more bright ideas to get dinner on the table? My latest cookbook is here! And it's designed just for you to make dinner quickly, easily, and affordably.
You can beat the clock without breaking the bank. And you'll eat well too.
Huevos Rancheros
These "ranchers eggs" are such a great thing to wake up to. Huevos Rancheros also makes a great quick supper.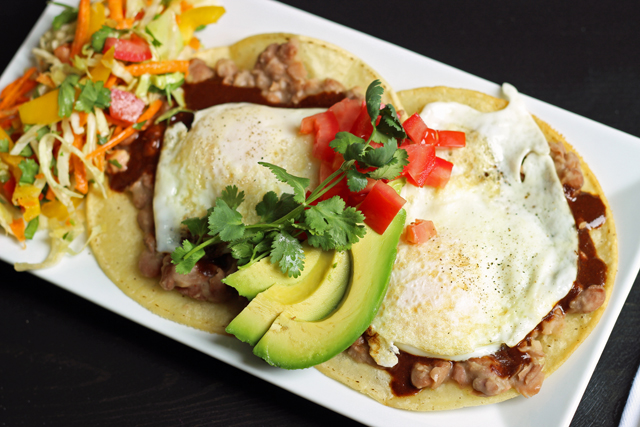 Preparation Time:10 minutes
Cook time:15 minutes
Total time:25 minutes
4 servings
Ingredients:
vegetable oil for frying (I use avocado oil)

8 corn tortillas

2 cups Healthier Refried Beans or one 15-ounce can refried beans, heated

1 cup warm enchilada sauce

8 eggs

salt and pepper

1 avocado, peeled, pitted, and sliced

2 tomatoes, chopped

hot sauce or salsa for serving
Instructions:

In a large skillet, pour the oil to about 1/4 inch deep. Heat until shimmering. Fry the tortillas until lightly crisped. Drain on paper towels.
Crack the eggs into the remaining hot oil and cook to taste. Season with salt and pepper.
Lay out two tortillas on each plate. Divide the refried beans among the tortillas and spread evenly. Spread 2 tablespoons of enchilada sauce over the beans on each tortillas. Top each tortilla with a fried egg. Garnish with avocado slices and chopped tomatoes. Serve immediately with hot sauce or salsa on the side.