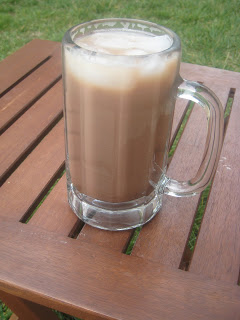 It's true that a Frappucino or an iced mocha is one of my favorite indulgences, particularly in summertime. But, at 4 bucks a pop, it's not the best use of our money. Instead, with some good coffee, sugar, cocoa, milk, and ice, I can make my own. This particular recipe is on the milkier side, but you can adjust the ratio of coffee to milk to suit your tastes. I use nonfat milk, but it will certainly be creamier if you use milk of a different percentage milkfat.
Iced Mocha
3/4 cup strongly brewed coffee (I used 4 Tablespoons coffee grounds for 1/2 cup)
1 Tablespoon unsweetened cocoa
1 Tablespoon sugar
1 cup milk
ice**
In small bowl or mug combine hot coffee, cocoa, and sugar. Stir until cocoa and sugar are completely dissolved. Stir in 1 cup milk. Pour over ice in large mug or glass.
Makes 1 large or two small beverages.
** If you ever have leftover coffee, freeze it in ice cube trays to use in coffee drinks like this. As it melts, it will keep your drink from being diluted.