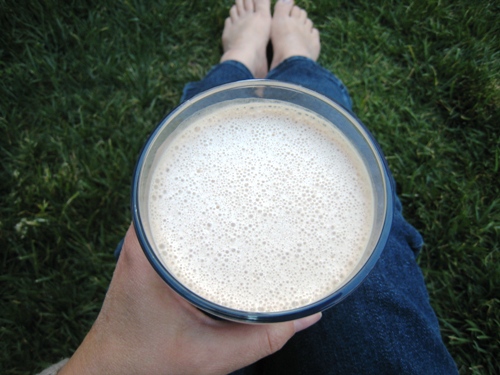 Hubs and I have been married for 16 years. We met in 1992. I was a sophomore in college and thin and could eat anything. He was older, athletic, and very conscious about what he ate.
I corrupted him.
I'm not sure what did it first…. the bacon and avocado thrown onto a turkey sandwich, the butter on a baguette, a truly French croissant…. but man, those were good times.
One of the things that we loved to drink were ice blended mochas. This was back in the days before Starbucks "invented" the Frappuccino. Yes, really. It was the early 90s and all the things that you take for granted, like Starbucks, the internet, and the ipod, were either just gaining popularity or hadn't even been invented yet.
Yes, I'm old.
Date night was different back then. We usually went out to eat, grabbed a coffee or dessert, and then strolled Santa Barbara's State Street or walked along the Biltmore Wall. We might go browse Borders and buy more books than we needed.
Today we have six kids, from tot to teen, and date night looks different. Thanks to family we get in a few nights out each month, but sometimes we plan an at-home date night. Not only is it less expensive, but it can often be more relaxing than trying to coordinate a babysitter, figure out where to go, fight the crowds to get there, etc.
One thing that makes an at-home date nights so fun is that we can indulge in foods that we might not splurge on at a restaurant. Case in point:
The Ice-Blended Mocha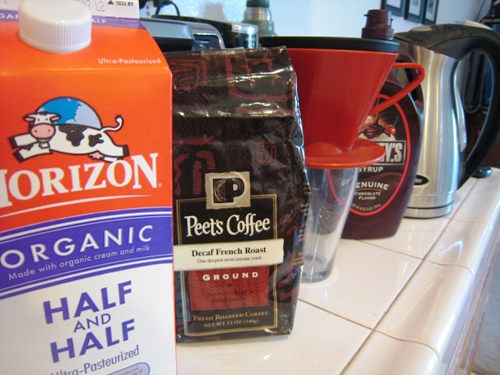 I created this concoction awhile back when I was feeling too cheap for even Starbucks' two-buck Frappuccino. Since I already had the ingredients I needed at home and a rocking Magic Bullet to do the work for me, I whipped up a couple for me and hubs.
Yes, they're indulgent, but you're worth it, baby.

Ice-Blended Mocha
serves one
1/2 cup strong coffee
1 cup crushed ice
1/2 cup half and half
2 – 3 Tablespoons chocolate syrup
In the bowl of a blender, combine all the ingredients. Blend until smooth and frothy. Serve immediately.

Since I use my Magic Bullet and the accompanying "party cups," I prepare each one individually. This allows me to customize each drink according to taste. But, if you're using a traditional blender, go ahead and double or triple the recipe as your machine allows.
Certainly, one mocha does not a date night make. Here are some other ideas to make time with your main squeeze extra special.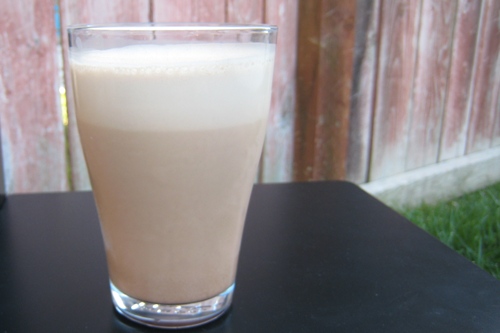 1. Lose the kids.
Well, not literally, of course. But, as sweet as family time is, moments spent alone with your spouse are vital. So whether you schedule your date night while the kids are at some friends' or the grandparents' house or after they go to bed, make sure that you will have uninterrupted time.
My husband and I often process our days and responsibilities together, so it's wonderful when we can do that free of interruptions.
2. Unplug.
Speaking of interruptions… Yes, really. Unplug yourself from other distractions. Make a mental note not to turn on the TV, answer the phone, check your messages, or pop into your inbox. It may take some getting used to, but a life without electronics can be absolute bliss, especially when you're with your honey.
3. Set a nice table.
It's all too easy to forget making things "nice" when it's "just us." But, setting a nice table, inside or out, can communicate volumes, most importantly, that "just us" is pretty sweet.
4. Eat well.
You knew I would say that, right? Whether you are preparing a full meal or just dessert and coffee, pull out the stops. Eat foods the kids hate, but that you love. Indulge in more expensive take-out if that is your preference. Make the food special to show your main squeeze that he is, too.
Planning a date night at home can be just as delicious as a night on the town.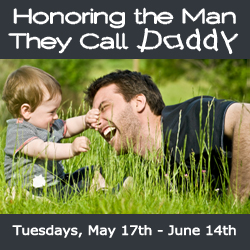 In the weeks leading up to Father's Day, I'm collaborating with a great group of bloggers to share ideas on how to "honor the man they call daddy." Whether it's your own husband, your dad, your brother, or another special man in your life who is a father, these ideas will be thought-provoking and encouraging.
This week we're sharing our different approaches to at-home date nights.
Be sure to hop around and be inspired:
This post is also linked to Tasty Tuesday.