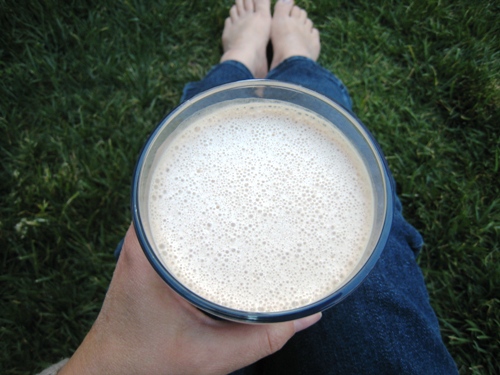 Hubs and I have been married for 16 years. We met in 1992. I was a sophomore in college and thin and could eat anything. He was older, athletic, and very conscious about what he ate.
I corrupted him.
I'm not sure what did it first…. the bacon and avocado thrown onto a turkey sandwich, the butter on a baguette, a truly French croissant…. but man, those were good times.
One of the things that we loved to drink were ice blended mochas. This was back in the days before Starbucks "invented" the Frappuccino. Yes, really. It was the early 90s and all the things that you take for granted, like Starbucks, the internet, and the ipod, were either just gaining popularity or hadn't even been invented yet.
Yes, I'm old.
Date night was different back then. We usually went out to eat, grabbed a coffee or dessert, and then strolled Santa Barbara's State Street or walked along the Biltmore Wall. We might go browse Borders and buy more books than we needed.
Today we have six kids, from tot to teen, and date night looks different. Thanks to family we get in a few nights out each month, but sometimes we plan an at-home date night. Not only is it less expensive, but it can often be more relaxing than trying to coordinate a babysitter, figure out where to go, fight the crowds to get there, etc.
One thing that makes an at-home date nights so fun is that we can indulge in foods that we might not splurge on at a restaurant. Case in point:
The Ice-Blended Mocha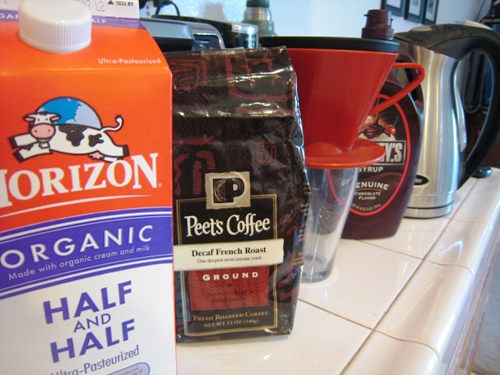 I created this concoction awhile back when I was feeling too cheap for even Starbucks' two-buck Frappuccino. Since I already had the ingredients I needed at home and a rocking Magic Bullet to do the work for me, I whipped up a couple for me and hubs.
Yes, they're indulgent, but you're worth it, baby.
Tips for Saving Money:
Ice-Blended Mocha
Make your own ice blended mocha, homemade frap, when you blend together strong coffee, ice, half and half and chocolate sauce.
Ingredients
½

cup

strongly brewed coffee

1

cup

crushed ice

½

cup

half and half

2

tablespoon

chocolate syrup
Instructions
In the bowl of a blender, combine all the ingredients. Blend until smooth and frothy. Serve immediately.
Notes
Nutritional values are approximate. Consume immediately for best texture. Leftovers make for a tasty iced mocha.
Nutrition
Calories:
270
kcal
|
Carbohydrates:
31
g
|
Protein:
5
g
|
Fat:
14
g
|
Saturated Fat:
9
g
|
Polyunsaturated Fat:
1
g
|
Monounsaturated Fat:
4
g
|
Cholesterol:
45
mg
|
Sodium:
93
mg
|
Potassium:
305
mg
|
Fiber:
1
g
|
Sugar:
20
g
|
Vitamin A:
428
IU
|
Vitamin C:
1
mg
|
Calcium:
142
mg
|
Iron:
1
mg
Tried this Recipe? Tell us what you think!
Your reviews help us develop better recipes and give newcomers the confidence to try your favorites. Scroll down to leave a starred comment.