Cashew Chicken was never easier than this take-out fake-out. It's hands free in the preparation, making it a great weeknight quick fix.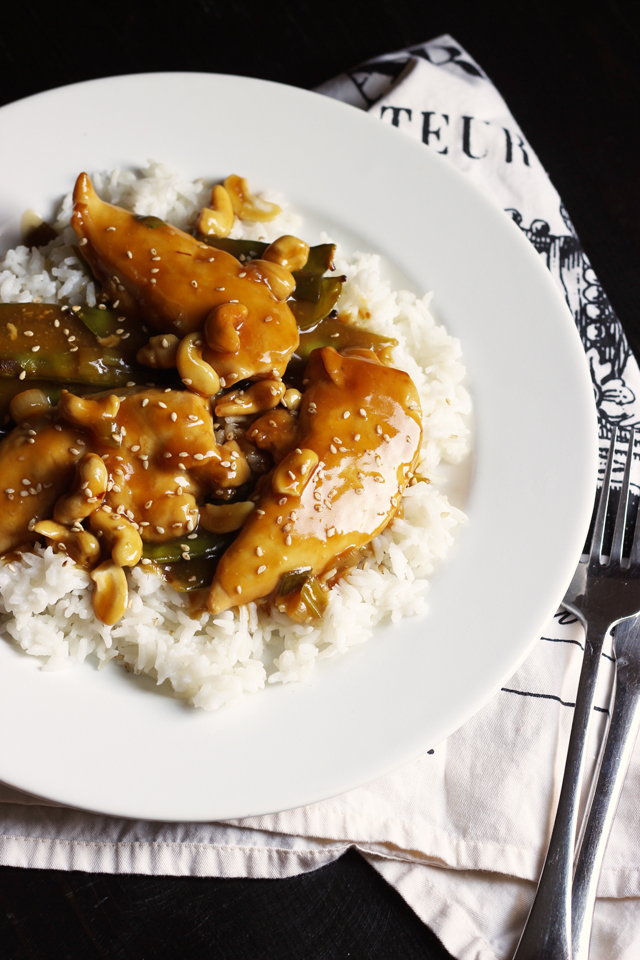 We used to go to Panda Express almost on a weekly basis. It's not far from home, and if we ordered the "Panda Feast" and a couple small entrees, we really could let the kids "feast". But, now that my daughter clearly has severe allergies to peanuts and walnuts, we don't take a chance. It would be too easy for a stray nut to fall into a dish.
So, despite the kids' initial grumblings over my experimenting in Asian cuisine, I persevered and I won! This easy to make Cashew Chicken pleases even my pickiest eaters.
And no, my daughter isn't allergic to cashews, but I make a pan without cashews just in case there's cross contamination. 😉 You can leave out the cashews or add them at the end if you're accommodating an allergy. You just can't call it Cashew Chicken. Ahem.
Since I've been trying to eat gluten-free for some health issues, I recently tested this with gluten-free soy sauce. Kikkoman makes it; I found it at Ralphs for $3.59. Since I only use a few tablespoons in recipes, I figured it was worth a shot. Success!
(If you're making this gluten-free, be sure to read the labels on all the ingredients to assure your safety.)
I love this so much; I get dibs on any leftovers so I can eat it for breakfast. Don't you do that?
If you want to make a double batch, use two pans. It would cook as quickly if you cook it all in one pan. Trust me. I know this.
Next time you crave Chinese food, this is the dish to make! Serve it with lots of hot cooked rice to soak up the yummy sauce.
Hands-Free Cashew Chicken
Cashew Chicken was never easier than this take-out fake-out. It's hands free in the preparation, making it a great weeknight quick fix.
Ingredients
1

lb

chicken tenders

1

9-ounce package

snow peas

1/2

cup

roasted and unsalted cashews

4

green onion

chopped

1/2

cup

chicken stock

2

tbsp

soy sauce

2

tbsp

dry sherry

1

tbsp

cornstarch

1

tbsp

honey

1

clove

garlic

minced

1

tsp

sesame oil

1/8

tsp

red pepper flakes

toasted sesame seeds

for garnish (optional)
Instructions
Preheat the oven to 425. Spray a 9 x 13-inch baking dish with cooking spray.

Lay the chicken tenders in the prepared pan. Add the snow peas, cashews, and scallions to the pan.

In a small dish whisk together the chicken broth, soy sauce, sherry, cornstarch, honey, garlic, sesame oil, and red pepper flakes. Pour this over the chicken and vegetables in the pan.

Place the pan in the oven and bake until the chicken is cooked through and the sauce has thickened and bubbles, about 15 to 20 minutes. Sprinkle with sesame seeds if you like.
Notes
Nutritional values are approximate and are based on 1/4 of the recipe. Refrigerate leftovers promptly and use within 4 days.
Nutrition
Calories:
296
kcal
|
Carbohydrates:
18
g
|
Protein:
30
g
|
Fat:
11
g
|
Saturated Fat:
2
g
|
Cholesterol:
73
mg
|
Sodium:
750
mg
|
Potassium:
729
mg
|
Fiber:
3
g
|
Sugar:
8
g
|
Vitamin A:
866
IU
|
Vitamin C:
44
mg
|
Calcium:
48
mg
|
Iron:
3
mg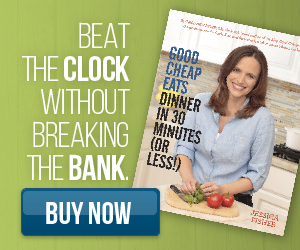 Looking for more bright ideas to get dinner on the table? My latest cookbook is here! And it's designed just for you to make dinner quickly, easily, and affordably.
You can beat the clock without breaking the bank.
And you'll eat well too.