Enjoy a homemade iced coffee all summer long with this recipe to make it cheap and easy. An easy iced coffee is just a few minutes away!
There are so many variations to jazz it up, too! From adding Homemade Peppermint Syrup to pouring it over Coffee Cubes, your homemade iced coffee will never be ho-hum. Keep a bottle of Cold Brew Concentrate on hand to make it all quick and easy!
Jump to:
I'm so old, I remember when Starbucks wasn't a household name and the Frappuccino didn't yet exist! Admittedly, I became fast friends with hot steaming mochas and the Salted Caramel Mocha Frap. Yum!
However, as prices continue to rise and my whole family decided to dial down our sugar intake, I find that making a Homemade Iced Coffee is the way to go.
Why Make This
It's got less sugar. While an iced coffee drink from the cafe is certainly convenient, making your own is a lot healthier because you can control the ingredients. Some of those commercial coffee drinks contain over 8 teaspoons of sugar!
It's more affordable. With gas prices and inflation what they are, we need to save everywhere we can. You can save a veritable bundle when you make a homemade iced coffee drinks instead of buying it in a shop.
It's delicious. If you love iced coffee, then you're going to enjoy making your own — as often as you like.
Ingredients
Here's what you'll need to make this Homemade Iced Coffee recipe: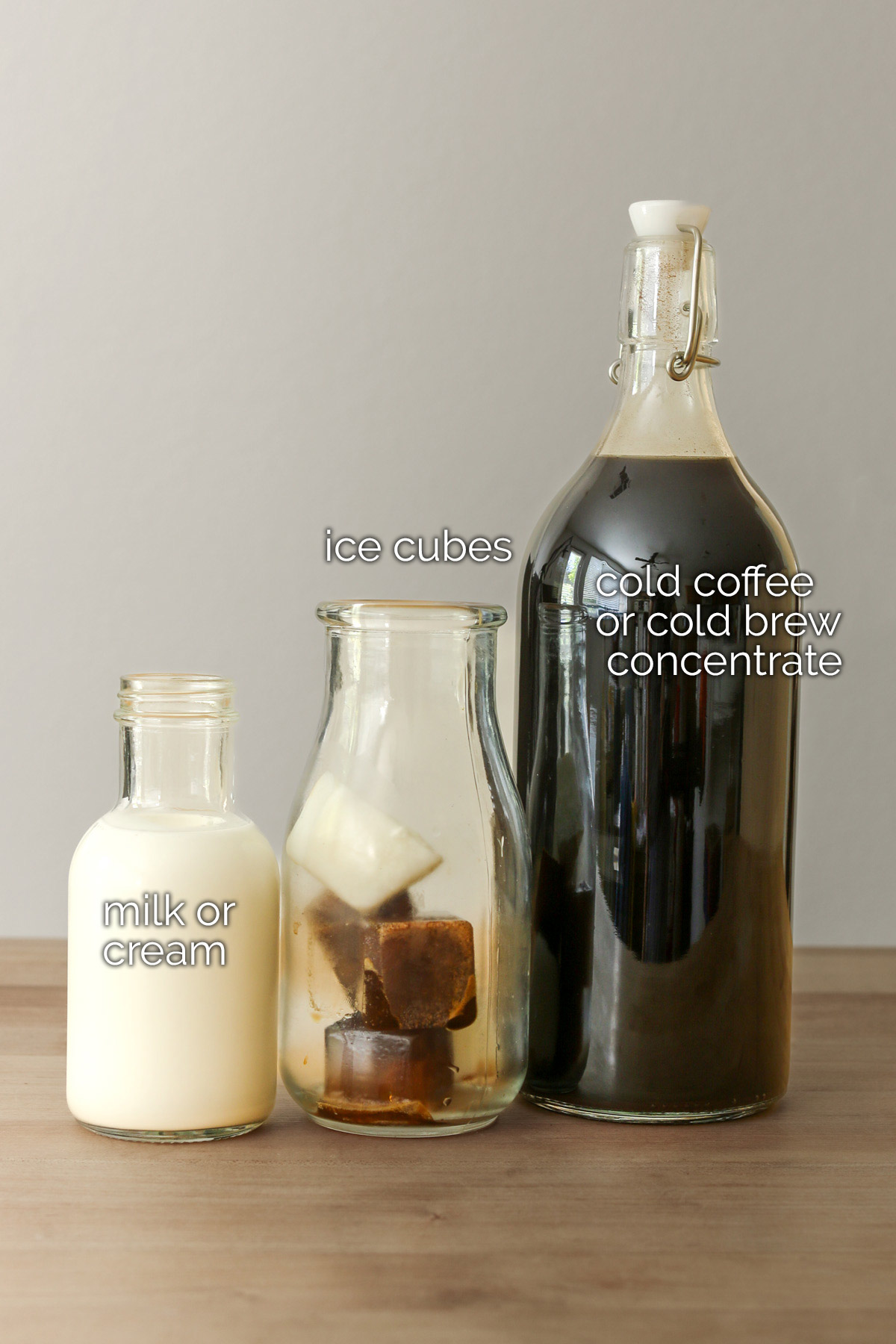 cold coffee or cold brew concentrate – You can brew your own ground coffee or cold brew concentrate or you can buy the commercial variety. Keep in mind it's easy and cheap to DIY.
ice cubes – These can be traditional ice, frozen milk cubes, or coffee cubes. Just pour the liquid of your choice into ice cube trays. It's really up to you. Adding a combo to your Homemade Iced Coffee is fun because it adds visual interest and extra flavor.
add-ins – You can make your Homemade Iced Coffee with just coffee and ice or you can ramp it up with a number of add-ins, including syrups (see the list below) as well as sweetened condensed milk, milk, cream, cinnamon, cocoa, sugar, honey, or maple syrup.
Syrups
Commercial syrups can be pricey as well as full of stuff you may not want in your drink. Reading some labels is always surprising. Blending up your own homemade syrups is super simple and offers you a great way to add flavor to cold drinks and desserts.
Check out these easy, homemade syrups for the perfect iced coffee:
Syrups should keep in the fridge for at least a week. Keep a supply on hand for all kinds of deliciousness.
Step-by-Step Instructions
Making a Homemade Iced Coffee is super easy!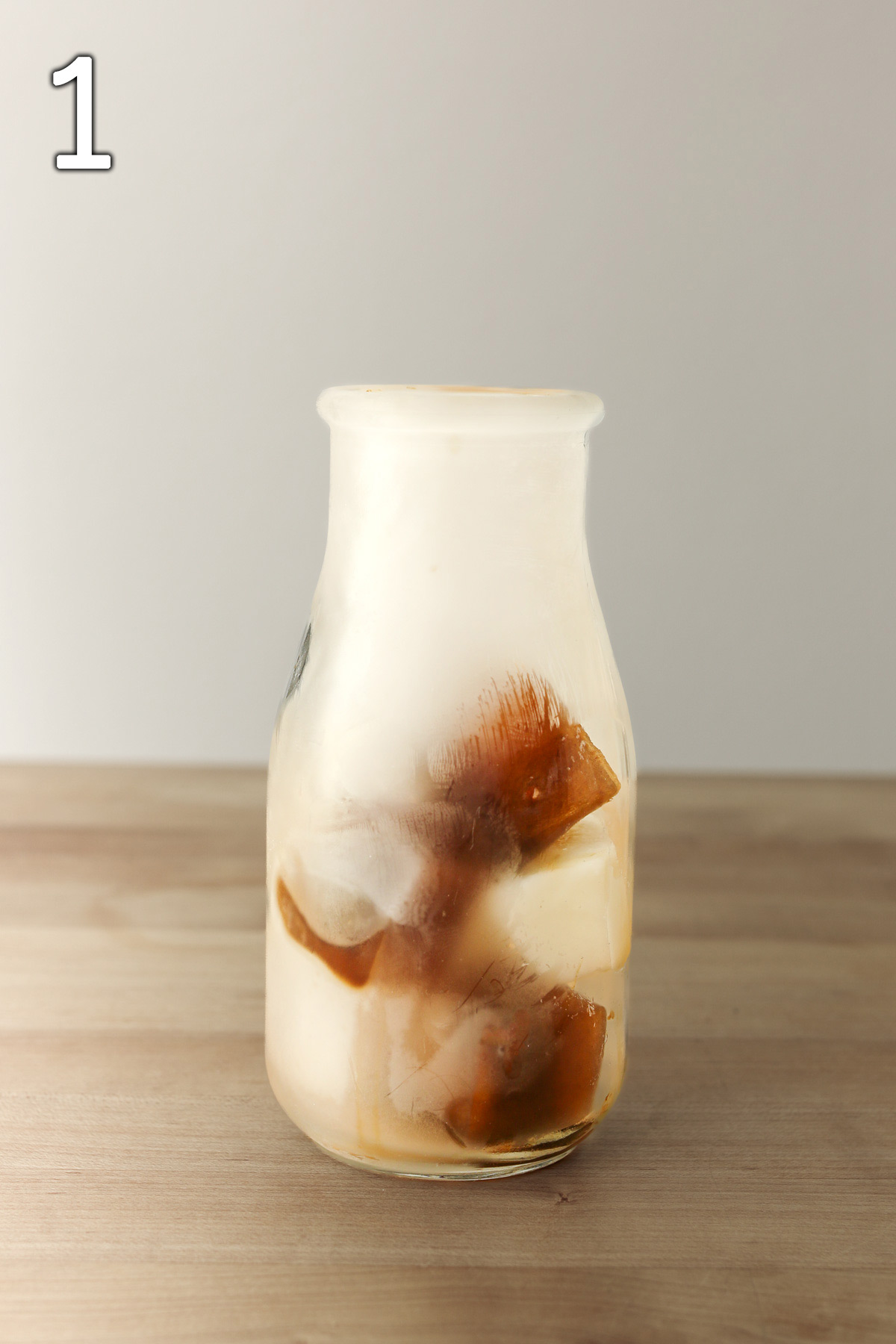 Place the ice cubes in a tall glass.
Pour in the coffee. Add milk or half and half to taste.
If desired, sweeten to taste with honey or maple syrup. Serve chilled.
Variations
You can vary your Homemade Iced Coffee in lots of different ways. Try one of the following iced coffee recipes:
Iced coffee – Serve cold coffee over coffee cubes. Add a shot of simple syrup or flavored syrup if you like.
Iced Latte – Combine cold coffee and milk to taste. Serve over coffee cubes.
Iced Coconut and Cinnamon Latte – Combine cold coffee and light canned coconut milk to taste. Serve over coffee cubes. Sprinkle with cinnamon.
Iced Mocha – Combine coffee, milk, and chocolate syrup (see recipes below) to taste. Serve over coffee cubes.
Ice-Blended Mocha – In a blender, blend cold coffee, coffee cubes, chocolate syrup , and milk to taste. Top with whipped cream, if desired.
Cold Coffee Milk – Serve cold milk over coffee cubes. You can do this with tea cubes, too.
Pretty much any barista-made coffee drink that you enjoy, you can recreate at home. With a little creativity, you can make your favorites on a daily basis without the high tab.
FAQs
Is iced coffee just coffee with ice?
Pretty much! You can vary it by adding syrups and creamers, but that's the basic. Super simple and much cheaper than buying it at the cafe.
Can I turn hot coffee into iced coffee?
You betcha. Just as you can turn hot tea into iced tea, you can do the same with coffee. Either allow it to cool and pour it over ice or brew it very strong and pour the hot coffee over a cup of ice. Some of the ice will melt and dilute the coffee, but since it's strong enough, it won't matter.
What kind of coffee do you use for iced coffee?
You can use leftover brewed coffee, cold brew coffee, instant coffee, or espresso. Just add it to ice and add your sweeteners or creamers as desired.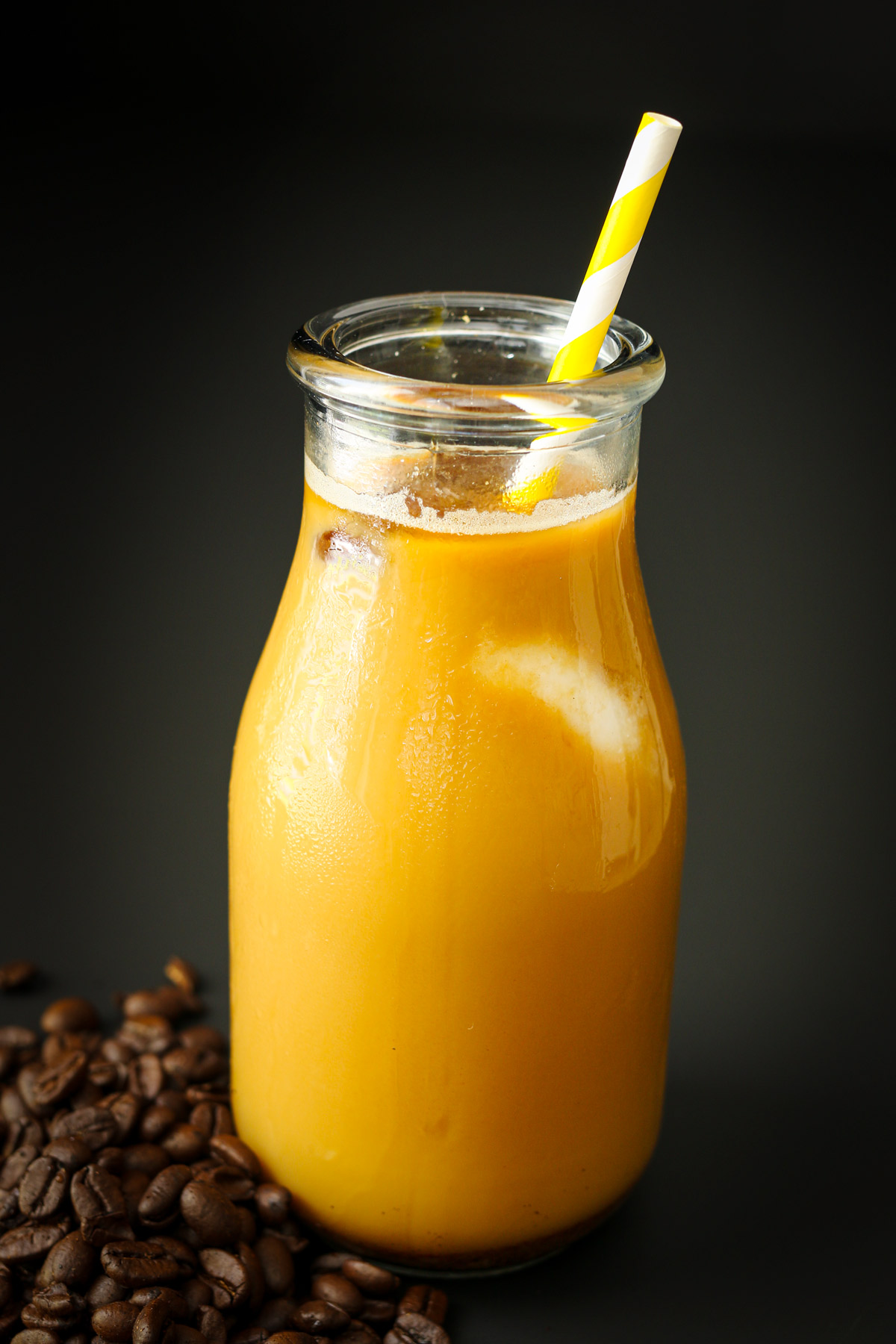 Coffee Drinks
Iced Coffee
Save some change and prep your own iced coffee at home with this easy iced coffee recipe. Enhance it with milk and coffee ice cubes.
Ingredients
ice cubes

for serving

½

cup

cold brew concentrate

or strongly brewed coffee or espresso, cooled

milk or half and half

to taste
Instructions
Place the ice cubes in a tall glass.

Pour in the coffee. Add milk or half and half to taste.

If desired, sweeten to taste with honey or maple syrup.
Notes
Nutritional information is approximate and will vary depending on the milk and type of chocolate syrup you use.
If you ever have leftover coffee, freeze it in ice cube trays to use in cold coffee drinks. Likewise, you can make ice cubes from milk or half and half as well.
Variations: For other flavored coffee drinks, add your favorite syrups, such as vanilla, caramel, or peppermint.
Take your drink over the top with some whipped cream or sweet cream cold foam.
What coffee to use? You can use espresso, strong brewed coffee, cold brew coffee, or instant coffee.
Nutrition
Calories:
74
kcal
|
Carbohydrates:
6
g
|
Protein:
4
g
|
Fat:
4
g
|
Saturated Fat:
2
g
|
Polyunsaturated Fat:
1
g
|
Monounsaturated Fat:
1
g
|
Cholesterol:
15
mg
|
Sodium:
49
mg
|
Potassium:
241
mg
|
Sugar:
6
g
|
Vitamin A:
198
IU
|
Calcium:
152
mg
|
Iron:
1
mg
This post was originally published on June 13, 2015. It has been updated for content and clarity.