Enjoy this filling, yet easy and refreshing bean salad this summer.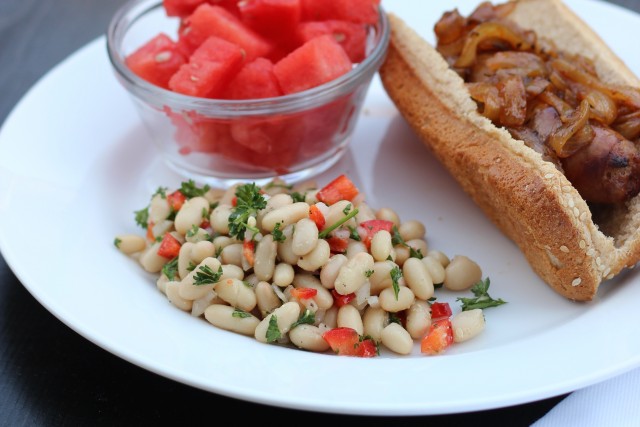 Bean salads are a perfect addition to summer suppers. Not only are they typically served chilled or at room temperature helping you avoid a hot kitchen, but they are super filling so that you know folks won't be hungry ten minutes after supper's concluded.
My husband loves this salad. I made it earlier this week and he enjoyed it as an afternoon snack as well as with dinner. Many of you have been asking about the recipe since I posted a picture of it alongside our Drunken Brats and Caramelized Onions.
This salad can be made with cannellini or great northern beans. If you buy them canned, you'll have a super quick fix ready to go.
White beans are delicate, so be sure to stir gently. This side dish is simple, yet packed with flavor and fiber. It's also a great make-ahead if you've got more time in the morning than you do at suppertime.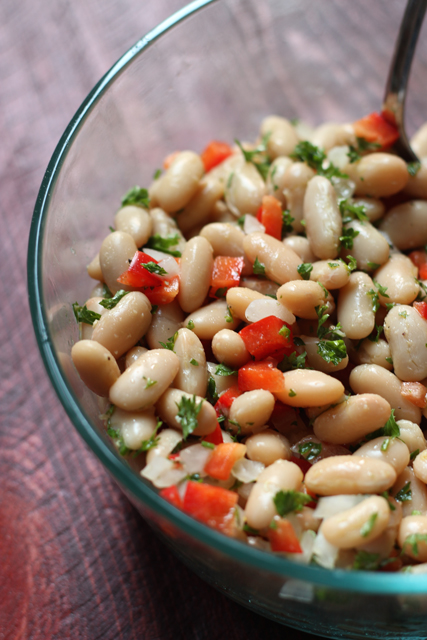 Looking for more bright ideas to get dinner on the table? My latest cookbook is here! And it's designed just for you to make dinner quickly, easily, and affordably.
You can beat the clock without breaking the bank. And you'll eat well too.
Recipe: White Bean Salad
Ingredients
2 (15-ounce) cans cannellini beans, rinsed and drained
1/2 cup finely chopped red bell pepper
1/3 cup chopped fresh parsley
1/4 cup finely chopped sweet onion (such as Vidalia)
2 tablespoons white wine vinegar
1 teaspoon minced garlic
Fine sea salt and freshly ground black pepper to taste
2 tablespoons olive oil
Instructions
Place the beans, pepper, parsley, and onion in a large salad bowl.
In a small jar or bowl, place the vinegar, garlic, salt, and pepper. Cap the jar and shake, or whisk to combine. Add the oil, and shake or whisk again.
Toss the salad with the dressing, folding gently so as not to break up the beans. Adjust the seasonings and serve.
Make-ahead: The salad can be made in advance and stored in the refrigerator for up to 2 days.
Preparation time: 5 minute(s)
Number of servings (yield): 4