Roasted Red Peppers are superb summertime fare. They go great on salads, in sandwiches, and atop baguette with oil and herbs.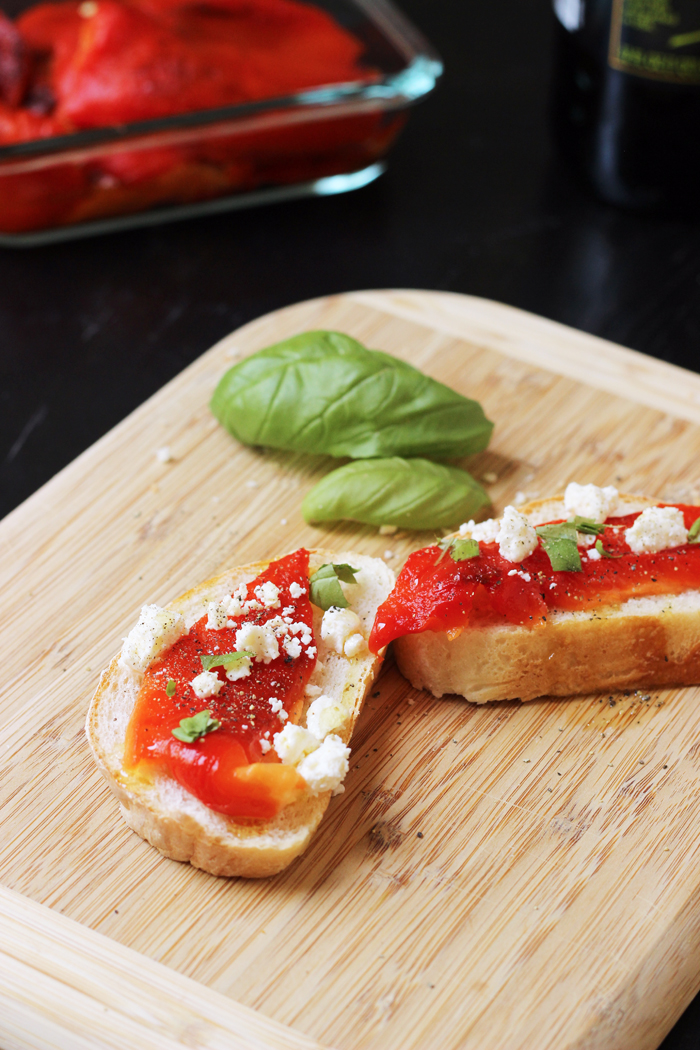 This month I've been spending a lot of time reading. Our homeschool schedule has downshifted to the kids doing some math and reading independently which means my time has freed up dramatically. Since there's no cookbook deadline putting pressure on me, I've been reading. Reading, reading, reading. At last count, I've read thirteen books in June, with plans to have completed at least 15. That might be the full number I read in all of 2015.
Anyway, with all the political nonsense going on in the world, I've wanted some distractions as well as written words to focus on that might actually make me a better person instead of make me mad.
Don't get me wrong, there have been a decent dose of "beach reads"; not everything I'm reading is of the self-improvement variety, but even with those, I'm trying to glean bits and pieces to make me a better wife, a better mom, even a better cook.
I read this book and it rejuvenated my love of baking. So much so that I baked baguette last weekend — and downloaded the sequel onto my kindle.
(By the way,
Then I snatched Lizzy and Jane for cheap on Amazon, and it renewed my enjoyment of being in the kitchen. While Reay's spice vocabulary seems a little over the top, the novel still got me excited about food and the foods I used to make all the time.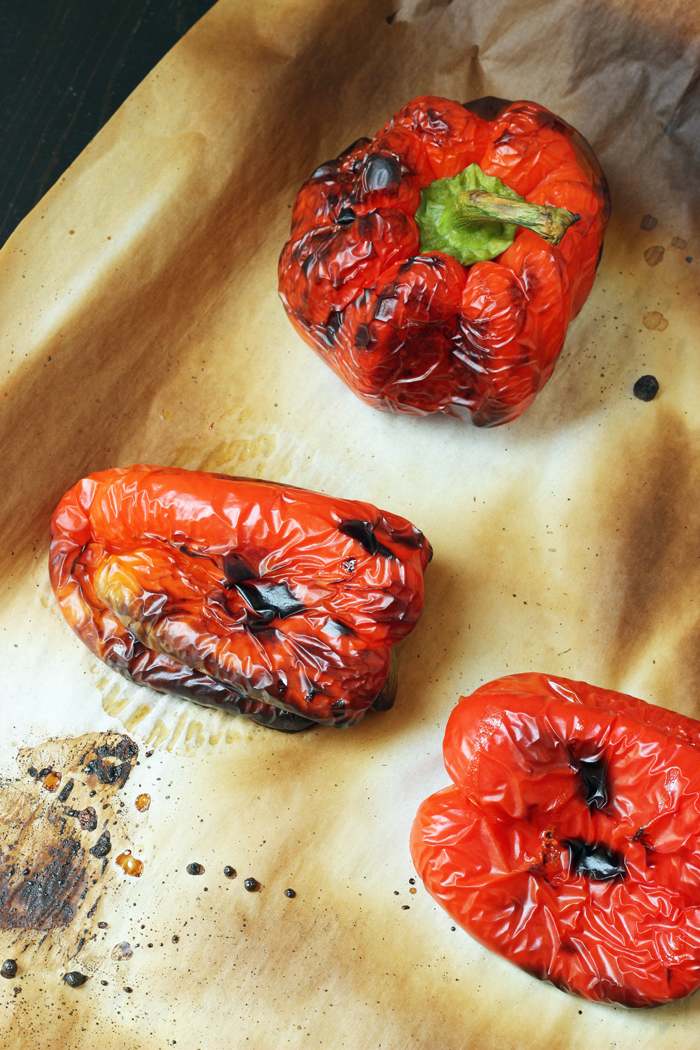 Roasted Red Peppers are one of those things that I used to make all the time. Whether in the oven, on the stovetop burner, or on the backyard grill, I love to roast red peppers (and spicy chiles, too) until their skins are black and blistery. Steam them for a bit and then peel off the skins. What's left is soft and juicy and flavorful.
Roasted Red Peppers taste delicious layered in sandwiches, stirred into pasta dishes, or simply served on baguette with some cheese and herbs.
Currently, bell peppers have been on super sale in my neck of the woods, as low as 88 cents a piece. That makes them excellent candidates for roasting. The process is so simple and requires very little from you, you will want to keep a dish of these sweet babies on hand all summer long.
Tools I use to make it EASY:
Note: I did use parchment paper for this recent batch, but have since learned that some parchment manufacturers advise NOT to use the product in the broiler. So, let's go with aluminum foil, shall we? 😉
Roasted Red Peppers
Roasted Red Peppers are superb summertime fare. They go great on salads, in sandwiches, and all kinds of cool summer recipes.
Instructions
Preheat the broiler. Line a baking sheet with aluminum foil or parchment paper. This makes it easier to clean the pan. Wash the peppers and place them on the prepared baking sheet and broil until black and blistered, about five to ten minutes. Alternatively, you can blister the peppers on an open flame, either on the stovetop or on a BBQ.

Turn the peppers with cooking tongs and continue broiling and turning until the skins on all sides are blackened. Remove from the oven and wrap in the aluminum foil or place in a plastic bag to steam them.

After about ten minutes, the peppers should be cool enough to handle. Remove the skins. Core the peppers and remove the seeds and membrane. Slice the peppers into strips. Serve warm or at room temperature or chill until ready to use.
Notes
You can also marinate the peppers in olive oil and spices. Freeze the peppers to use at a later date.
Nutrition
Calories:
37
kcal
|
Carbohydrates:
7
g
|
Protein:
1
g
|
Fat:
1
g
|
Saturated Fat:
1
g
|
Sodium:
5
mg
|
Potassium:
251
mg
|
Fiber:
3
g
|
Sugar:
5
g
|
Vitamin A:
3726
IU
|
Vitamin C:
152
mg
|
Iron:
1
mg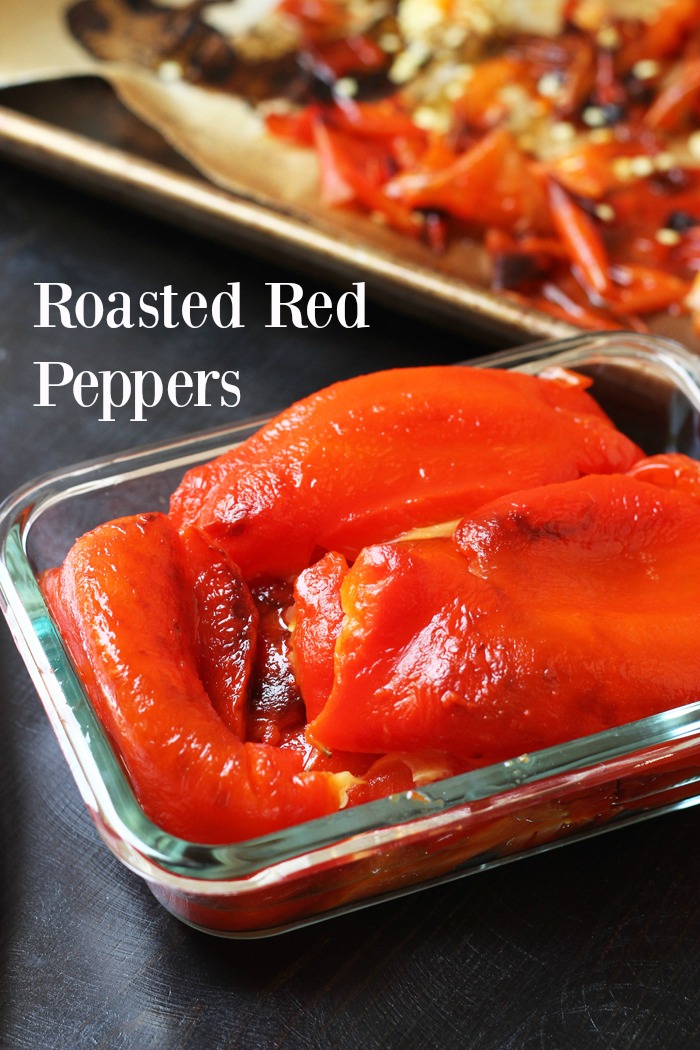 Are you looking for more good cheap eats?