Enjoy eating in the great outdoors with this easy, make-ahead picnic sandwich. Meatless and packed with lots of fresh veggies, it'll do your summer good.
This summer has turned me a little nostalgic for old favorite recipes. I dig out old notebooks, marveling at my twenty-something handwriting as well as remembering my naivete at that season of life.
A newlywed looking for a teaching job, I had a lot of leisure time to fuss in the kitchen. Not a lot of money, but a lot of time on my hands. That first summer out of grad school was a little nerve-wracking. I didn't find a job until three days after school had started. I spent my summer cleaning and cooking because I needed to do something with that nervous energy.
One of my favorite meals to make was this picnic sandwich. Meatless and packed with veggies, it was easy on our meager budget. Bigger than a footlong sub from the sandwich shop, it also fed a crowd easily. While my summer plans didn't go exactly as I expected them, I'm thankful that I have this picnic sandwich as a result of that crazy summer.
I am no longer desperate for a teaching job, but I still love budget-friendly recipes that feed a crowd. The Picnic Sandwich fills the bill to a T.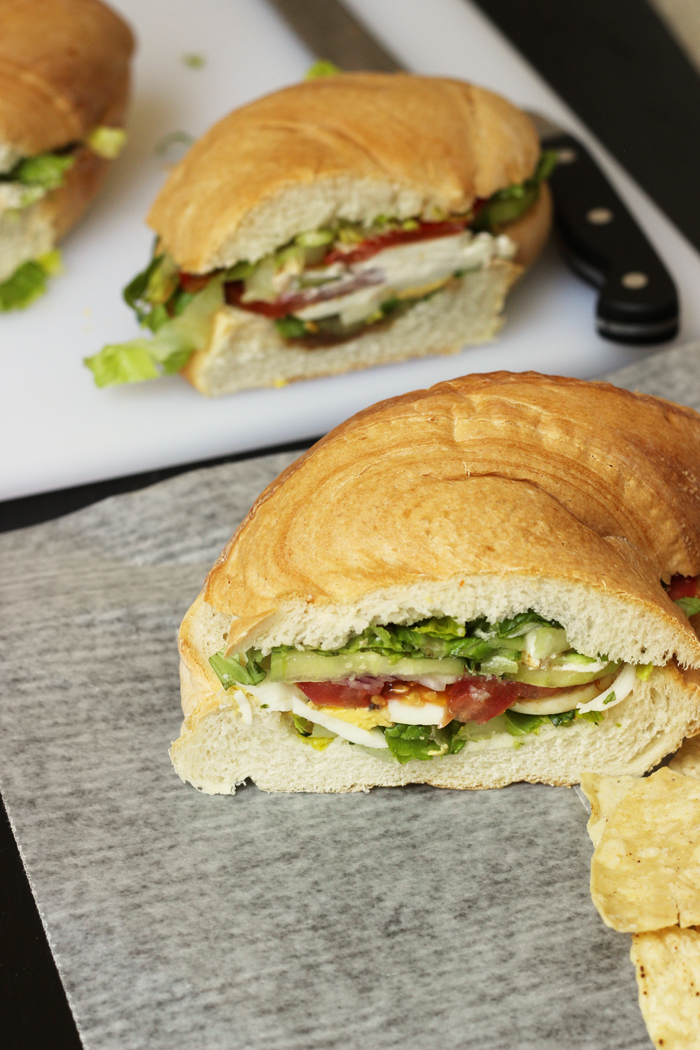 Having one of these babies (or maybe two!) in the fridge is the perfect solution to the perpetual "hunger" that teen boys face. It's really quite convenient for them to grab and go; then they don't make a mess of my kitchen!
The Picnic Sandwich starts with a large loaf of fluffy "French" bread from the grocery store. No, this is not anything like traditional French bread, but that's okay. You actually want the fluffy, Americanized kind. Plus, those loaves are cheap, often less than a buck each.
Layer on the veggies with some added protein of hard-cooked eggs and creamy goat cheese. Drizzle a simple balsamic vinaigrette and wrap it all up. If you layer your ingredients right, the flavors will meld well without making the bread soggy. I made this recent batch with next-day bread so I knew it would hold up better. If you like, you could lightly toast the split loaf so that it can hold up a little longer.
Got extra eggs? Check out our Recipes to Use Hard Boiled Eggs.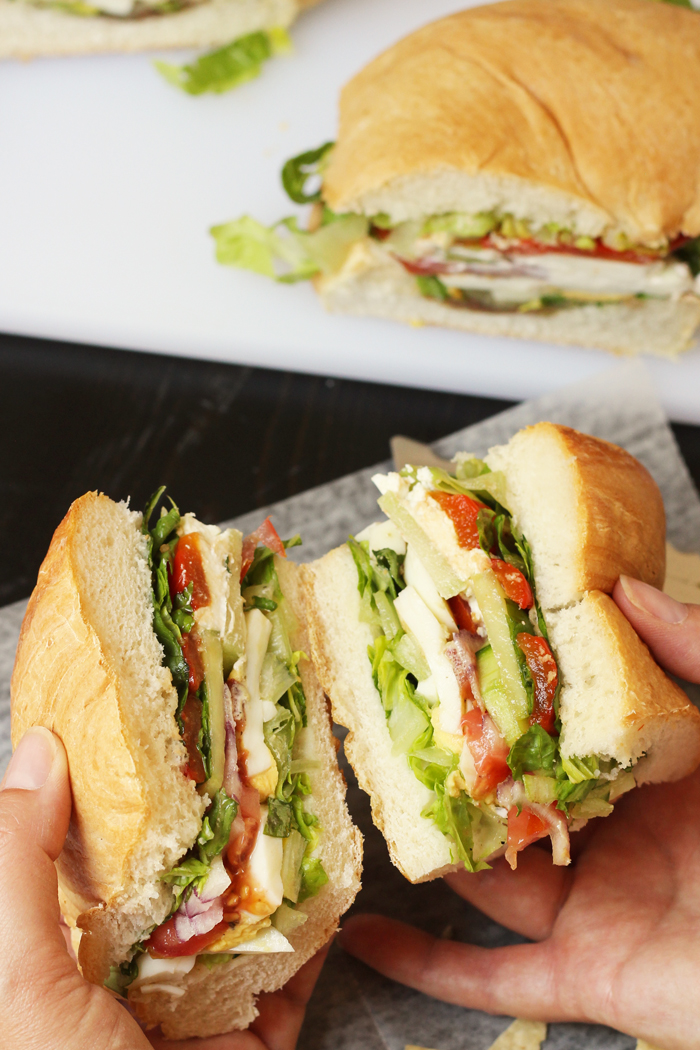 You can vary the vegetables if you like, but this is my 20+ year traditional combination: lettuce, sliced tomatoes, sliced red onion, sliced cucumbers, fresh basil leaves, and Roasted Red Peppers. For some reason these flavors really work for me, and I wouldn't want to vary them. And the goat cheese and balsamic are non-negotiables as well.
If you haven't tried goat cheese, don't be put off. It's similar in flavor to a rich cream cheese, but with a different, crumblier texture. My kids raised their eyebrows when I first made them this sandwich, but I made believers out of them. Try it, you'll like it! Be sure to make a Goat Cheese Pizza with the leftovers.
Remember you can freeze goat cheese for another time, too!
To make serving easier for the out of doors, you can make individual sandwiches with rolls, but you'll impress your people if you make one giant picnic sandwich. Trust me. I won over my 12-year old with a ginormous sandwich.
Picnic Sandwich
Enjoy eating in the great outdoors with this easy, make-ahead picnic sandwich. Meatless and packed with lots of fresh veggies, it'll do your summer good.
Ingredients
1

large French loaf

2

cup

shredded lettuce

3

eggs (hard-cooked)

sliced

1

tablespoon

balsamic vinegar

1

tablespoon

olive oil

1

clove

garlic

chopped

salt

black pepper

2

tomato

sliced

½

red onion

thinly sliced

8

leaves

fresh basil

2

oz

goat cheese crumbles

(½ cup)

1

roasted red bell peppers from a jar

cut into strips
Instructions
Split the French loaf lengthwise and remove a small amount of the bread in the center to create a shell. Discard the insides or use for another purpose.

Layer half of the lettuce on the bottom half of the loaf. Layer egg slices over the lettuce.

In a small dish, combine the balsamic, olive oil, and garlic. Stir to combine. Drizzle half the dressing over the egg/lettuce layers. Season to taste with salt and pepper.

Add a layer of tomatoes, a layer of onions, a layer of basil leaves. Distribute the cheese crumbles over the basil. Top with a layer of red pepper.

Drizzle the rest of the dressing over all and top with a layer of lettuce. Place the top half of the bread on top and press down. Wrap the sandwich tightly in plastic wrap, and refrigerate for about an hour. Slice and serve.
Notes
You can substitute rolls for the french bread if needed.
Nutrition
Calories:
437
kcal
|
Carbohydrates:
61
g
|
Protein:
20
g
|
Fat:
13
g
|
Saturated Fat:
4
g
|
Cholesterol:
146
mg
|
Sodium:
746
mg
|
Potassium:
385
mg
|
Fiber:
4
g
|
Sugar:
6
g
|
Vitamin A:
1083
IU
|
Vitamin C:
14
mg
|
Calcium:
99
mg
|
Iron:
5
mg
Tried this Recipe? Tell us what you think!
Your reviews help us develop better recipes and give newcomers the confidence to try your favorites. Scroll down to leave a starred comment.