Layer buttery avocado with salsa ingredients on toasted bread for a sandwich that's light, yet packed with flavor. It's perfect for Meatless Monday.
Years ago in France I had lunch at my friends Julie and Jean-Phillipe's home. Julie served a halved avocado filled with vinaigrette for the first course. Yum! I thought, but I felt guilty the whole time. Now, I know I can eat them guilt-free.
Ever since I learned that avocados were good for you, I've been over the moon with happiness putting it in the cart. If I find them on sale, all the more so. I toss them into salads, fold them into burritos, and smash them on toast.
Our local Sprouts sells giant avocados for $2. That seems expensive until you see the size of them. They're huge! I've also found them to be better quality than the smaller, bargain variety that typically has strings in it.
I made this sandwich one day when we had leftovers from taco night. Then I made it again just because. FishChick7 snagged a bite one day and was hooked. Then each time I made it, she hovered like a sad puppy until I gave her a bite. Last week I taught her how to make it herself — and her sister started begging her for some.
Clearly, we need to start making this sandwich in bulk!
If you've got the hankering for something meatless, light, and full of flavor, this baby is the one. I've made it with and without cheddar added. It's delicious both ways.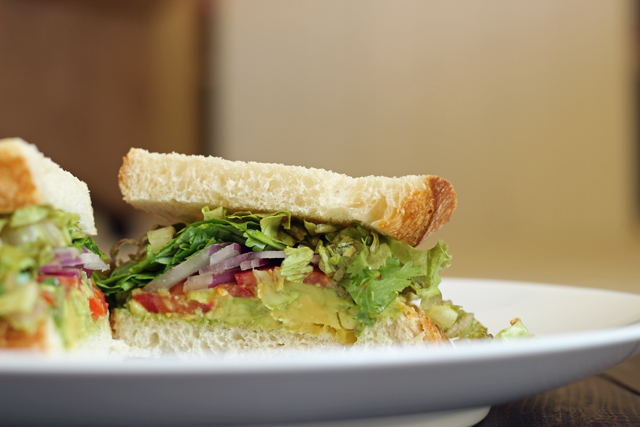 Avocado Salsa Sandwich
Ingredients
8

slices

sourdough bread

2

avocado

pinch

salt

1

red onion

sliced

1

tomato

sliced

1/4

bunch

fresh cilantro (chopped)

shredded lettuce
Instructions
Lightly toast the bread slices. Cool completely.

Mash the avocado on one slice of bread. Season with salt. Layer with the onion, tomato, cilantro, and lettuce. Top with the second slice of toast.

Serve immediately.
Notes
Nutritional values are approximate and are based on 1/4 of the recipe. Refrigerate leftovers promptly and use within 4 days.
Nutrition
Calories:
547
kcal
|
Carbohydrates:
85
g
|
Protein:
18
g
|
Fat:
17
g
|
Saturated Fat:
3
g
|
Sodium:
666
mg
|
Potassium:
764
mg
|
Fiber:
11
g
|
Sugar:
6
g
|
Vitamin A:
403
IU
|
Vitamin C:
17
mg
|
Calcium:
78
mg
|
Iron:
5
mg