This rustic basil sauce is made with just 3 simple ingredients and comes together quickly in your food processor.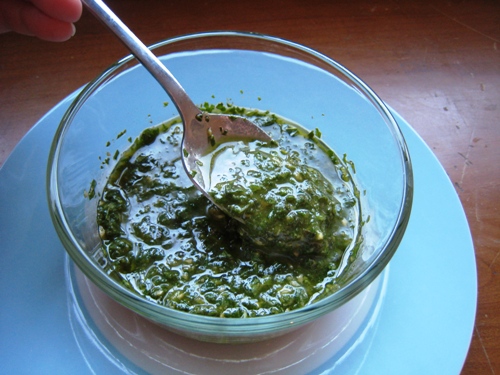 Fresh basil is the only herb that I ever grew successfully. This was years ago when we owned 2 acres in the middle of CA. Don't be too impressed. Lots of areas of CA are not the fancy beachfront oasis that you see in the movies. It was mostly 2 acres of weeds, flat, and hot. But, I loved that house. And I loved, loved, LOVED the garden that hubs carved out for me.
I learned gardening in the wake of my first miscarriage. It was January, a typical planting time for many vegetables during that season. And as I walked through the emotional turmoil of losing a baby, I learned to garden. I distinctly remember digging in a misty rain angry at God and the world.
And yet, He took that pain and taught me a lot. One of the not-so-deep things I learned during that time was how to grow fruits and vegetables.
It's been years since I've had a backyard garden. And that is the one thing I pine for. Yes, I know we could do containers. (Tried it twice and failed, though.) I know we could plant in small spaces. But, that is a lot of work and, for this season of life, it doesn't sound easy. Maybe I'm getting lazy in my old age?
So, I am quite contented, happy, actually to pick up a box of organic produce once a week from Abundant Harvest Organics. I don't get to "choose", of course, like I would if I was doing the planting myself, but it's proving to be a fun adventure.
One thing that we have had in abundance so far is basil. Now, I've used fresh basil a lot in the past, but it was always in my garden where I could pick it fresh whenever I wanted it. Buying it in little plastic boxes at the store has never been cost effective, so I've never stored basil.
When we started getting this large bouquets of basil in our produce boxes, I thought I could store it like I store cilantro. Major fail. It turned black. Google and I had a meeting and I learned that basil is very sensitive to cold, so it should be stored in a glass of water on the counter. Again, major fail. It got very wilty. So, until I find a sure-fire storage method for basil, I'm just dealing with it right away.
Most of you would say, "Make pesto." And I hear you. I love pesto, and it freezes well, making it a perfect fit. It also takes a lot of nuts and cheese. My youngest daughter is allergic to nuts so that poses a little problem. Yes, I could still make it. But, I like to be able to relax about food. If there's something she can't eat, I don't really want it around.
At first I turned to pistou. It's a French version of pesto, typically similar ingredients, without the nuts. But, that involves grating cheese. And sometimes I'm just too lazy to bust out the parm and the microplane.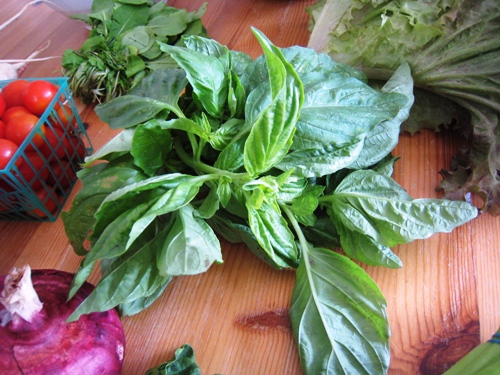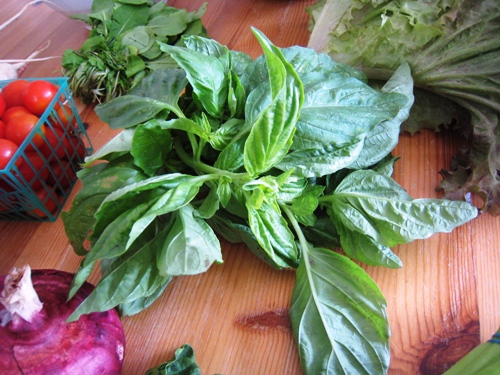 What ingredients do you need to make this easy basil sauce?
So, I've discovered this, easy as pie, basil sauce. It's basically
fresh basil
olive oil
garlic
It blends together well in the food processor. The olive oil works to protect the beautiful green of the herb. And the garlic gives it a little punch.
What do I serve this basil sauce with?
Use it as you would pesto: to sauce pasta and pasta salads like this pesto pasta salad, on pizzas, drizzled over soup, or in appetizers like a pesto bruschetta. I've even mixed it into salad dressings to add a little extra flavor.
This sauce is a tasty way to make use of an abundance of basil — and still be a little lazy.
Rustic Basil Sauce
This rustic basil sauce is made with just 3 simple ingredients and comes together quickly in your food processor. 
Ingredients
1

bunch

fresh basil

stems removed, rinsed

2

clove

garlic

1/4

cup

olive oil
Instructions
In a food processor bowl fitted with a metal blade, place the basil leaves and garlic cloves. Pulse until both are coarsely chopped. Add enough olive oil until your desired sauce consistency is achieved.

To store: Cover the surface of the sauce with a thin layer of oil oil. Store the sauce in an airtight container in the refrigerator or in the freezer. Stir to recombine the ingredients prior to use.
Notes
Promptly store leftovers in an airtight container in the refrigerator, for up to 3 days.
Nutritional values are approximate and based on 1/8 the recipe.
Nutrition
Calories:
61
kcal
|
Carbohydrates:
1
g
|
Protein:
1
g
|
Fat:
7
g
|
Saturated Fat:
1
g
|
Sodium:
1
mg
|
Potassium:
6
mg
|
Fiber:
1
g
|
Sugar:
1
g
|
Vitamin A:
53
IU
|
Vitamin C:
1
mg
|
Calcium:
3
mg
|
Iron:
1
mg