Enjoy fresh-baked sub rolls, enriched with white whole wheat flour. Better than a five-dollar footlong.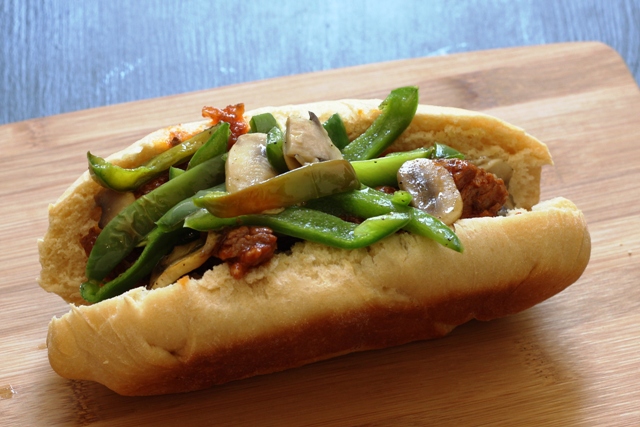 On the record: I love the five dollar footlong. I love the Capriotti's Cheesesteak Sandwich with Provolone. I love all sub sandwiches in general.
But, to feed my family such tasty fare, costs about $20 at the minimum. Capriotti's would put us back even more. Making it at home is a much better deal. And baking the rolls myself? Well, that takes the experience over the top.
I'll confess, one thing that helps me do that is my bread machine. It's like the slow cooker for bakers. You get it started and you walk away. The mess is confined to a small box, except for the shaping of the rolls. They rise for a little bit and in the oven they go. Easy peasy.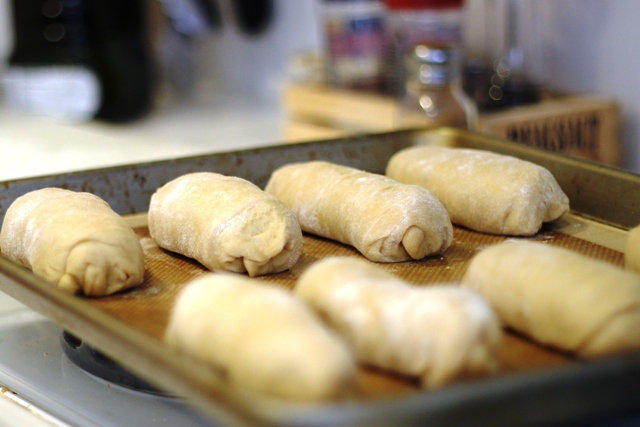 Making sub rolls yourself
Like I said, making the rolls is not difficult, especially if you have a bread machine. Don't worry if you don't, you can make the dough by hand.
This recipe is an adaptation of one from Beth Hensperger's awesome cookbook, The Bread-Lover's Bread Machine Cookbook (affiliate link).
The ingredients contain nothing exotic, but I've included the addition of white whole wheat. I find this flour quite easily and cheaply at Walmart and Ralphs. It's a whole grain with a lighter texture and color than regular wheat flour.While I don't always use the vital wheat gluten, it does help the texture of the bread. I've bought it at Sprouts and Walmart in the past.
Making them cheaper
I can buy white flour sub rolls from Walmart or Sprouts for $0.50 a piece.
Here's my price break-down for these rolls:
milk $0.30
egg $0.20
oil $0.35
flours $1.00
allowance for leavening $0.25
Total for a batch of 8 rolls is $2.10, which is about $0.27 each, making homemade about half the price of storebought. The purchased rolls don't have as good ingredients as mine do, so I win. 🙂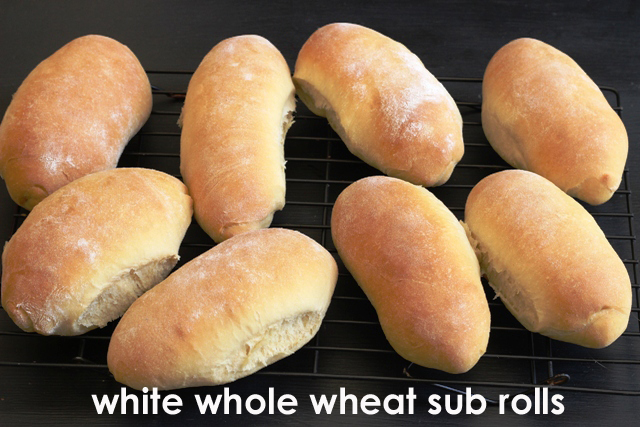 Homemade White Whole Wheat Sub Rolls
Ingredients
1 1/4

cup

milk

1

egg

1/3

cup

olive oil

3

tbsp

granulated sugar

2

cup

white whole wheat flour

2

cup

unbleached, all-purpose flour

1

tbsp

vital wheat gluten

2

tsp

salt

1

tbsp

active dry yeast
Instructions
Combine the milk, egg, oil, sugar, flours, vital wheat gluten, salt, and yeast in the pan of your bread machine according to the manufacturer's directions. Set on the dough cycle and start the machine.

(If making the dough by hand: Place the milk, oil, and sugar in a medium saucepan and warm slightly. Transfer the mixture to a large bowl and add the yeast. Stir and allow the yeast to proof for 5 minutes. Add the egg, flours, vital wheat gluten, and the salt. Stir to combine well. Turn the mixture onto a lightly floured surface and knead. Continue kneading for 5 minutes to create a smooth, elastic dough, adding more of the all-purpose flour as necessary. Transfer to a greased bowl and turn the dough ball to coat. Allow to rise until doubled in bulk, about 1 hour.)

Line a large baking sheet with parchment paper or a silicone baking mat. When the machine beeps or the dough has doubled in bulk, remove the dough from the pan and divide it into eight equal parts. Form each part into a long, thin oval and place equidistance apart on the prepared baking sheet.

Preheat the oven to 350ºF.

Allow the rolls to rise for 20 minutes or longer, until doubled in bulk.

Bake the rolls for 15 to 20 minutes until golden brown. Cool on a rack before serving.
Notes
Nutritional values are approximate and are based on making 8 rolls from the recipe. Use within 4 days.
Nutrition
Calories:
347
kcal
|
Carbohydrates:
50
g
|
Protein:
11
g
|
Fat:
12
g
|
Saturated Fat:
2
g
|
Cholesterol:
24
mg
|
Sodium:
607
mg
|
Potassium:
127
mg
|
Fiber:
4
g
|
Sugar:
7
g
|
Vitamin A:
91
IU
|
Calcium:
72
mg
|
Iron:
1
mg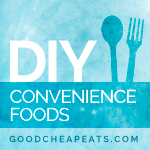 This is part of the DIY Convenience Foods series.
Don't want to miss a post in this series? Subscribe to 31 Days of DIY Convenience food here. Get updates via email here.