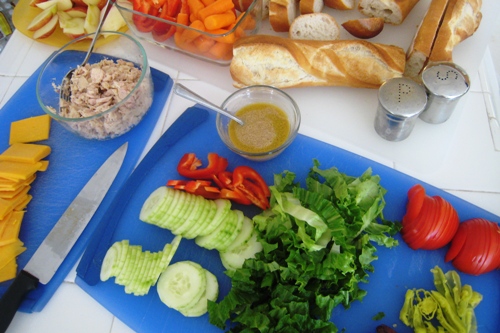 Menu:
Italian Sub Sandwiches
Potato Salad
Grapes (After washing, cut them into serving size clusters.)
Triple Chocolate Brownie Sundaes
Recipe: Italian Sub Sandwiches
Summary: I learned to make these in college when I worked for the University Center catering company. They are really yummy!
Ingredients
For each sandwich, you'll need:
One long, Italian roll
Herb Mayo: 1/2 cup mayonnaise mixed with ½ Tablespoon dried basil, 1 teaspoon dried oregano, and 1 clove minced garlic
2 slices ham
4 slices salami
2 slices provolone cheese
sliced tomato
sliced red onion
shredded lettuce
pepperoncini
Instructions
Slice the Italian roll lengthwise, but not completely through. Spread 1-2 Tablespoons of herbed mayo on Italian roll.
Layer ham, salami, cheese, tomato, red onion and shredded lettuce. Close sandwich tightly.
Wrap securely in saran wrap. Chill until serving. Serve with pepperoncini.
Number of servings (yield): 1
Recipe: Triple-Chocolate Brownie Sundaes
Ingredients
one pan brownies, baked according to package directions (Feel free to throw some chocolate chips into the batter prior to baking)
Chocolate ice cream
Chocolate syrup or hot fudge sauce, warmed
Whipped cream (If you want to gild the lily, make it chocolate whipped cream!)
Chopped nuts
Maraschino cherries
Instructions
For each person, place a brownie in a bowl.
Top with ice cream, sauce, whipped cream, nuts and a cherry.