The classic Italian Sub is an easy and affordable sandwich to make yourself. You'll enjoy a great lunch at a price that can't be beat!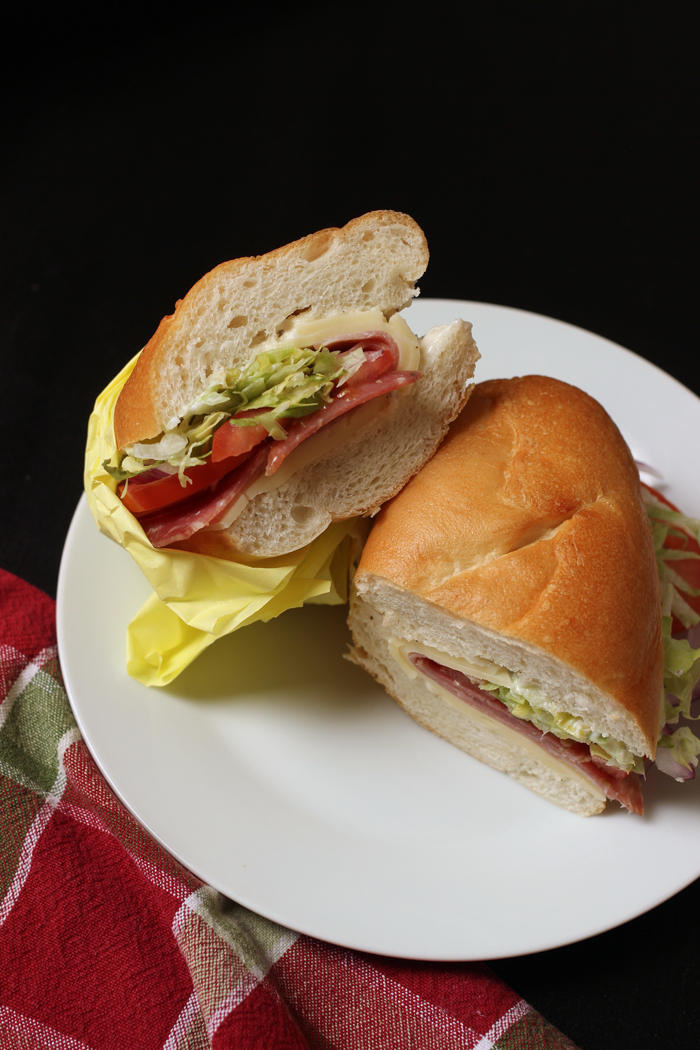 There are sandwiches. And then there are sandwiches.
The former are those slap together, boring things, bread and meat, and maybe some cheese, that serve their purposes just fine, but aren't all that interesting.
The latter, the sandwiches, are something else. There's still that bread and meat and bit of cheese, but there are veggies and strong flavors like pesto or pepperoncini or herbed mayo.
These sandwiches are what make lunchtime interesting. They have you eager to brown bag it. They make your mouth water just thinking about them.
These Italian Sub Sandwiches are those kind of sandwiches.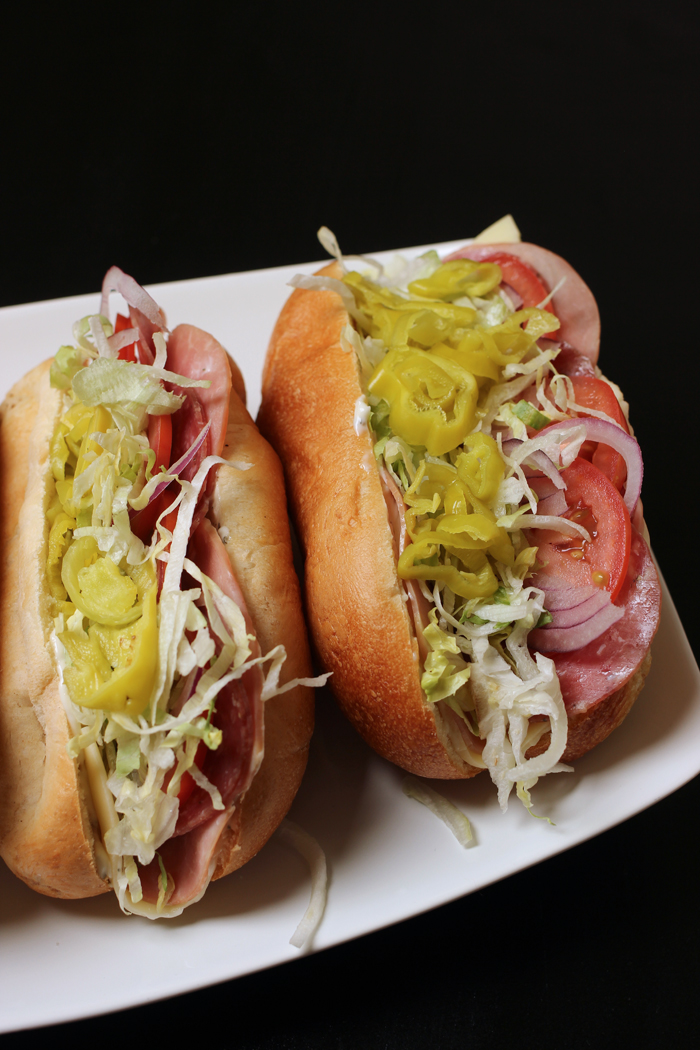 Let's roll back the clock to a time when I made hundreds of these sandwiches every day. True story.
I was a freshman at the University of California at Santa Barbara, back in the day before Starbucks, before Panda Express, before rampant fast food on college campuses. I like to call them the good ole' days.
Back then, the university ran its own food service, including a catering company, a deli, a coffee shop, and numerous shops around campus that sold freshly made salads and sandwiches. My first college job was in The Pantry where said sandwiches and salads were prepared.
That's where I learned to make these Italian Sub Sandwiches which have become a strong family favorite. In fact, my husband once said these were his favorite sandwiches in the whole wide world.
I admit, they are that good.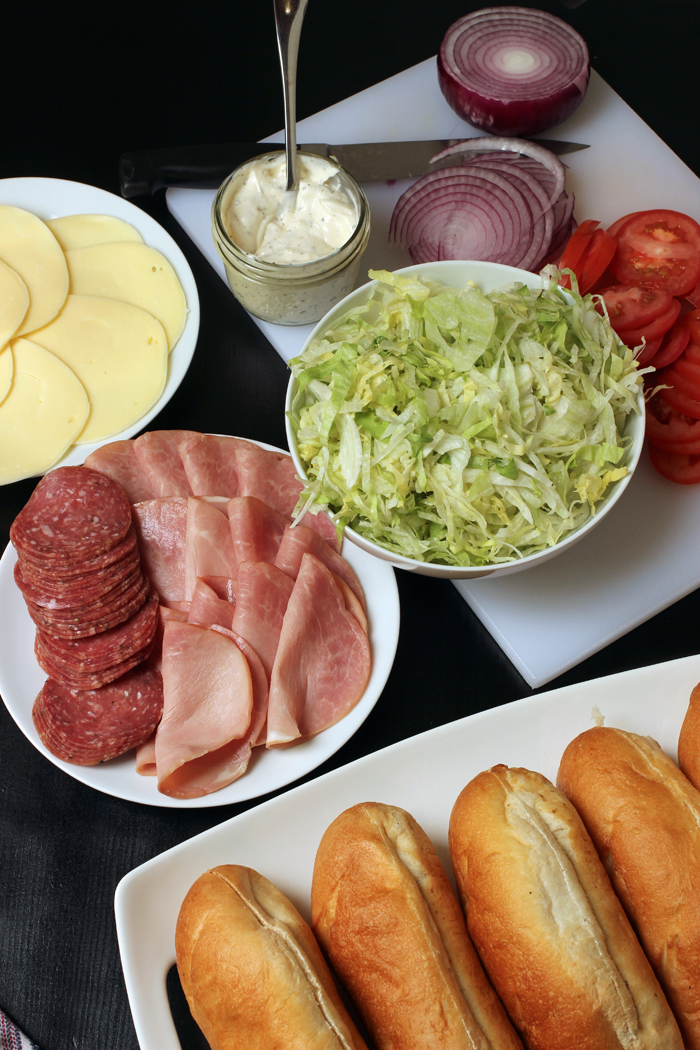 What's in an Italian Sub Sandwich?
The ingredients in an Italian Sub are pretty straightforward: sub or grinder roll, sliced provolone, sliced ham and salami, shredded lettuce, sliced tomatoes, sliced onion, pepperoncini.
I once got in a heated debate with a cookbook editor who claimed that mayonnaise had no place on a sub. Italian dressing was de rigueur.
I beg to differ. While vinaigrette is a fantastic addition to an Italian sub, herbed mayonnaise takes this sandwich over the top. Choose the one you prefer or don't. You can do as my husband does and add both.
Can sandwiches be made the day before?
These Italian Sub sandwiches are perfect for packing to school, work, picnics, or road trips.
When I made hundreds of these sandwiches every day, we prepared them at 6 in the morning and they were served until closing time that night. The mayonnaise is needed to keep the sandwich from being dry, but it will make the sandwich soggy if prepped too far in advance.
If you're going to make these sandwiches a day in advance, I'd leave off the mayo and add it before serving.
Prepare the sandwiches, wrap well in plastic or a beeswax wrapper and store in the fridge or in a cooler until serving.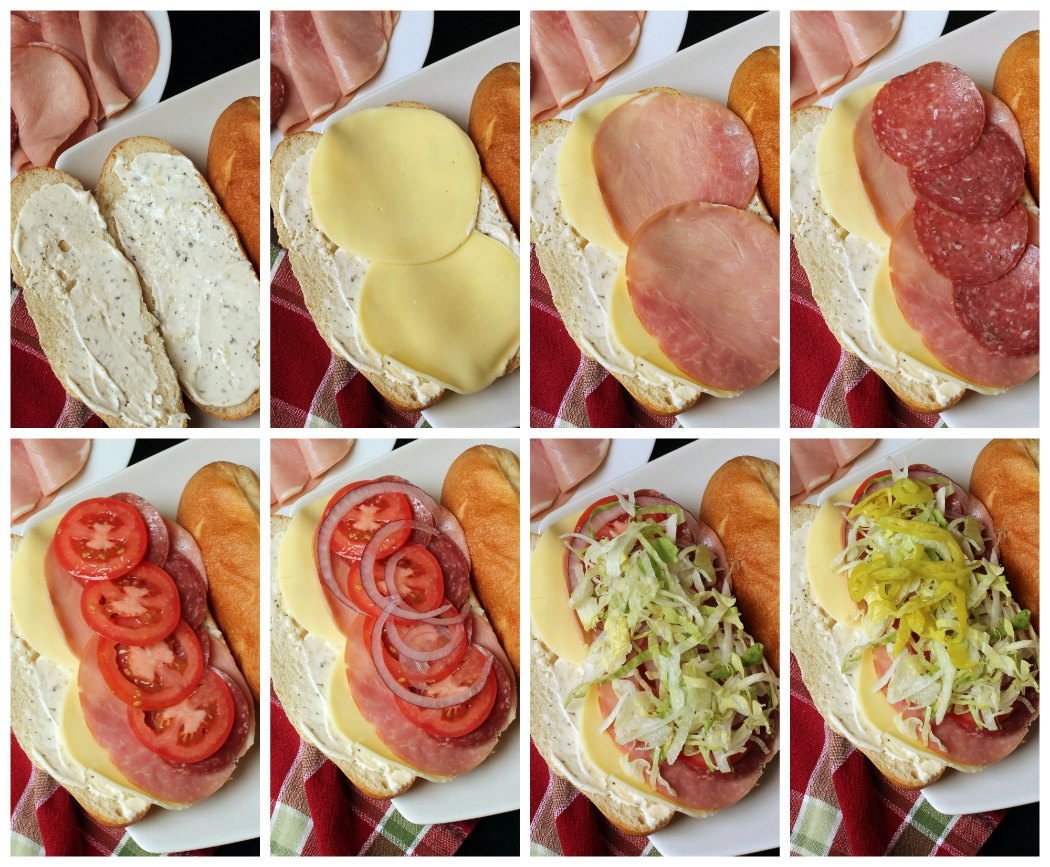 How do you make Italian Sub Sandwiches?
These subs are super simple to make. If you're making more than one, make the process even easier, by laying them all out at one time and prepping them assembly-line style.
Slice the roll lengthwise, leaving a hinge on one side.
Spread the mayo on both sides of the roll.
Layer two slices of provolone.
Add two slices of ham and four slices of salami.
Add a layer of tomatoes.
And then a layer of onion.
Add a few handfuls of shredded lettuce.
Garnish with a few slices of pepperoncini.
Carefully fold the sandwich, keeping the filling inside.
Serve immediately, or wrap well and store in the fridge until serving.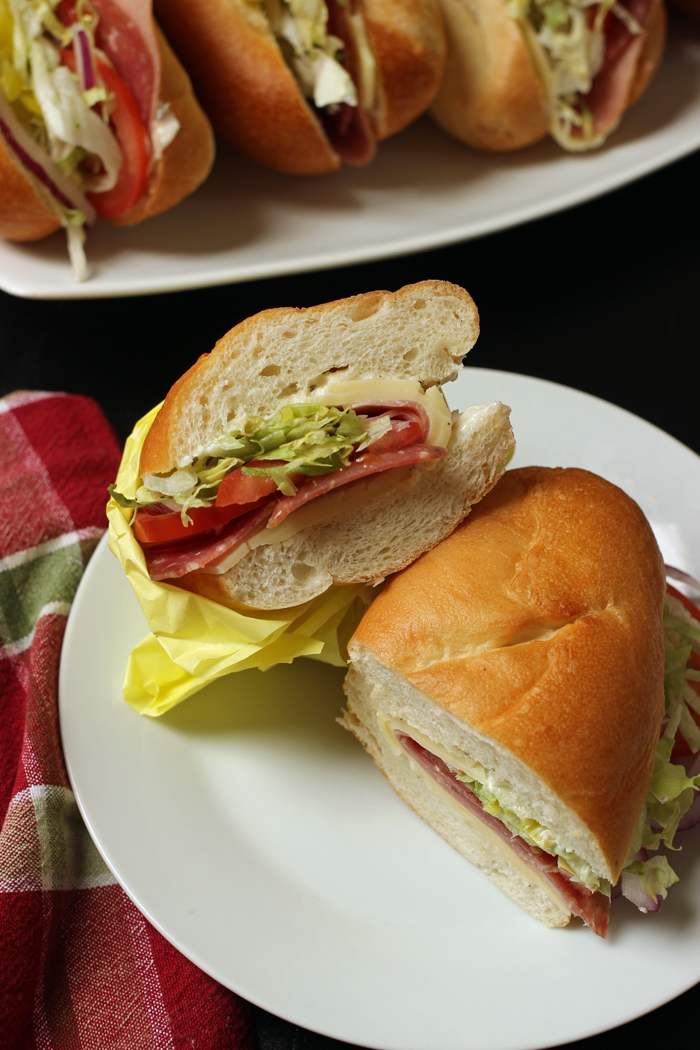 How to make your Italian wraps inexpensively
Everything you find here on Good Cheap Eats is that: tasty and affordable. But, here are some strategies you can use to make this recipe more economical:
Meal plan around what's on sale. Don't decide to make this when the cold cuts are full pop. Wait for sales.
Stock up on ingredients when they are on sale

. For instance, when I see a great price on deli cold cuts, I buy a lot. The same goes for provolone cheese.

Do a price comparison. I know that Costco is the best place to buy ingredients like cheese or cold cuts when there isn't a great sale elsewhere. I keep track of prices so that I know who has the best deal where.
Make your own dressing. It tastes better and it's cheaper!
Bake your own rolls. These Homemade White Whole Wheat Sub Rolls are simple to make and absolutely delicious.
Tools I use to make this recipe easy:
This is a pretty straight-forward dish. You don't need any fancy equipment. However, having some good basic kitchen tools can really make your time in the kitchen more enjoyable. Over time, I've honed my collection so that they are perfect for my needs. Here are the tools that I like to use in this recipe.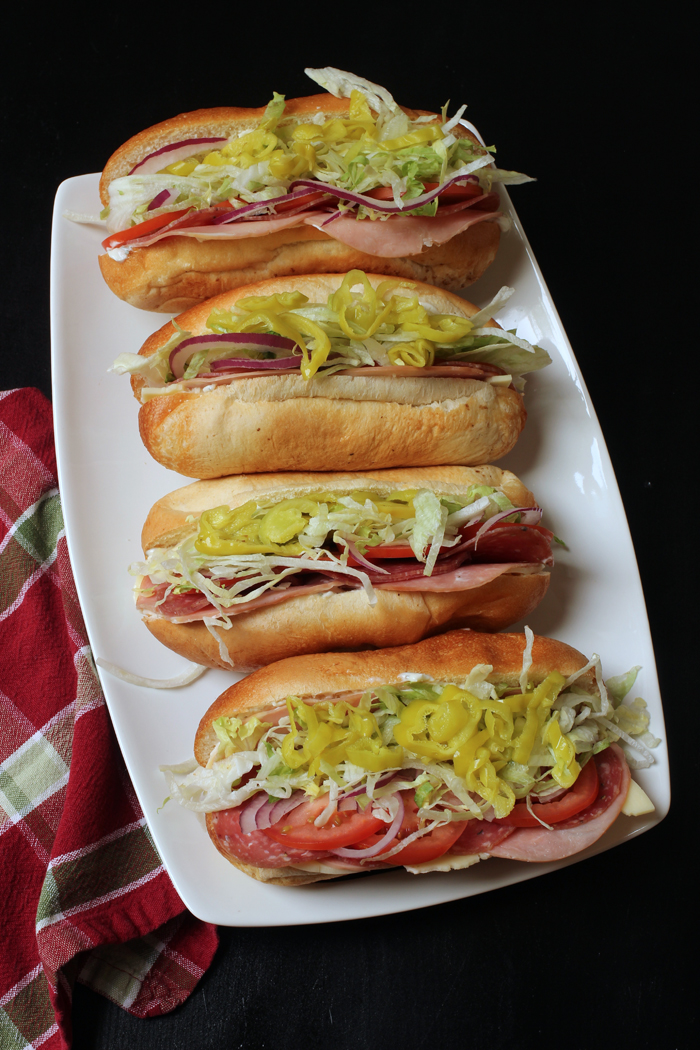 If you prepare this recipe, be sure to take a picture and hashtag it
#GOODCHEAPEATS
. I can't wait to see what you cook up!
Italian Sub Sandwiches
The classic Italian Sub is an easy and affordable sandwich to make yourself. You'll enjoy a great lunch at a price that can't be beat!
Course:
Main Course, Snack
Cuisine:
American, Italian
Keyword:
grinder, Italian grinder sandwich, italian sandwich, italian sub, italian sub sandwich, sandwich, sub, submarine
Ingredients
4

Italian sub or grinder rolls.

1/2

cup

herbed mayonnaise

8

slices

provolone cheese

8

slices

ham

16

slices

salami

sliced tomato

sliced red onion

shredded lettuce

sliced pepperoncini
Instructions
Slice the Italian roll lengthwise, but not completely through; leave a hinge.

Spread 1-2 tablespoons of herbed mayo on the roll.

Layer the cheese, ham, salami, tomato, onion, shredded lettuce, and pepperoncini. Close the sandwich tightly.

Wrap securely in saran wrap. Chill until serving.
Recipe Notes
Make Ahead: Prepare the sandwiches, wrap well in plastic or a beeswax wrapper and store in the fridge or in a cooler until serving.
Nutrition Facts
Italian Sub Sandwiches
Amount Per Serving
Calories 248
Calories from Fat 153
% Daily Value*
Fat 17g26%
Cholesterol 32mg11%
Sodium 698mg30%
Potassium 167mg5%
Carbohydrates 11g4%
Protein 12g24%
Vitamin A 302IU6%
Vitamin C 5mg6%
Calcium 129mg13%
Iron 3mg17%
* Percent Daily Values are based on a 2000 calorie diet.