Boxed rice mixes are a thing of the past, especially when you know how to make a healthier, cheaper, and tastier seasoned rice pilaf yourself. Try this homemade rice-a-roni recipe today.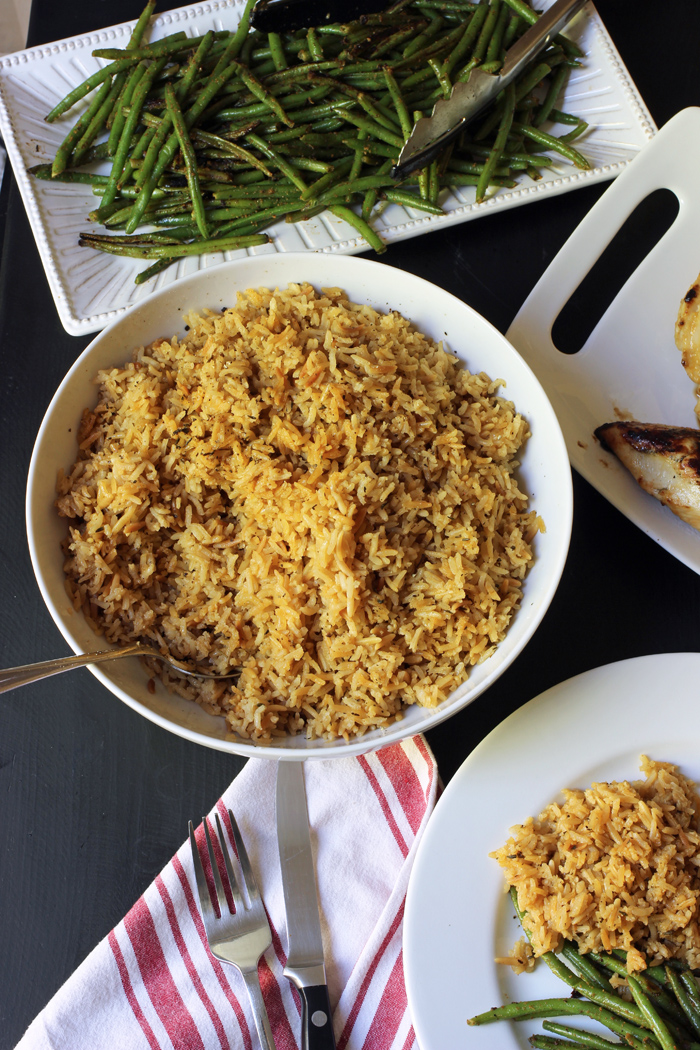 Did you grow up enjoying "the San Francisco Treat"?
Ever wonder if you could make it yourself? At home? Without a box?
Today is that day, my friend!
Growing up, I really loved the boxed rice mixes my mom would make. Rice-a-Roni was a staple in our home. Without fail, it served as a side dish to skillet pork chops or baked chicken.
Since my mom's nickname was Roni, short for Veronica, I figured it was named after her, but no. The rice and pasta pilaf is just that – rice and (maca)roni!
And it was a favorite until I grew up…
Sometime, in my newlywed years, I learned how to make Rice Pilaf. It was a game changer!
Who knew that the boxed rice mixes were really simple rice pilafs in disguise? And that you could make it yourself?!
Madison Avenue sure guarded this well-kept secret from us unsuspecting children of the 80s whose moms worked and whose home economics funding got cut. (I've had to teach myself how to be homemaker.)
What a revelation!
We all know that plain white rice is a pretty good cheap eat, but how do you make it less boring?Well, seasoned rice pilaf or "homemade Rice a Roni" is the perfect answer! And when you make it yourself, with ingredients you can pronounce, well, it makes for a fantastic side dish.
Ingredients for this seasoned rice pilaf
To make this seasoned rice you will need:
Orzo
Long grain white rice
Dried Thyme
Smoked Paprika
Dried Basil
Butter
Chicken Broth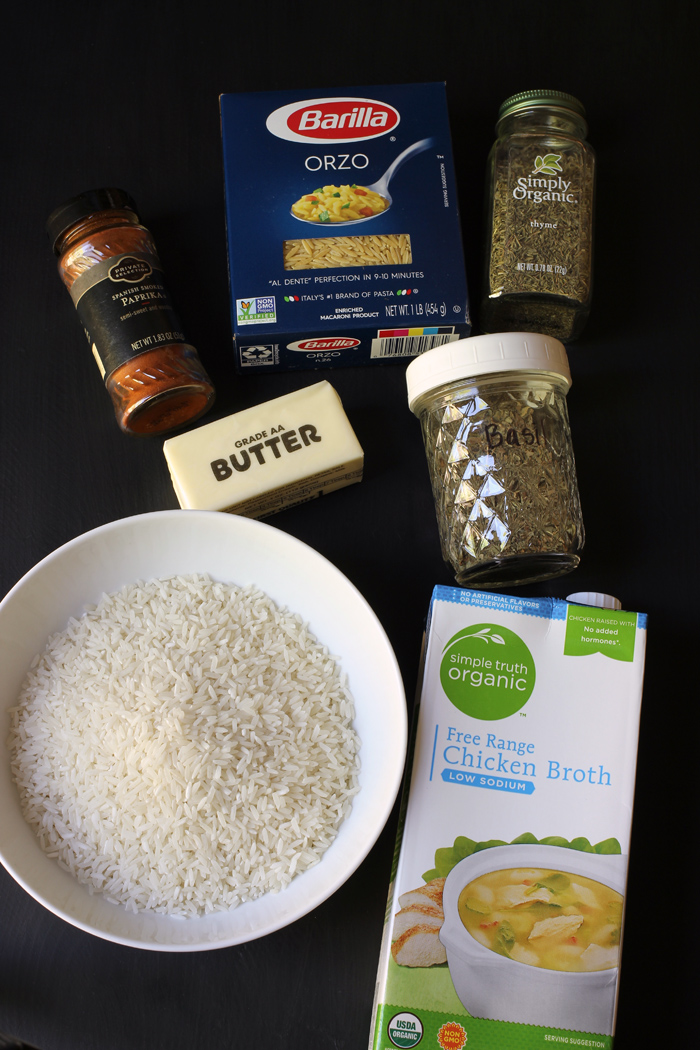 What's the difference between rice and rice pilaf?
The difference between rice and rice pilaf is that rice is the base for pilaf. But pilaf refers more to how the rice is prepared.
Pilaf is rice first sautéed in butter or oil and then cooked in stock or broth, usually with seasonings. Rice, on the other hand, like my recipe for baking rice in the oven is typically boiled, steamed, or otherwise cooked, simply with water.
What's the best rice for rice pilaf?
The best rice for rice pilaf is a long grain rice. We love using basmati rice like with our Lemon and Herb Rice Pilaf, but jasmine rice would also work.
Short grain rice can get very clumpy and I don't recommend it. You could also use brown rice, like in this Simple Brown Rice Pilaf Recipe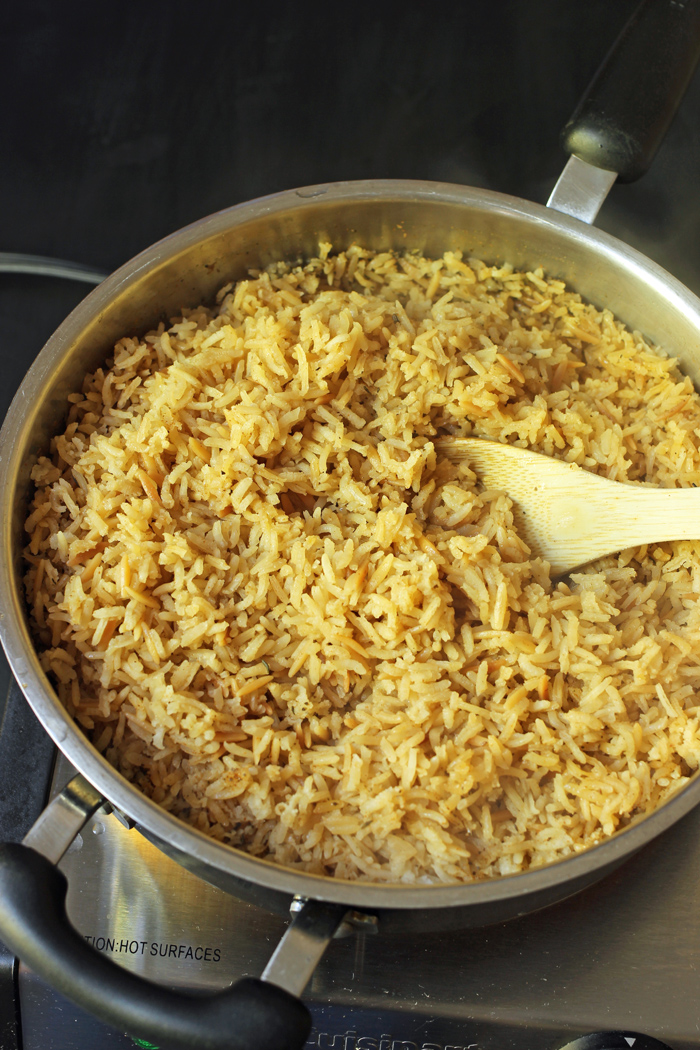 Making seasoned rice pilaf yourself.
I've been making Simple Rice Pilaf for years. Adapting it toward the rice and 'roni style involved upping the seasonings and throwing in some orzo.
That was easy.
Making it cheaper.
I used white rice for this recipe which I buy for 50 cents a pound in the ginormous bags. The homemade chicken stock was "free". The seasonings, orzo, and butter, were used in minimal amounts, therefore adding up to less than a dollar.
I'd say we made three times the amount of a boxed variety for about half the price!
Making it better!
Making a seasoned rice pilaf doesn't take much longer than opening a box mix. Not only did Big Food trick us into thinking their product was easier, they also added a bunch of junk to it, too.
The few minutes you spend measuring are nothing compared to how much money you save and how much better the end result tastes!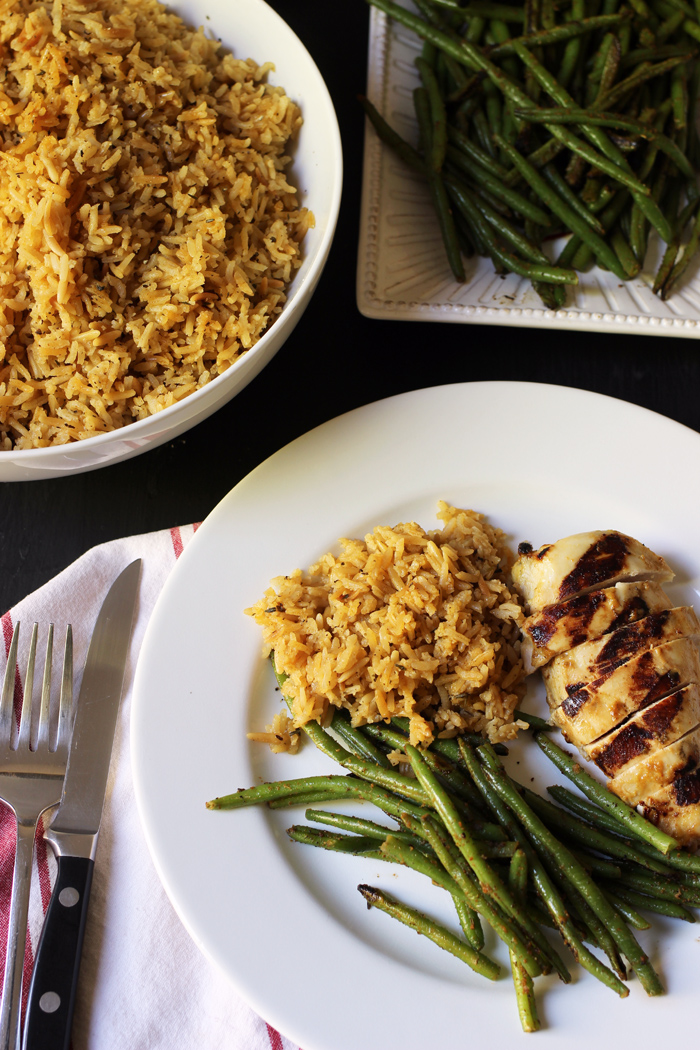 What goes with rice pilaf?
Rice pilaf is a great side dish. It can be served along chicken (maybe marinated in the best dijon chicken marinade ever!) or a great steak, like my Mediterranean steak recipe to make for a complete meal.
It also can serve as a great base for bowl meals. One favorite combination of my childhood would include pulled pork, this seasoned rice, and some corn off the cob. Yum!
How do you make homemade Rice a Roni?
Making seasoned rice is super easy. Check it out:
Melt the butter in a skillet.
Add the uncooked rice and orzo and sauce until golden brown.
Stir in the spices.
Then add the stock or broth and water.
Bring the mixture to a simmer.
Once it starts to bubble, cover and reduce the heat. Simmer for 20 minutes or until all the liquid is absorbed. Fluff with a fork and serve!
Can you make seasoned rice in the instant pot?
Yes! You can make this homemade Rice a Roni in your pressure cooker. Follow the same steps, however, you'll want to use equal parts of liquid to rice.
You'll also want to reduce your cooking time dramatically. See the recipe for exact measurements and cooking times.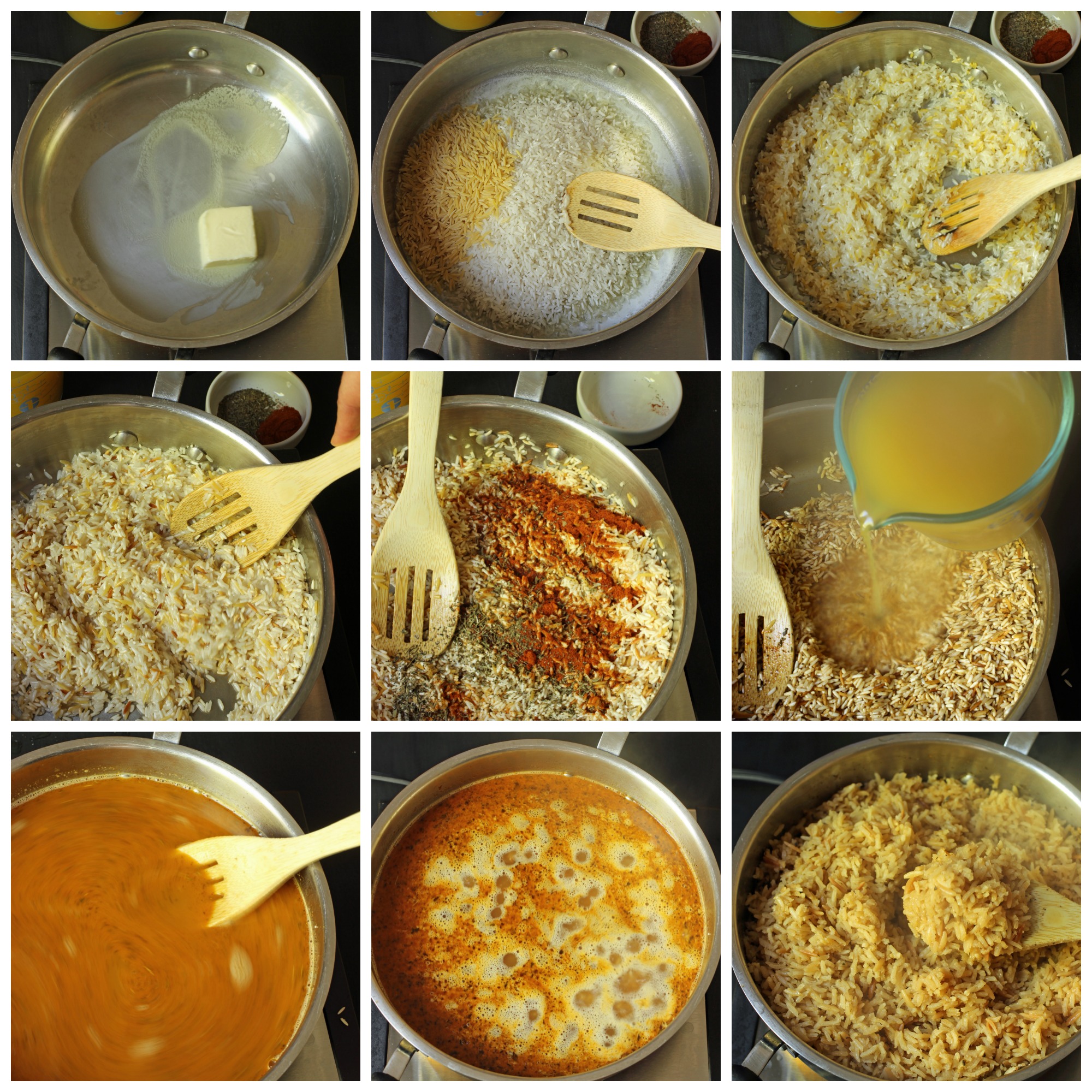 How do I store leftover rice?
Leftover rice can be stored in an airtight container in your fridge for up to 4 days. You can cool it quickly by spreading it onto a large baking sheet, then once cool go ahead and store it a container.
How I make this recipe inexpensively:
Here are some of the strategies I use to make this recipe more economical:
Buy in bulk. I know that Costco is the best place to buy ingredients in bulk, like rice or chicken stock, when there isn't a great sale elsewhere. I keep track of prices so that I know who has the best deal where. If you don't think you'll eat through a ten pound bag of rice too quickly, split the purchase with a friend or store the extra in the freezer to extend its shelf life. Yes shopping at Costco can save you money, if done right. Likewise, I often buy spices in bulk as that's the best unit price.
Make my own stock. Homemade chicken stock is so easy to make and practically free if you're already roasting a chicken or buying rotisserie chickens. Extract all the flavor from the bones before you toss them.
Tools I use to make this recipe easy:
Having the right kitchen tools can really make your time in the kitchen more enjoyable. Over time, I've honed my collection so that they are perfect for my needs. Here are the tools that I like to use in this recipe.
Ergo Chef chef's knife – I've had my set for several years and they work well.
5-quart pot with lid – I have this one. It's perfect for cooking chili or a big pot of rice.
pressure cooker – instead of cooking on the stovetop, you can make Mexican rice in the pressure cooker. See recipe notes below.
After you've prepared the recipe, would you do me a favor? I'd really appreciate it if you came back and left a starred review. Thanks in advance for your feedback!

If you prepare this recipe, be sure to share a picture on social media and hashtag it
#GOODCHEAPEATS
. I can't wait to see what you cook up!
Seasoned Rice Pilaf
Boxed rice mixes are a thing of the past, especially when you know how to make a healthier, cheaper, and tastier seasoned rice pilaf yourself. Try this homemade rice-a-roni recipe today.
Ingredients
1/4

cup

butter

2

cup

long grain white rice

1/4

cup

orzo pasta

1

tsp

paprika

1/2

tsp

dried thyme

1/2

tsp

dried basil

2 1/2

cup

chicken stock

2

cup

water
Instructions
To prepare the rice in a pan on the stove top:
In a large skillet with a lid, melt the butter over medium heat. Add the rice and orzo.

Saute until rice the becomes opaque and the orzo starts to brown lightly.

Stir in the spices.

Add the chicken broth and water and bring to a slight boil. Cover and reduce the heat. Cook for 20 minutes, covered, until liquid is absorbed. Fluff with a fork, season with salt and pepper, and serve.
To prepare this recipe in the electric pressure cooker:
Heat the oil in the pot on sauté. Add the rice and continue cooking, stirring, until the rice turns white and very lightly brown.

Stir in only 2 1/4 cups chicken broth; omit the water. Stir gently to combine.

Cover and secure the lid. Turn the pressure valve on. Hit the manual button and cook for 4 minutes.

When the timer beeps, allow the rice to rest for 10 minutes before releasing the pressure valve. Once all the pressure has escaped, remove the lid and fluff the rice with a fork.
Notes
Store cooked rice in a covered container in the refrigerator for up to four days. 
If preparing this dish with long grain brown rice, increase the cooking time to 40 to 45 minutes for the stovetop.
Nutrition
Calories:
322
kcal
|
Carbohydrates:
55
g
|
Protein:
6
g
|
Fat:
8
g
|
Saturated Fat:
5
g
|
Cholesterol:
20
mg
|
Sodium:
434
mg
|
Potassium:
171
mg
|
Fiber:
1
g
|
Sugar:
1
g
|
Vitamin A:
400
IU
|
Vitamin C:
6.8
mg
|
Calcium:
30
mg
|
Iron:
1
mg