Boxed Cream of Rice is gloppy and processed, but homemade is delicious! Cook rice in milk and cream for a creamy texture that provides a great start to the day, especially when topped with fruits, nuts, and syrups.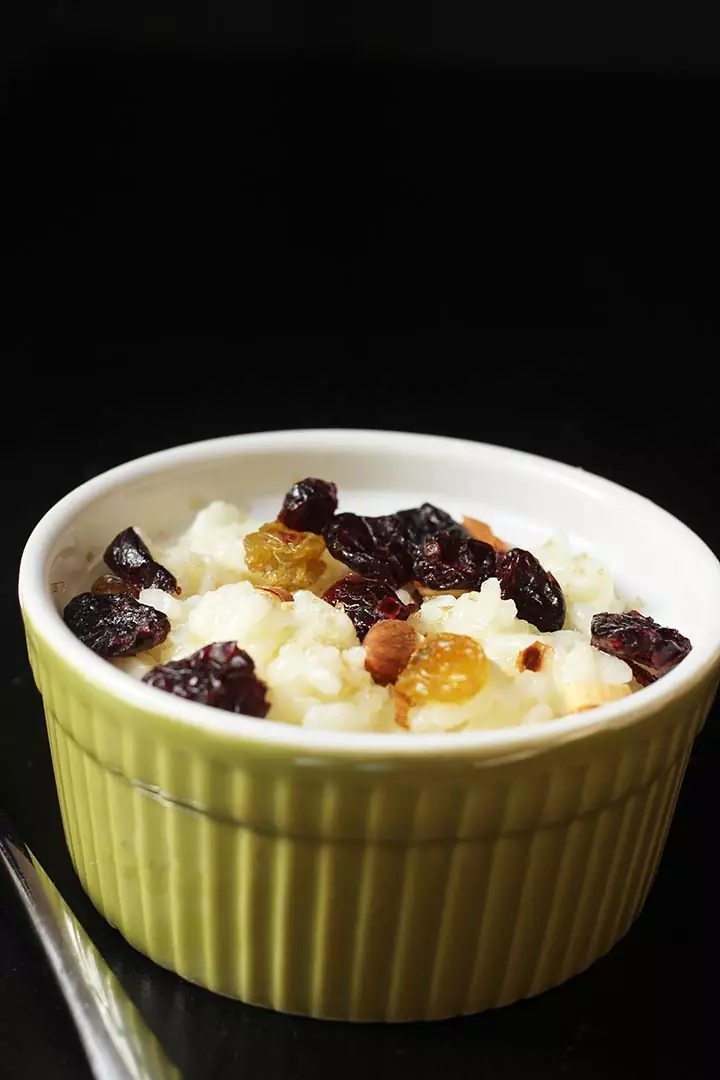 Did your parents ever subject you to boxed hot cereals that brought Oliver Twist's gloppy gruel to mind?
Did you ever think of hot cereal as torture more that a taste sensation?
Did you ever shake your head at the very idea of rice porridge?
Today's a new day. And a chance to try something new and delicious and utterly budget-friendly.
Homemade Cream of Rice is a completely different dish than the boxed version your parents may have insisted you eat as a child. Trust me. I was that child.
Homemade Cream of Rice
Almost ten years ago, I heard a friend was waxing eloquently about the rice pudding she was making. I'd never had it, so I looked up recipes. The added egg was a turn-off, especially with an egg allergy in the house. So, I opted for a quicker, egg-free version.
The result is actually one of the easiest recipes in my world. Cook rice in milk and cream instead of water! How simple is that? My kids call it "rice pudding," but creamy rice, or cream of rice would be more accurate.
It's easy and delicious and super simple to prepare. And as a former child who shuddered over the gruel my parents fed me, I appreciate the whole grain texture of this dish, much like Not Mushy Oatmeal.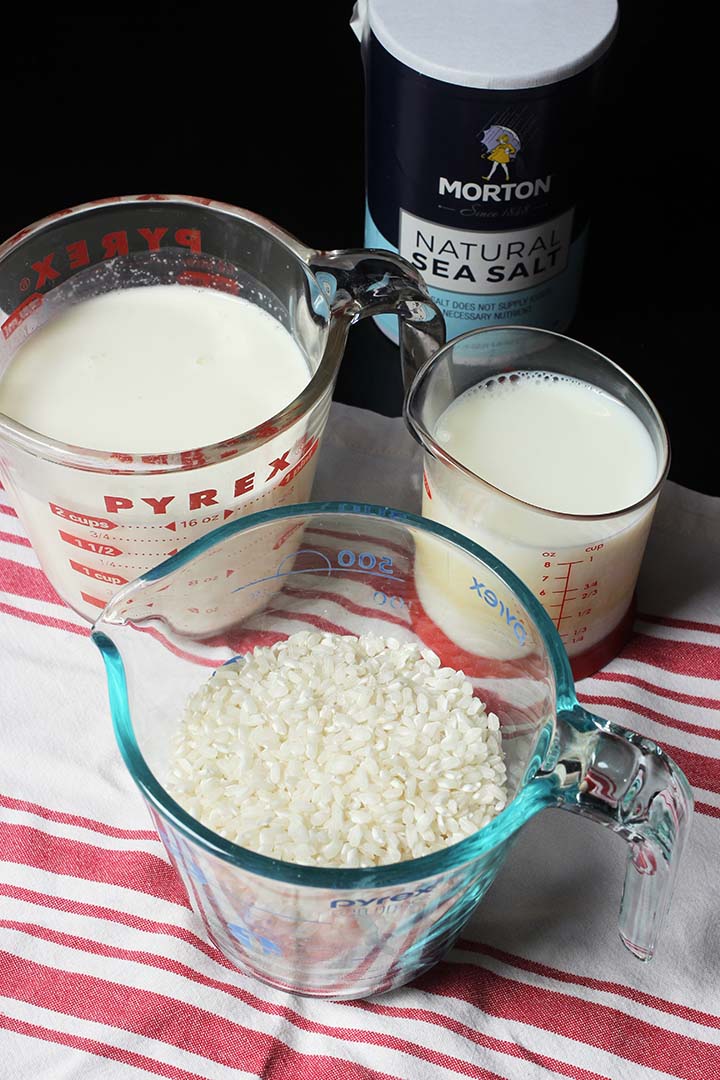 What is cream of rice made of?
Cream of Rice is actually a trademarked name for a commercial boxed porridge made of ground rice. You can make a homemade equivalent by grinding rice and cooking the powder or simply cooking rice in milk or cream.
Similar to a rice pudding, this cream of rice is toothsome with whole grain rice which gives it a hearty texture.
Ingredients needed to make this cream of rice recipe
half and half
milk
rice
salt
toppings: brown sugar, dried fruit, maple syrup, or honey
I use half and half and nonfat milk because that is what I usually have on hand. I buy the half and half in large containers for a great price at Costco. But, feel free to experiment with the cream to milk ratio. Obviously, the dish will be more economical and less creamy if you use less half and half and more milk.
(For non-US readers, half and half is a product of half cream and half milk. You can make your own.)
I use arborio rice because it tends toward a creamier texture, but have also made this with other rices. Use what you have and/or what fits the budget.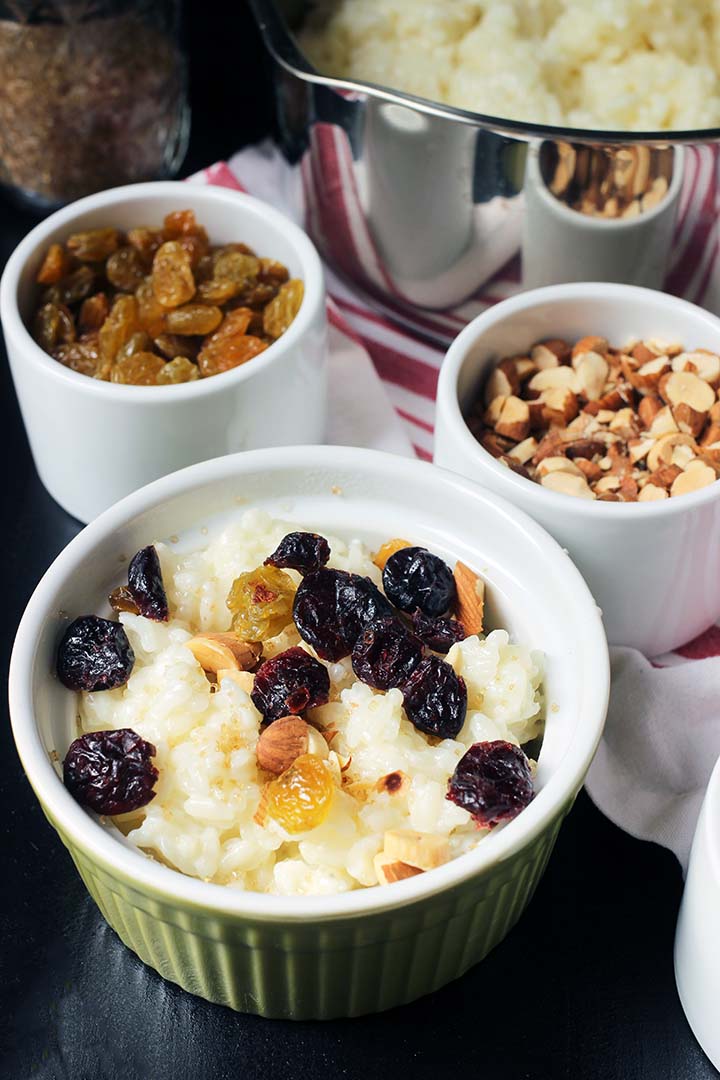 What can I add to rice porridge?
To make this more like a rice pudding, you can add a vanilla bean, cinnamon stick, or dried fruit to the pot while the rice cooks. You may need to add more liquid to account for the dried fruit.
I like to keep this dish more neutral flavored so my kids can add the flavors they prefer. Leftovers work well for both savory and sweet dishes. I've even added the leftovers to soup.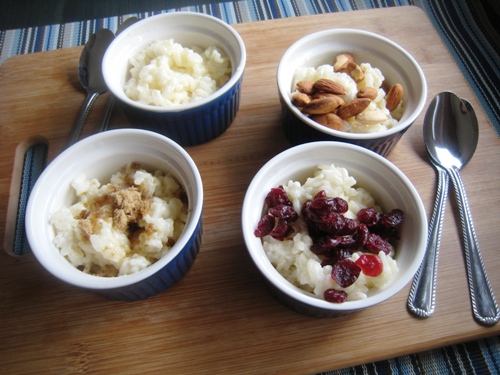 How to make cream of rice
In a medium saucepan, combine the half and half and milk. Bring to a low boil.
Stir in the rice and salt.
Cover and reduce to lowest heat. Cook for 20 minutes or until the liquid has been absorbed and the rice is tender.
Serve with toppings.
How should you top rice porridge?
I dish up bowls of toothy rice and let my people top it anyway they please: cranberries, raisins, chopped nuts, brown sugar, maple syrup. Pretty much anything you would use to top oatmeal would work to make a great, filling breakfast for any day of the year. It cooks in just 20 minutes on the stove top.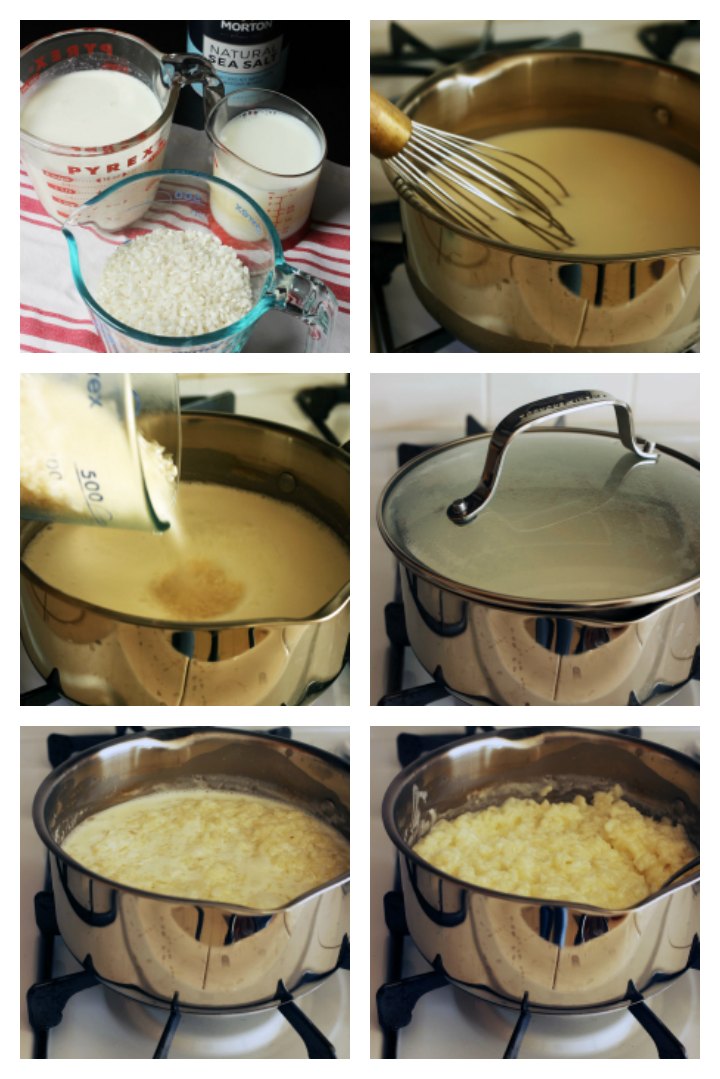 How much does it cost to make rice porridge from scratch?
We often assume that making something homemade will cost less than the commercial alternative. Certainly, homemade tastes better and allows you better control of the ingredients.
That said, it's helpful to know the bottom line.
Homemade, whole-grain cream of rice is made from standard kitchen staples: rice and milk. Let's see what these specific ingredients cost when not on sale at a mid-range grocer:
half and half – $0.90 ($1.79/qt)
milk – $0.19 ($3.09/gallon)
arborio rice – $1.25 ($2.49/#)
This works out to be $2.34/batch or 39 cents per serving. The commercial, name brand cream of rice costs 41 cents per serving. So…
homemade is better tasting and less expensive!
How to cut your costs even more:
Shop the sales. Avoid paying full price whenever you can. Keep an eye on how prices fluctuate in your area and stock up when you see a sale. Remember milk can be frozen.
Use lower cost alternative ingredients. This recipe is dairy-heavy. You can use more milk than half and half or substitute some water in the recipe to lower the cost. It will still be creamy made with less cream. Accordingly, long grain rice is usually less expensive than arborio rice. Use a cheaper rice to cut the costs even more.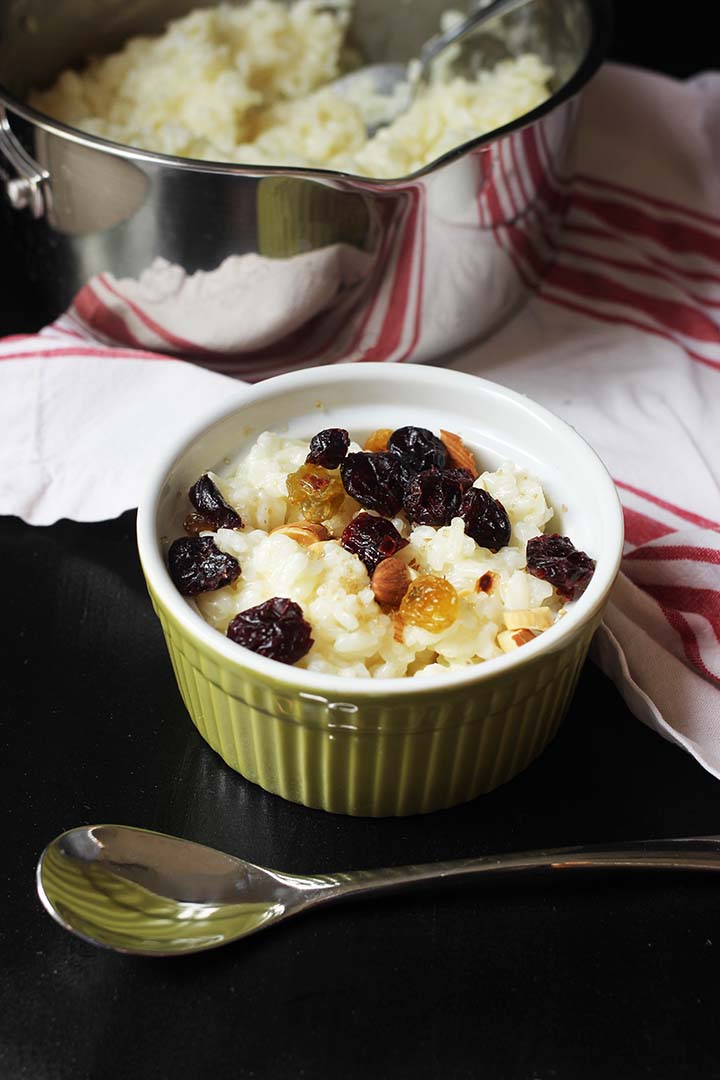 If you prepare this recipe, be sure to take a picture and hashtag it
#GOODCHEAPEATS
. I can't wait to see what you cook up!
Cream of Rice
Ingredients
2

cup

half and half

1

cup

milk

1 1/2

cup

arborio rice

, can use other types of rice if you prefer

dash

salt

toppings for hot cereal

: brown sugar, nuts, dried fruit, maple syrup, honey
Instructions
In a medium saucepan, combine the half and half and milk. Bring to a low boil, stirring constantly to prevent burning.

Stir in the rice and salt.

Cover and reduce to lowest heat. Cook for 20 to 25 minutes or until the liquid has been absorbed and the rice is tender.

Serve with toppings.
Notes
Promptly store leftovers in an airtight container in the refrigerator, for up to 3 days.
Nutritional values are approximate and based on 1/6 the recipe.
Flavorings can be added to the cooking pot, such as a cinnamon stick, a vanilla bean, or dried fruit. Adjust the liquid.
Nutrition
Calories:
309
kcal
|
Carbohydrates:
45
g
|
Protein:
7
g
|
Fat:
11
g
|
Saturated Fat:
7
g
|
Cholesterol:
34
mg
|
Sodium:
51
mg
|
Potassium:
197
mg
|
Fiber:
1
g
|
Sugar:
2
g
|
Vitamin A:
351
IU
|
Vitamin C:
1
mg
|
Calcium:
131
mg
|
Iron:
2
mg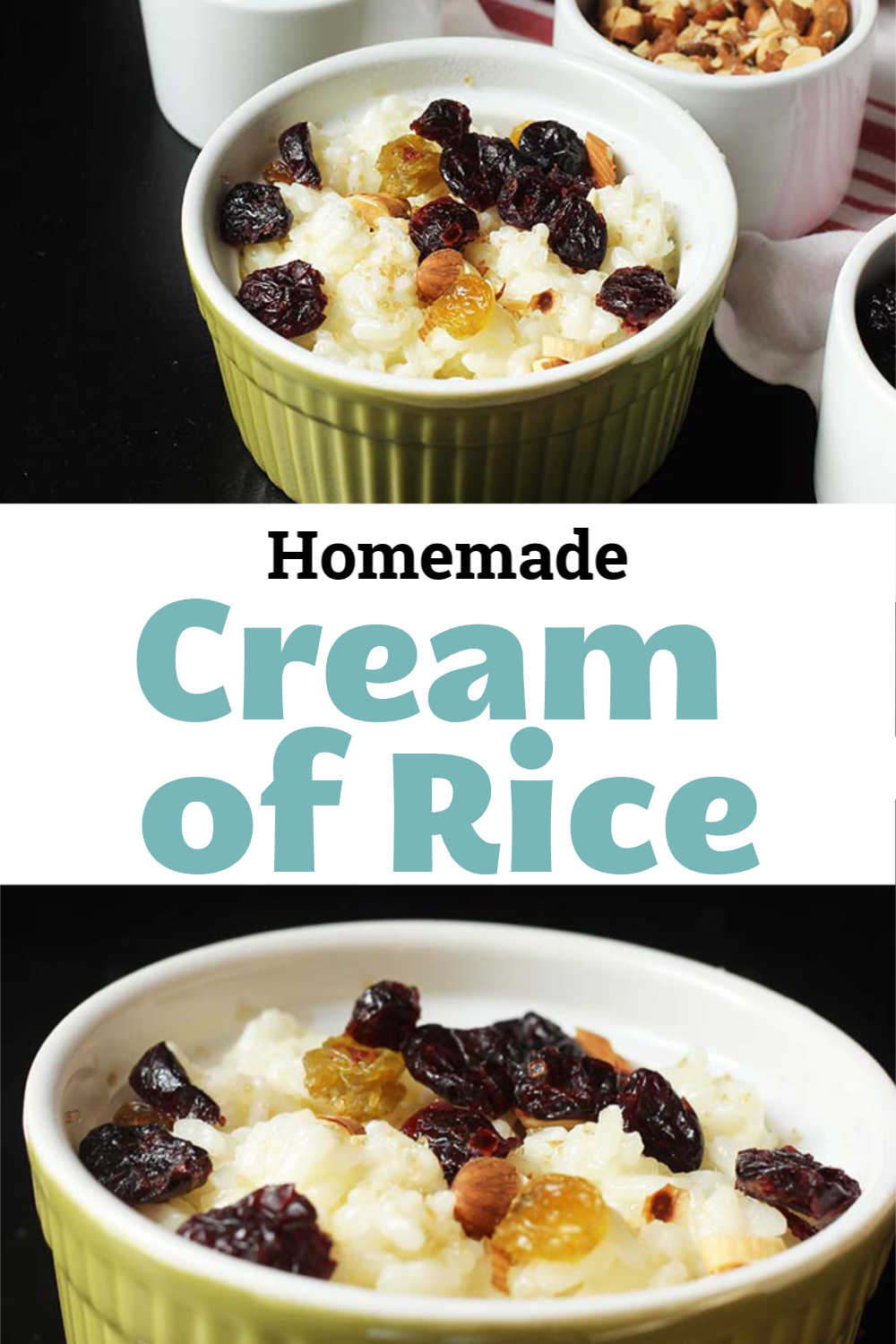 This post was originally published April 22, 2012. It has been updated for content and clarity.