Rice cooked in milk and cream has a creamy texture and offers a great start to the day, especially when topped with fruits, nuts, and syrups.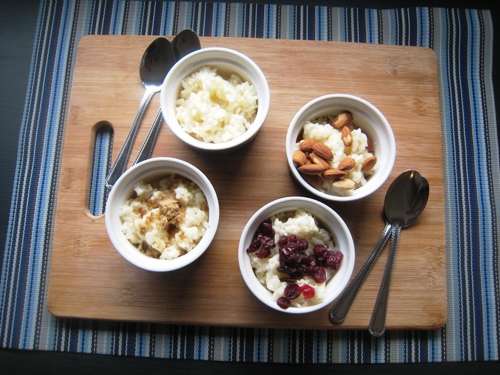 Sometime last year on a cold wintry day, a friend was waxing eloquently about the rice pudding she was making. I'd never had it, so I looked up recipes. The added egg in some recipes was a turn-off, especially with an egg allergy in the house. So, I opted for a quicker, egg-free version.
The result is actually one of the easiest recipes in my world. Cook rice in milk and cream instead of water! How simple is that? My kids call it "rice pudding," but creamy rice would be more accurate.
I use half and half and nonfat milk because that is what I usually have on hand. I buy the half and half in large containers for a great price at Costco. But, feel free to experiment with the cream to milk ratio. Obviously, the dish will be more economical and less creamy if you use less half and half.
(For non-US readers, half and half is a product of half cream and half milk. You can make your own.)
I use arborio rice because it tends toward a creamier texture, but you can substitute other rices.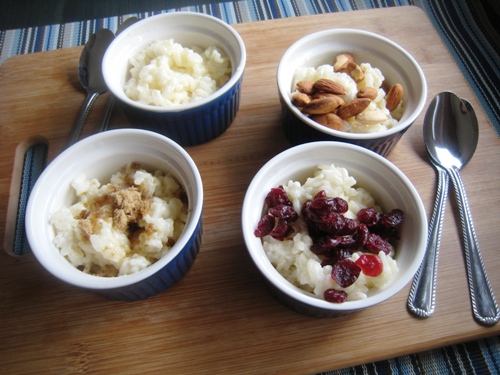 I dish up bowls of toothy rice and let my people top it anyway they please: cranberries, nuts, brown sugar, maple syrup. Pretty much anything you would use to top oatmeal would work to make a great, filling breakfast for any day of the year. It cooks in just 20 minutes on the stove top. No need to wait for a cold, wintry day.
Recipe: Creamy Rice
Ingredients
2 cups half and half
1 cup milk
1 1/2 cups arborio rice
dash salt
Toppings: brown sugar, nuts, dried fruit, maple syrup, honey
Instructions
In a medium saucepan, combine the half and half and milk. Bring to a low boil.
Stir in the rice and salt.
Cover and reduce to lowest heat. Cook for 20 minutes or until the liquid has been absorbed and the rice is tender.
Serve with toppings.
Preparation time: 5 minute(s)
Cooking time: 20 minute(s)
Number of servings (yield): 6