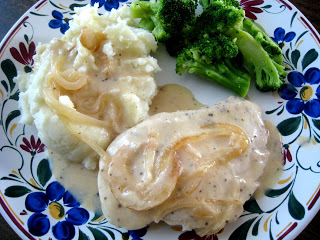 For about a dozen years I subscribed to Bon Appetit magazine. It was within the pages of that publication that I learned the bulk of my newlywed food knowledge. My recipe collection is peppered with little gems that I found, tried, and have saved over the years. They are some of my husband's and my favorite, good old standbys. This recipe is counted among them.
I've tweaked it (of course) to suit boneless, skinless chicken breast and adjusted some of the more expensive ingredients. The original recipe contained white wine which isn't in all food budgets. If you have it, you can easily add it in. Substitute up to 3/4 cup of the broth with white wine. If you make this with chicken stock you made yourself, you'll have a richly flavored dish without extra expense. You could make this without the cream, as well. It's a staple at our house, so I've kept it in the recipe.
I also have made it a habit to live without certain spices if I don't have the wiggle room to purchase those ingredients each week. While it's certainly best made with paprika, it is still delicious without, as pictured.
Recipe: Chicken Smothered in Onions
Summary: adapted from a recipe in Bon Appetit, October 1993
Ingredients
4 chicken breasts
paprika
salt and pepper
1 1/2 Tablespoons butter
2 large onions, sliced
3 Tablespoons flour
3 Tablespoons water
2 cups chicken broth
1/4 cup whipping cream
1/4 teaspoon nutmeg
dried or fresh parsley for garnish
Instructions
Sprinkle chicken breasts generously with paprika, salt, and pepper. Melt butter in heavy skillet. Add chicken to skillet and brown on each side. Move to plate.
Place onions in the pan and stir into butter and drippings, scraping up any browned bits from pan. Cook onions until tender, stirring often. Put chicken back in the pan. Add chicken broth and bring to boil. Reduce heat and simmer until chicken is cooked through, turning once.
Transfer chicken to platter and cover while you finish the sauce. Combine flour and 3 Tablespoons water in small bowl until smooth. Stir this into broth and mix until smooth. Add cream and nutmeg. Boil until gravy is thickened, stirring often.
Return chicken to pan to reheat. Serve with mashed potatoes and a sprinkling of parsley for garnish.
Number of servings (yield): 4

Costs:
$5.31 = chicken breast $1.77/#, use 3# for my family of 8
free = chicken broth
$0.25 = seasonings
$0.60 = potatoes, bought 5# bag for $.99
$.50 = butter, $1.75/#
$.25 = onions, $.50/#
$.10 = cream
$.77 = broccoli
Total to feed 3 adults, 6 small children = $7.71
For more good and cheap eats, visit the $5 Dinner Challenge.