This month, we're shopping our kitchen in order to use up what we have so we can save money and clear kitchen clutter.
Here we go with Day 1 of the Pantry Challenge. I'll confess, I did not do any of the prep I might normally do.
We had a belated Christmas combined with New Year's with lots of family over that just ended this morning. It was fantastic to spend time with both my son and his wife as well as my in-laws this past weekend.
The party ended today, so now we get back to business. I go back to work tomorrow, but the rest of the household has the next day to week off.
In past years I've done a fair amount of pantry challenge planning in advance, but that had to wait until today when I inventoried the pantries, fridges, and freezers.
I recognize what a luxury it is to have multiple spaces to store food. It's a change from years past, to be sure. In November, I cleaned out the cupboard under the stairs, aka Harry's Room, and installed wire shelving so I could store some of my bulk purchases, like flour, oils, sugar, etc. in there. That has really helped bring a bit more peace to my space in the kitchen.
In the PC of 2021, we got a second fridge which in addition to our deep freeze gives us two fridge spaces and three freezers, the latter of which are all bursting at the seams.
One of my Pantry Clean Out Goals for this year is to give them all a bit of breathing space. I don't necessarily want to use it all up, but I do want to clear the more infrequently used items away.
Since I cook for a job, I will be buying ingredients for photo shoots and those will work into our meals throughout the challenge, but I'm planning to draw the bulk of our meals from what's already on hand.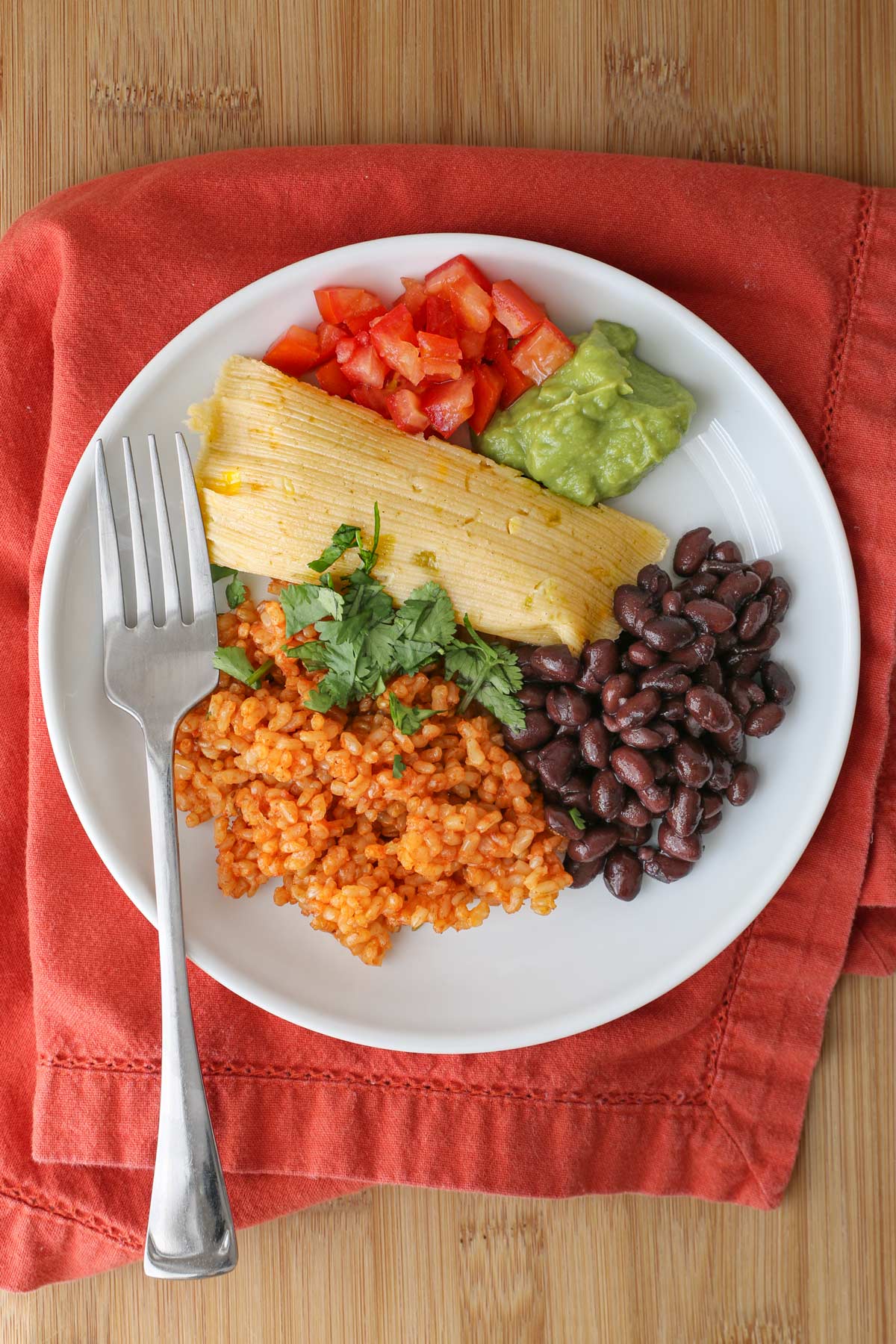 What We Ate Today
Breakfast – We had company spend the night for NYE, but we all kind of slept in. The rainy weather we've had in California has leant itself to that. When I finally dragged myself out of bed, basically to feed said company, it was to do it simply.
I laid out a Breakfast Bar of yogurt cups, oranges, and clearance bagels I bought and froze last week. I also laid out cream cheese, butter, and jam. Easy!
Lunch – We had loads of leftovers from the last few days, including but not limited to Vegetable Chow Mein, Cheese Tamales, Poblano Chile Enchiladas, Mexican Rice, and Sourdough Pizza.
We all basically foraged and made our own meals out of different things.
Dinner – After foraging in the freezer and realizing my fam had had a carbo-overload the last few days, we did burgers for dinner with patties and buns I found in the freezer. We had lettuce and tomato and plenty of condiments so it was a really easy meal to prep.
What I Prepped
I took a basic inventory of the freezers and pantries and laid out our meals for the month. I know we will probably veer from it over the next few weeks, but having a Meal Plan for a Whole Month really helps direct our pantry challenge each year.
What did YOU do for Day 1?
PS If you notice comments from last year below, go ahead and disregard them. I'm basically reusing last year's urls but rewriting each post as we go along through the month.