This month, we're shopping our kitchen in order to use up what we have so we can save money and clear kitchen clutter.
Here we go with Day 2 of the Pantry Challenge, a Sunday which signifies some kitchen time for me. I love to spend a few hours at the start of the week prepping and tidying for the coming days. And it was so needed for this challenge!
I love my kitchen Sundays. I really do. Sure, there are days when it doesn't work out or I don't feel like doing it, but those weeks never go as well as the weeks that do.
Some weeks I can swing a lot of meal prep, other days not so much, but I think it's the act of being in the kitchen and setting things to rights, seeing what we have that needs using — all this contributes to a better week of meals and less stress for me.
While I didn't get all my to-do list done, I did accomplish a fair amount.
What I Prepped
Before I went to bed last night, I mixed up two double batches (four loaves) of Sourdough Rye Bread. I had just enough Sourdough Starter for those batches with a scant 35 g left over. It's going to take a few days of feeding to be ready for pizza on Friday. My Sourdough Pizza Crust takes 600 g for enough pizza for our family, though I have worked out some cheats.
This morning I baked off those loaves, but not before I did my Walmart grocery pickup. They had everything I ordered except for the eggs. They upgraded to cage-free eggs for the same price as the conventional. As I mentioned yesterday, I cashed out $50 from my Ibotta balance so there was nothing out of pocket.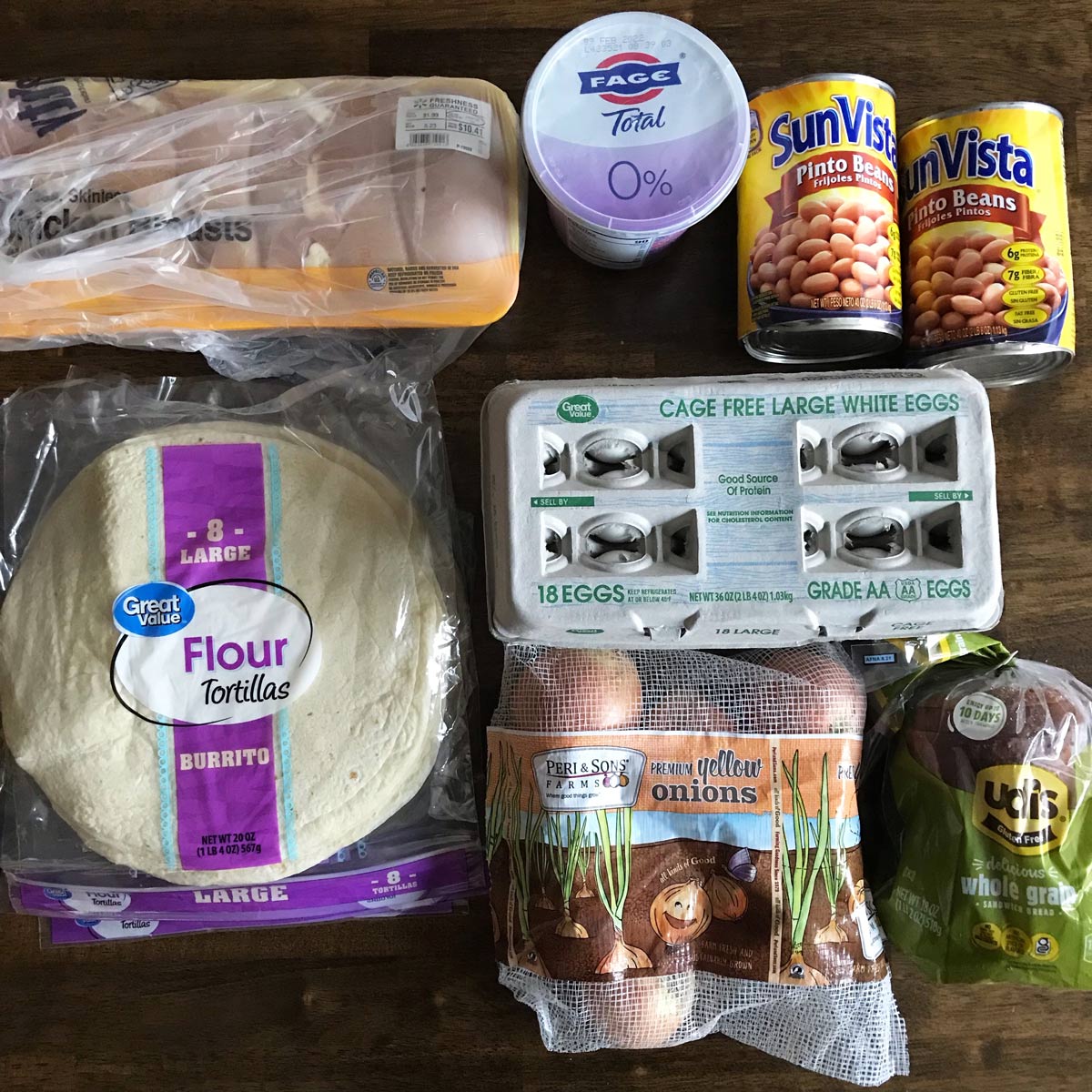 I picked up 24 tortillas, about 6 chicken breasts, a big tub of Fage, two large cans of beans, 36 eggs, 3 pounds of onions, and a loaf of Udi's gluten-free bread. The total was $37.50, but was basically free from the Ibotta gift card.
I don't think you can tell from the picture, but the pinto beans are completely mangled. They've got pop can tops so I'll have to examine them carefully before I decide to keep them. Slightly miffed at Walmart about that.
I fully gutted the pantry today (you can see some real time images on Instagram) as well as the fridge. I did not get to the freezer as I hoped, but feel like I got a good handle on our stores on hand.
One tip for your fridge: while it may require some dish washing, transferring little bits from too-big containers into smaller size containers really does wonders for the appearance of both your fridge as well as the food itself. Makes it feel more like food and less like a leftover.
When I was done tidying the kitchen spaces and making lunch, I did some extra prep for the coming days including:
making Chicken Stock in the Slow Cooker with the bones from baked chicken I made on Friday.
cooked up 2 pounds of ground chuck from the freezer to make Bean and Beef Burritos to freeze for Bryan's work lunches.
made a huge batch of Sausage Bolognese with two packs of Italian sausage from the freezer. I'll freeze two 4-cup tubs for another time, use the 1-cup in Quick Minestrone later this week.
I used the leftover sauce (about 4 cups) in a gluten-free lasagna. I used Barilla oven-ready, gluten-free lasagna noodles and used ricotta I had bought on sale a few weeks ago. It was really good and everyone agreed that it tasted just like regular. I bought the noodles last month at Ralphs for about $3, a little more than I usually spend on lasagna noodles, but worth it so everyone could enjoy the meal.
While I had the food processor out to shred cheese for burritos and lasagna, I shredded extra mozzarella and cheddar to use for pizza and tacos later this week.
I thawed a pound of ground turkey and made some meatballs for an easy protein in my lunches this week.
There were more things I wanted to prep, but it was 3pm by that time, so Bryan and I went for a long walk in our beautiful (but cool!) San Diego weather. I was so nice to come home and have dinner already made!
What We Ate
Here's how we ate on Day 2 of the Pantry Challenge:
Breakfast – This is usually FFY (fend-for-yourself) on Sundays. Some kids fried eggs, another had oatmeal. I had some Slow Cooker Steel Cut Oats that I had frozen topped with yogurt and jam. I forgot there was Cranberry Sauce to use up, so I'll try that tomorrow.
Lunch – As I was cleaning the pantry, I found several packs of opened noodles, including wide egg noodles. I knew there was baked chicken and veggies in the fridge, so I made my Chicken Noodle Soup Recipe for lunch. I pulled some sourdough rolls from the freezer.
Dinner – Lasagna, Roasted Broccoli, and a big salad. Bryan and I cracked open a bottle of merlot and the kids opened some leftover sparkling cider from the holidays.
It was a good day. I even got to watch Inspector Gamache and Hercule Poirot while I cooked!
How did the day go for you?