Yogurt is a super versatile ingredient or dish in itself. This recipe for Greek yogurt with muesli contains all kinds of extra goodies to help you start the day right.
You love yogurt. It's a health food, isn't it? It's even what they call a super food. But, is it really all it's cracked up to be, or are there some things you should take into consideration when you choose yogurt to enjoy at home?
Yogurt has long been considered a healthy food to enjoy on a regular basis. Not only is it high in protein and important nutrients, but it also can aid digestion, boost your immunities, protect against osteoporosis, and promote heart health and a healthy weight.
However, for years yogurt companies have stuffed their yogurts with sugar and additives making it a little less impressive as a healthy food. The junk they put in can detract from some of yogurt's innate benefits.
So, how can you enjoy yogurt without all the bad stuff?
Buy or make it plain and dress it up yourself.
Is Greek Yogurt Healthy?
As you know, over the last few years I've been doing some serious food reading. Not about cooking per se, but about nutrition, portion control, eating habits, our food sources, government regulations on food, and the way marketers try to get us to buy stuff. It has been an education to be sure.
Some of the books that have had a tremendous impact in how I think about food include:
It's through the reading of these books that I've made slow shifts in how I shop and cook and in how my family eats. We're not as "crunchy" as they come, but we don't eat exclusively out of a box, either.
Slowly but surely, I'm making changes to improve my family's diet without busting our budget. I cook more from scratch, and we try to avoid chemicals, artificial ingredients, processed sugars, and unfermented soy. I am working on making healthy eating easier over all.
One of the new wrinkles in this healthier eating paradigm, has been to examine the yogurt we eat.
Yogurt has always been one of my very favorite breakfast foods. In my non-pregnant and nursing years, I haven't really been a milk-drinker, so yogurt and cheese help me keep up on my calcium.
Years ago I was a diehard Yoplait or La Creme fan. Coupons and sales were plentiful for those items so I could keep the refrigerator stocked to the brim, buying as many as 60 cartons at a time. I thought that I was buying "health food."
It was only later when I started to reduce our intake of processed sugars and processed foods in general that I found out how SWEET these yogurts actually were. Plus, often they had all kinds of ingredients I couldn't pronounce.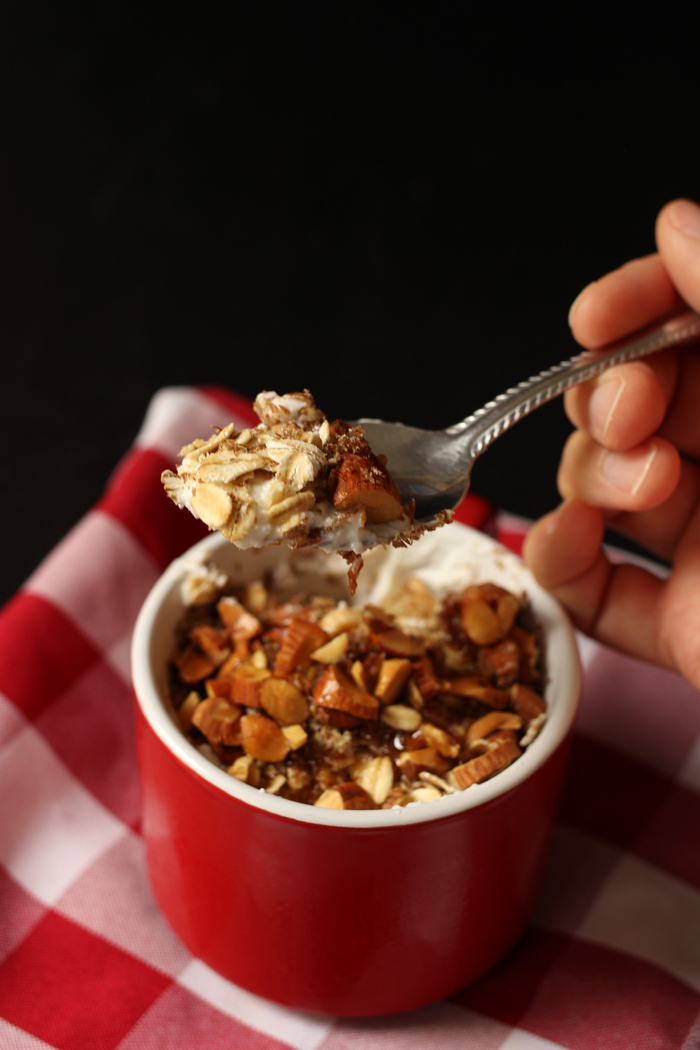 How to switch to plain yogurt
So, I made some changes. I started buying large 32-ounce cartons of plain, or sometimes vanilla, yogurt, preferably Cascade, Mountain High, or Fage brands.
Not all my kids liked that change. But most of them have gone along with it, especially when honey or maple syrup is drizzled over the top. Occasionally I buy Trader Joe's vanilla and blueberry cups, but not often.
If you or yours are slow to be won over to plain yogurt, consider one or more of the following toppings for plain yogurt:
maple syrup
honey
jam
fruit syrup
fresh fruit
granola or nuts
It may take some time, but you'll be a convert before too long.
Uses for plain yogurt.
Plain yogurt is an incredibly versatile ingredient to keep on hand.
It's great to use in baking instead of buttermilk. Just mix half yogurt and half milk as your buttermilk substitute.
Use it as a thickener in smoothies.
Mix it with whipped cream to reduce the fat and increase the protein in your favorite sweet topping.
Substitute it for sour cream in recipes to give an equivalent tang without all the fat.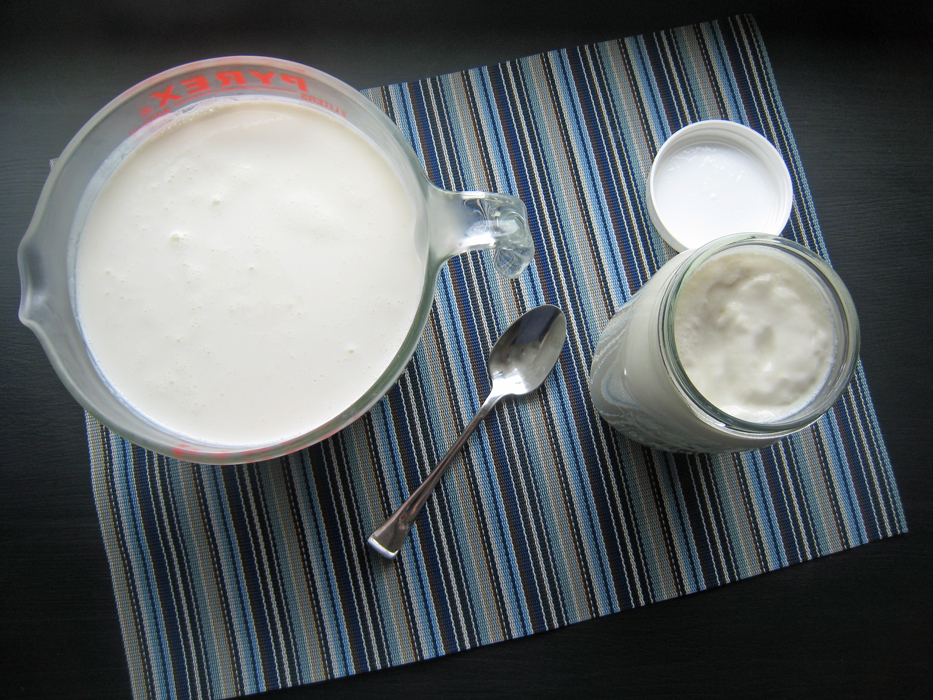 Can you make yogurt at home?
Believe it or not, it's incredibly easy to make yogurt at home! A few years ago I experimented with making yogurt myself. One night I tested two different methods:
I also read about the microwave/oven and cooler methods, but decided to go with these first two methods. The next morning I compared the yogurts I had made. They were like Laurel and Hardy, one was thick, the other thin.
The slow cooker method was good, but thin like buttermilk. Folks suggested that I strain the yogurt to thicken it, but it was so thin, the yogurt went right through the sieve. I used some in baking and churned the rest into frozen yogurt.
The yogurt incubated on the heating pad was thick and creamy. Since we like THICK yogurt, you can guess that I'm a fan of the heating pad method.
Try them both out and see for yourself which you prefer. I originally tested with whole milk, but have since made homemade yogurt with nonfat milk and it turned out fine and thick, albeit a little on the tart side in comparison.
My preferred method for making homemade yogurt is to combine 1 quart milk, ¼ cup powdered milk, 2 tablespoons yogurt with live cultures, and to incubate it for 5 hours according to the heating pad method.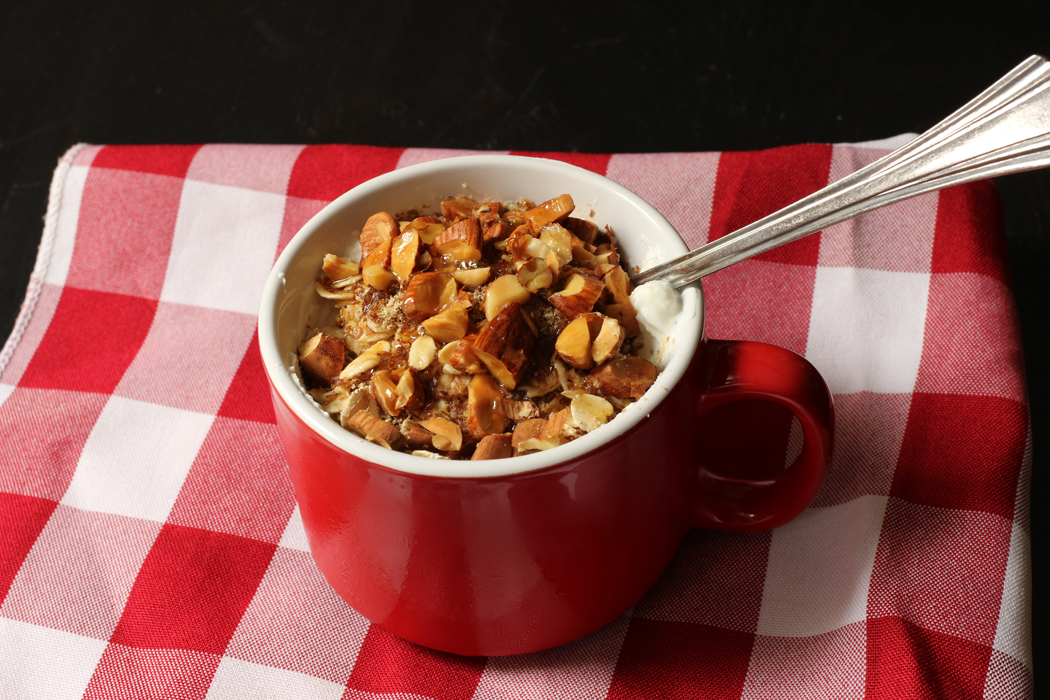 How Long Are Parfaits Good For?
You can assemble these and keep them in refrigerator for up to 3 days. Now that's an easy grab and go breakfast if you ask me.
So you can prep several at one time and enjoy them throughout the week!
Enjoy Greek Yogurt With Muesli for Breakfast.
As a born Francophile, I've loved reading The French Women series by Mireille Guiliano and have been encouraged by many of the suggestions she has to offer for life, work, and good eats.
One of those habits that I've adapted for my own is what Ms. Guiliano calls "Magical Breakfast Cream". I can't vouch for its magical properties, but I know that I like it, at least how I tweaked it.
I've made some significant changes to her recipe. Her recipe calls for shredded wheat cereal instead of oats, flax seed oil instead of meal, and orange instead of lime, as well as the addition of ground nuts. My tweaks are thanks to what I normally stock in my pantry.
This variation has become my daily breakfast, packed with protein and filling enough to get me through the morning. It's delicious Mom Food.
Greek Yogurt With Muesli
Yogurt is a super versatile ingredient or dish in itself. This recipe for greek yogurt with muesli contains all kinds of extra goodies to help you start the day right.
Ingredients
½

cup

plain Greek yogurt

2

tablespoon

rolled oats

not cooked

1

tablespoon

chopped almonds

toasted

1

teaspoon

flax seed meal

1

lime

, juiced with pulp

1

teaspoon

honey
Instructions
In a small bowl, layer the ingredients in the order listed. Stir or not, depending on how you like it.
Notes
Currently, I'm really enjoying a tweak to this recipe: I have 1 full cup of nonfat yogurt and omit the honey and juice. Then I add 1 teaspoon chia seeds and 1 cup of berries or chopped apples!
Nutrition
Calories:
183
kcal
|
Carbohydrates:
23.8
g
|
Protein:
14.2
g
|
Fat:
4.4
g
|
Saturated Fat:
0.4
g
|
Cholesterol:
5
mg
|
Sodium:
55
mg
|
Fiber:
2.6
g
|
Sugar:
9.9
g
Tried this Recipe? Tell us what you think!
Your reviews help us develop better recipes and give newcomers the confidence to try your favorites. Scroll down to leave a starred comment.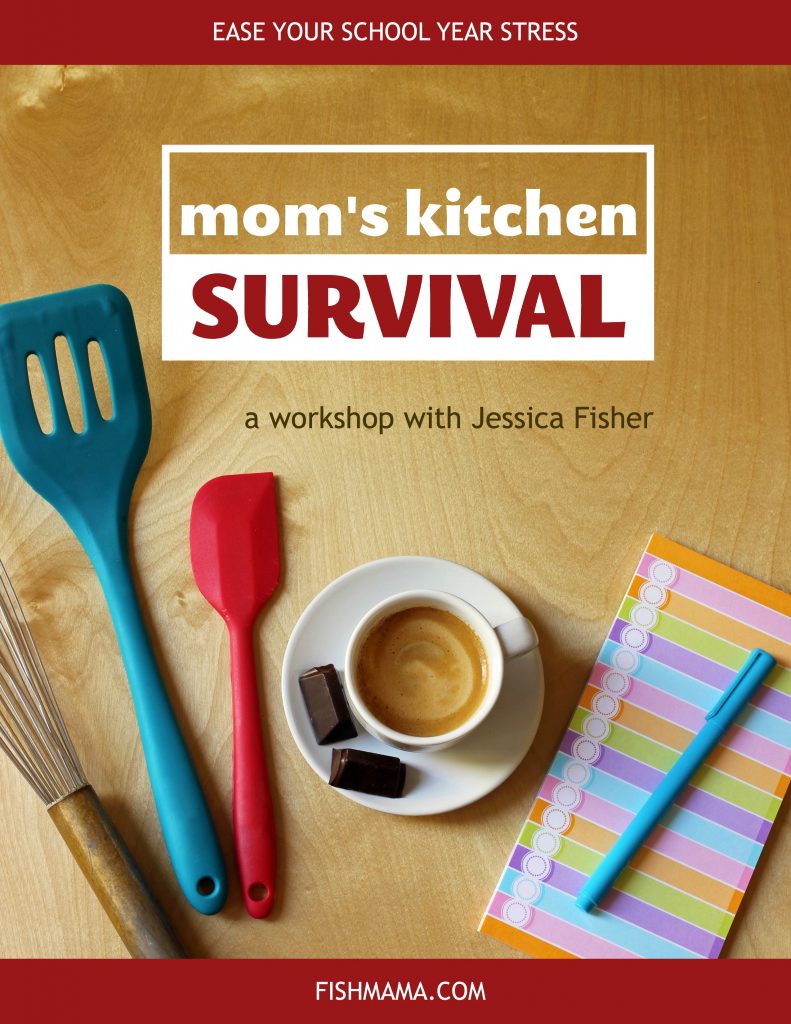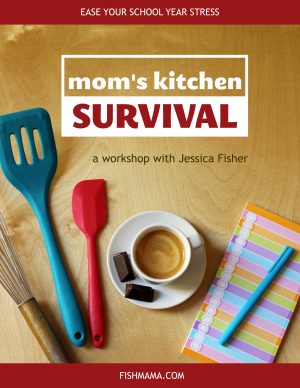 Level up your meal planning and prep.
Need a little extra motivation to get on your meal planning game? Want to make lunch packing less of a drag? Creating a kitchen survival kit to help you WIN in the kitchen this school year.
I'd love for you to join me for the next Mom's Kitchen Survival Workshop!
Together, we'll create a plan to help you get dinner on the table every night, fill your freezer with wholesome snacks and breakfasts, finesse your lunch-packing skills, and even make sure you get a daily dose of MOM food.
Learn more here so that when registration opens, you won't miss out.