Make-Ahead Mashed Potatoes for the freezer is a great recipe to save time, money, and kitchen clean-up. Stir up a few batches for comfort food in the bank!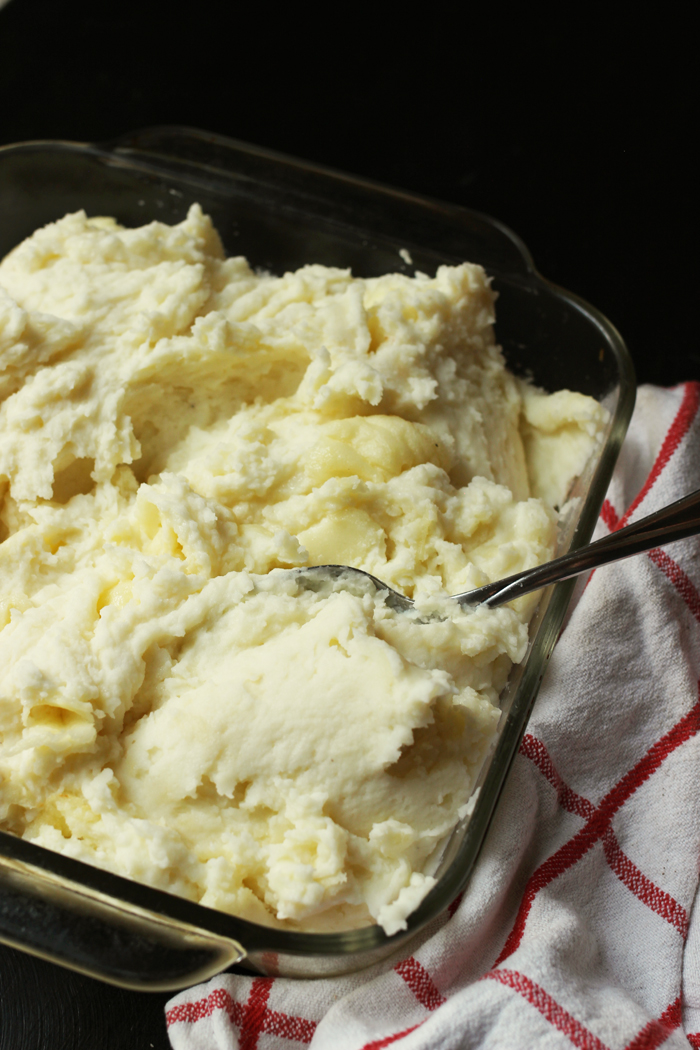 Mashed potatoes are one of life's ultimate comfort foods. There's nothing like creamy, smooth mashed potatoes alongside a roast chicken and vegetable dinner.
Although, truth be told, I'd very happily eat mashed potatoes all by themselves.
When I was a kid, whenever mashed potatoes were on the school lunch menu, I asked to buy lunch that day — even if it was salisbury steak.
Nowadays, I prefer to avoid instant mashed potatoes of dubious origins, but I also have been guilty of sighing over the work that goes into making homemade mashed potatoes.
The beauty I discovered is that you can make mashed potatoes in advance, freeze them, and enjoy them whenever you want!
Even with salisbury steak. Or mini meatloaves.
Make-Ahead Mashed Potatoes
This recipe will walk you through a very basic make-ahead mashed potatoes recipes. The trick to freezing potatoes is making sure that you've mixed enough fats (butter, cream, cheese, or cream cheese) into the potatoes to keep it from getting mealy.
On the other side of thawing, be sure to heat them until piping hot and stir well before serving.
An added bonus of Make-Ahead Mashed Potatoes is that you can buy a ginormous bag of potatoes at bulk pricing or buy multiple bags at a killer sale price.
While you might not be able to go through them at a regular pace before they sprout and go weird, you can make bulk batches of these freezer-friendly potatoes to enjoy for weeks to come!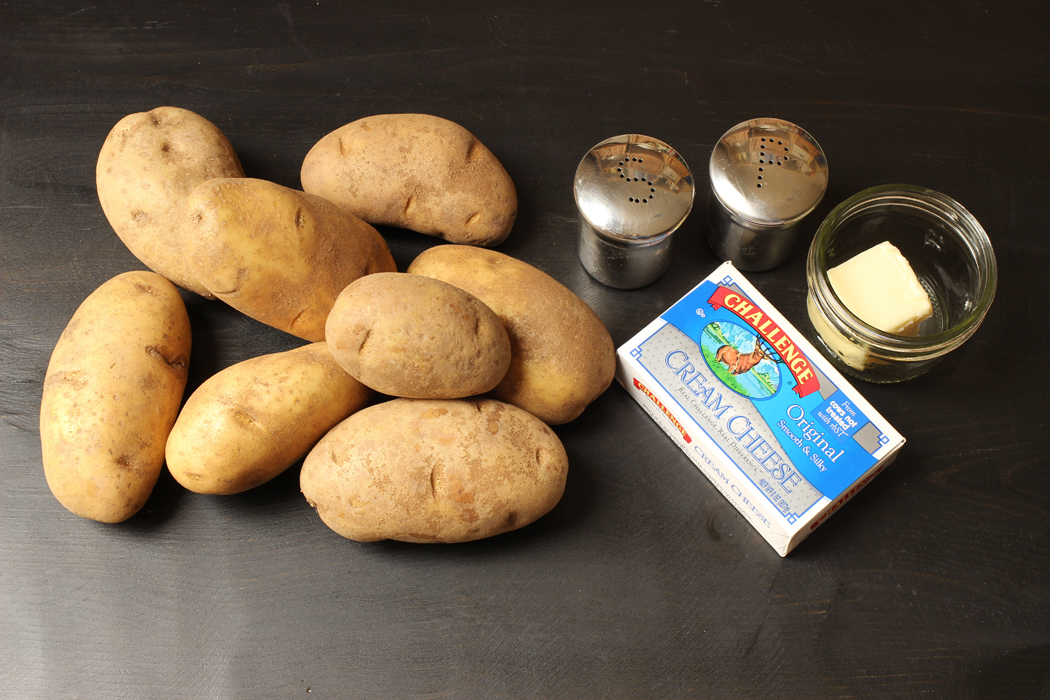 Can you make mashed potatoes ahead of time?
Yes! Prepped food is good for up to 4 days, so, of course, you can make mashed potatoes in advance. You can prepare mashed potatoes for the freezer up to 4 to 6 weeks in advance.
For make-ahead mashed potatoes to refrigerate, let the steam escape, cover and refrigerate.
For make-ahead mashed potatoes to freeze, let the steam escape, cover, and chill thoroughly in the fridge. Then store in the freezer for a month to six weeks.
What is the best way to reheat mashed potatoes?
If frozen, thaw the potatoes in the refrigerator. Reheat in a 350-degree oven for 45 minutes or microwave until hot. Stir the potatoes to recombine and serve.
How do you keep mashed potatoes warm for hours?
A slow cooker is a great appliance for keeping mashed potatoes warm for an extended period of time.
Grease the crock and spoon the hot mashed potatoes into it. Add more butter an milk or cream to make sure the mashed potatoes are on the thin side.
This extra liquid will be absorbed into the potatoes over time and prevent them from drying out. A crust of potato may form on the surface of the crock.
What can you do with leftover mashed potatoes?
Leftover mashed potatoes are delicious reheated with butter and seasoned salt, but you can use them in other recipes as well.
You can stir small amounts of mashed potatoes into soup as a thickener.
Form mashed potatoes into patties, dip in flour or seasoned bread crumbs, and fry in oil until crisp.
Top a savory meat and gravy filling with mashed potatoes for a Shepherd's Pie.
Stir them into a favorite bread dough, like this one.
How to make this good and cheap:
Here are some of the strategies you can use to make this recipe more economical:
Stock up on ingredients when they are on sale. When I find regular kitchen staples on sale, I buy a lot. I'm currently using a price book to track prices and that's saving me money. For this recipe, keeping an eye on the price of potatoes, cream cheese, and butter can help keep the price down. Hint: potatoes often go on great sale in March and November, so keep your eyes open!
Buying in bulk – Often times you can get potatoes for a better price the more potatoes you buy. You might not normally make your way through ten pounds of potatoes before they go bad, but you can make good on the deal by stocking the freezer with make-ahead mashed potatoes.
How I make this recipe easy:
One of the loveliest things about this recipe is that you could make it in a bulk batch and freeze it. While white potatoes can get mealy when you freeze them, as long as you add enough fat (butter, cream cheese), they will do reheat well after freezing.
This recipe really couldn't be easier than it is, but having the right kitchen tools can really make your time in the kitchen more enjoyable. Over time, I've honed my collection so that they are perfect for my needs.
Here are the tools that I use for this recipe: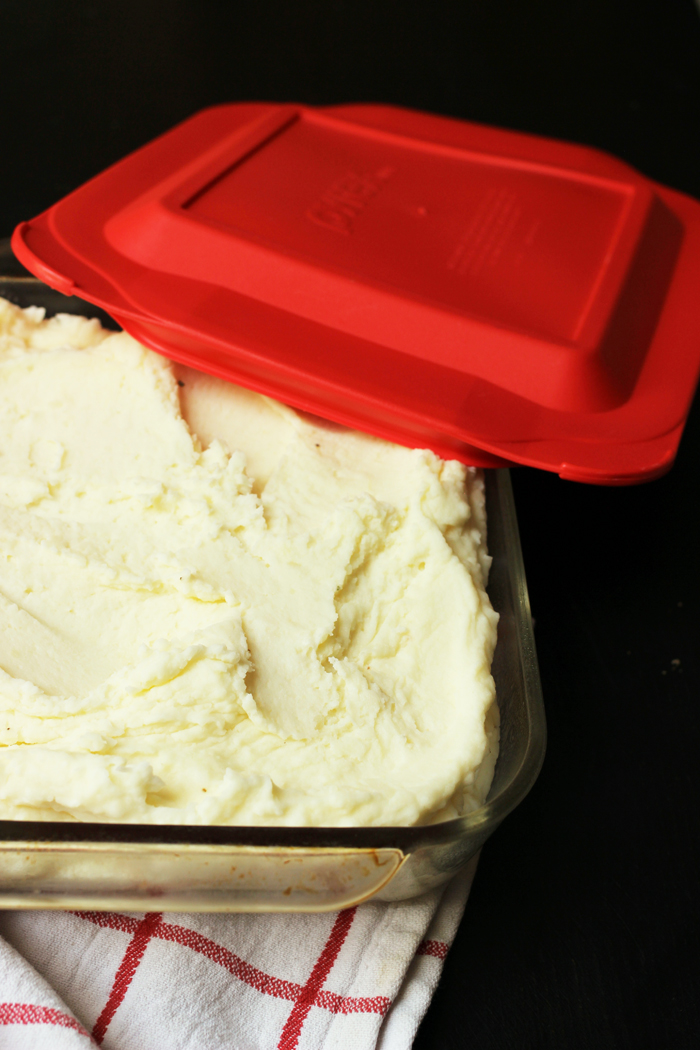 Make-Ahead Mashed Potatoes
Make-Ahead Mashed Potatoes for the freezer is a great recipe to save time, money, and kitchen clean-up. Stir up a few batches for comfort food in the bank!
Keyword:
make-ahead mashed potatoes, mashed potatoes, potatoes
Ingredients
8

russet potatoes

peeled and quartered

8

ounces

cream cheese

cut into cubes

1

cup

milk or cream

salt and pepper to taste

1/4

cup

butter

cut into cubes
Instructions
In large pot of cold water, bring potatoes to a boil. Simmer until tender. Drain water.

Mash potatoes with a potato masher or hand mixer. Once smooth, mix in cream cheese, milk, salt, and pepper. Dot with butter.

If serving from frozen, bake in 350° oven for about 45 minutes or until hot through. Fluff with a fork before serving. (Add a little milk or cream if you think it's too dry.)